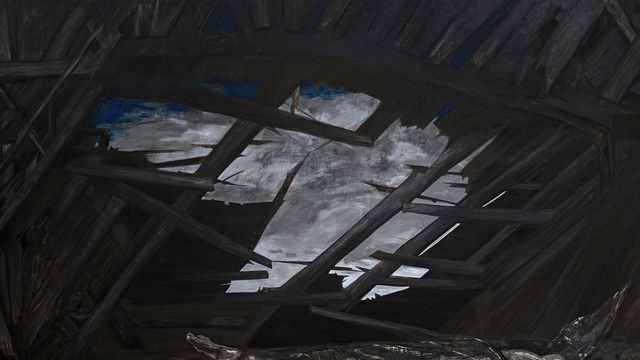 Hammer Projects: Janiva Ellis
SEP 24, 2022–JAN 22, 2023
Special hours, October 8-9: 
The Hammer will be closed to the public during regular museum hours on Saturday, October 8 and Sunday, October 9, due to special events. Hammer members are invited to
Member Previews
on Sunday, October 9, from 11 AM–2 PM; and all visitors are encouraged to attend our
Fall Exhibitions Celebration
on Sunday from 6–9 PM.
The first exhibition in Los Angeles by New York–based artist Janiva Ellis (b. 1987, Oakland) centers on a single painting that responds to the architecture of the Hammer Museum's vault gallery. The painting warps the proportions of the space and offers a contemporary perspective on the representation of landscape in art history. Ellis's work is often characterized by an interest in world-making, wherein the surfaces of paintings become a means of compositional and technical experimentation, transforming the architectural environments of which they are a part. The vault gallery offers a unique context for Ellis's painterly approach, which employs linear frenzy and aspires toward immersion on a scale that is as intimate as it is enveloping.
Hammer Projects: Janiva Ellis is organized by Aram Moshayedi, Robert Soros Senior Curator, with Nicholas Barlow, curatorial assistant.
Hammer Projects are single-gallery exhibitions highlighting the work of contemporary artists from around the globe, often presenting new work at a pivotal moment of an artist's development. Ongoing since 1999, Hammer Projects is a signature series within the Hammer's exhibition program.
Hammer Projects is presented in memory of Tom Slaughter and with support from the Horace W. Goldsmith Foundation. Lead funding is provided by the Hammer Collective. Generous support is also provided by Susan Bay Nimoy and Leonard Nimoy, with additional support from the Los Angeles Board of Supervisors through the Los Angeles County Arts Commission.