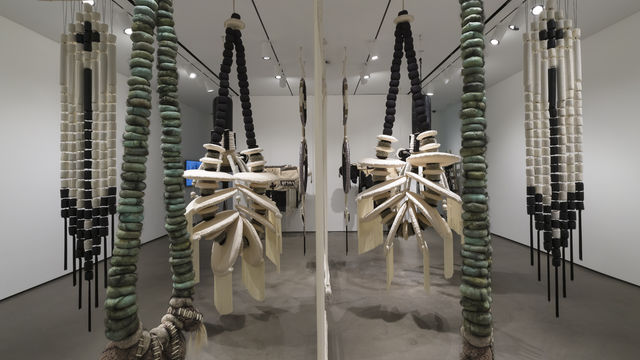 Hammer Projects: Eric-Paul Riege
NOV 13, 2022–FEB 19, 2023
Eric-Paul Riege (b. 1994, Na'nízhoozhí [Gallup, New Mexico]) uses a rich array of natural and synthetic materials—including wool, cotton, shells, faux fur, and human hair—to create his signature woven sculptures that reflect on the Diné (Navajo) philosophy of hózhó. Hózhó, as a practice in everyday life as well as in Riege's own artistic practice, is a worldview which encompasses the values of beauty, balance, and goodness in all things physical and spiritual. For the artist, hózhó lives in the continuation of the Indigenous weaving and jewelry-making traditions inherited within his own family history, particularly from his maternal ancestors. Often displaying these intricate objects as suspended looms, and activating them through video and performance, Riege uses space, sound, and gravity like any other material manipulated by the artistic hand. What results are sensorial installations built in homage to cosmology, craft, and inherited knowledge, where the spiritual and physical realms of memory are bridged as one.
For his Hammer Project, Hólǫ́llUllUHIbI [duet], Riege presents a new series of sculptures visualized both as swaying trees and pieces of ornate jewelry, or what the artist calls "totems of memory"—personal objects which assist in the holding of psychic energy as one navigates the world. The works employ a mix of new and recycled fiber from previous artworks, reflecting the artist's celebration of a material's ability to "sing so many new songs." In their scale, the hanging sculptures—likened to living spirits—also recall the period of Diné creation myth during which giant gods ("big monsters") roamed the earth before the birth of humankind.
Premiering additional new works in video and sound, as well as a series of opening performances to coincide with the exhibition's opening, Riege cultivates a forest of memories entwining the many-layered "threads of weaving and life."
Hammer Projects: Eric-Paul Riege is organized by Connie Butler, chief curator, with Vanessa Arizmendi, curatorial associate.
Hammer Projects are single-gallery exhibitions highlighting the work of contemporary artists from around the globe, often presenting new work at a pivotal moment of an artist's development. Ongoing since 1999, Hammer Projects is a signature series within the Hammer's exhibition program.
Hammer Projects is presented in memory of Tom Slaughter and with support from the Horace W. Goldsmith Foundation. Lead funding is provided by the Hammer Collective. Generous support is also provided by Susan Bay Nimoy and Leonard Nimoy, with additional support from the Los Angeles Board of Supervisors through the Los Angeles County Arts Commission.
Hammer Projects: Eric-Paul Riege is made possible, in part, by the Pasadena Art Alliance.