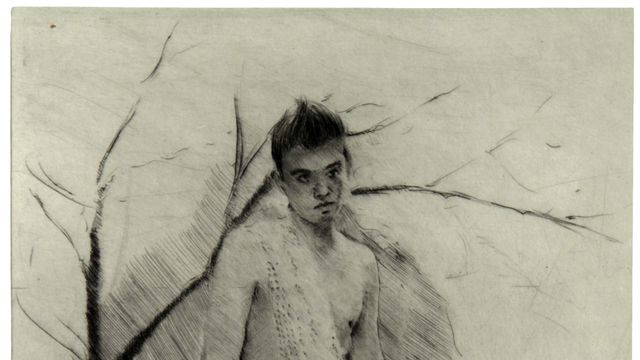 Houseguest: Shadows Fall Down
–

This is a past exhibition
Artist Monica Majoli explores themes of melancholy and desire in this exhibition drawn from the Grunwald Center collection.
Houseguest is a series of exhibitions at the Hammer Museum in which an artist is invited to curate an installation drawn from the collections of the museum and the Grunwald Center for the Graphic Arts. For her Houseguest exhibition, the Los Angeles–based artist Monica Majoli perused the Grunwald Center's holdings of more than 50,000 works on paper over the course of many months. The experience of visiting the Grunwald study room, where the collection is available for individual viewing, was a primary inspiration for Majoli from the outset. The privacy of its enclosed environment, the intimate exercise of pulling unframed works from their boxes, and the viewing of works of art laid bare on a table are experiences echoed in this gallery.
Each one of Majoli's selections proposes a confrontation with the body. The penetrating gaze and emphatic makeup of an actor are captured close-up in a Japanese woodcut from the 1920s. An empty cot awaits the listless body of Christ in Rembrandt's etching Descent from the Cross by Torchlight (1654). Spanning a period of 500 years—from 1505 to 2015—the works on view oscillate between suspension and contemplation. Together they echo the past and conjure a mood of melancholia.
Sex Box comprises 24 unframed prints presented at a viewing table in the gallery. This exhibition within the exhibition displays works that are viscerally evocative of bodily senses and desire. While some offer veiled suggestions of the body, like the tactile fur in a 17th-century etching of a woman's muff, others are bolder renderings of bare skin, like those in the experimental photographs of Robert Heinecken. The notion of voyeurism resonates throughout Majoli's exhibition, from the periodic disclosure of Sex Box's contents to the peephole windows of House of the Mad Professor (2008) by the Los Angeles–based artist Richard Hawkins, the sole sculpture in the room.
> >Each day from 2 p.m. to 3 p.m., museum staff will be available to show prints contained in the box to interested visitors.
The title of the exhibition, Shadows Fall Down, comes from "The Mountain," a poem by Elizabeth Bishop that Majoli felt "captured the ambiguity of affective states and the concept of lightness and darkness that was an organizing factor in the selection of works." Her title sets the tone for this survey permeated by memory and materiality.
Monica Majoli Biography
Monica Majoli, born in 1963, is a Los Angeles–based artist whose practice examines the relationship between physicality and consciousness through the documentary sexual image, primarily through painting. Shifts in materiality mark bodies of work that investigate intimacy and power within the larger context of queer culture and history. Majoli received her MFA from UCLA in 1992 and is a professor of art at UC Irvine.