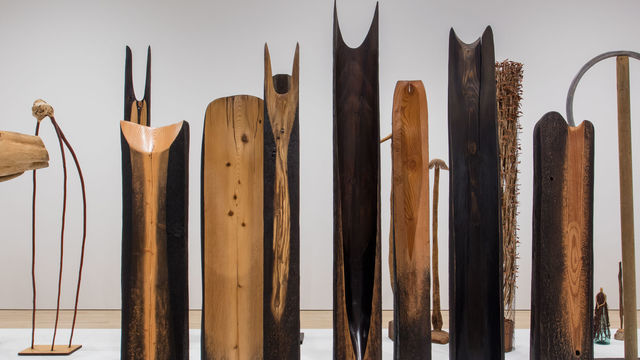 Kenzi Shiokava's work of the past fifty years has revolved around two very different sculptural forms, wood carving and assemblage. His elegantly carved totems and his staged groupings of plastic figurines offer a stark contrast in materials and methods. While wood carving is as old as the human species itself, assemblage is a form squarely rooted in the history of the twentieth century. Together each tradition bookends an art historical narrative, whose opposing poles are the sacred and the profane.
Born in Brazil, Shiokava is ethnically Japanese. His parents were among thousands of immigrant families fleeing severe economic hardship in the early twentieth century. Over the course of three generations, beginning with the arrival of the first Japanese immigrants in 1908, there was little if any assimilation. Yet Shiokava's work embodies a cultural hybridity that is readily played out in the distinction between his wood and macramé totems, which he says represent, respectively, the Japanese and Brazilian sides of himself.
Prompted by his older sister's move to the area, Shiokava arrived in Los Angeles in 1964. He attended art school in the city, receiving a bachelor's degree from Chouinard Art Institute (a predecessor of California Institute of the Arts) in 1972 and a master's degree from Otis Art Institute in 1974. Among Shiokava's peers were a notable number of African American artists—including John Outterbridge, Noah Purifoy, and Betye Saar—all of whom were engaged with assemblage, a practice that by the early 1970s qualified as a Los Angeles tradition. Found objects are featured in Shiokava's various types of work, such as the sculptures, reliefs, and totems. His assemblages are often marked by their juxtaposition of natural and industrially produced forms. Featuring plastic cartoon figures—the Hulk, Power Rangers, and Smurfs, to name but a few—the dioramas are a discrete turn away from the natural world, focusing instead on the lowest form of entertainment industry merchandising. But no matter how industrial, these figurines are for Shiokava a form of culture ripe for resuscitation from the places where they were once discarded when tastes changed. Paying keen attention to their poses, he arranges the figures within various found box forms, crafting ensembles whose costumes, gestures, and expressions, set within an arena and juxtaposed, produce a form of theater. They are restored and reanimated as products of the imagination. 
Made in L.A. 2016: Kenzi Shiokava