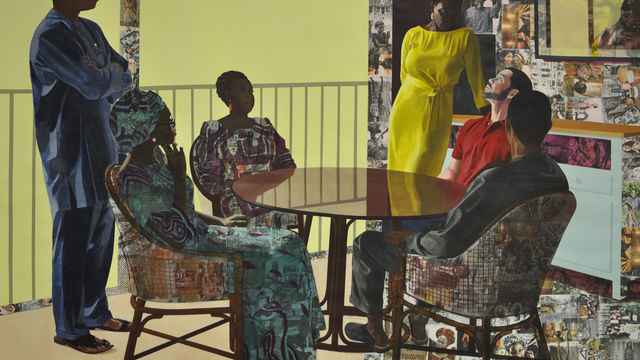 Off-Site Exhibitions: Njideka Akunyili Crosby: The Beautyful Ones and Two Films by Akosua Adoma Owusu
–

This is a past exhibition
Njideka Akunyili Crosby: The Beautyful Ones is the artist's first exhibition in Los Angeles. In this new body of work, Akunyili Crosby (b. 1983, Enugu, Nigeria) explores intimacy and interiority in her depictions of domestic life. The artist often appears as the subject of her paintings, depicted with her back turned to the viewer, looking away or in partial view, amidst large family gatherings, in quiet contemplation, or in private moments with her husband. Her large scale works on paper, which combine collage, drawing, painting, and printmaking, challenge conventions of portraiture, even as they filter a number of art historical and literary influences. This exhibition is presented in conjunction with Hammer Projects: Njideka Akunyili Crosby at the Hammer Museum, on view October 3, 2015–January 10, 2016.
Concurrent with Njideka Akunyili Crosby: The Beautyful Ones is Two Films by Akosua Adoma Owusu in Art + Practice's project room. The presentation will include the award-winning Kwaku Ananse (2013) and the experimental short Intermittent Delight (2007). 
Njideka Akunyili Crosby: The Beautyful Ones and Two Films by Akosua Adoma Owusu  are organized by Hammer assistant curator Jamillah James. 
Art + Practice is located at 4339 Leimert Boulevard, Los Angeles, CA 90008.
Visit Art + Practice for the opening of these exhibitions on Saturday, September 12, 2015 from 3–5 p.m.
Biographies
Njideka Akunyili Crosby (b. 1983, Enugu, Nigeria) received her BA from Swarthmore College (2004) and her MFA from Yale University School of Art (2011). She participated in the Studio Museum in Harlem's Artists-in-Residence program in 2011–12. In 2014 she received the Smithsonian American Art Museum's James Dicke Contemporary Art Prize. She has recently participated in the exhibitions Surround Audience: New Museum Triennial 2015, New Museum, New York; Draped Down, Studio Museum in Harlem, New York (2014); Sound Vision, Nasher Museum of Art, Duke University, Durham, NC (2014); Meeting in Brooklyn, curated by Monica Lenaers, Landcommandery of Alden-Biesen, Bilzen, Belgium (2014); Shaktiat, Brand New Gallery, Milan (2014); I Always Face You, Even When It Seems Otherwise, Tiwani Contemporary, London (2013); Domestic Experiences, Foreign Interiors, Sensei Exchange, New York; I Still Face You, Franklin Art Works, Minneapolis (2013); New Works, Gallery Zidoun, Luxembourg; Jump Cut, Marianne Boesky Gallery, New York (2013); Housewarming, BRIC, New York (2013); Bronx Calling: The Second AIM Biennial, Bronx Museum of the Arts, Bronx, NY (2013); Primary Sources, Studio Museum in Harlem (2012); and Lost and Found: Belief and Doubt in Contemporary Pictures, Museum of New Art, Detroit (2012). Her work is in the collections of major museums, including the Nasher Museum of Art, Duke University; Pennsylvania Academy of the Fine Arts; San Francisco Museum of Modern Art; Studio Museum in Harlem; Tate, London; and Yale University Art Gallery, New Haven, CT. Her work will be the subject of a solo exhibition at the Norton Museum of Art, West Palm Beach, Florida, in January 2016, as well as her first solo exhibition at Victoria Miro, London. She lives and works in Los Angeles. 
Akosua Adoma Owusu (b. 1984, Alexandria, VA) is a filmmaker with Ghanaian parentage whose films have screened worldwide in prestigious film festivals, museums, galleries, universities and microcinemas since 2005, including at the Museum of Modern Art, New York; The Studio Museum in Harlem, New York; Centre Pompidou, Paris; and the London Film Festival, among others. She is a 2013 MacDowell Colony Fellow and a 2015 Guggenheim Fellow. Her company Obibini Pictures produced award winning films including Afronauts and Kwaku Ananse, which received the 2013 African Movie Academy Award for Best Short Film. Kwaku Ananse was nominated for the Golden Bear prize at the 2013 Berlinale, and included in the French Cesar Film Academy Golden Nights Panorama program. The film was supported by Focus Features Africa First, Art Matters, and The Sarah Jacobson Film Grant in 2012. She was a featured artist at the Robert Flaherty Film Seminar in 2010 and received the Africa First award sponsored by Focus Features in 2011. Owusu's film Split Ends, I Feel Wonderful received the Tom Berman Award for Most Promising Filmmaker at the Ann Arbor Film Festival in 2013. Her most recent exhibitions include Prospect.3: Notes for Now in New Orleans, America Is Hard to See at the Whitney Museum of American Art in New York, and The Art of Hair in Africa at the Fowler Museum at UCLA in Los Angeles. Various museums and universities hold Owusu's work for their research and permanent collections, including the Whitney Museum of American Art, the Fowler Museum, Yale University Film Study Center and Indiana University Bloomington, home of the Black Film Center/Archive. She holds an MFA in Film/Video and Fine Art from California Institute of the Arts and received her BA degree in Media Studies and Art (with distinction) from the University of Virginia, where she studied under the mentorship of prolific avant-garde filmmaker, Kevin Jerome Everson. She lives and works between Alexandria, Virginia, New York, and Accra, Ghana.
Essay
The Beautyful Ones is the first Los Angeles solo exhibition devoted to the work of the painter Njideka Akunyili Crosby (b. 1983, Enugu, Nigeria). The exhibition presents a new body of work in which she considers the potential dislocation of identity after expatriation, simultaneously reflecting on her Nigerian heritage and traditions, contemporary postcolonial African cosmopolitanism, and her experiences in the United States, where she has lived since 1999.
The tension between these varied influences plays out formally in her complex large-scale mixed-media works, which combine collage, drawing, painting, and printmaking. Her works challenge conventions of portraiture, even as they filter a number of art historical and literary influences. She makes extensive use of Xerox transfer printing, a largely Western technique, to incorporate found photography into the works: family photographs; images from Nigerian popular culture; clippings from political, fashion, and society magazines; and ornamental patterns from traditional textiles. These densely layered images cover most of the surfaces of her large-scale paintings: the walls, furniture, and floors of the interiors and the clothing and skin of the figures. Her intimate depictions of domestic spaces and everyday life also provide an important counternarrative to the often troubled representation of Africa's complex political and social conditions in the media and in the public imagination.
Often appearing as the subject of her paintings, Akunyili Crosby is shown amid family gatherings, in contemplation, or in private moments with her husband. These new works represent a departure from the earlier paintings shown concurrently at the Hammer Museum that primarily focus on the figure. Their more expansive compositions allow the viewer to ponder architectural elements or the unusual collections of objects that she has rendered—a blue plastic doll imported from Ghana, an arched doorway and television set, an assortment of framed photographs, an empty balcony, oil lanterns on a tabletop—which serve to represent absence and quietude in her otherwise densely textured works. In these paintings, she has also introduced a new element that adds another layer of personal reference: commemorative fabric, also known as portrait cloth, with images of her family members. The cloth, similar to kente cloth in appearance, is ornate, with colorful patterns and portraits, and is produced to mark a special event. For instance, in I See You in My Eyes (2015), she incorporates portrait cloth from her brother's wedding and her mother's run for political office. While its use is widespread throughout the African continent, she notes that the wax pattern fabric is of European origin. While the addition of portraits to these Dutch made patterns relocate the textiles in an African milieu, the cross-cultural combination tacitly references the after effects of Africa's tenuous history of colonialism.
The emphasis in Akunyili Crosby's work on retaining a sense of self and tradition after immigration seems particularly topical in an international city such as Los Angeles, where the artist currently lives and works. Her paintings are unified by their technical rigor and the confidence of their subjects. The title of this exhibition, The Beautyful Ones, is borrowed from an ongoing series of paintings of the artist as a young child. Staring out of the picture plane directly at the viewer, she stands with her legs hip width apart, wearing grown-up-looking pointed-toe pumps. The history of painted portraiture, particularly of women, is replete with demure subjects who, rarely, if ever, confront the viewer. Even when depicted looking away or in partial view, Akunyili Crosby fully commands the viewer's gaze, insisting that her position as a contemporary woman, whose sense of place is divided between continents, is both deeply personal and an increasingly commonplace social archetype that deserves visibility. While her visual sensibility recalls the work of the American artists Romare Bearden, Richard Yarde, and Mickalene Thomas, whose two-dimensional works are heavily textured through their use of color and pattern, Akunyili Crosby casts off in a singular direction, fusing African, European, and American influences and creative traditions while pondering the personal effects of living in an increasingly global, hybridized society.
The Hammer Museum at Art + Practice is a Public Engagement Partnership supported by a grant from the James Irvine Foundation.