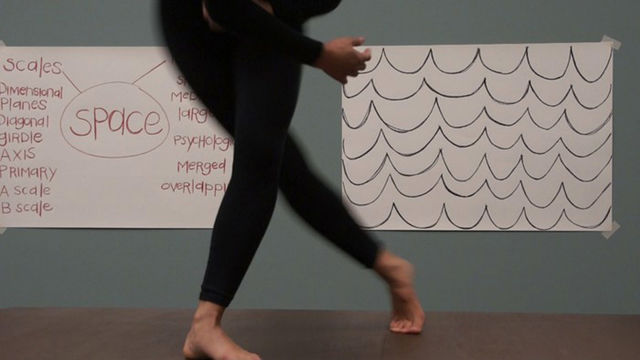 Artist Kelly Nipper works primarily in photography, video, and performance and draws inspiration from a mix of artistic practices such as Max Ernst, Allan Kaprow, Rudolph Laban, Étienne-Jules Marey, and Mary Wigman. Nipper's recent work explores the formal and social relationships between analogue photography's alchemic processes, animated forms, and the spatial and expressive qualities of motion (any movement or change in position or time) as communication. Nipper works from research and structured improvisation, testing the sustainability of recorded and repeated information as it changes from one form to another. This includes the acts of transcription and translation from the discipline of dance to time-based forms of image making. For her Hammer residency, Nipper developed the movement score and a number of ancillary works that were included in her exhibition and performance at the Hammer, entitled Black Forest (December 21, 2013 – February 23, 2014). Black Forest incorporates elements of dance, textiles, ceramics, drawings and prints. The movement was created and developed in collaboration with a Laban Movement Analyst and a solo dancer. The exhibition was previously presented at the Kunsthaus Zürich, Switzerland and Tramway, Glasgow, Scotland.
Biography
Kelly Nipper was born in 1971 in Edina, Minnesota. Her work has been featured in solo exhibitions at Bard College, Annandale-on-Hudson, NY (2013); Kunsthaus Zürich, Switzerland (2013); The Museum of Modern Art, New York (2013); Tramway, Glasgow, Scotland (2012); and the Contemporary Arts Museum Houston, TX (2007). Her work has also been included in group shows at the Centre Pompidou, Paris, France (2011); Whitechapel Art Gallery, London; UK (2011); Whitney Museum of American Art, New York, NY (2010); Migros Museum für Gegenwartskunst, Zurich, Switzerland (2010); Institute for Contemporary Art, Philadelphia, PA (2009); and Performa 07, New York, NY (2007). Nipper attended California Institute of the Arts (MFA) and Minneapolis College of Art and Design (BFA).
The Hammer Museum's Artist Residency Program is supported through a generous grant from the Simms/Mann Family Foundation. The residency program was initiated with funding from the Nimoy Foundation and is supported through a significant grant from the James Irvine Foundation.