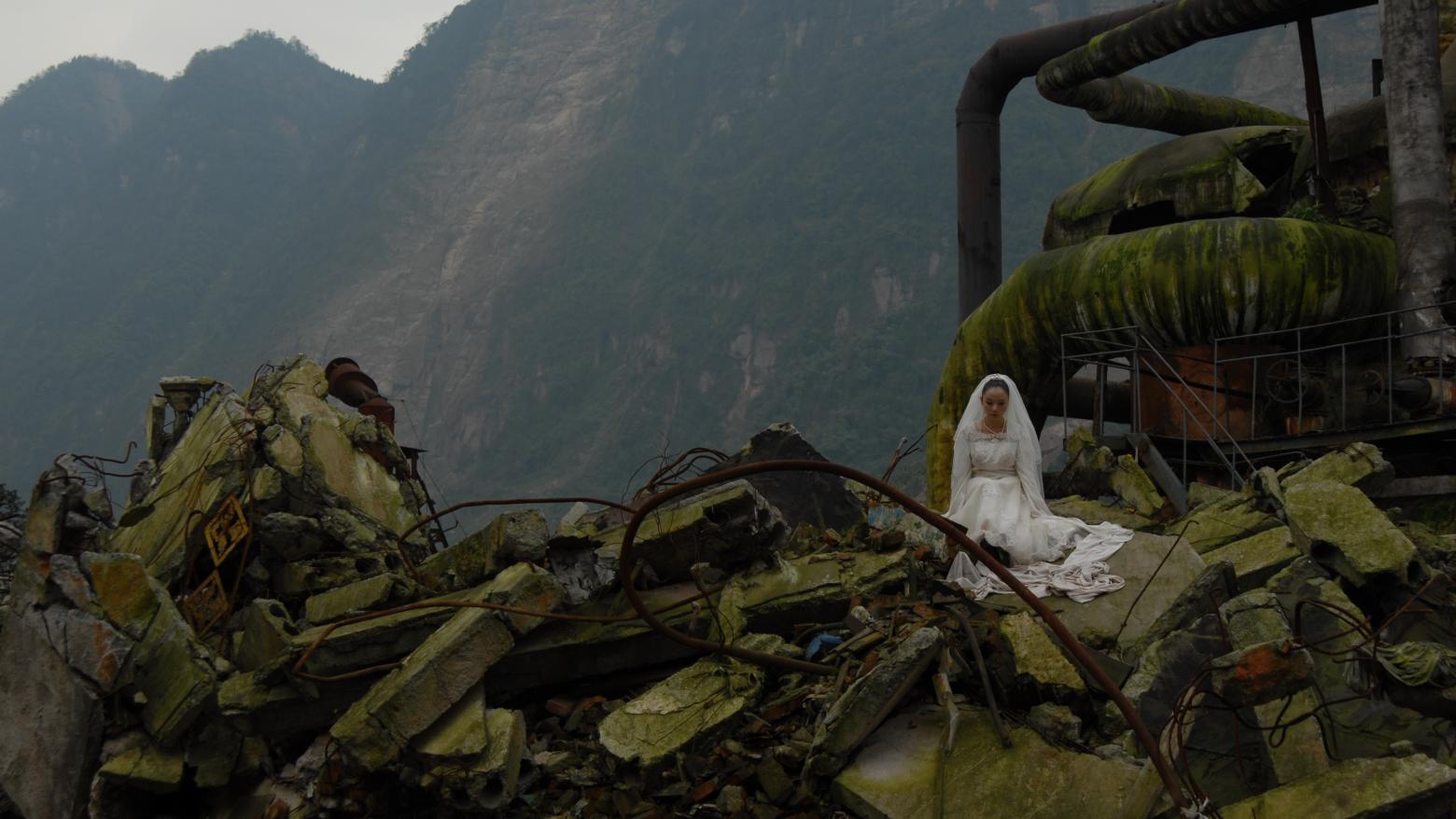 Hammer Projects: Chen Qiulin
Sep 29, 2009–Jan 3, 2010
This is a past exhibition
For the past several years artist Chen Qiulin has been exploring and documenting the rapid and tumultuous urbanization of Sichuan, her home province in southwestern China, where she still lives today. Although Chen works in multiple mediums, she recently began using video to engage her interests, mastering it without formal training. The Hammer will be presenting a selection of her videos from her first work in 2001 to her latest completed in the spring of 2009. This range allows us to witness her progression as an artist as well as the rapid and shocking changes taking place in her home town and outlying regions. From the chaotic dismantling of cities for the construction of the Three Gorges Dam, to the effects of modernization and newly found materialism on the younger generations, to the devastation of the 2008 Wenchuan earthquake, Chen shows us with stark and brutal reality, as well as gracious poetic beauty, a new China being born.
This exhibition is organized by Hammer adjunct curator James Elaine.
Biography
Chen Qiulin was born in China in 1975 and now lives and works in Chengdu, Sichuan Province. She graduated from the printmaking department of the Sichuan Fine Arts Institute in 2000. She has had solo exhibitions at the Today Art Museum, Beijing; University Art Museum, University of Albany; Max Protetch, New York; Long March Space, Beijing; Big Factory, Shanghai; and Internet Affairs, Chengdu. She has participated in numerous group shows in the United States, Europe, and Asia, including Displacement: The Three Gorges Dam and Contemporary Art, Smart Museum of Art, University of Chicago; the Seventh Gwangju Biennale, Gwangju, Korea; China Power Station Part 2, Astrup Fearnley Museum of Modern Art, Oslo; and The Wall: Reshaping Contemporary Chinese Art, Albright-Knox Gallery and University of Buffalo Art Galleries, Buffalo, New York. In 2007 she was awarded an Asian Cultural Council grant. Her work is in the collections of Thyssen-Bornemisza Art Contemporary, Vienna; the Denver Art Museum; the Bohen Foundation, New York; and the Worcester Art Museum, Worcester, Massachusetts.
Essay
By France Pepper
As a young female artist from Sichuan Province who has had a prolific and multifaceted career, Chen Qiulin stands out among the numerous Chinese artists, predominantly male, who work in the capital, Beijing, or in the metropolis of Shanghai. Unlike her contemporaries who attended the major art academies in Beijing and Hangzhou, Chen began her unofficial art education when she accompanied her mother to work at a film company. There she watched science and education shorts and feature films, and painted film billboards. At the age of twenty she was admitted to the Sichuan Fine Arts Institute in Chongqing, where she studied the traditional Chinese art of woodblock printing, a laborious medium that emphasizes process and intimate handling of materials. After graduating in 2000, she returned to the film company to paint billboards for another year and then moved to the city of Chengdu, where she encountered performance art for the first time. Chen has since created a unique fusion of installation, performance, photography, and video, producing works that address the rapid urbanization of China's provincial areas and the toll that this is taking on society. Her work focuses on simultaneously capturing the nostalgia for how life use to be, the confusion brought on by the fast pace of change, and the hope for a new and improved standard of living. 
At a time when her understanding of contemporary art was still limited, Chen was unexpectedly invited to partake in Parabola, a satellite show of the First Chengdu Biennale (2001). On this occasion she created Ellisis (. . . . . .),1 a performance piece that she documented in film and photographs. The work is based on a Chinese expression that roughly translates as "sweet harm" and refers to all the enticing things that modern society throws at young women. In Ellisis, Chen sits in front of a vanity table placed outdoors among the rubble of an undeveloped site with new buildings, a coal power plant, and factories on the horizon. She is wearing a pretty dress and is admiring herself in the mirror, oblivious to a man throwing pieces of a soft, creamy cake at her until her hair, face, and dress are coated. Her absorption in herself and indifference to her surroundings are a metaphor for the situation that many young Chinese women find themselves in. Unlike older women, Chen's generation has not lived through revolutions or hard times. Rather, they are seduced by the sweetness of a prosperous society while ignoring the potential emotional harm hidden within. 
When her hometown of Wanxian, on the Yangtze River in Sichuan, was destined to be submerged by rising water resulting from construction of the Three Gorges Dam, Chen was commissioned to produce a work for an exhibition titled Harvest: Contemporary Art, organized by Gao Minglu at the Agricultural Museum in Beijing (2002). Equipped with a Hi8 and a very basic digital camera but with no formal training in cinematography, she set out to document the demolition of the buildings and spaces where she spent her childhood. The result was the first of three video works, titled Farewell Poem (Bie Fu, 2002), followed by River, River (Jiang He Shui, 2005), and The Garden (Hua Yuan, 2007), each of which corresponds to a stage in the flooding of Wanxian. Together they form an homage to her childhood memories. There is no script for these layered, fragmented, daydreamy, and aesthetically stunning documentaries, which take the viewer on a disjointed journey through the ruins of Chen's youth.
When Chen arrived in Wanxian to shoot Farewell Poem, she was shocked at the level of random and chaotic demolition taking place, mostly done by hand. Before her eyes, many of the places where she played as a young girl were disintegrating, and she was left speechless. In the film, gray, raw footage of the artist amid the town's destruction is intermixed with flashes of colorful Chinese opera scenes and authentic music. As a child, Chen accompanied her grandfather, a Sichuan opera aficionado, to many performances and selected a particular scene from Farewell My Concubine, played by a famous local troupe, to express her farewell to Wanxian. 
The state of emotional agitation reflected in Farewell Poem gave way to a more objective approach, and Chen came to see herself as an artistic documenter. In River, River, Wanxian is portrayed in a hopeful light, with new buildings and upbeat scenes of daily life. Chen's innate sense of performance returns with operatic scenes cast among shipping containers, outdoors in the evening, and along the river, contrasting the excitement of the up-and-coming new town with a nostalgia for the traditional past. Once the water from the Three Gorges Dam is raised and the lower levels of Wanxian are completely submerged, the fresh, new Wanxian is likened to a garden, complete with artificial flowers to commemorate the "opening" of the new town. The anticipation of a bright future with modern dwellings and plazas has finally arrived, yet many residents are not sure how they fit in. Migrant workers come to town daily, hoping to earn a little money. People who once lived in dilapidated homes now inhabit high-rises, yet clothes are still hand-washed in the river. Chen harnesses this awkward transition in The Garden with more polished filming and editing while retaining her signature touches: flashing back and forth between frames, juxtaposing images of traditional and contemporary China, contrasting the gray landscape with splashes of color, and incorporating music that echoes the emotions imbedded in the videos.
Sichuan Province experienced the worst earthquake in its history in May 2008. Only three months before the Beijing Olympics were scheduled to open, with China the focus of world attention, hundreds of thousands of people lost their lives, their loved ones, their homes. The severe sense of loss reverberated with Chen, whose most recent body of work reflects on life in Sichuan after the disaster. Peach Blossom (Tao Hua, 2009), on view for the first time in the United States at the Hammer Museum, was created in the same spirit as the earlier Wanxian video works—with an archival instinct and a lens on the personal, social, and environmental changes shaping people's lives. In Chen's words: "We cannot avoid natural disasters—life goes on. I made videos and performed in the areas hit by the earthquake as a commemoration and hope that more people will see how people are living in these areas and help them."2
Notes
1. The original title is the Chinese symbol for ellipses. When Chen first wrote the title in English, she dropped the p from ellipsis, so the work has come to be known as Ellisis outside China.
2. Chen Qiulin, e-mail correspondence with the author, April 24, 2009.
France Pepper is the director of arts and culture programs at China Institute in New York. She curates the discussion series Art Salon: The Culture of Contemporary Chinese Art and produces DVDs on contemporary Chinese art.
Hammer Projects is made possible with major gifts from Susan Bay-Nimoy and Leonard Nimoy and The Horace W. Goldsmith Foundation.
 
Additional generous support is provided by the Los Angeles County Arts Commission, Good Works Foundation and Laura Donnelley, LA Art House Foundation, the City of Los Angeles, Department of Cultural Affairs, the David Teiger Curatorial Travel Fund, and Fox Entertainment Group's Arts Development Fee.