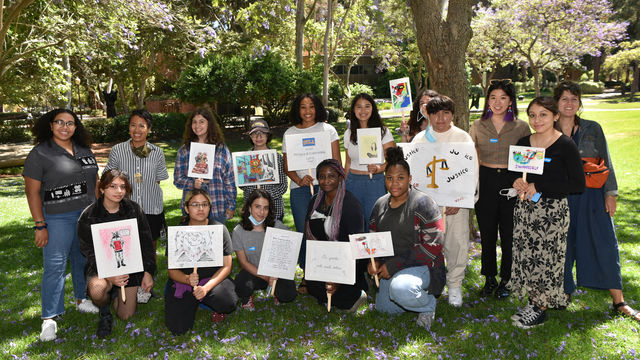 Art + Activism: A Collaborative Learning Project
Art + Activism: A Collaborative Learning Project
How can young people lean into artmaking as a vehicle for social commentary? This summer, the Hammer's Academic Programs department launched Art + Activism: A Collaborative Learning Project, a multi-generational mentorship pilot program that brought together a group of high school students, UCLA undergraduates, and MFA students to explore the intersections of art and activism. The participants developed creative and collaboration skills and deepened their knowledge of a range of artistic and activist practices. Over the course of six weeks of online learning and a few in-person field trips, they met with artists, Hammer and UCLA staff, and other guest speakers and learned about a variety of arts education and career pathways. In the second half of the program, the cohort collectively developed and completed a set of creative projects that centered on community-building, mindfulness, social awareness, and self-care. With the guidance of artist advisor EJ Hill, their final projects took the form of declarations, scores for performances, and a publication.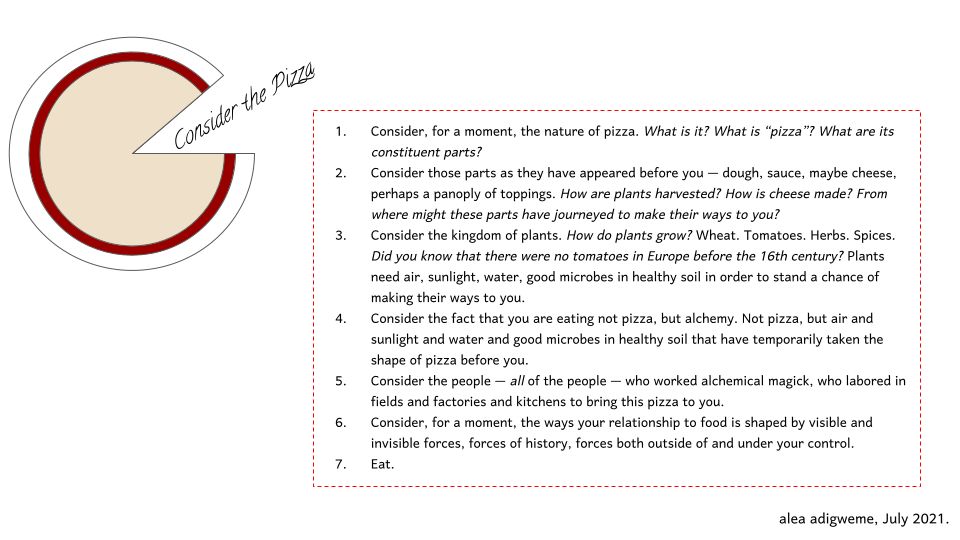 alea adigweme, Graduate Student Mentor
I chose this image because I'd never made a performance score before this program. We had pizza for lunch during our second field trip, and I was excited to prompt deeper consideration of food's relationships to colonialism, land, mindfulness, and labor.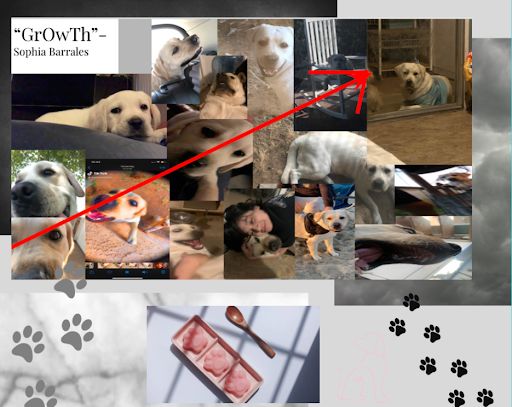 Sophia Barrales, Intern
This piece of work was meaningful to me because it allowed me to reflect and demonstrate the love a human and pet can have. Also because it shows that dogs can help humans grow as people at the same time they grow up physically.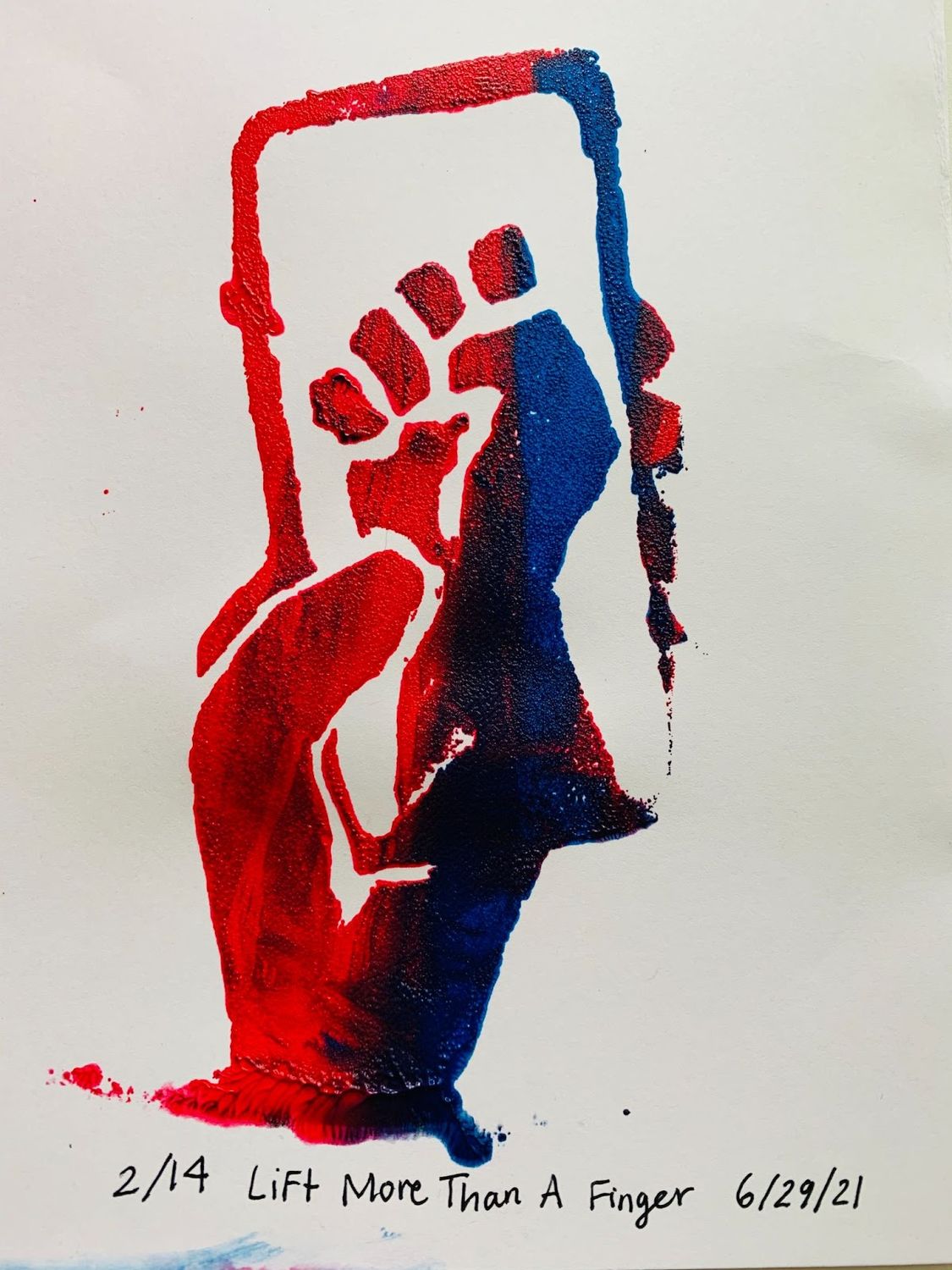 Blaze Bautista, Undergraduate Mentor
This print, "Lift More Than A Finger" was the first of one of my screen prints made during our screenprint workshop. The piece addresses the issue of performative activism during the Black Lives Matter movement. I loved this workshop because I got to experiment with fun DIY materials and create multiple variations of the same design.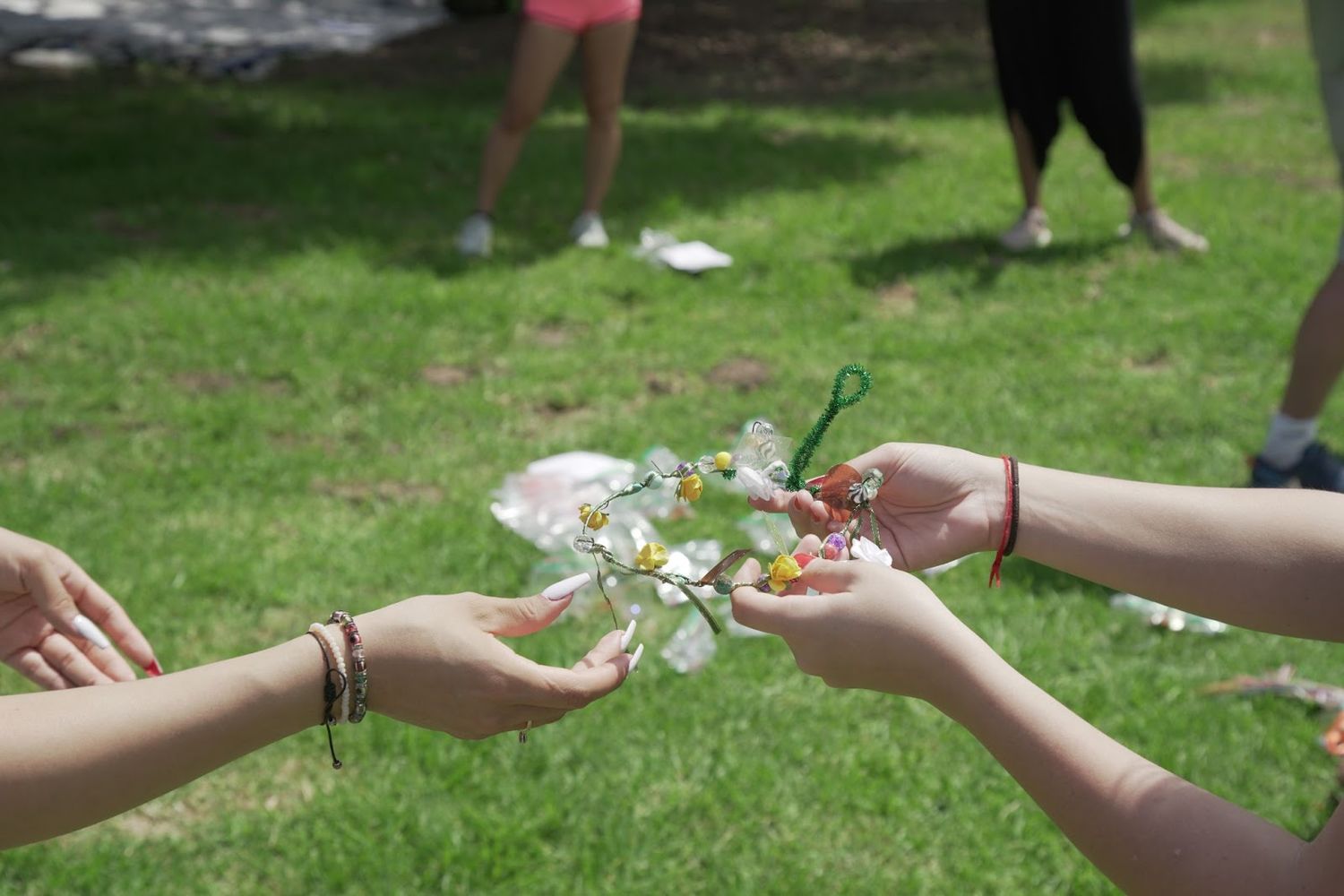 Anisa Chacon, Intern
As one of the final projects from this program, this score was really meaningful to me because it really brought together the community we had fostered through Zoom from the previous weeks. Gift-giving and showing one's appreciation to another was the purpose of this performance work. It ended up being such a highlight because of how much work everyone contributed and the reactions to having the positive feedback from one another.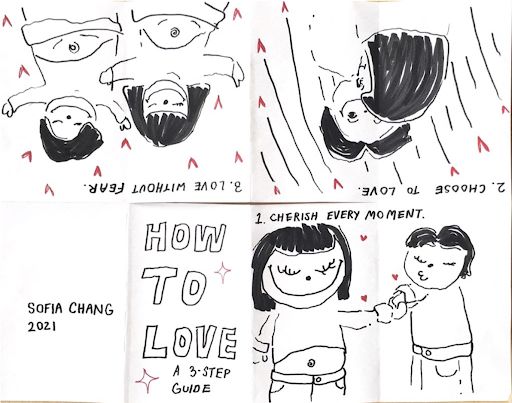 Sofia Chang, Undergraduate Mentor
A one-page zine I made during our zine workshop at the Hammer. Titled "How To Love- A 3-Step Guide"- this zine highlights the tenderness behind love, respect, and being open with one another. Love is whatever you make of it!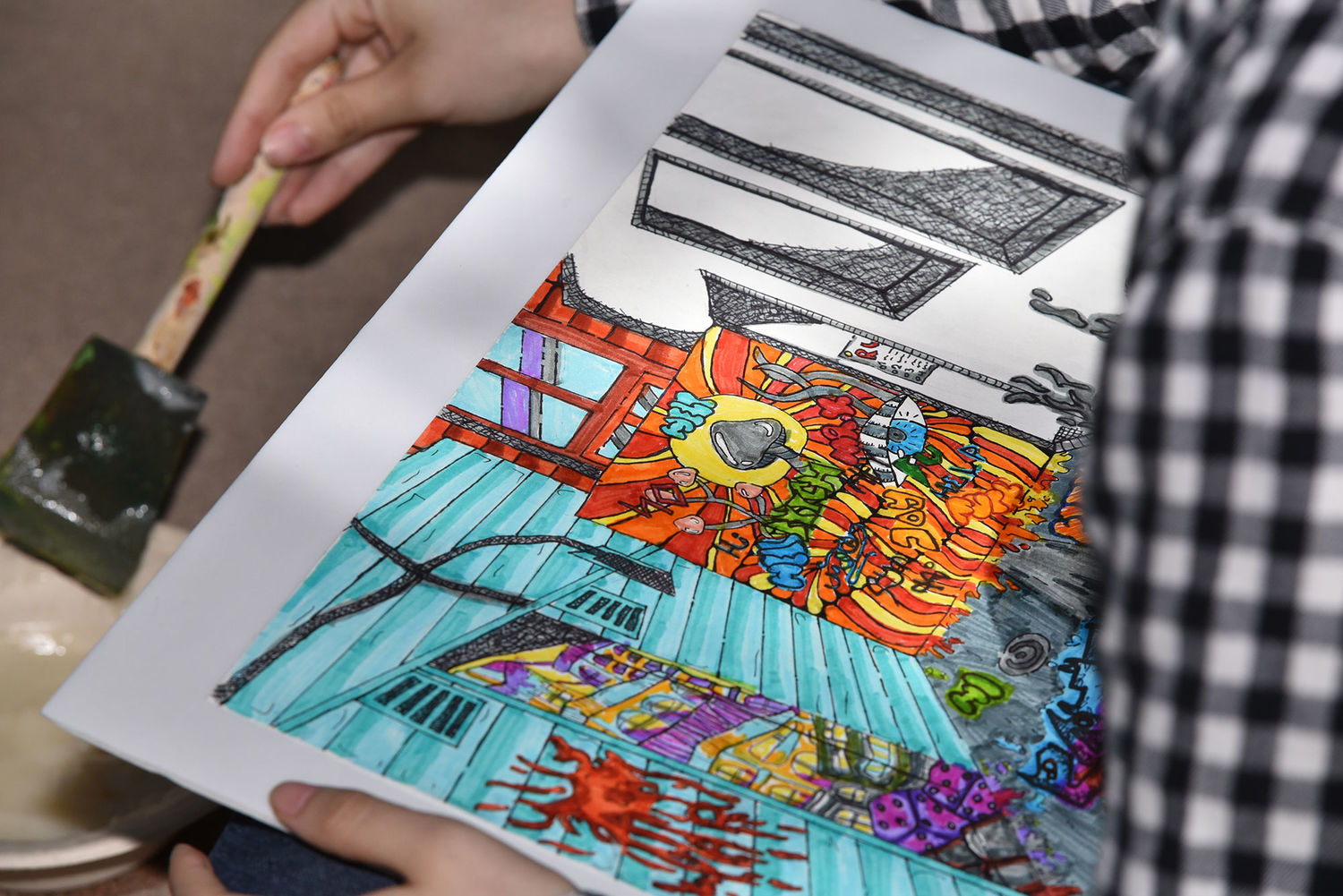 Evan
Evan Chiriboga, Intern
My pick of the crop from this program lies in making wheat paste signs on UCLA grounds as a critique to an institution. I was encouraged by fellow innovators who clearly have passion for what they do, to act for a value I utmost respect. You decide which or what institution demands justice, all I need to say is "serudj ta."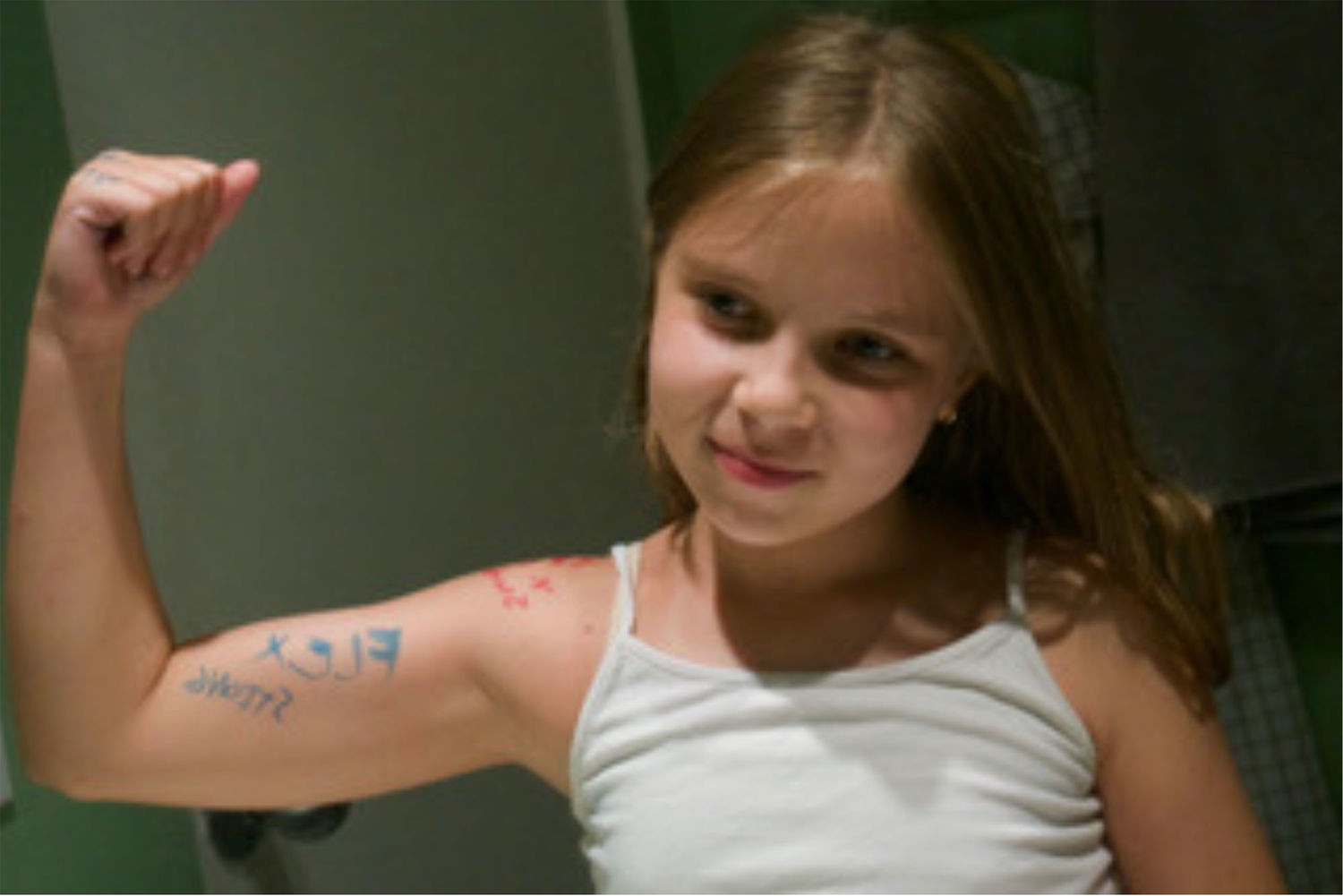 Iris
Iris Epstein, Intern
My favorite artwork from this program was our archival art project. We were able to learn from amazing archival artists and apply what we learned to our own practice. I was able to explore the body as an archive of emotions and actions through photography. This image is an unguided representation of my younger sister's associations, specifically her strength.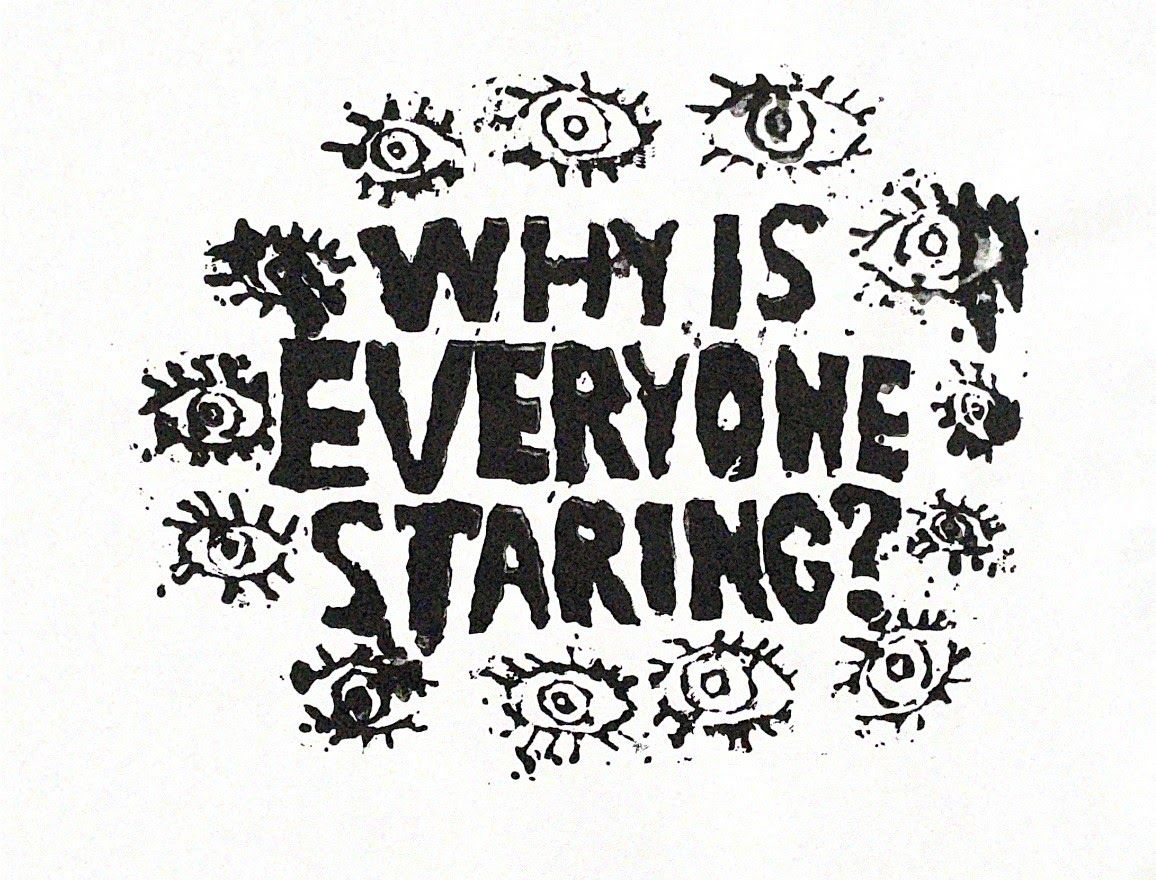 Esteban Jimenez Jr., Intern
My favorite artwork that I made in this program was making our screen prints. It really introduced me to a new art practice and helped me realize that I really enjoy making screen prints; it also really helped me find a new way that I could express myself artistically. The idea for this print came to me as I know that I can be a very insecure person and I remember one day going out in public and in my head all I could really think was "why is everyone staring?" as though people might not have been staring directly at me. It really stayed heavy on my mind for a while, which inspired me to make this print when we were talking about zines and printmaking in the program.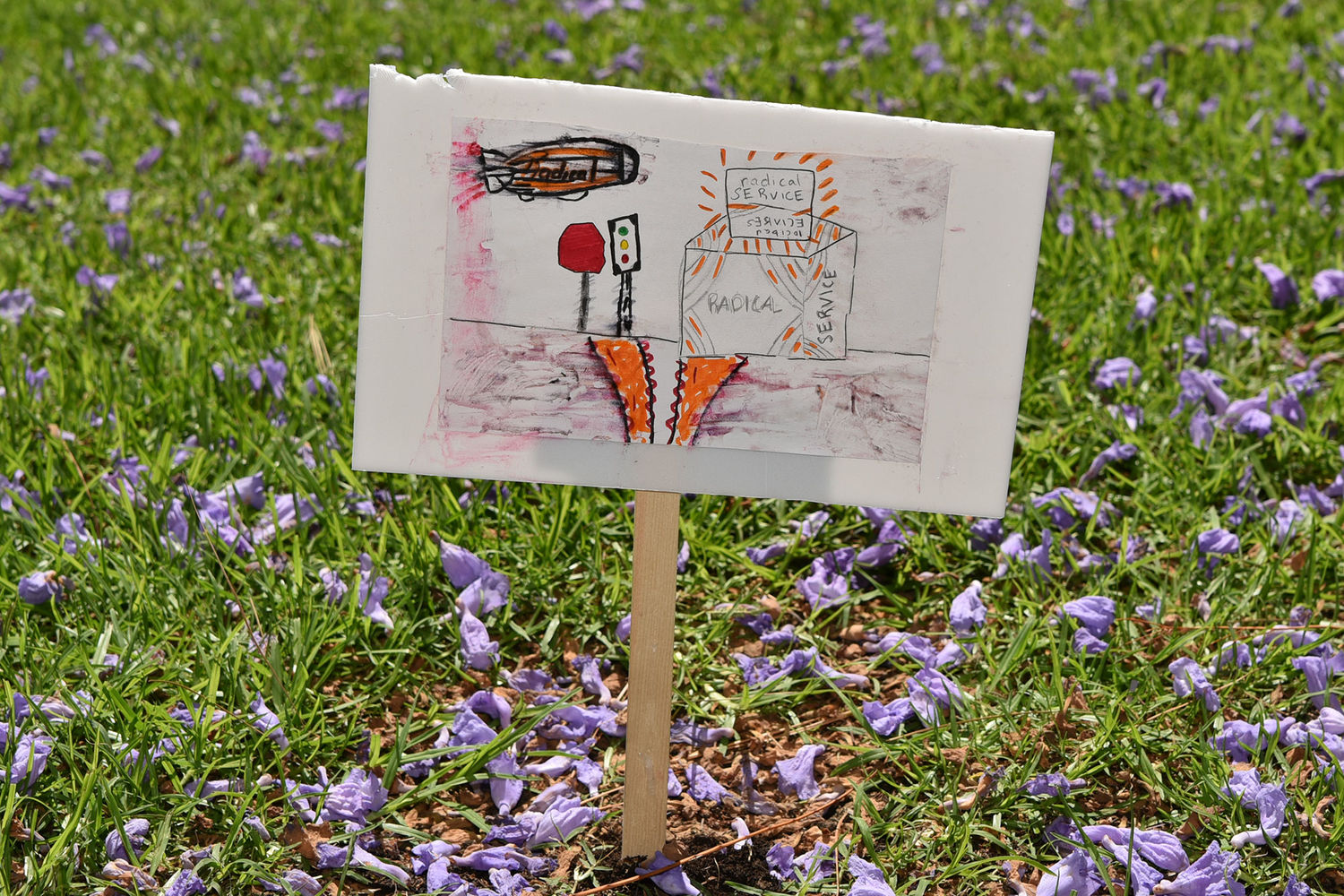 Kyara
Kyara Robinson, Undergraduate Mentor
This piece was one of the first pieces I made in this program. I'm not the best at drawing, but I wanted to think through the hoops we all go through to reach radical service, radical care. There always seems to be something in the way of our ability to instinctively care for others. I wanted to emphasize care as an inviting and enticing practice to take on. Regardless of the risks to get there, I want radical care to be a baseline for everyone.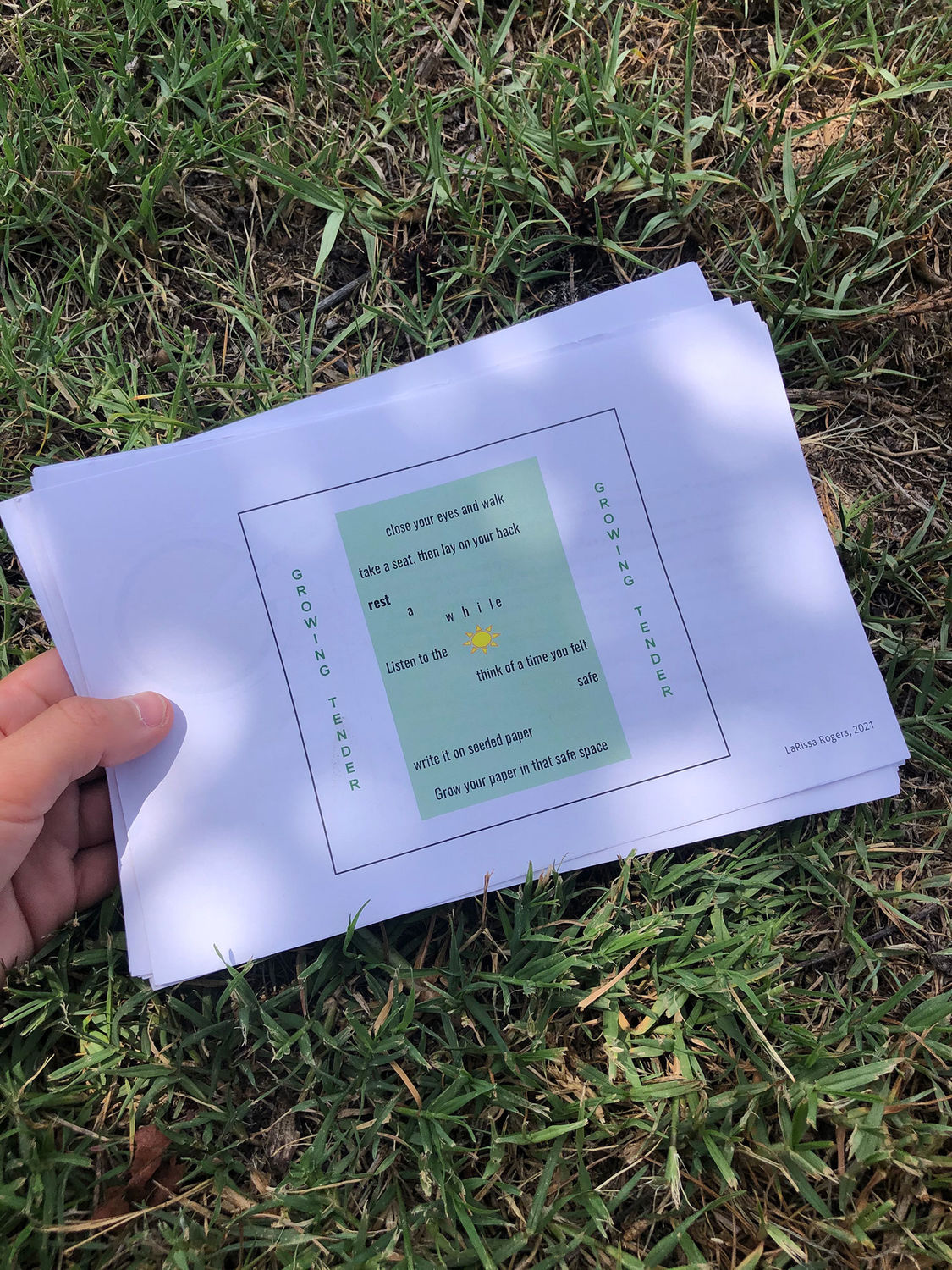 LaRissa
LaRissa Rogers, Graduate Mentor
I chose this work because I had never enacted a score with a group of people. I was interested in thinking through collective care, safety, and growth,  given the nature of the relationships we have groomed with each other throughout the program, as well as the history of the space. Kenneth Hahn Bowl was flooded in 1963 due to a dam break that destroyed many homes and lives in Los Angeles. This score allows one to meditate through notions of safety and precarity. Where do you feel most safe, and how can you care for others (plants and people) to create spaces of collective regeneration and otherwise possibility?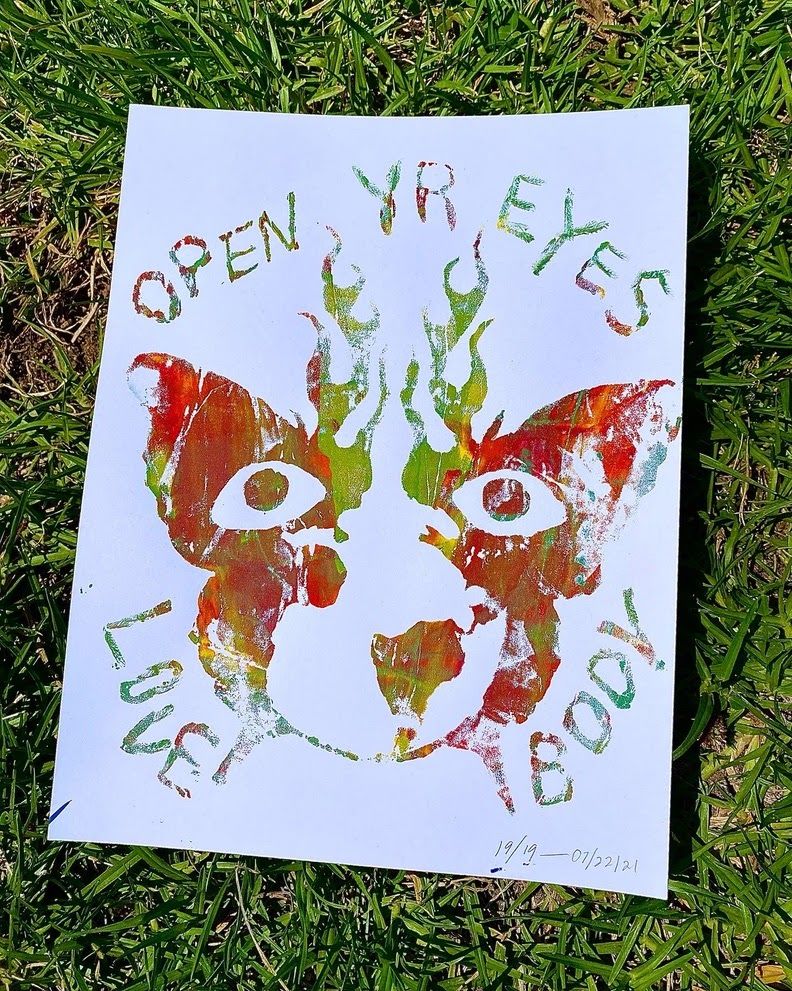 Lucia Santina Ribisi, Undergraduate Mentor
This power sigil is a call to action, to awaken metamorphosis.
Open your eyes. Earth on fire.
Love your body as a way of loving earth.
Love earth as your body.
This image came to me in meditation on the idea of "activist burnout." I asked the sun about burnout and the sun said "burn bright, baby." Earth said, "your body is your power vehicle as an activist, take care of us as one." Aspiring to inspire nourishing metamorphoses to liberate the wild of our environment, I nourish my body.
For the wild!
Natalie
Natalie Shtangrud, Intern
One of the most meaningful artworks to me was a score I wrote in which participants were asked to write their name on a piece of seeded paper, and holding it, embark on their own path around the field for 5 minutes. After time was called, participants stopped, acknowledged the people around them, and placed their seeded paper on the ground where they ended. Participants' movements physically represented the phrase "Everything Happens for a Reason," and throughout their 5-minute path, they crossed much of the field and passed many participants to end up where they did. Placing the seeded paper in their final destination represents the "seeds planted" by others in their own journeys for future generations.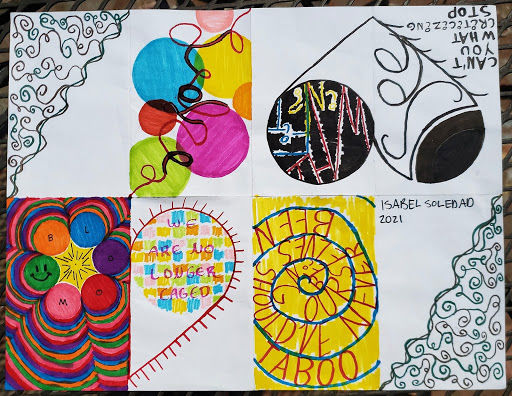 Isabel Soledad, Intern
This artwork is very meaningful to me because I really expressed my artistic ability here. The designs, phrases, and color combinations were purely original (on my part). This piece greatly helped me learn and reflect upon my values in my artistic practice.
Alessandra
Alessandra Soriano, Intern
This is what I think is important when it comes to feminism. Feminists are viewed as being pushy and argumentative; thus it's been a negative label with misunderstandings of what it means to be a feminist. I could care less if a woman wants to shave or not. I could care less if a woman wants to be feminine or masculine because there are women and girls out there who are abused every day due to gender-based violence. This art piece that I made expresses my organic wave thinking process of how women's empowerment has changed. And how we can change the negative stereotypes that many feminists have empowered.