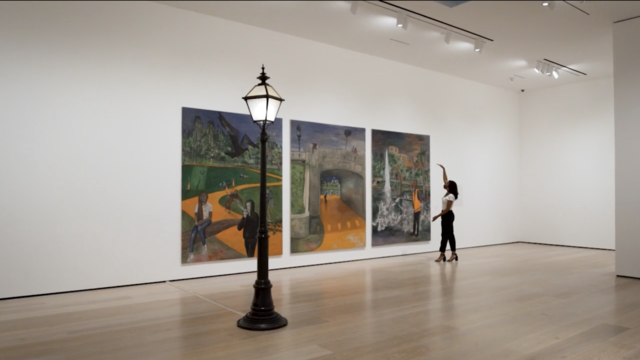 What Do You Think? 5th graders discuss a triptych
For her work Someone left the cake out in the rain (triptych) (2020), artist Jill Mulleady observed many activities in MacArthur Park near downtown Los Angeles and painted what stood out to her. Join me and the students of Mr. Diaz's 5th grade class in the video below as we discuss Mulleady's work and then create a drawing of a park with your family.
What do you like about going to the park? Do you see that reflected in her work below?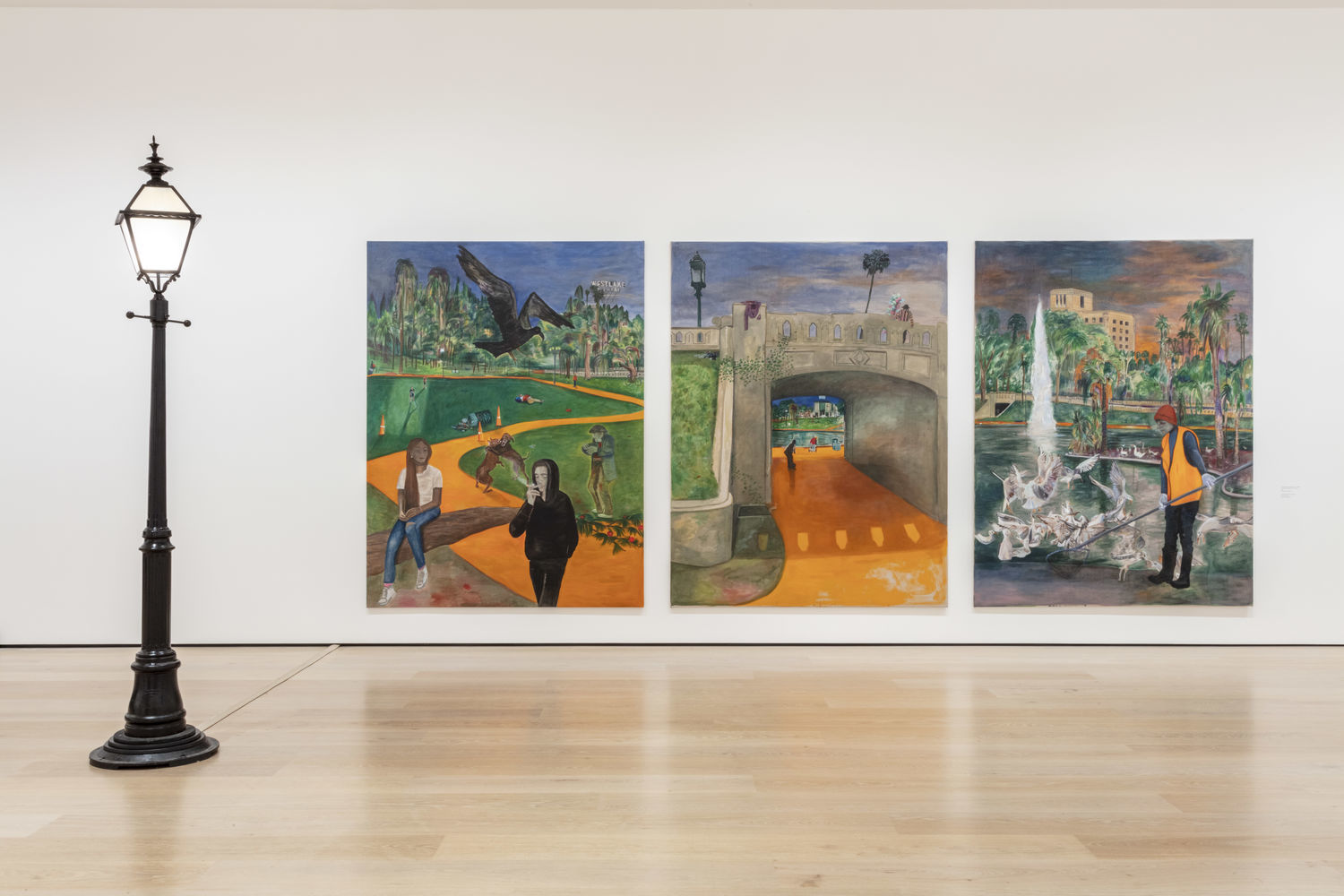 Someone left the cake out in the rain (triptych)
For this activity I invite you to draw what you notice at a park of your choice.
Supplies needed:
- Drawing utensil (charcoal pencil, lead pencil, ballpoint pen)
- Blank paper
Note: If your family and friends are far away, ask everyone to visit their local park, send their drawings to you.
Instructions:
1. Head to the park with your family and friends. It could be your local or favorite park or a park you've never been to before.

2. When you arrive at the park, find a comfortable place for everyone to sit. Have everyone sit outward in a circle (only your backs should be facing one another).
3. Each person should draw the view of the park that they see. Like Jill Mulleady, try to include people, plants, animals, and interesting park features, such as bridges and paths. Fun fact: The title of this work is taken from a song called "MacArthur Park" by Richard Harris, later made popular by disco artist Donna Summer. Play it as you draw!

4. When everyone is finished with their drawings, arrange them together however you'd like. Maybe the order of your drawings will reflect which view of the park you saw first. Maybe there are features in the park (basketball courts, walking paths, a lake) that should be next to each other. If you look at the top of each of Jill Mulleady's paintings, you'll notice that the sky is changing colors in each one; the paintings are arranged to reflect time passing and the sun setting.
5. Step back and admire the drawings together. Point out the different things that each person noticed. Have you and your family made a triptych (an artwork in three parts) like Jill Mulleady, a diptych (an artwork in two parts) or a polyptych (made of more than three parts)?

The series What Do You Think? invites students to share their reflections on contemporary art featured in the Hammer Museum's collections and exhibitions.
Tag us @hammer_musuem to show us what you've made!