Hammer at Home: Assemblage
Looking for some activities you can do at home? Here is one idea that you can try with materials you have around the house!
Use assemblage to make an artwork inspired by Betye Saar's Black Girl's Window (1969). Assemblage is a type of artwork that is made by putting together, or assembling, different elements—often everyday items or objects that have been discarded.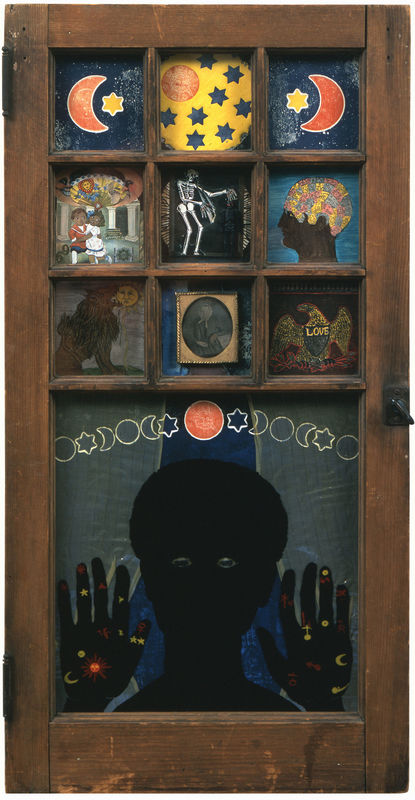 Betye Saar, Black Girl's Window, 1969
Close Looking
Begin by looking closely at Betye Saar's Black Girl's Window. Focus on the nine squares in this work. What do you think these images mean to Betye Saar? If you could use three symbols to represent yourself, which ones would you choose?
There are at least four different materials in this work. Can you spot them?
Write down all the colors that you see. Then try and find objects around your house that match those colors. This is how some artists who work in assemblage find materials to create sculptures with. Could you imagine using what you found to create an artwork of your own?
Artmaking
Find a shoebox or other small box and divide it into nine sections with a pencil or small pieces of cardboard.
Look for small items around your home or images from magazines that represent you. You may even use some of the items you found from the third prompt above! Create drawings as needed to fill in all nine spaces of the grid. Tape or glue them to each section of the shoebox.
Choose a symbol that you like - such as the moon or starts in Saar's work - and draw it several times. Add the images or symbols throughout your assemblage to create interesting patterns.