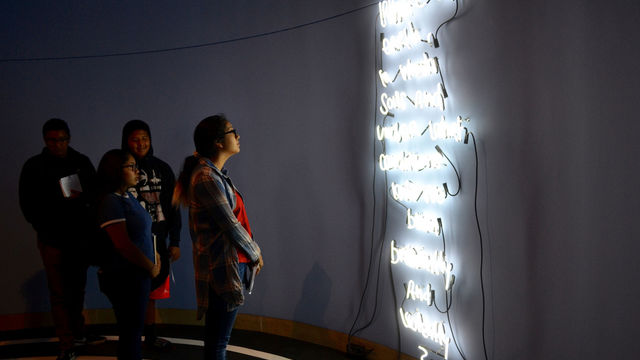 EJ Hill and the Summer of Silence
"This isn't our game. We're in this thing that wasn't designed for us. It's hard to be alive in spaces that are designed to kill you. But there I am, still standing." –EJ Hill
EJ Hill levitated over Los Angeles this past summer on a podium in a small gallery at the Hammer Museum. For the 78 days that Made in L.A. 2018 was open to the public, Hill stood still as visitors photographed, circulated, and studied him like a statue throughout his durational performance for the biennial exhibition.
There was a feeling of sanctuary that enveloped you inside the gallery's push-bar doors, an immediate hush to the pale blue glow of its curved walls that felt like a portal into the purgatory of cached memories in Hill's mind. But his work, titled Excellentia, Mollitia, Victoria (Latin for "Excellence, Resilience, Victory") was at its root an exercise in the regenerative power of reimagination.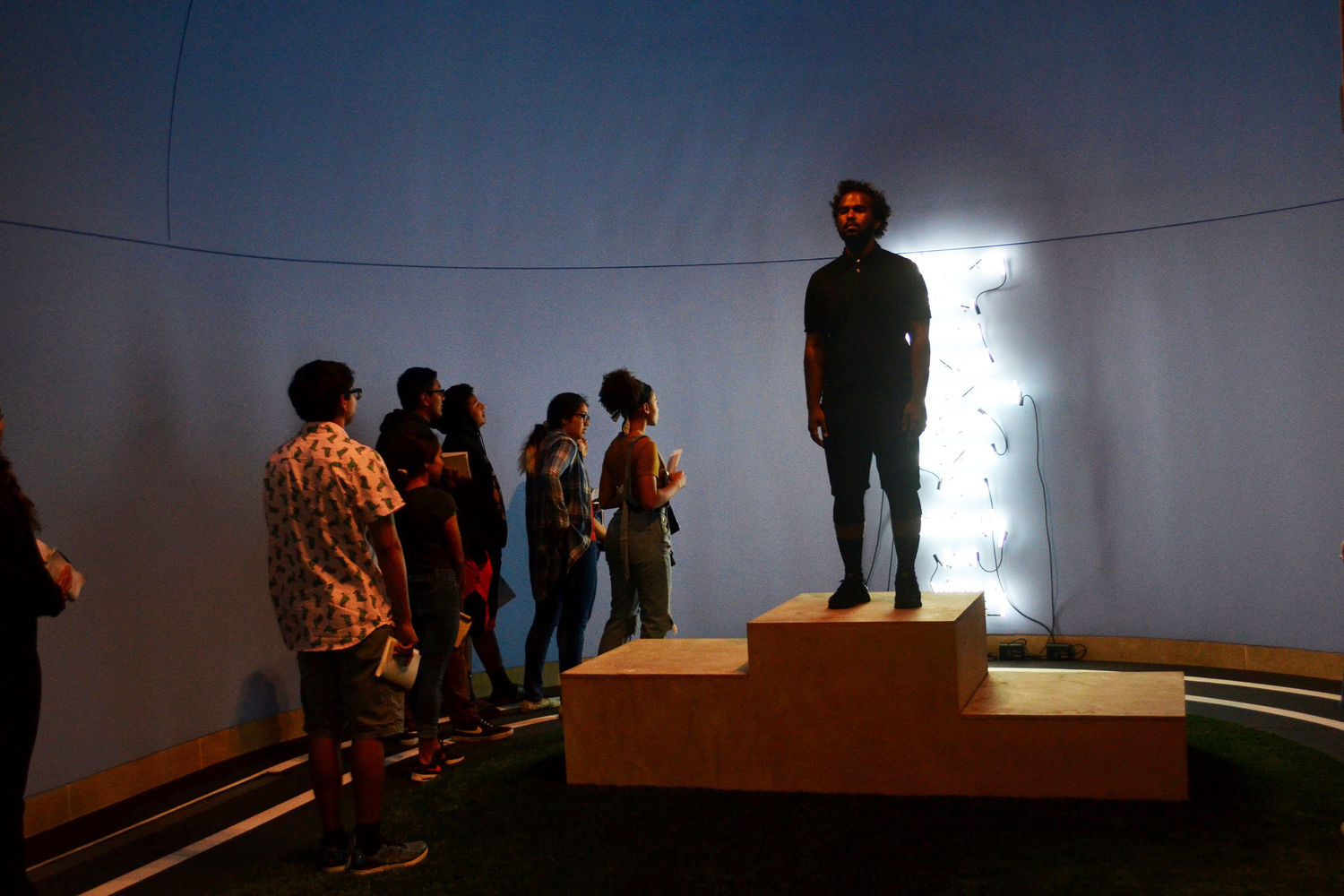 Students in EJ Hill's gallery
Standing in the first place position on a simple wooden podium set on a field of artificial grass, Hill was surrounded by a series of large photographs taken by Texas Isaiah as he ran the perimeter of each of the schools he attended in Los Angeles, from preschool through UCLA, where he received his MFA. Framed around his body like Stations of the Cross, they depicted the artist during different parts of his runs.
The literal laps Hill collected around the seven schools were an inventory of the things in each building that had instructed parts of who and how he became. Every breath was an exhale of a lesson he no longer needed, expanding his lung capacity by reclaiming clean air he had bartered away through the pollution of institutions in this country.  
He did all this as a muted object in the room for six days each week from June to September, silently absorbing the daily interactions before he would go home to eat, sleep, and recover. Except once.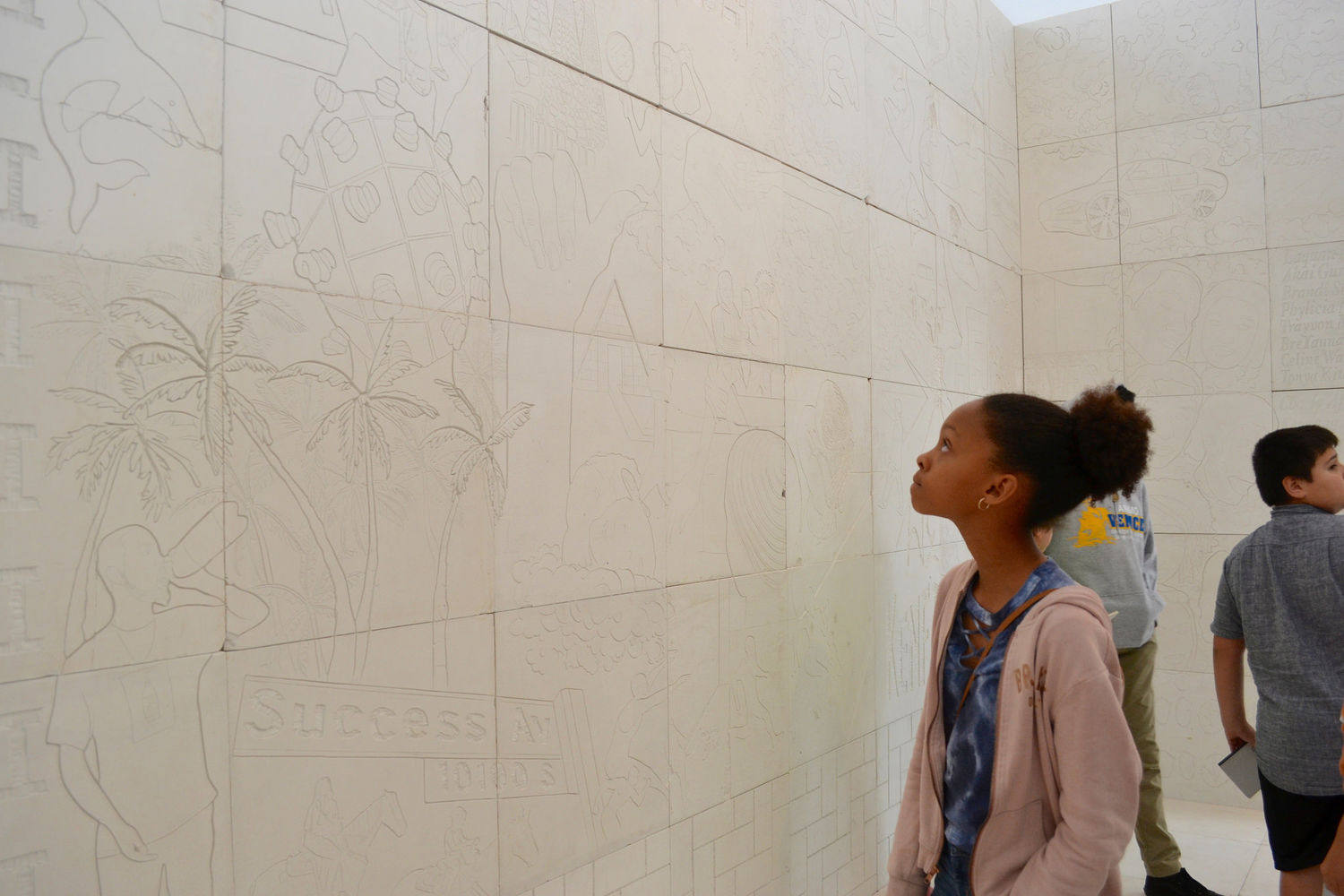 Student looking at Lauren Halsey's work
In the third week of June, students from 826LA's Summer Writers Workshop visited for a day of writing at Made in L.A. Through curriculum and writing prompts developed in collaboration between 826LA staff and the Hammer's associate director of academic programs, Theresa Sotto, and tour and outreach assistant, Tara Burns, students explored and responded to work by Aaron Fowler (El Camino), Jade Gordon and Megan Whitmarsh (OURCHETYPES), and Lauren Halsey (The Crenshaw District Hieroglyph Project) in addition to Hill's endurance piece.
In Hill's gallery, students sat beneath the hum of neon text that backlit his performance: Where on earth, in which soils and under what conditions will we bloom brilliantly and violently? They sat down on the AstroTurf and opened their journals to reflect on Hill's meditation on the push and pull of schooling for black and brown youth in a country that still carries the weight of its own sediment.
He stood tall for his younger self stuck inside classes and behind desks, for all the times he and other black and brown students had to contort to the room, and to radiate the kind of turmoil that metastasizes in growing bodies when they don't feel supported at their core. It was a reminder to acknowledge that things grow easily in soil, not dirt.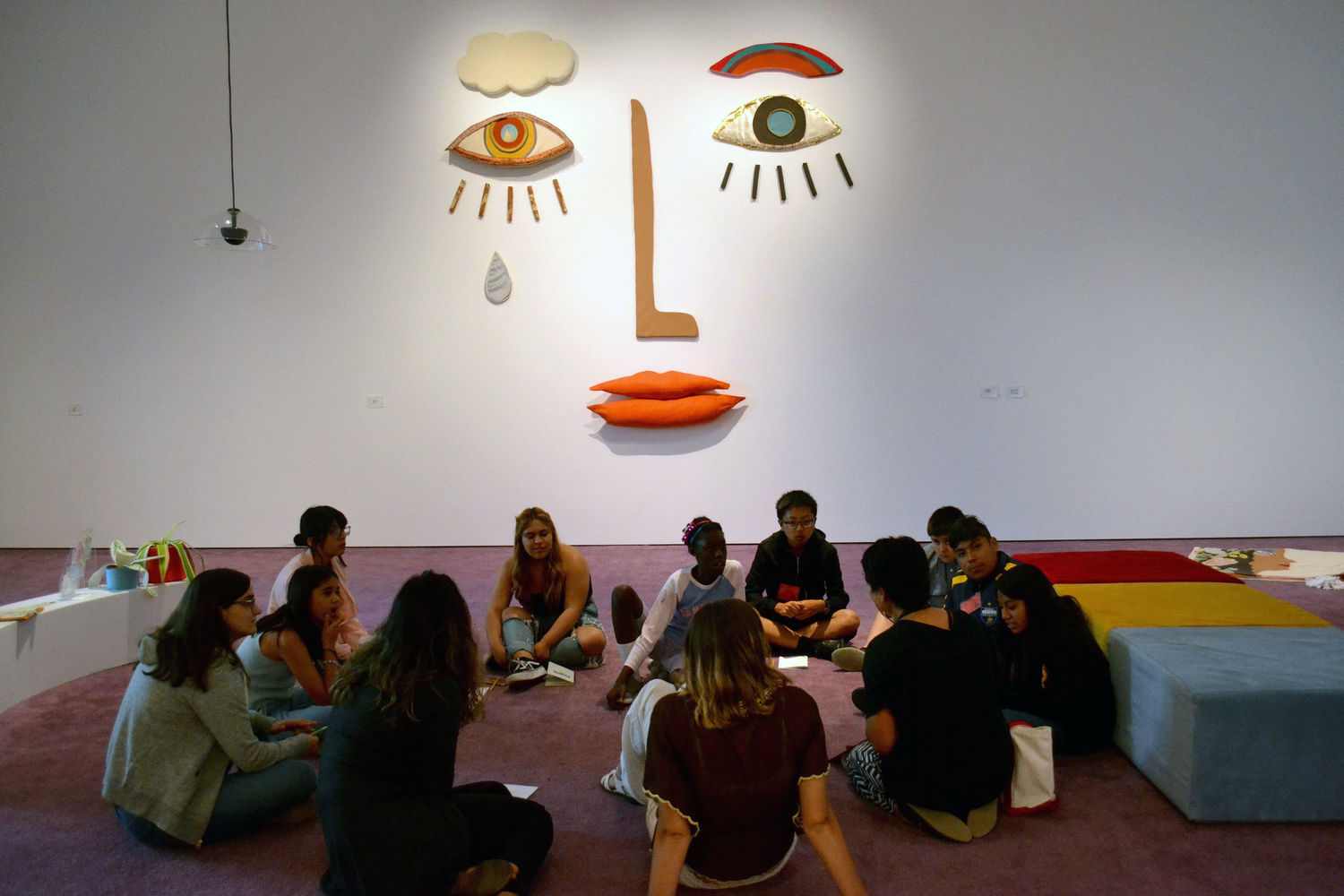 Students in Jade Gordon and Megan Whitmarsh's gallery
Erin Christovale, cocurator of the biennial, read the writing prompt aloud to students: "EJ's work is based around a very physical challenge over an extended period of time. Challenge yourself to write non-stop for five minutes. Do not let your pencil rest. For this stream of consciousness activity, consider the schools you attended. Reflect on your experiences. For example, what lessons did you learn? What lessons did you not learn? What lessons do you wish you could unlearn?"
Students wrote in the conjured classroom of their teacher for the day, and one by one shared reflections about their experiences in school. They talked about how being academically misclassified when they were younger chipped away at their self-identity growing up, and about charter schools and access to arts education in LAUSD. They spoke about how difficult it is to find outlets for yourself to calibrate the chaos of most days, and the myth of schools as safe spaces in light of all the shootings. "Mindfulness, they tell us. Breathe in, breathe out. Let's hear a recognizable sound. Chimes are played but I hear a recognizable gun fire," one student read.   
The room dripped with the molasses of real honesty and self-disclosure as Christovale started to wrap the conversation up and asked for last thoughts.
"I'd like to say something."
All heads shot to Hill on the podium with tears in his eyes. Saturated by the thoughts of young people reflecting his own work back to him, Hill broke to address students directly in what he said felt like a full circle moment that compelled him to speak.
Despite it all, Hill told students to keep going, to endure, to bloom as big as they possibly can. Because even if there is no equity in pursuit of the American Dream, young people of color still deserve to step out onto podiums they build for themselves and for each other to bear witness to the holograms of possibility along the way.
In the midst of a durational performance about patience, exhaustion, and stoicism that masks the compounding of systemic pain, the exchange was a brief but moving one for students in the room who talked about it the rest of the week. But access to these kinds of experiences is scarce in public schools in this city and in this country, especially for black and brown youth.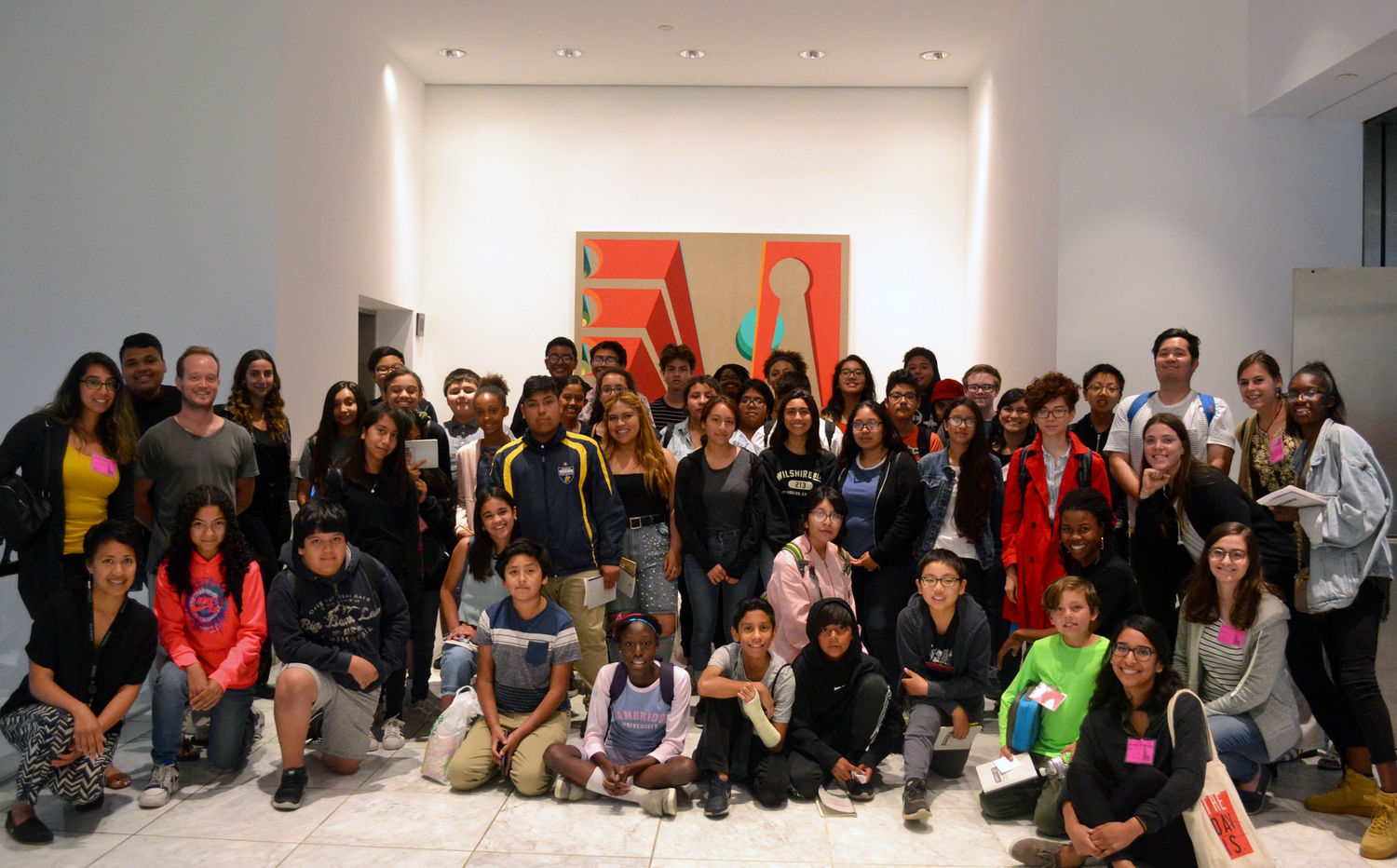 Group of students in the Hammer's lobby
In an EducationNext large-scale museum study of the value of field trips to cultural institutions, the results were consistent: Exposure to the arts makes young people more tolerant and empathetic, and promotes the generous kind of thinking that breaks through rigidity in the walls of instruction. "Arts experiences boost critical thinking, teaching students to take the time to be more careful and thorough in how they observe the world," says Jay Greene, a professor of education reform at the University of Arkansas at Fayetteville who led the study.
And yet the Arts Equity Index, LAUSD's 2015 data study meant to determine where access to arts ed programs are needed most, found that of the study's 639 participating LAUSD schools, only thirteen elementary schools and five secondary (middle and high) schools qualified as "excelling." Sixty percent of elementary schools and 54 percent of secondary schools were classified at the median level or below. LAUSD is the second largest school district in the country, with more than 600,000 students roaming its hallways each year.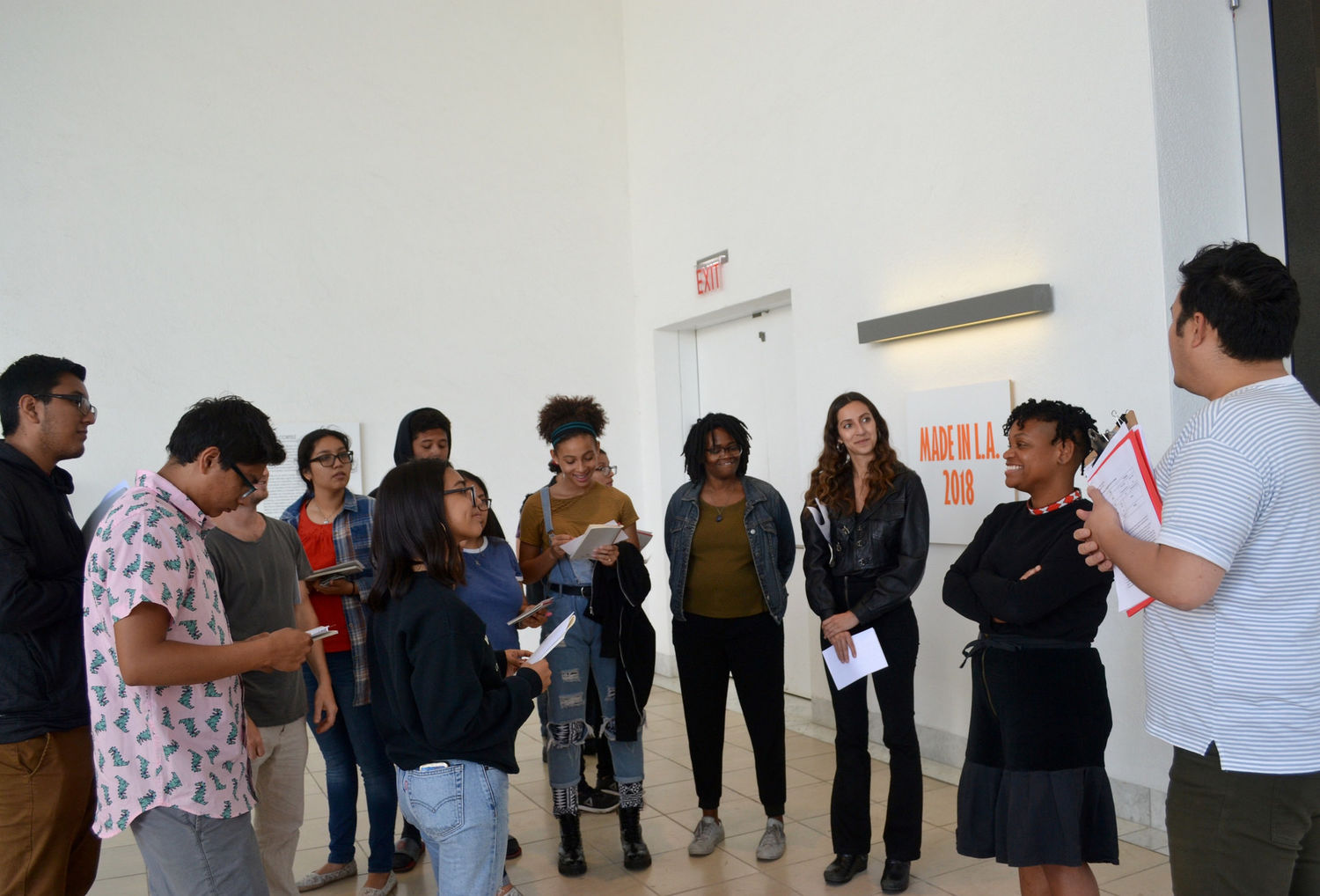 Students talking with Erin Christovale, Made in L.A. cocurator
The schools where 75 percent or more of students received free and reduced lunch meals (the metric most used to determine family income level of a school's student population) had the largest concentration of students without access to arts education. This increases even more so where the majority of students are black or brown, even though Los Angeles County has been majority people of color since the late 1980s and it is required by law in the California Education Code that arts education must, at the very least, be offered to students as part of the curriculum.
In a Los Angeles Times article published after the conclusion of Made in L.A. 2018, Hill said he missed a lot of cultural touchstones over the summer in his quarantine like Crazy Rich Asians and the lead up to the Kavanaugh hearings. "Everything feels so surreal. It was a very extreme remove," he says, but does not regret it. "I got to spend beautiful moments in that room with complete strangers."
Although contained behind those blue walls and push-bar doors, his work still managed to be at the center of the same conversation happening throughout the country. How can black and brown youth be expected to thrive in a system not built for them that calls more often on their instincts to survive? We have to evolve as we hear more of each others' stories if we ever hope to be as good as the people who work to rebuild the broken parts of our oldest institutions.
This past summer, in a small gallery in a corner of the Hammer Museum, EJ Hill set his match out on an artificial field. The question floating in the ash of his victory is: How will you?
The Standing Running Man by Diego Grijalva
1. School put words into my mouth
I spit them out like poison
Christopher Columbus did not
have a peaceful Thanksgiving dinner
I know that
Slaughtered and raped
I know that
But I'm not supposed to know
2. I was always benched
I would watch the other kids run around the yard
I looked down at my legs
They itched for freedom
Focus on your lesson
They didn't want you to learn
I know that
They want you to repeat
I know that
3. EJ Hill
Who is this man who stands
victorious
Ran around his schools
Standing tall
Tall…
tall hurdles
I'm not running fast enough
4. Run
Why are you running boy?
My mind and soul are flying
I'm afraid I won't catch up
Physically I am stuck
Stuck behind desks
Stuck filling my head with
Pointless words and letters while
my words are never heard I yell
but the sound of my voice never reaches their
5. Ears
Yes I hear what you say but I
don't want to listen
Please leave me alone I am
running
No I do not blame you for being
Ignorant but let me tell you I am
annoyed so do not tell me to
6. Stop
No
I will not stop till I have reached the
Top and then some
I am tired of waiting
I am tired of swaying behind
artificial AC while the kids around
me rot and decay I am in a
State of disarray
I need to
Keep running for the people who
can't for the people who
Have never had the chance to be
Free
Because all their lives they have
Been like me
I run because it sets me
Free
So please
Please
Let me be free
For EJ Hill by Regina Zamarripa
A presence is among me
he is stoic, silent, & simple.
He says no words
but makes himself known
We all know he's here.
On fake grass
my pencil
marks dead tree
and I wonder
where this stream of consciousness
will lead me.
Consciousness.
A word unveiled in AP English
James Joyce and T.S. Eliot
consciousness.
A word that I still
can't spell on my own.
I'm good at this though
maybe because the person
whom I talk most to
is myself
I'm alone.
Am i crazy?
Where on Earth
does this ever happen?
Grass feels brittle
against my fingers.
The presence still lures
above me
but it is as if
he's not there.
Where is he?
Where does his mind go?
. ________ . _________ . ________ . ________ . ________ . ________ .
Suddenly,
he speaks
Hurdles,
Life Lessons
"Dream Big"
it evokes in me
something powerful.
A stream of tears
flow down his face
his voice
makes his presence
present.
The room turns quiet
but not solitary
it's actually unity.
-for ej hill
          a thank you