Where are They Now? Senga Nengudi's Revery - R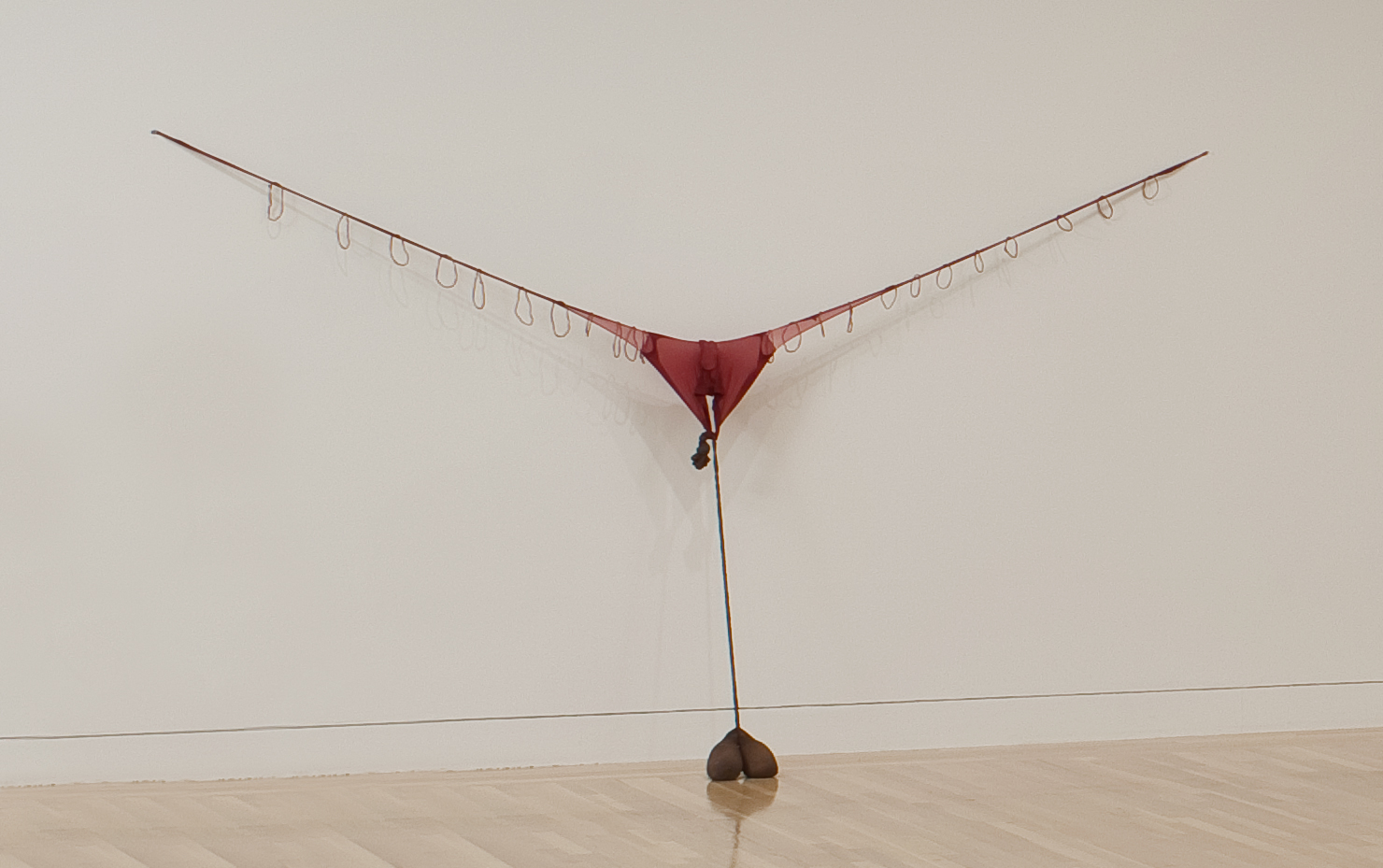 Revery - R
Upon first glance, Nengudi's sculpture Revery - R mimics the shape of the letter Y. A maroon nylon mesh triangle is stretched on both sides to form a wide letter V. Eleven misshapen rings hang loosely from the mesh on either side of the triangle. Tied to the bottom of the triangle is a long brown nylon mesh string attached to two pouches of sand on the ground. The work makes references to the human body, but rather than creating an explicit representation of the human body, Nengudi's work is symbolic. A single rail-like nylon leg is weighed securely to the floor by feet that are pouches of sand. The single leg meets a pantyhose crotch with a vagina-like opening. The texture of the nylon mesh alludes to skin. Nengudi's emphasis on the elasticity and flexibility of the material may suggest flesh being pulled and stretched to shocking capacities during childbearing. Nengudi leaves gaps and slits in the mesh, encouraging viewers to place their limbs through the material and become a part of the sculpture.
The human body is central to Nengudi's practice. It is important to note that Nengudi often activates her sculptures through performance. The sculptures are meant to be "caressed, fondled, and stroked by artists and viewers,1" and she frequently invites fellow artists to participate in these performances.  For a number of years the artist pursued dance, before transitioning to a practice rooted in objects that contend with or reconsider corporeality. Nengudi's origins in dance, coupled with her fascination with the body, gave way to her free-form sculptures that are exude a human-like confidence. Works like Revery - R appear as though they may come to life at any moment, detach themselves from the walls, and move like dancers across the floor.
[1] Jones, Kellie. South of Pico: African American Artists in Los Angeles in the 1960s and 1970s. Duke University Press, 2017.