Interview with Family Day Artist Beatriz Cortez
Beatriz Cortez is a Los Angeles-based artist and scholar whose work is currently on view in the Hammer's Made in L.A. 2018 exhibition. Cortez immigrated to the United States from El Salvador in 1989 after living through most of the Salvadoran Civil War. Her work—often large steel mechanical structures featuring plants—addresses themes of simultaneity, nomadism, and history central to the experiences of immigrants and indigenous people. Cortez will be one of six artists leading a workshop at the Hammer's Family Day on September 8, 2018.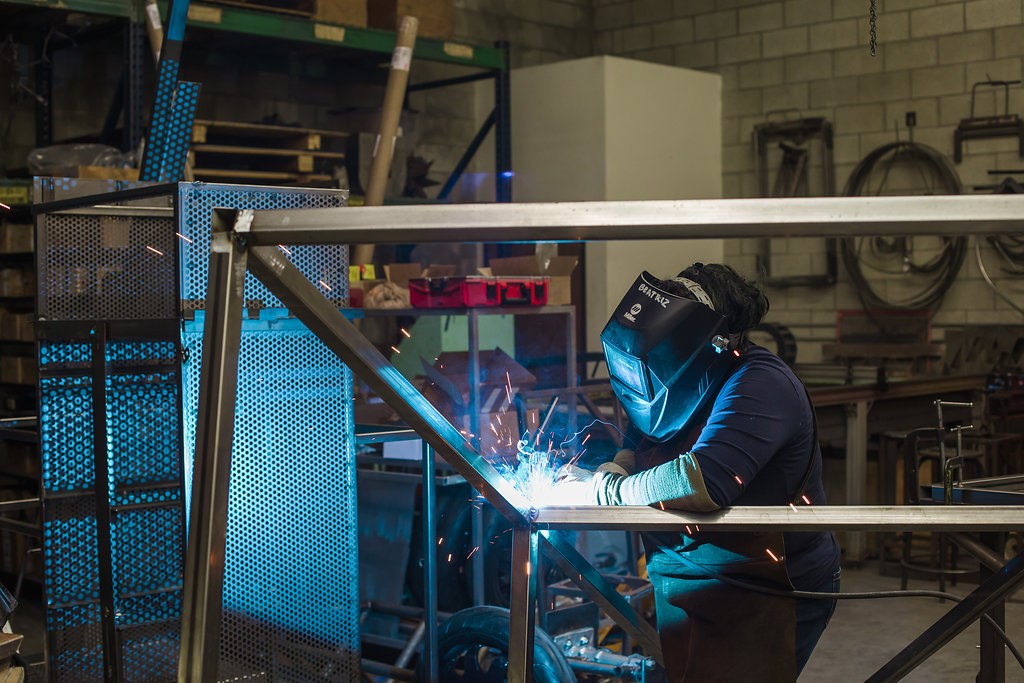 Beatriz Cortez at work at Molten Metal Works. Photograph by Gina Clyne, courtesy of Clockshop.
What ideas are you interested in addressing through your work?
I want to build memory of the past in a way that is relevant to the future. I am interested in building identities, but I am not as interested in defending them as I am in vacating and reinventing them. After all, that's what it means to be a nomad—constantly redefining who we are. I am also interested in how immigrants are able to exist simultaneously in two realities, two places.
What prompted you to start making large steel structures?
I made my first steel piece, Armor for Rufina Amaya, in honor of the survivor of a massacre that took place in El Salvador in 1991. There was a lot of denial about this; the government claimed the town never existed because everyone had been killed except for this one woman. She went and hid in the wilderness, and I wanted to make an armor for her to symbolically protect her memory. The piece also features an audio recording with the names of the dead.
There are other ideas that inspired me to use steel. The Back to the Land Movement was about using local materials and returning them to the land, and that's the way I imagine steel. I'm not sealing the metal and it's behaving as the organic material it is. I imagine the metal returning to the earth from where we took it. I place the machines outside, and because they're not sealed, they rust and age.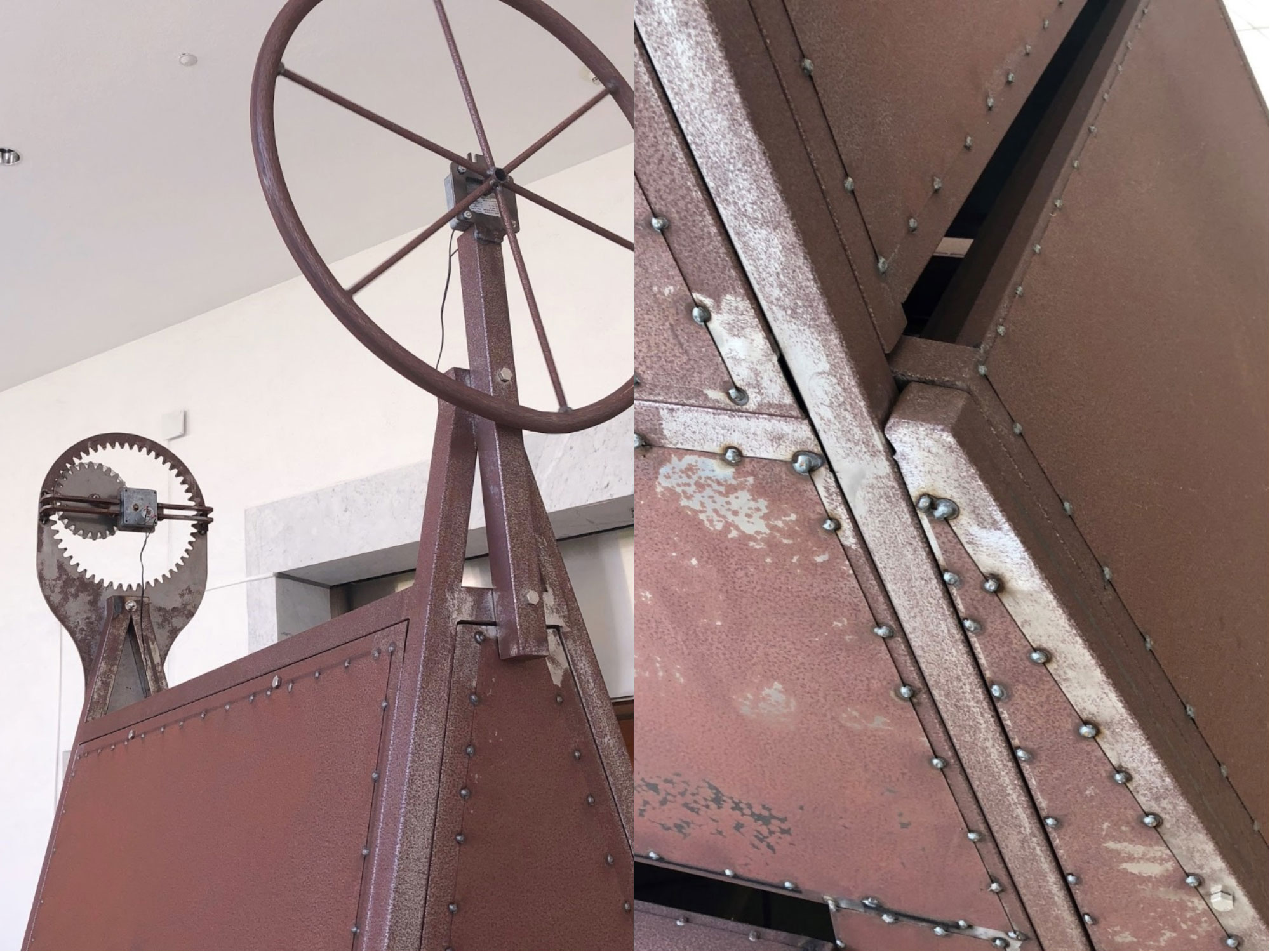 Tzolk'in (details)
I was also interested in building environments that allow the viewer to have an experience, to enter a space and move through it. There's a difference between owning an object to look at and going through an object. The first time I built something like that was the Time Machine. People could go inside and sit in a swing and be outdoors in El Salvador even though the piece was in L.A. Rafa Esparza and I also created Tropical Nomad, a garden of water plants that was more humid than the L.A. environment. This environment was an experience that moved through your senses.
What interests you about agriculture and plants?
I have been working with plants for a long time. I realize that immigrants have gardens that recreate their home countries, and plants are immigrants as much as we are.
In the video Childhood Bedroom,  I built a replica of my childhood bedroom, and  planted all these plants in it. Everyday I went to record eight seconds of the piece. I wanted to make a piece that was about abandoning the space I once called home, but instead of being a piece that was sad to me, it became a space that I looked forward to visiting everyday. Mushrooms began to grow, there was this slug that traveling around, and the grass became so tall that it looked like corn. Slowly, this work became a piece about life.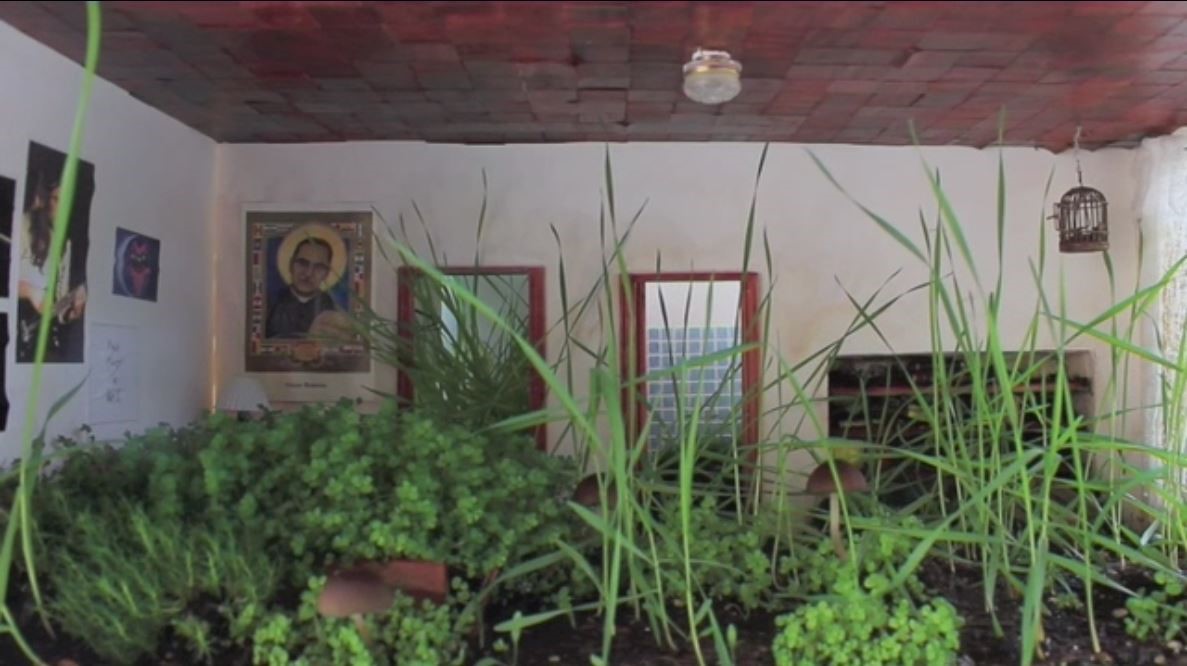 Still from Childhood Bedroom
My first show at CalArts (where I went to art school) was Our Roots. When people talk about indigenous peoples in the Americas they often refer to them as "our roots." But that implies that they're dead, under the ground. These people are our neighbors; they're standing next to us and they are our counterparts. I was fighting the idea of roots, so I gathered a lot indigenous plants and turned them upside down, pointing towards the heavens.  
I'm trying to argue with my favorite philosopher, Deleuze, who said that gardens are sedentary. I'm trying to make gardens that are nomadic. Piercing Garden is not moving away, but it is not sedentary; it is piercing the space vertically.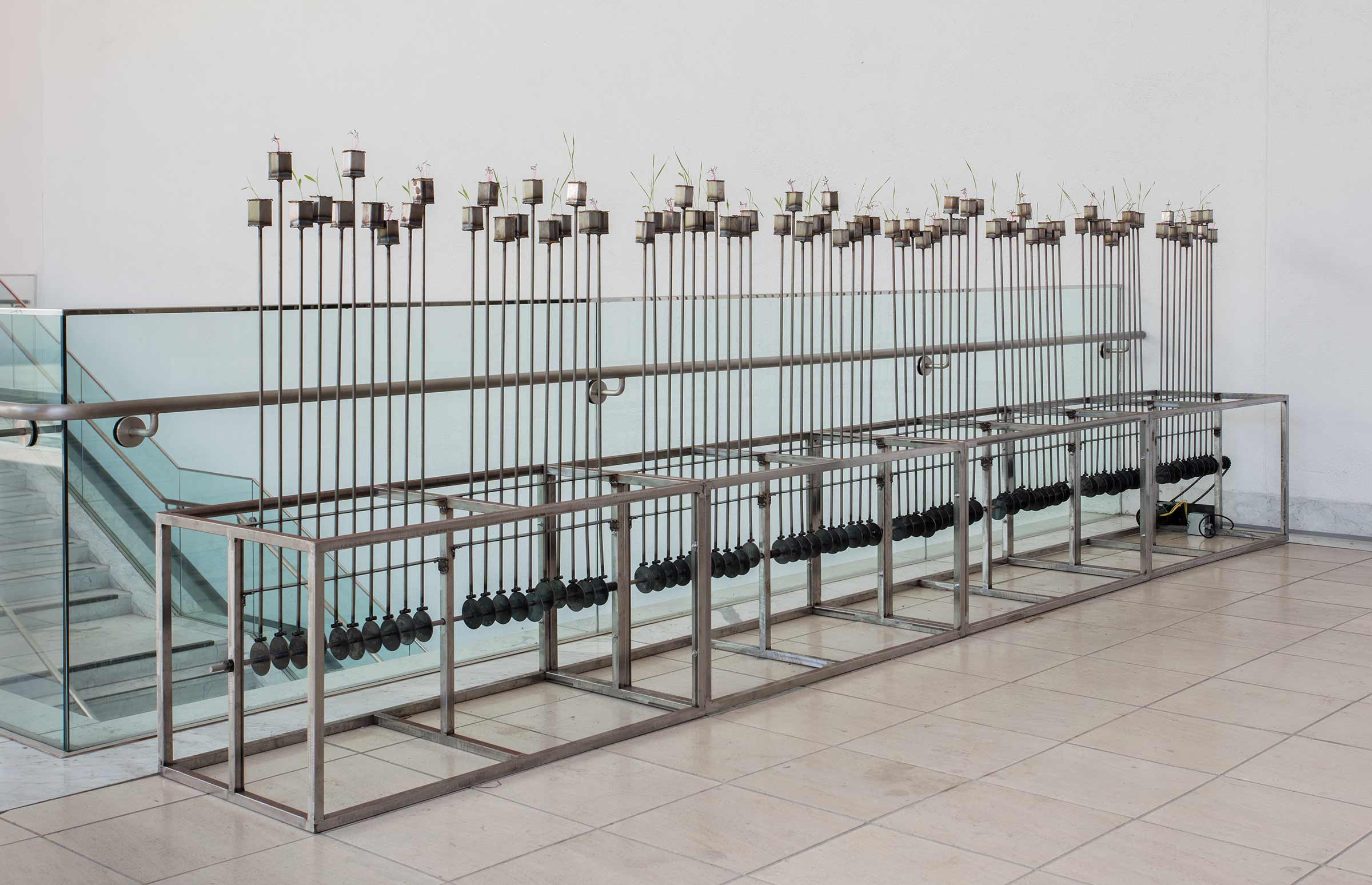 Piercing Garden
Could you talk a bit more about the process of making these works?
My machines are made by hand; Piercing Garden has more than 300 moving parts all made by hand, not industrially cut. If I'm making a structure, I don't always draw everything. A lot of the things come together in my head. I don't like being tied to a drawing or knowing the next step. It's all about the freedom of improvising but also knowing that things fit and match; I often have to go back and fix things. I think that the element of improvisation is really important, because it inscribes into my work the questioning of industrialization, and also immigrant labor.
When I first arrived to the United States, the only job I could find was one translating a college algebra textbook into braille. I didn't actually know how to do it, but I trusted in my intelligence. I see this kind of resourcefulness in immigrants. My team and I are not welders, but we're still in the shop making these larger than life objects. They look like professional, industrial structures at first, but when you look up close, they're not perfect. They look handmade. There's a craft element to them that is meant to honor immigrant labor.