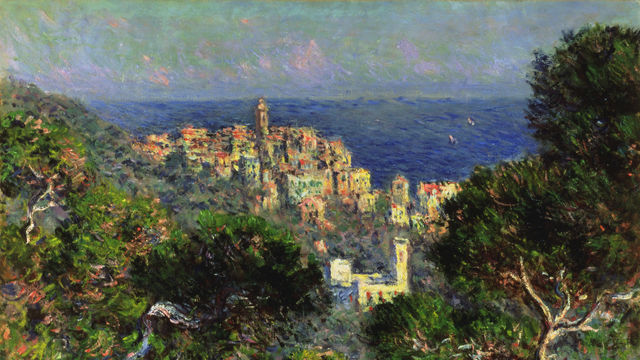 Where are They Now? Monet's View of Bordighera
The work is featured in the exhibition's trailer, where Monet's paintings come alive à la Loving Vincent (a 2017 experimental animated Vincent van Gogh biopic), quite an unusual and impressive feat for a museum show.
Bordighera, a small Italian coastal city near the French border, was recently and discreetly brought to the spotlight through cinema. André Aciman's 2007 novel Call Me by Your Name sets the first intimate moments shared by its characters Elio and Oliver on the hills of Bordighera, not far from where Claude Monet himself stayed on two occasions. Although the director of the 2017 award-wining film adaptation of this book relocated the story to Lombardy (the magnificent 16th century villa is apparently up for sale), he kept Bordighera's lush atmosphere rendered in Monet's paintings.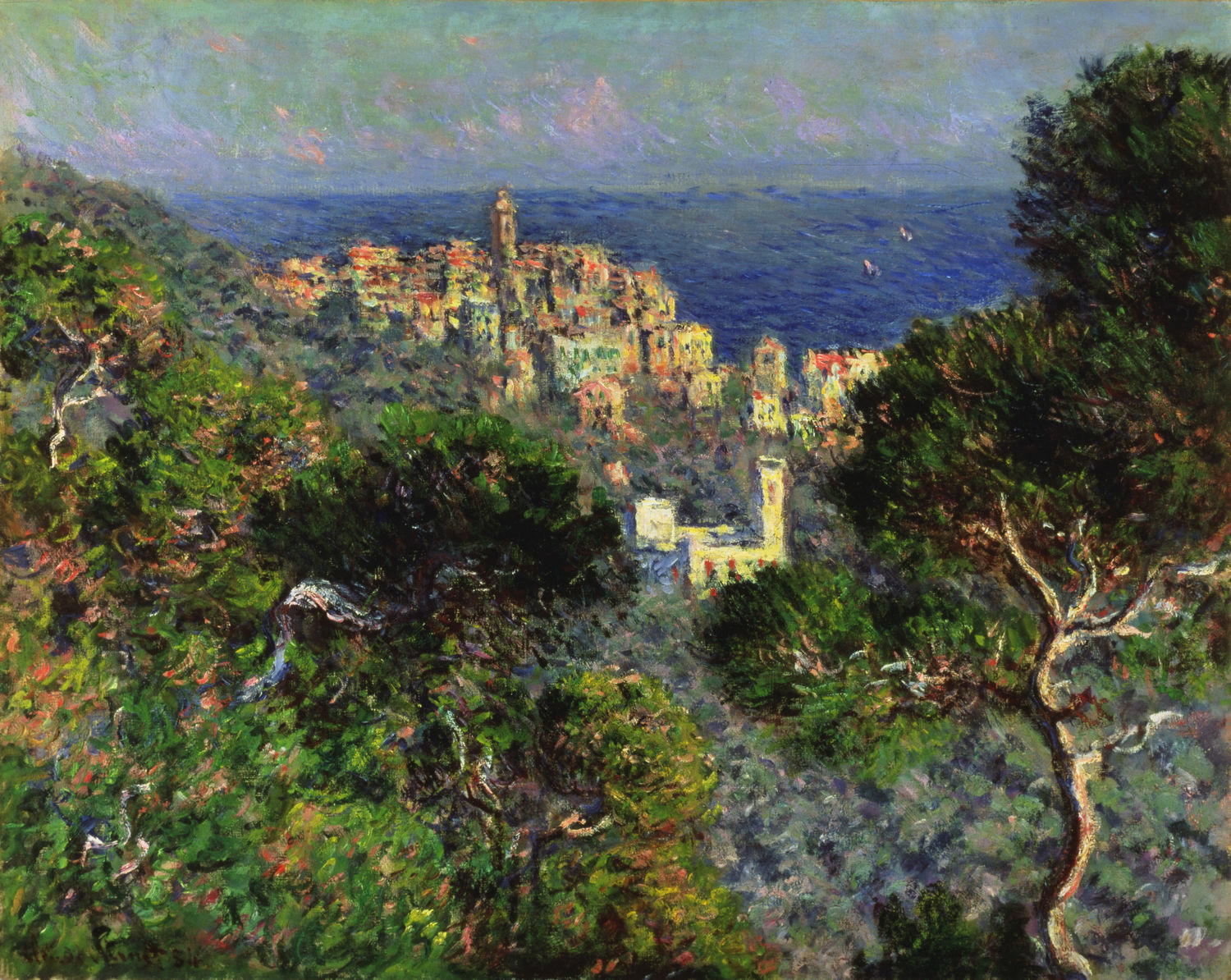 View of Bordighera
It was in 1883 at the age of 43 that Monet first discovered Bordighera on a trip to the Mediterranean coast with his friend and fellow painter Auguste Renoir. On their way to Italy, Monet and Renoir paid a visit to Paul Cézanne at l'Estaque, a small fishing port outside of Marseille where he resided. Looking at La mer à l'Estaque (1878-79), which Cézanne painted a few years before this visit, one can imagine Monet feeling inspired by the composition, particularly for the series of "views" he painted during his second stay in Bordighera.
In 1884, Monet came back to Bordighera for what was supposed to be a three-week stay fully dedicated to painting. This short stay ended up lasting three months, during which he painted a series of three views of the city. The painting in the Hammer's collection is part of this series. The others are a work at the Art Institute of Chicago and another in a private collection. These works show the cittá alta ("Upper City") of Bordighera, overlooking the Mediterranean. Monet placed his easel on the heights of the city to depict three slightly different views, adopting the same angle but at three different elevations. The piece at the Art Institute of Chicago is probably the composition most similar to Cézanne's painting, where dense vegetation frames and overpowers the view of the city. It is this lush vegetation that moved Monet here, as he was more accustomed to the colder and more familiar landscapes of Normandy. He widely shared his impressions of the city in his correspondence with friends, dealers, and his wife-to-be, Alice Hoschedé. In a letter to Alice, Monet reports that painting in Bordighera "is extremely difficult to do and it is very time-consuming, mostly because the large self-contained motifs are rare. It is too thick with dense foliage, and all you can find are motifs with lots of detail, jumbles terribly difficult to paint, and I, in contrast, am the man of isolated trees and large spaces," While complaining to her about the challenges of painting in "one of the most beautiful places," however, Monet left Alice to care for his children alone in France for what became a three-month absence. 
The previous year, French architect Charles Garnier had published Bordighera and the Western Riviera, an authentic travel guide of the region. In a chapter dedicated to visiting artists (Artistic Features of Bordighera), Garnier details the motifs and panoramas that artists might find of aesthetic interest.
"To artists.

We may take it, I think, as a general rule that artists as a body do not care to have subjects either for sketches or finished works pointed out to them. They infinitely prefer to wander hither and thither at will, and discover for themselves those picturesque spots, those tempting 'bits' which they find so great a delight in transferring to their sketchbook or canvas. If, then, it always happened that artists who visited Bordighera came there intending to make a long stay, I at least should be the last to anticipate their impressions, but should leave them to ramble haphazard, feeling certain that their artistic instinct would direct them to all the interesting points of the neighborhood…But it is probable that some of the landscape painters and amateur artists who visit this spot do little more (if it is allowable to say so) than take a hasty turn round; and it is possible therefore that, in spite of their innate faculty for discovering beautiful 'subjects,' they may pass over the most picturesque spots and lovely and characteristic views, without being aware of their existence…I think therefore that I may be rendering a service to those artists who are but birds of passage."
In the second chapter of his guide, "The Tower of Mostaccini," Garnier plays the role of a tour guide, taking us from the small square facing the old church (whose bell tower we can see in Monet's painting) up to the surrounding hills, highlighting spots that offer the best views of the city. It is tempting to imagine Monet climbing the hills in this passage of the guide:
"We shall arrive almost immediately at the level plateau, where there is the cluster of pines which crowns that portion of the summit. Before continuing the track which leads us back again to the plain, let us stop for a few moments on the pine crest and turn our eyes toward the left: here are at least four or five delightful subjects for our sketch-books, which seem to stand out from their surroundings, as if only waiting to be reproduced on canvas. This is an especially characteristic corner of Bordighera, and one which is not likely to be soon forgotten."
It's now up to the arts-inclined tourists to follow the path described by Garnier to find the three different viewpoints matching the three Views of Bodighera.