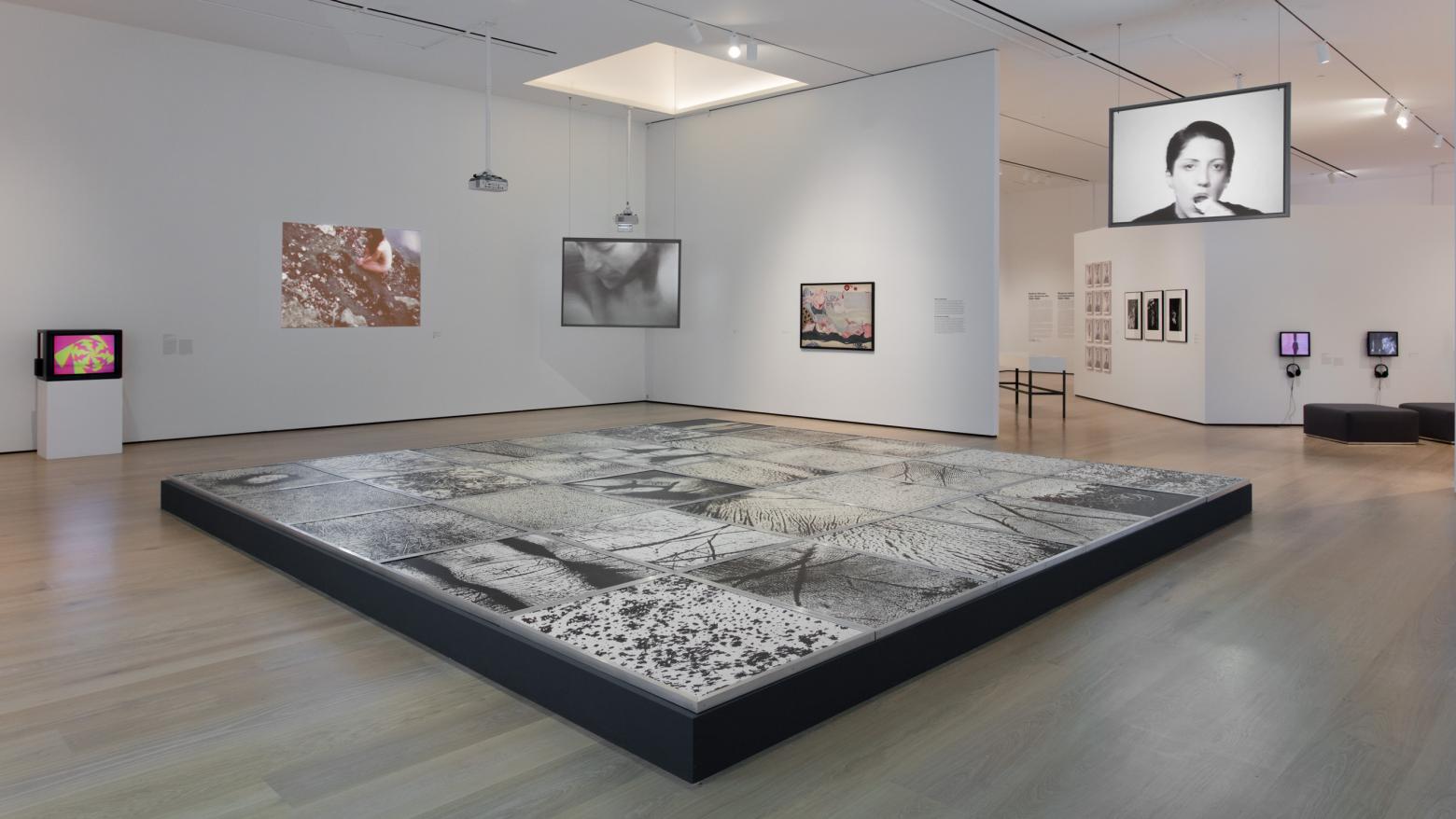 Throughout the run of Radical Women, we offer weekly gallery talks by artists, scholars, and writers who discuss specific works from the exhibition that inspire and provoke them. In this post, Raquel Gutiérrez recaps her talk.
As I walked through the exhibition Radical Women: Latin American Art, 1960-1985, I thought to myself: Todo es posible. Everything is possible. It's a bilingual mantra that animated the walk-through to a signal, a gesture, an entire world made possible by many radical women in 25 of the hardest years of a 20th century. Making the self is possible. On my own terms. On yours. It is possible under duress. Under patriarchy. Under military dictatorships. We are possible.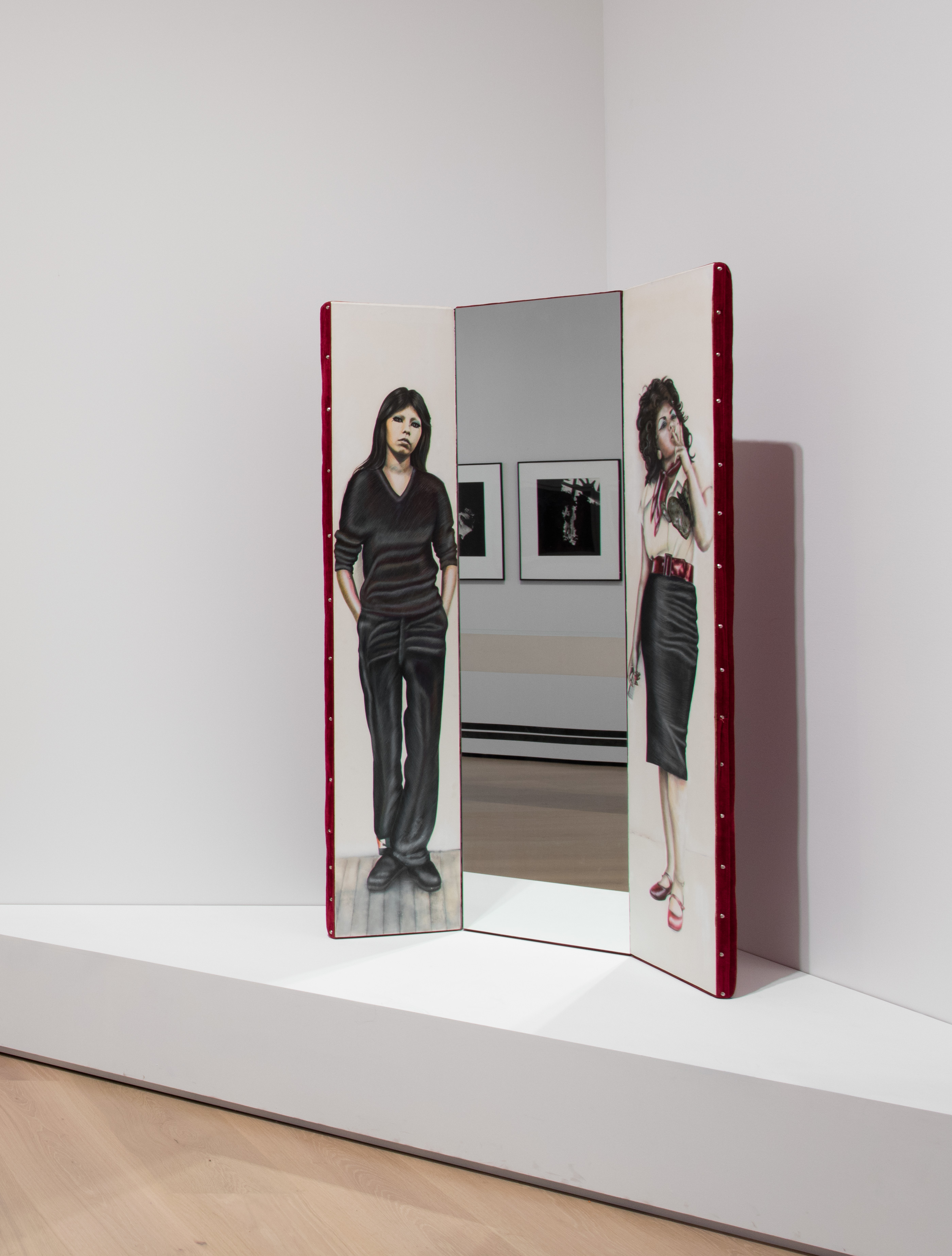 Las Tres Marías (The three Marias)
Three women named María watch you rise again. You see you once, twice, three times a self-portrait. How do you see your identity coming into the fore when bookended by two fierce East Los Chicanas? Judy Baca gave us the gift of looking sin permiso sin papeles again and again.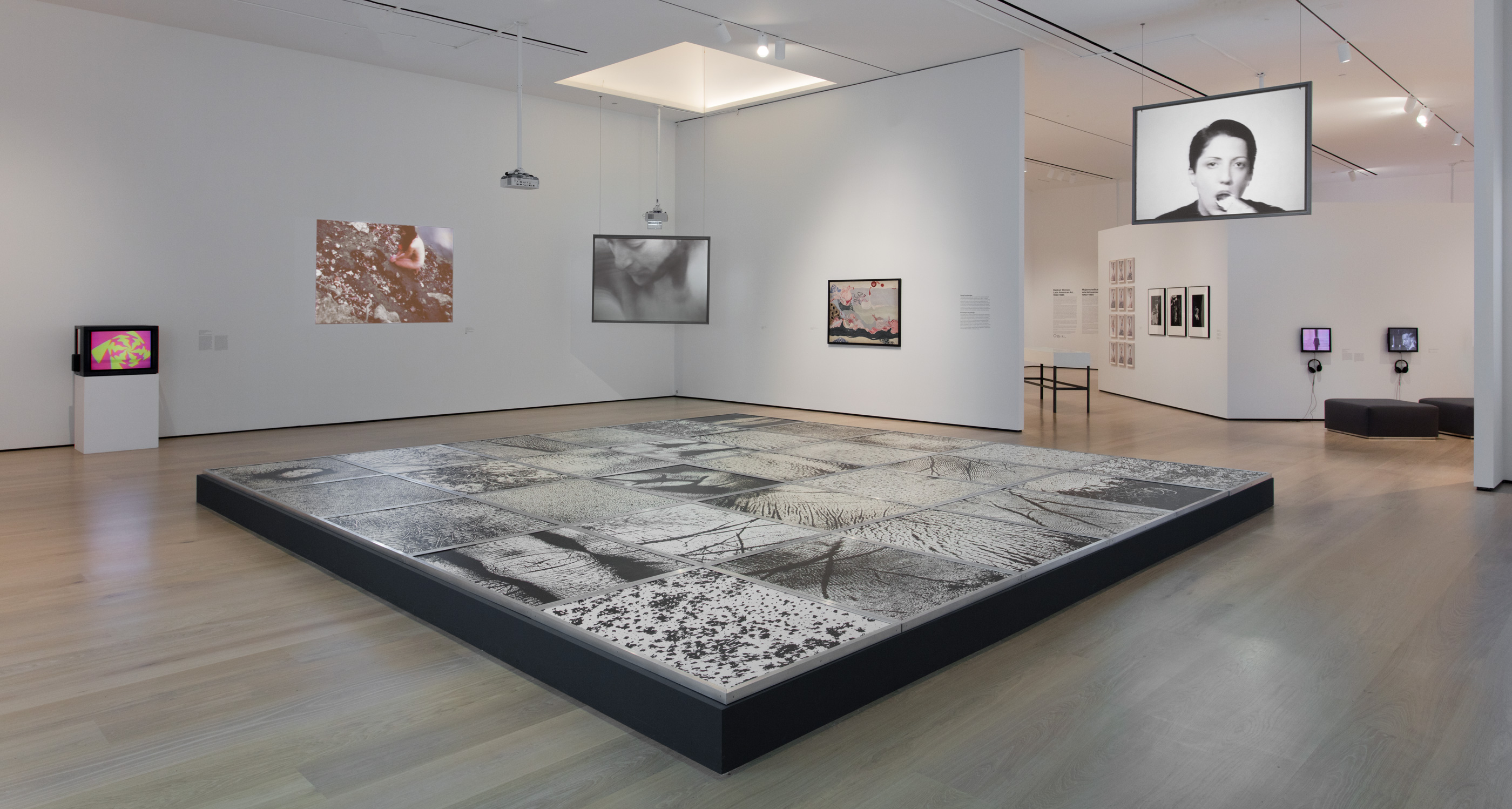 In the Body as Landscape section of the exhibition, the floor is dominated by Epidermic Scapes (1977/1982), an installation by Vera Chaves Barcellos composed of large scale photographs showing details of the body. Projected on the left wall is Ana Mendiata's Corazón de Roca con Sangre (Rock Heart with Blood) (1975), in which she takes a heart-shaped rock and covers it in blood, laying it in one of her "Siluetas" sculptures before placing her naked body over it.
I recover breath standing in the Body as Landscape room adjacent to the Self Portrait room. Living in Southwest borderlands, I often think about the ways these physical terrains are feminized and have been preyed upon by the masculinist interventions made in the name of progress. Settler colonialism is a land grab starting with the pussy. A flag is staked into the feminine body, belly buttons bleed in response. I'm not the only one, I think. Ana Mendieta is casting her presence into a difficult terrain—an imprint bearing witness to a landscape robbed of itself. What does Ana Mendieta give us if not a visual language tethering body to land to understand the constellation of trauma that has haunted a generation of young women and gender non-conforming people?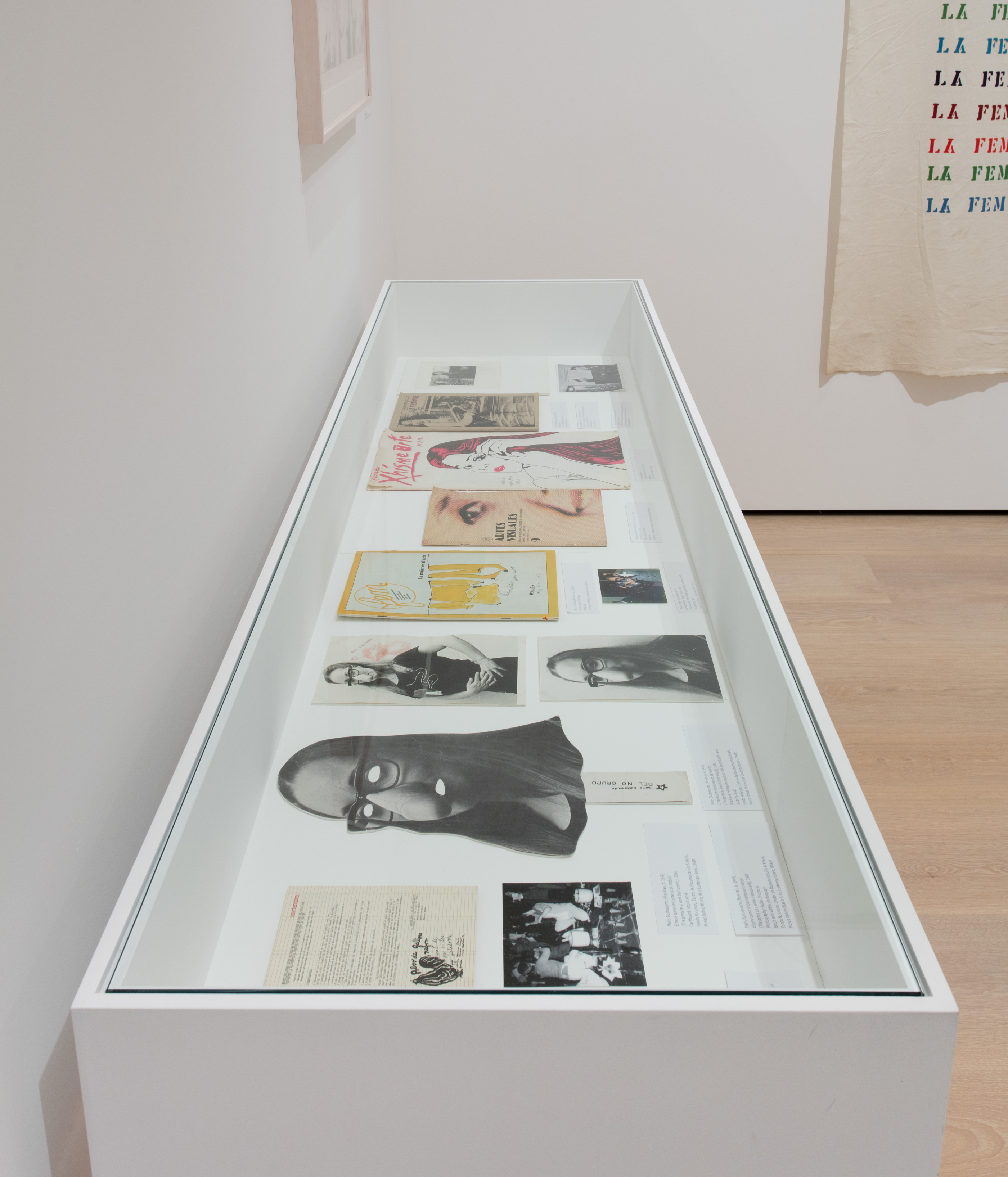 Included in the case (three black and white works in the middle): Maris Bustamante's El pene como instrumento de trabajo (The Penis as a Working Instrument) (1982)
It is possible to demand accountability. It is possible to see its arrival in our lifetime. Maris Bustamante called that possibility into being. Our cultural zeitgeist has each and every one of us coming forward and seeing the ways toxic masculinity has subjugated us in the workplace. By donning a penis in lieu of Groucho Marx eyebrows and nose and asking her spectators to bear witness to the absurd, Bustamante's El pene como instrumento de trabajo makes it possible for us to banish those toxicities from every pore.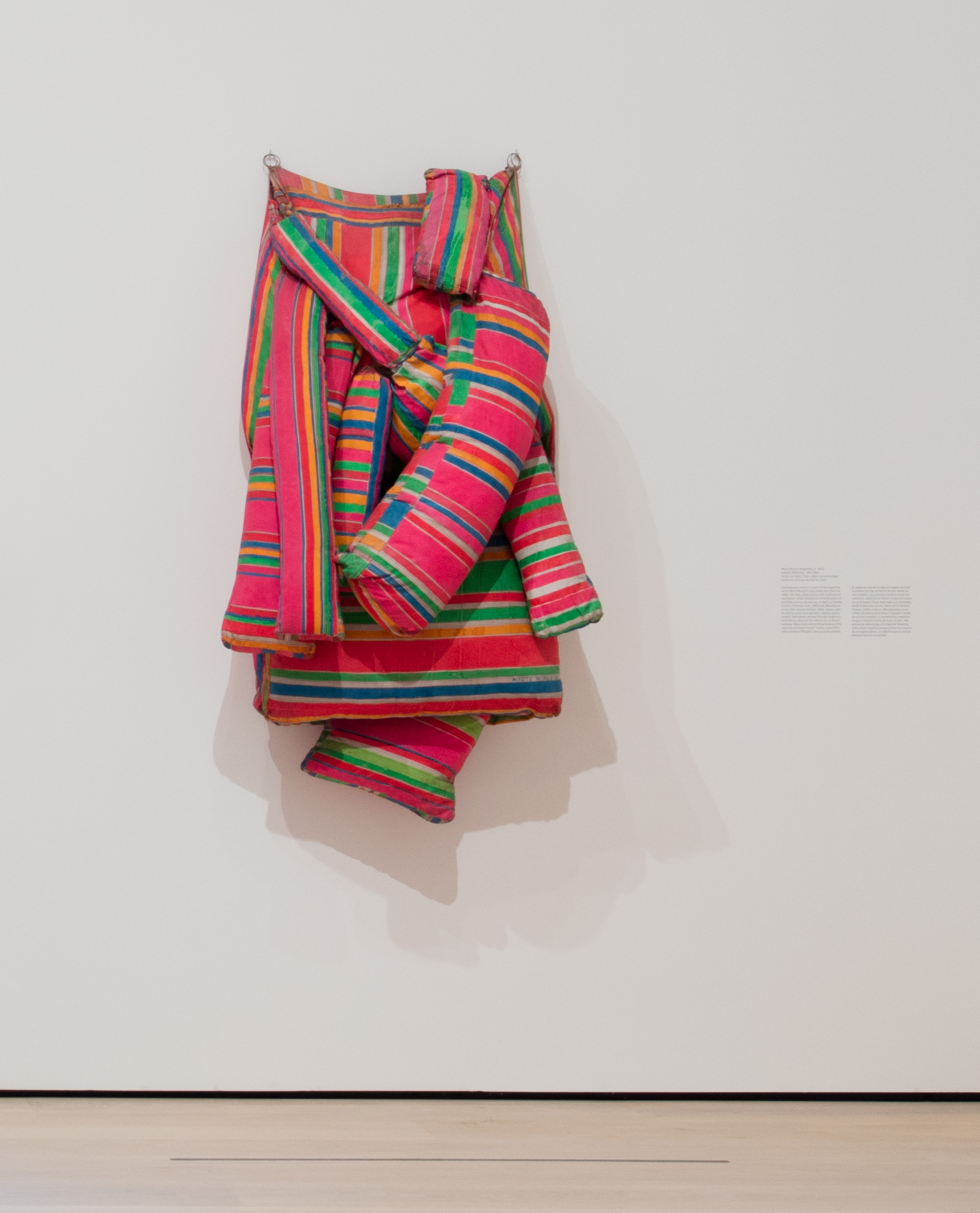 Colchón (Mattress)
The world of Radical Women is contoured by an erotics of possibility when those possibilities have been shaped by colorful cushions in feminist flagrante, the transgression anchored in unabashed pleasure abstracted for her fantastical gaze. For an eros witnessed in the fearless folds and lushly saturated abundance of Colchón I thank you Marta Minujín, o captain my captain, for the multitude of maximal ecstasies your pop sensibilities enable. Minujín, a rock star through a window; she buoys our heterotopic longings and libidos.
"Radical" has often been a softer stand-in for "crazy." And "crazy" has often been a means to invalidate the prescient seeing that lives in the senses of powerful women powered by empathy and creativity. Bring them together from Mexico, Colombia, Argentina, Guatemala, Chile, Venezuela, Perú, and the US, and see what happens. What happens when we stand together against a culture of gaslighting? What is possible when radical women are given the rightful—dare I say divine—space to conjure a world that is worthy of radical brilliance?