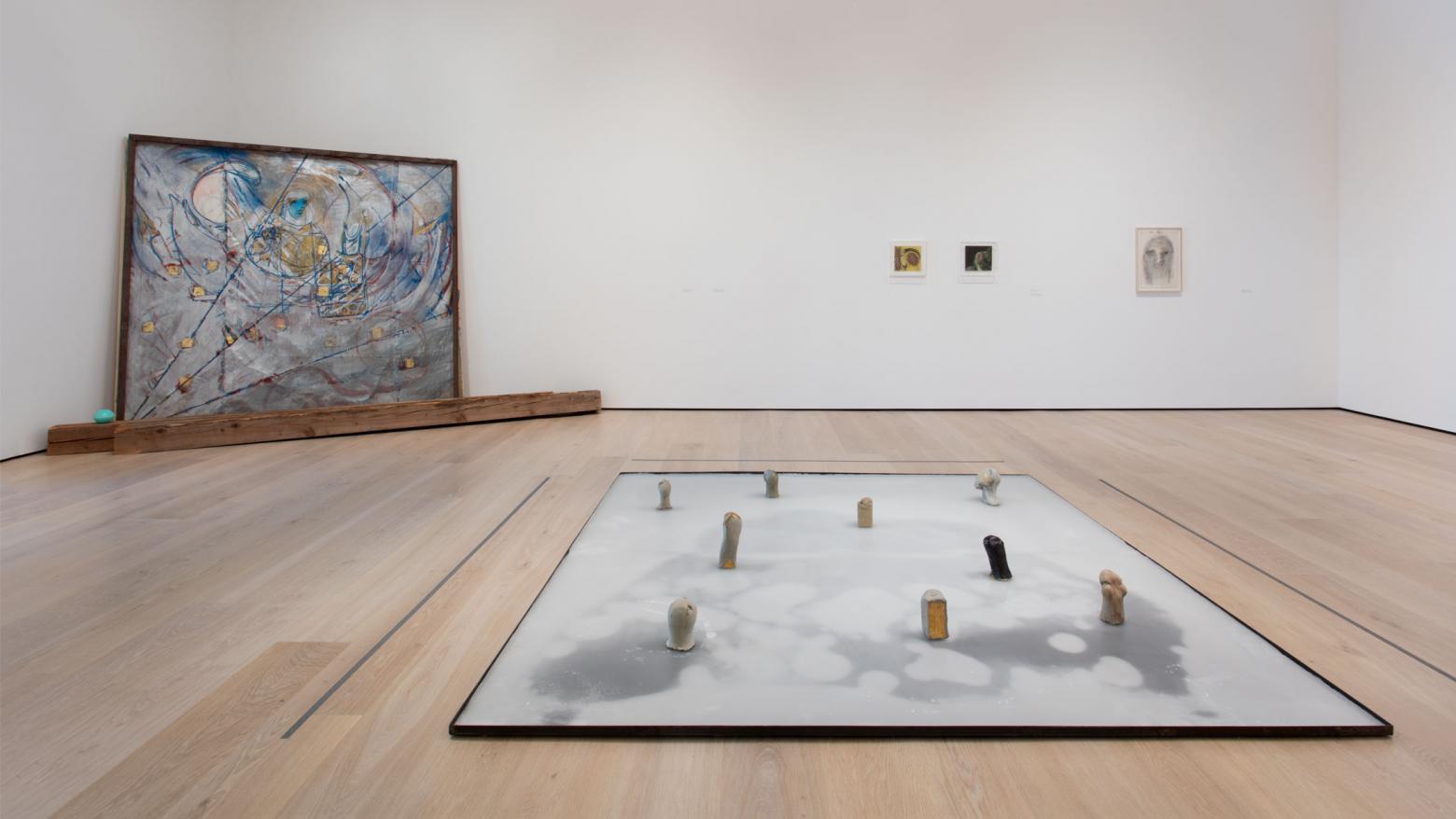 Hammer Highlights 2017: Installing Marisa Merz's Exhibition
Hammer Highlights is a blog series that features the past year's most memorable moments and stories from each of our departments. 
Sometimes we in the prep department at the Hammer Museum find ourselves far away from hanging a framed work on the wall. Sometimes we find ourselves melting 500 pounds of wax in the middle of the night.
This was the scene one day this past year, when the prep department spent the night here at the museum, and I was glad our museum doesn't have a dinosaur exhibit that would wake up and torment us.
We stayed overnight to prepare for the installation of one work in the exhibition Marisa Merz: The Sky Is a Great Space. The piece consisted of a big, shallow steel tray filled with wax—on top of which were nine clay heads that Merz had sculpted. It is not possible to transport a large tray filled with wax between museums, so each time the work is exhibited, the wax is re-poured on-site. And all of the wax needs to be poured at the same time, in one go. 
Preparations outside the gallery for the long night ahead
When Marisa Merz first made this work, she melted the wax in her kitchen. We are not quite that amazing, so for us to do this, we needed two big kettles and a lot of time just to melt the wax in preparation for the pour. We also needed quite a bit of space, so we chose to start this process after the museum closed. It may sound easy to melt wax. But the process required significant preparation to set up the kettles, run power to them, fill their heating jackets with water, and then slowly get the wax up to the right temperature. It was a slow process that took over 12 hours. We started with a little wax and added more and more over time, in order to keep the temperature just right.
Melting and pouring the wax for Marisa Merz's "Untitled," 1990-2003
Evening turned into night. We added a little more wax, and the museum became very quiet. We had to make sure the kettles stayed hot, so we wrapped them in blankets to defend against the chilly night. Every so often, when we took the lids off to add more wax, all we could hear was the bubbling! Perhaps it sounds boring—a quiet night, watching wax bubble in a big kettle—but I have to say it was pretty exciting. Times like these make our jobs fun, and knowing we are working toward presenting the best possible exhibition is a very fulfilling feeling. Eventually night turned into morning, and the coworkers we had seen leave and go home the night before had come back again to start a new day. Our kettles were full, and the wax was ready to be poured.
Marisa Merz: The Sky Is a Great Space