Holiday Gift Guide 2017: Hammer Staff Picks
Graf Lantz: Felt Key Fob Loop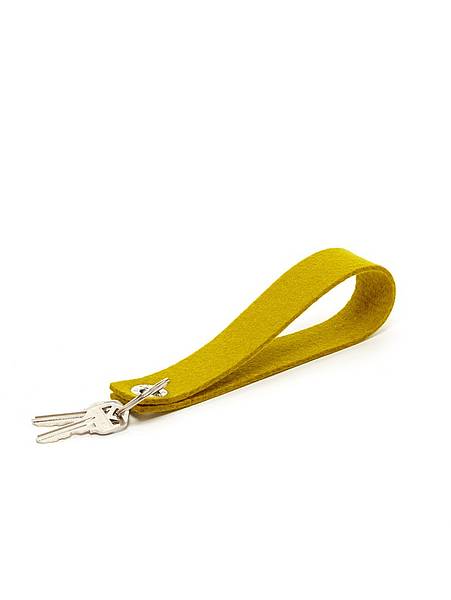 Can a key chain save your life? This gigantic bright felt key chain has definitely helped me out of many a jam. Honestly, I'm not the most organized person on earth, and my keys have a way of separating from my person. Oh, I'd say about four or seven times a day. The big cheerful green flannel loop makes them easy to find and fits around my wrist like a cozy slipper. For my first many years at the Hammer, our security guard Jack Matsukawa would help me search for my keys late at night. He always found them. Jack retired this year after 32 years of service at the Hammer Museum. I miss him. Jack had my back. So give your most unorganized friend this gift and they will think of you fondly every time they find their lost keys.
—Claudia Bestor, director, public programs
The Little Mermaid by Hans Christian Andersen & Yayoi Kusama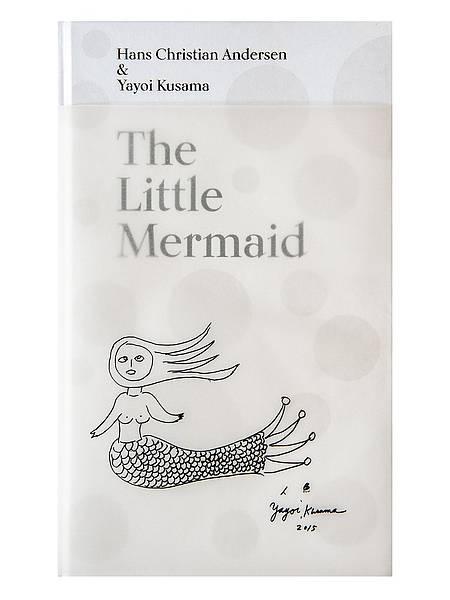 Here's a Yayoi Kusama fix for that sad friend who missed out on Infinity Rooms ticket frenzy at The Broad: The Little Mermaid, Hans Christian Andersen's original 1839 fairy tale illustrated with pen-and-ink drawings by Kusama. The much darker original story pairs well with the pulsing black-and-white patterns. 
—Nancy Lee, senior manager, public relations
Museums League Scarf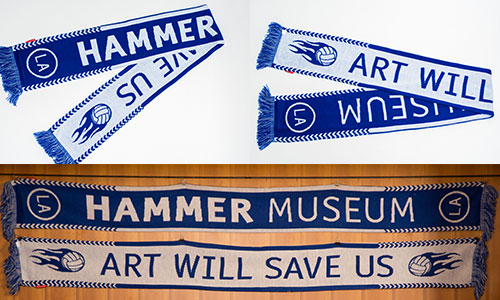 Go team! My pick this year is a mash-up of two of my passions—the Hammer, naturally, and scarves. As part of his Museums League project, Maurizio Cattelan has created a series of scarves of the sort one might wear to a soccer stadium on a brisk day, but emblazoned with the names of museums, including one just for the Hammer. According to Cattelan, museums are like sports stadiums—they are "meeting places to share common experiences." And who can argue with a museum scarf with blazing volleyballs on it? 
—Ann Philbin, director
Tarmo Likki: Fly Fly Swatter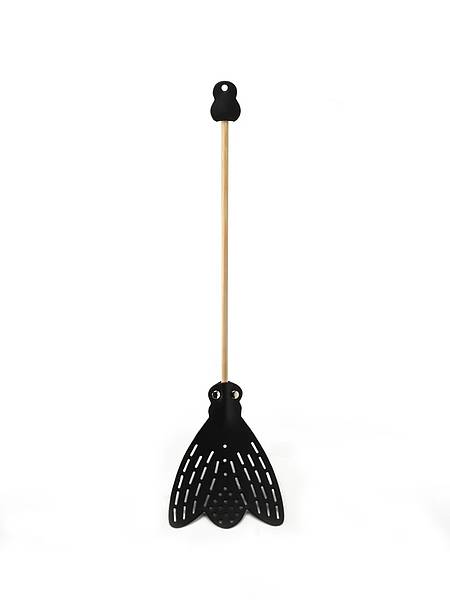 Flies, right? So annoying, always buzzing around. Don't you wish you had a way to get back at these common household pests? Wish no longer! Now you can hand-exterminate the little winged headaches in your life with this handmade Finnish flyswatter. But this flyswatter doesn't just kill flies; it inflicts real psychological damage upon them. The swatter is designed to look like a giant fly, so that as your victim meets its end, it will momentarily think that Fly God (we call it Lord of the Flies) is coming down to greet it, and just when it realizes its folly…WHAM! The swatter is also made of leather, which means that a cow—the fly's most prized landing spot—has been slaughtered to eventuate the slaughter of countless flies. And these diabolical little details won't be lost on your insect victims: those compound eyes of theirs see everything. A perfect gift for your friends who live near the dump, or the closeted leather mommy or daddy in your life, or anyone who has a nail sticking out of a doorjamb in their kitchen and nothing to hang from it.
—Phil Leers, project manager for digital initiatives
Huguette Caland Caftans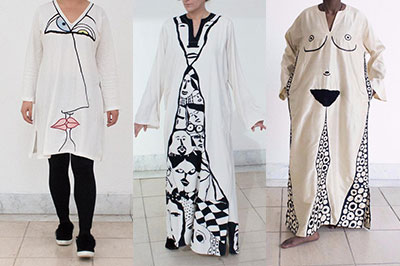 I am more enthusiastic about "caftan season" than "bikini season," if you know what I mean. Here in Southern California, caftans are a versatile, year round wardrobe staple. You can never have enough. The Hammer has been so fortunate to work with artist and designer Huguette Caland to bring her distinctive art caftans to our shoppers. There are three to choose from to suit one's style and budget. I love mine, and it is the perfect gift for art lovers, those who crave comfort with style, as well as travelers fond of chic beach destinations. 
—Lindsay Martin, director, administration
Kaweco Writing Instruments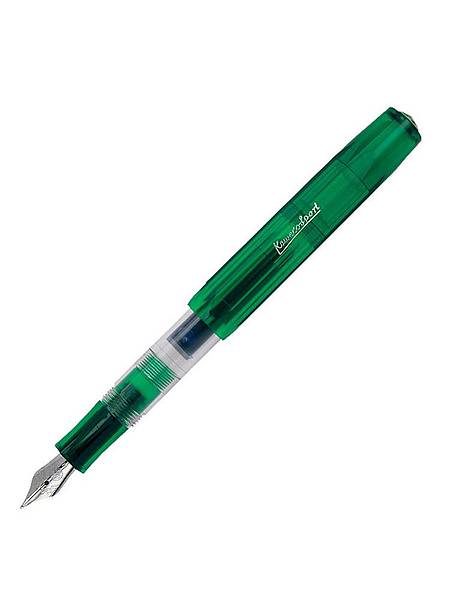 From one pen fanatic to another, Kaweco writing instruments go above and beyond in delivering a quality writing experience. Available in a selection of colors and styles—each sophisticated and visually appealing—finding a pen to match any personality is well within reach this holiday season.
—Olivia Rosato, store associate
Hammer Membership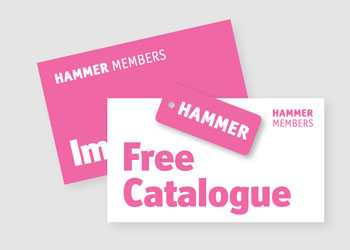 Now more than ever, it is so important to support the institutions and organizations that champion creative freedom and diverse voices. A gift of Hammer membership sustains a year of exhibitions and programs that can be enjoyed by all. Share how much you care about supporting art and our community with the gift that keeps on giving. 
—Laura Hyatt, manager, membership and annual giving
Imelda & the Goblin King
My daughter, age 5, loves the book Imelda & the Goblin King by British illustrator Briony May Smith so much that I have bought it as a gift for several other kids. The beautiful drawings evoke the magical wooded world of fairies and goblins. The story tells us how a human girl (Imelda) befriends the fairies and helps them overcome a bully (the Goblin King) with cunning and teamwork. It's a great story about community and respect for others.
I love the Hammer Store to find new books for kids of all ages. The huge selection of delightful kids' books are, of course, beautifully illustrated. You can find classics like Ferdinand and Pinocchio and unusual editions of the Grimm's Fairy Tales. But this store is especially adept at introducing me to the best new books and some off the beaten track that I would never discover on my own, like Imelda & the Goblin King.
—Susan Edwards, associate director, digital content
Paper Moon Lamps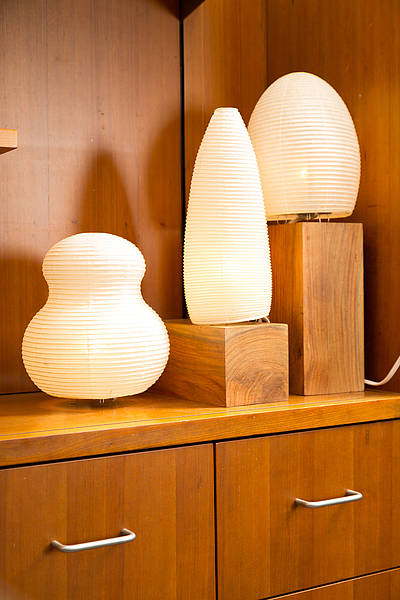 You can't find a better example of simplicity, elegance, and serenity to grace your environment. Especially effective as a group, these pleasing shapes—simultaneously ancient and modern—emit a gentle glow that bestows a sense of warmth and calm.
 
—Jared Hammond, associate director, finance
Mujeres Radicales T Shirt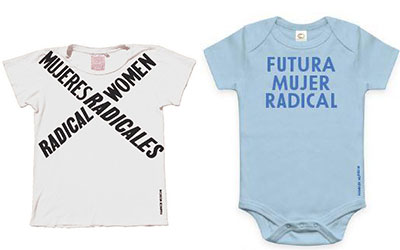 With the exciting opening of our Radical Women show, we also got SO much cool new merchandise in the Hammer Store. I like to keep it simple with my gifts, and I've already gifted the Mujeres Radicales t-shirt to multiple friends. It comes in three different colors, is true to size, and is made of 100% cotton so it's extremely comfortable! Everyone loves them. Next on my list is the Futura Mujer Radical onesie, because it's just plain adorable. 
—Sarah Gnirs, administrative coordinator, curatorial
Air Guitar: Essays on Art & Democracy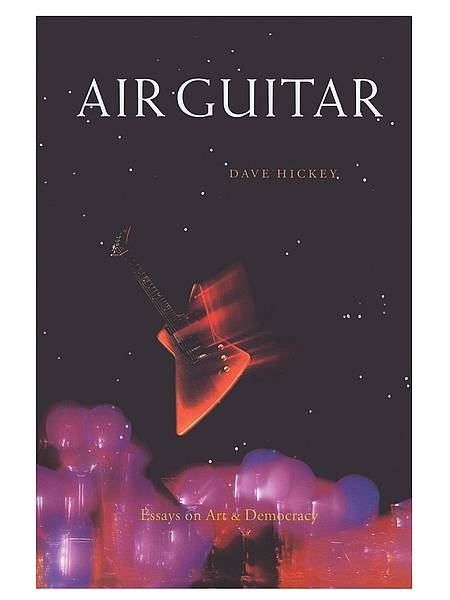 1997 marks a chain of events that truly see's the conclusion of a generation and forecasts the emerging cultural tones of the new millennium: Bill Clinton is reelected to begin his second term as President of the United Stated of America, Princess Diana dies and breaks the hearts of millions around the world, Steve Jobs returns to Apple computers, and Radiohead releases OK Computer. In the midst of the changing cultural tides, Dave Hickey responds through his own personal narrative in the undeniable classic collection of essays entitled Air Guitar. A renaissance of contemporary thought, Hickey evens the playing fields in what could be considered a collapse in cultural hierarchy. No cultural item, icon, or event is allocated more weight than its counterpart. While Hickey grapples with changing art markets, stylistic trends, emerging cultural phenomena, and personal doubts about his material, he makes a compelling case for why in a time that seems unsure of where its changing forecasts might take them, that maybe an overly sincere and fully democratized outlook on cultural production is what we need to have belief in finding peace of mind.
—Avram Kahn, store ambassador
Bonne Maison Socks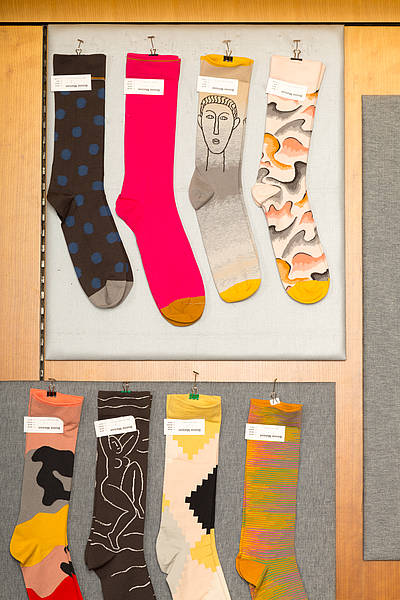 I'm going to go against the grain here, and say that socks make an excellent holiday gift. Especially when said socks are fancy, gorgeous, and cost a little more than most people could justify spending on socks for their own tootsies (though I have, and it was a worthy investment). These Bonne Maison socks come in an array of enchanting colors and patterns and are knit with high quality Egyptian cotton spun in Italy and assembled in France. See? Fancy. So go ahead and grab a pair or two for your loved ones this holiday season. Stuff their stockings with stockings!
—Alison Lambert, logistics specialist, public programs
Cezanne's Objects by Joel Meyerowitz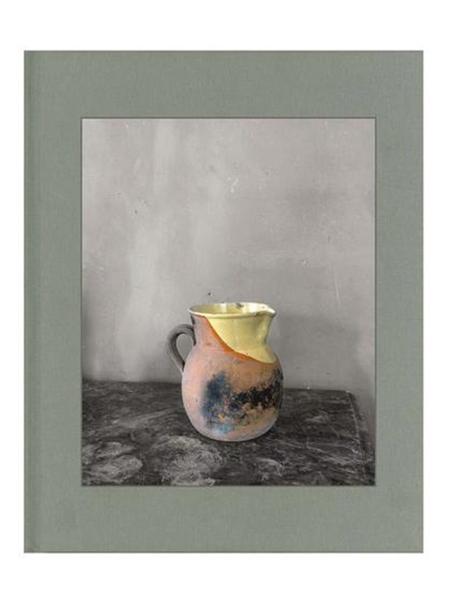 This is a follow up to Morandi's Objects, one of the gifts I did give in 2016 and often recommended. What makes these books both so special is the beauty in design which seems so thoughtful and considerate of the work between the covers. Meyerowitz visits the studio of master painters, chooses some of the props (some very beautiful, some more mundane), and positions them in the style of photography used for archival record of artifacts. The result is page after page of discovery. Can your mind make the connection between the model and the representation?
—Lauren Molina, digital asset management assistant
Zenbunni Rainbow Chocolates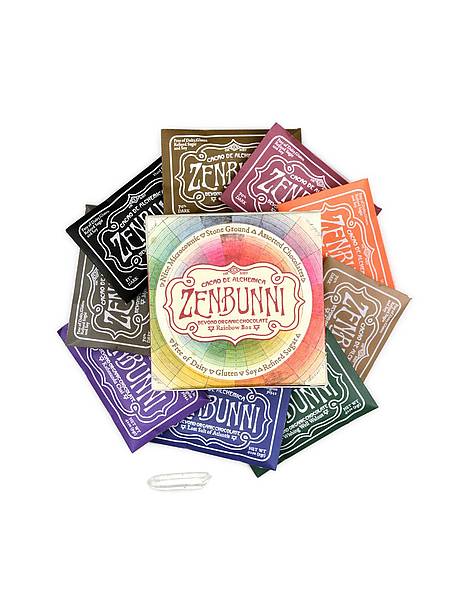 This colorful little box contains nine biodynamic chocolates in a rainbow of flavors ranging from tasty (Canyon Classic) to fragrant (Shiva Rose) to downright bold (Lost Salt of Atlantis). The packaging is a cross between vaguely medieval and very Venice, perfect for L.A. friends and family. The Rainbow Box makes a great gift for your holiday host, since the chocolates are easy to share, and the descriptions are just earnest enough to make you laugh. Each box comes with a quartz crystal supercharged with love (of course)!
—Zoe Silverman, specialist, university audiences
Incausa: Bath + Meditate Set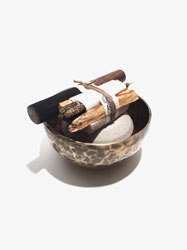 This bundle is my go to for all of my gift giving needs. It works for everyone: the person who refuses to tell you what they want, that friend you have who loves smudging everything, the recently retired parent who is taking up meditation, or when you forget you were supposed to bring a gift to that party you're attending. It's a sampling of all of Incausa's hits—Breu resin, Palo Santo, White Sage, Chacrona & Jagube artisanal incense sticks. A bar of vegan soap, scented with essential oils. And if you want to go big, there's an even fancier offering with a hand hammered singing bowl.
—Sara Beattie, store operations manager