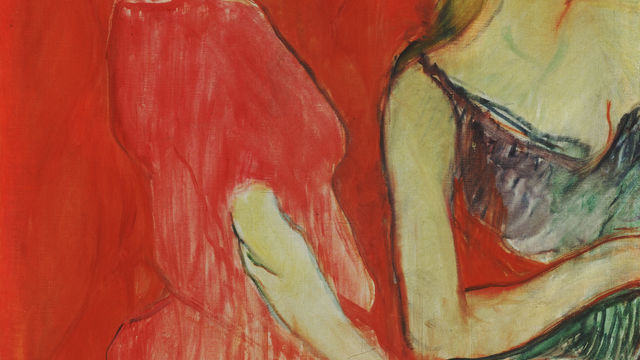 Where are They Now? Toulouse-Lautrec's study for In the Salon on the Rue des Moulins
After an appearance in Brazil for an exhibition at the Museu de Arte de São Paulo, Henri de Toulouse-Lautrec's study for In the Salon on the Rue des Moulins is traveling to Spain for the Picasso/Lautrec exhibition organized by the Museo Thyssen-Bornemisza in Madrid.
The São Paulo show, Toulouse-Lautrec em vermelho (in red), displayed a selection of Lautrec's maisons closes (brothels) works, alluding in particular to the red sofas one could find at La Fleur blanche (The White Flower), an upscale establishment located at number 6 rue des Moulins in Paris (replaced today by a Best Western hotel!). The French painter was a regular visitor, both as a friend and as a client, of this renowned maison close that became the backdrop for approximately 40 works by the artist. He rented a room for different periods of time in several upscale brothels to pursue his work during the day, preferring the women of the brothels over professional models because of their lack of affectation. The women depicted in his brothel scenes are not beautiful, youthful, or seductive. Frequently they are past their prime, their experience in the sex trade having left them visibly disillusioned.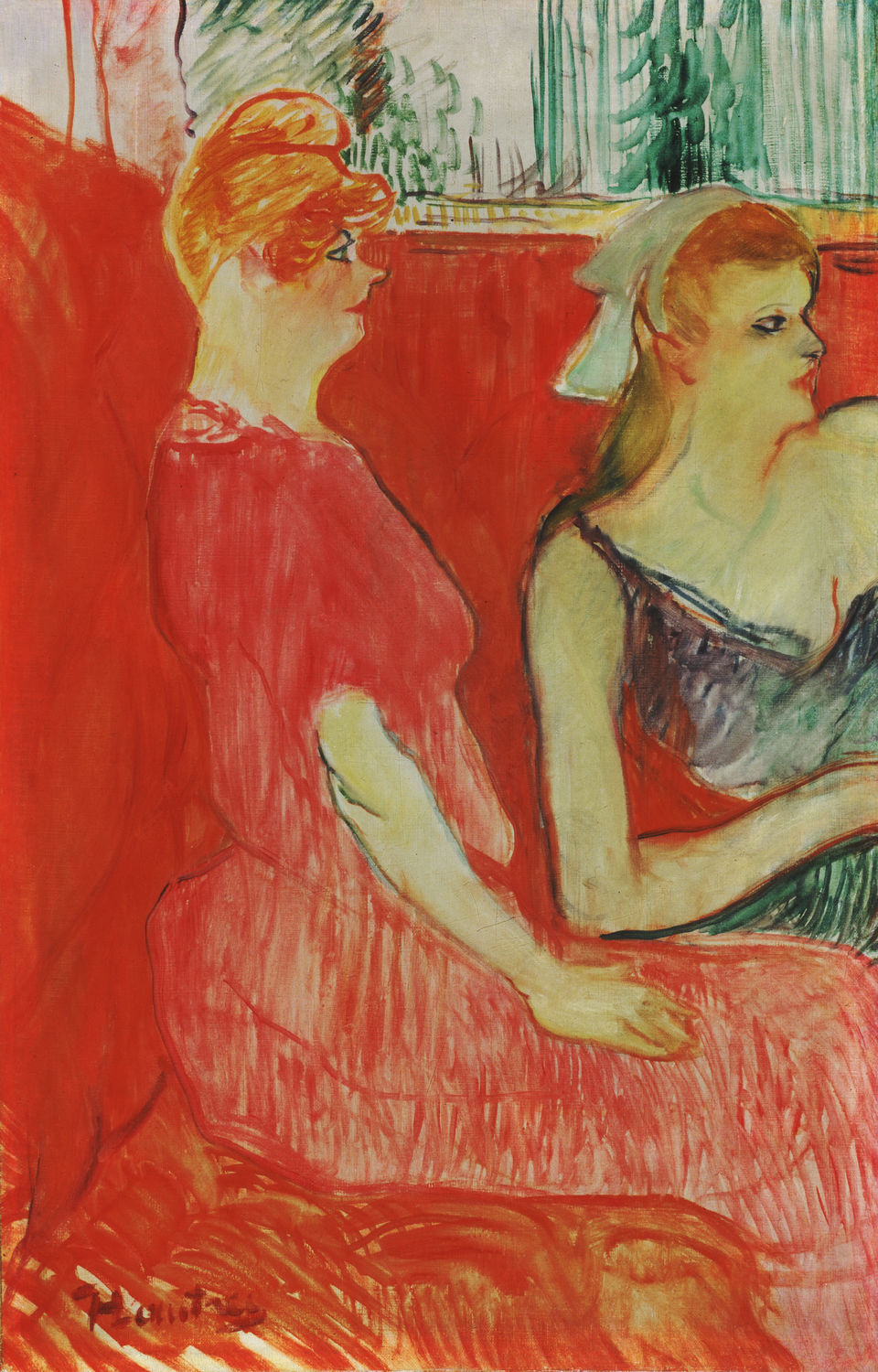 Study for In the Salon on the Rue des Moulins
The painting in the Hammer's collection is a study for In the Salon on the Rue des Moulins (Musée Toulouse-Lautrec, Albi), which is the largest and most elaborate composition devoted to brothels and best represents the unexceptional, in-between moments which make up most of the prostitutes' daily lives. The women, often appearing in pairs, here are looking attentively at figures outside of the frame. On the right side of the canvas, the larger composition reveals a partly cut figure seen from behind of a woman raising her slip beneath her dress. Viewers familiar with Lautrec's work will understand what this pose signifies: these women are waiting to visit the doctor. In order to prevent the spread of venereal diseases, prostitutes were subjected to regular examinations, a wholly unhygienic procedure that was mandatory for all prostitutes at the time. While most painters depicting the subject show brothels as a place of pleasure and vice and prostitutes as vulgar and venal, Toulouse-Lautrec stands out, providing us with an image without moral judgment or voyeurism, almost like a reportage with its deliberate and photographic framing. To avoid scandal, Toulouse-Lautrec preferred not to show this painting to a large audience. During the 1896 exhibition held at the Maurice Joyant gallery, he made sure to hang his brothel scenes apart, in a room to which only close friends had access.
The Picasso/Lautrec exhibition organized by the Museo Thyssen-Bornemisza in Madrid will shed light on Lautrec's influence on the Spanish painter. Their careers only overlapped between 1899 and 1901, a time when Toulouse-Lautrec's health was rapidly declining due to alcoholism and syphilis while Pablo Picasso was spending time in Paris before deciding to settle in the French capital in 1904. After Lautrec's death, Picasso became part of a generation of painters who represented the prostitute as a solitary figure outside the framework of the brothel. The young Spaniard, who stayed in Paris for the first time in 1900, experienced a great attraction for the world of prostitution. In search of pleasure and artistic subjects, he went to many brothels and ballrooms and became inspired by what he saw. In 1901, Picasso exhibited a series of studies on this theme at the Ambroise Vollard gallery, asserting himself as a modern painter who embraced typical Parisian themes such as absinthe drinkers and nude prostitutes.
Picasso initially represented prostitutes as colorful and caricatured creatures, before adopting a deeper and more symbolic approach during his blue period. Thanks to a doctor working at the Saint-Lazare prison, Picasso was able to draw prostitutes who were locked up for having contracted syphilis or practicing prostitution illegally outside of brothels. He painted prostitutes as serene Madonnas with long bodies stylized in blue tones, their sculptural faces always exuding suffering. Many of the prostitutes had contracted syphilis and it is possible that Picasso had contracted it himself (his fear of contracting the disease was well-known among his friends). Preparatory studies to Les Demoiselles d'Avignon, presumably the most famous brothel scene in art history, displayed alongside the nude women two male figures: a sailor and a medical student holding a skull in his hand. Picasso ultimately got rid of the two male figures and, like Toulouse-Lautrec in late 19th century Paris, proved with Les Demoiselles d'Avignon that he was the modern painter of his time.