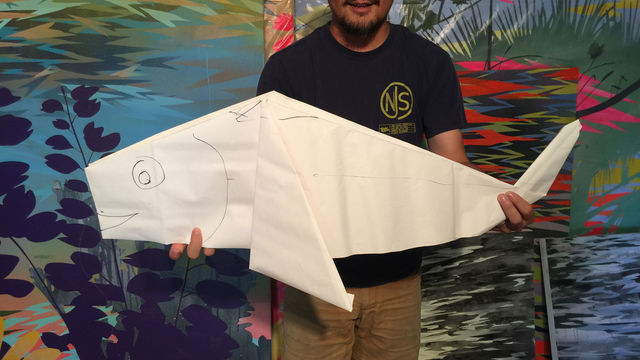 Family Day Workshop Preview: Devon Tsuno
Join us tomorrow, August 19, for our 7th annual Family Day! We're thrilled to bring this free, fun-for-all festival back to the Hammer Museum, just before the close of our summer exhibitions. With this year's theme, Art for Good, families across Los Angeles are invited to take part in a celebration of empowerment, unity, and advocacy through art, music, improv, performances, and more.
Artist and L.A. native Devon Tsuno welcomed us into his studio for a demonstration of his Family Day workshop. He spoke with us about his upbringing in Los Angeles and how his art practice champions local recreation as a way to encourage young people to conserve the spaces that they love and enjoy. For Devon's workshop, participants will make life-size origami versions of the fish that thrive in the L.A. River. The project emphasizes our role as residents of the city who help to conserve L.A.'s natural resources.
Isoke Cullins: Can you tell us about yourself and your artistic practice?
Devon Tsuno: I'm an artist. I paint, primarily, but I do a lot of other work that centers around the L.A. water shed, the L.A. River and all its tributaries, and water use in L.A. 
IC: Where did you grow up? Where are you currently based? And how have these places influenced your work?
DT: I grew up in mid-city, which is right in the middle of Los Angeles. I moved back about seven years ago, and I live there now. It's a huge part of my identity and also how I got into the work I'm making now. One of the unique features of the landscape in this area of the city is that all of the plants here are from all over the place—they don't match. I didn't realize that when I was a kid growing up. It was just home. I also didn't travel that much when I was younger. So when I traveled for the first time to Japan as an adult, I was struck by how all the plants that grew and lived in the space belonged there. When I came back to L.A., I realized that this landscape  is reflective of the people here—it's very diverse, it's kind of wild, and it's barely surviving—but at the same time it's beautiful. You look around and see pine trees and evergreens, palm trees and cacti, and morning glories, and they're all impeding on each other's space, kind of like the people here. But at the same time it's special to me.
IC: How did you come into your artistic practice?
DT: I was around a lot of art when I was young. Both of my parents studied art and are artists. My dad went to Otis in the 70s, and my mom went to Cal State L.A. to study studio art. When I was a little kid my parents put me in the museum education program at LACMA. I can remember sitting in front of that big David Hockney painting and drawing it. I didn't understand it at the time, but living that close to a museum created memories that I always think about.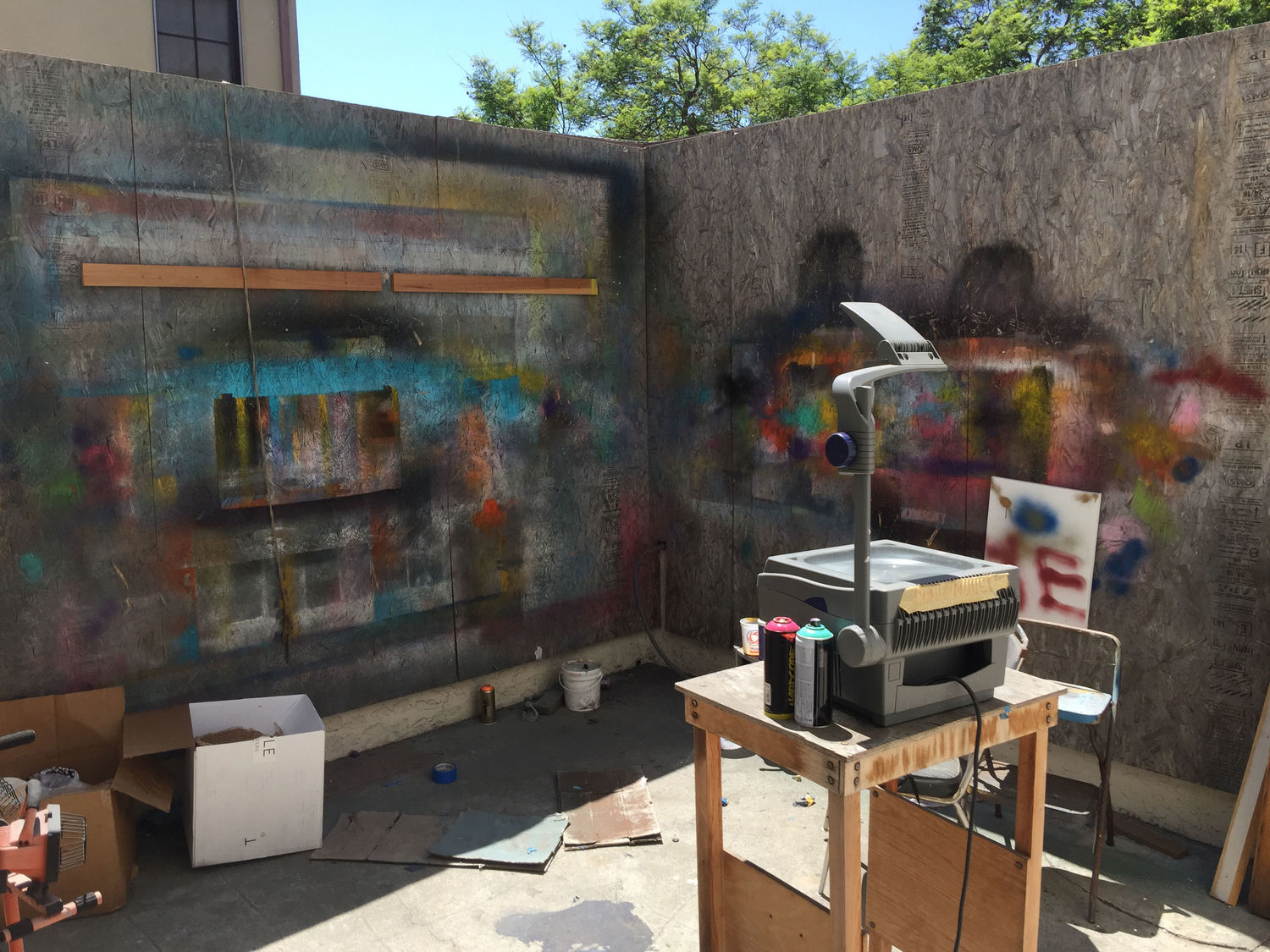 Devon Tsuno's studio
IC: What are the themes that your work addresses?
DT: My work addresses the L.A. watershed and water use in L.A. But the thing that I've been fleshing out recently is how recreation in these areas are an important component of cultivating conservationists. Fishing, boating, camping—those are the kinds of outdoor experiences that inspire Angelenos to want to take care of this environment. My paintings, my community projects, and my teaching relate in a very full-circle manner to why I make that work.
IC: Where do your interests in water, vegetation, and the environment come from?
DT: My interest comes from fishing. In mid-city there weren't many places to fish. When I was a kid, I would go fishing at a pond in Kenneth Hahn State Park—where I also learned how to fly fish. I used to come home and try to finish my homework as fast as possible so my dad could take me fishing there. So that's where I fell in love with it. If I look back at all of the experiences that I had growing up in L.A. that feel really special, a lot of them have to do with being on the water.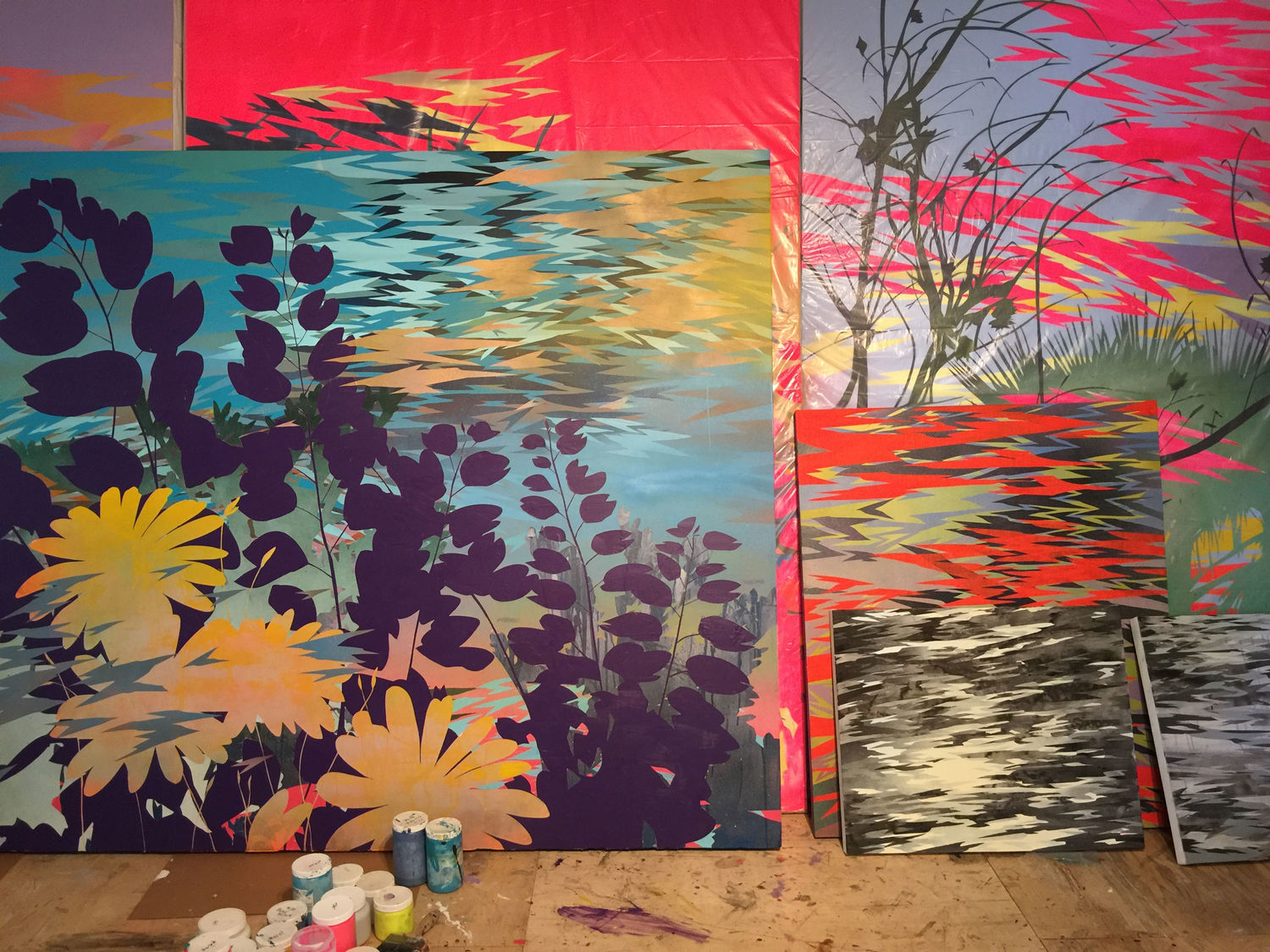 Devon Tsuno's studio
IC: A lot of your work involves community organizing, collaboration, and social practice. Why is that an important aspect of your work?
DT: As somebody that loves the outdoors, one thing about being a painter that's contradictory to that is that most time spent making artwork is in isolation indoors in a studio. And as I got older, the experiences of being outside—around people and part of a community—fed in to the work that I was doing in a studio. I didn't want to split time between my non-artist outdoor community and the community of my artist friends. These communities have a lot more in common than they think, and I'm one of those things. It's one thing to make a painting that's beautiful and hang it up in a museum, but I really need that connection with people, too. 
Devon Tsuno's studio
IC: What piqued your interest in being involved in Family Day?
DT: It was the experiences that I had as a child with my family in public spaces that shaped my identity. Programs like Family Day are really important because they bring together all those different components.
IC: How is your artistic process incorporated into your workshop for Family Day?
DT: I've been working on this Carp Fishing Project with S.P.A.R.T., the Social Practice community grant. What I'm doing for Family Day is really essential to that because it's a great platform for kids to make something that's fun and easy, but also to become aware that the L.A. River isn't a scary place—that the L.A. River is a place that is underutilized. That's what the project is centered around, kind of the Surfrider Foundation model of using recreation as a way to spark an interest in young people to want to conserve the spaces that they love and enjoy. At the workshop we're going to be making life-size origami that represent the fish that thrive the most in the L.A. River, the common carp. It's an amazing species of fish because they grow really fast and get gigantic. I made a zine that has some pictures of people who already fish at the L.A. River, and it includes instructions for the project based on Japanese diagrams of traditional carp origami.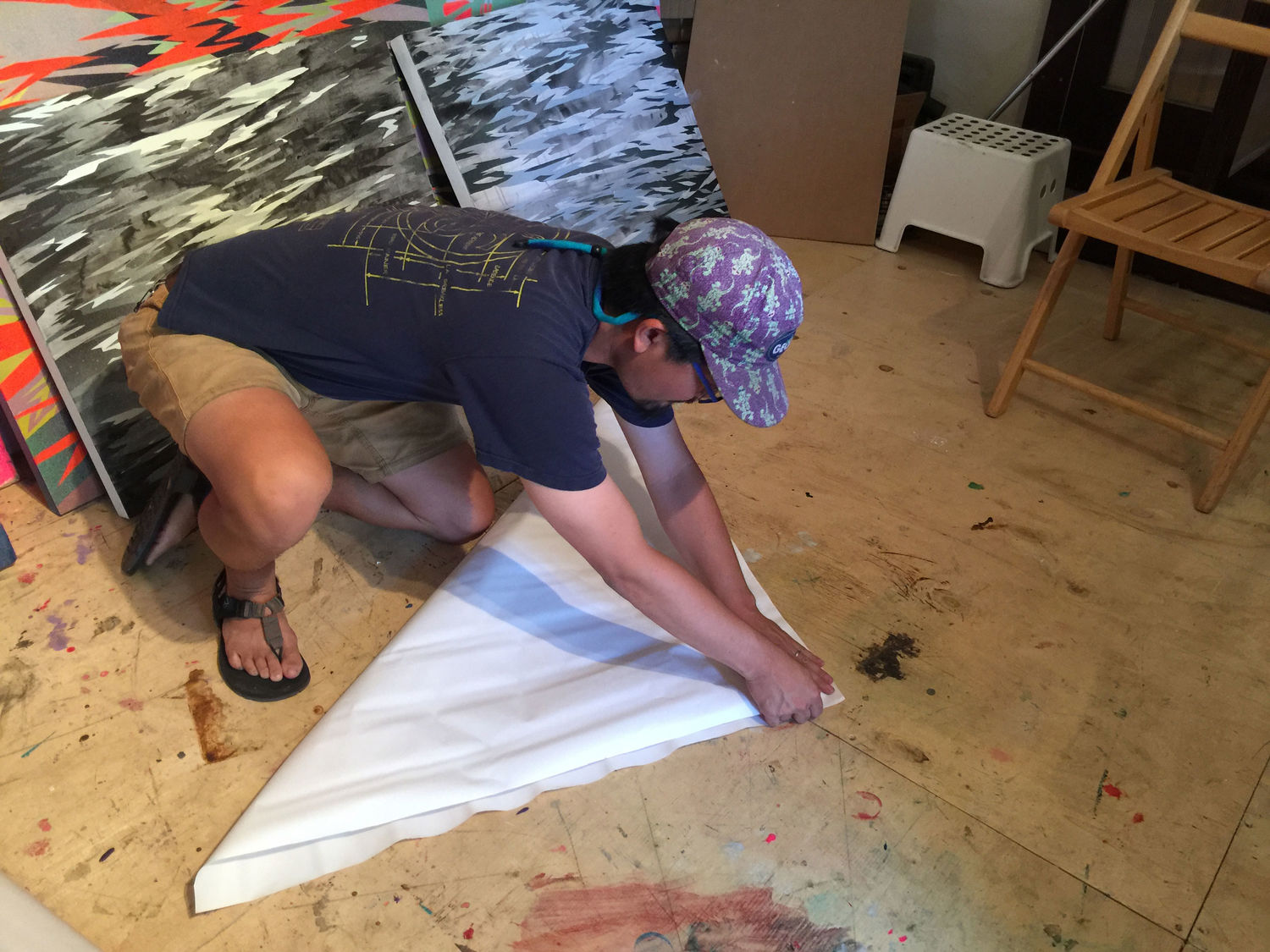 Testing his project for Family Day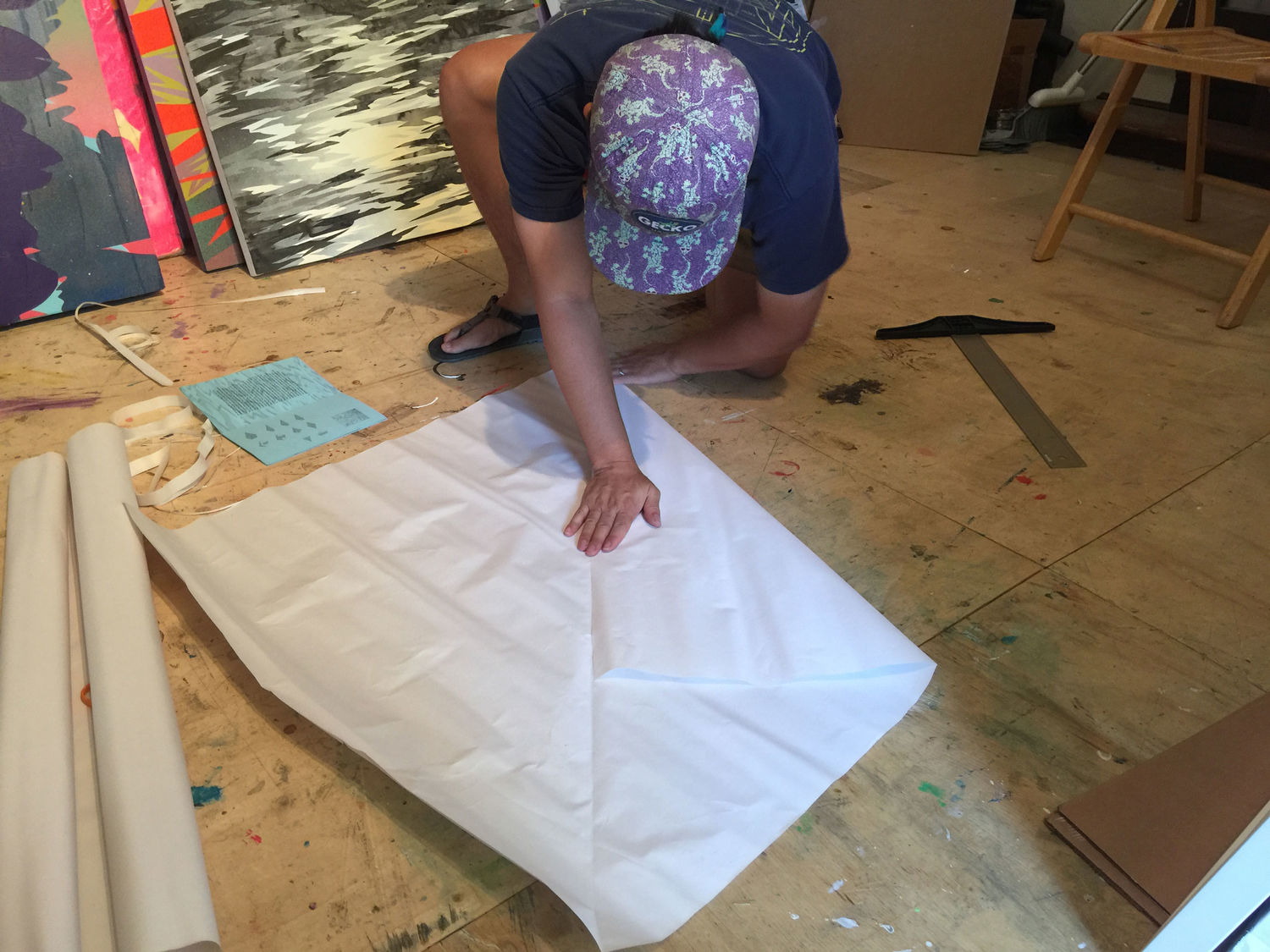 Testing his project for Family Day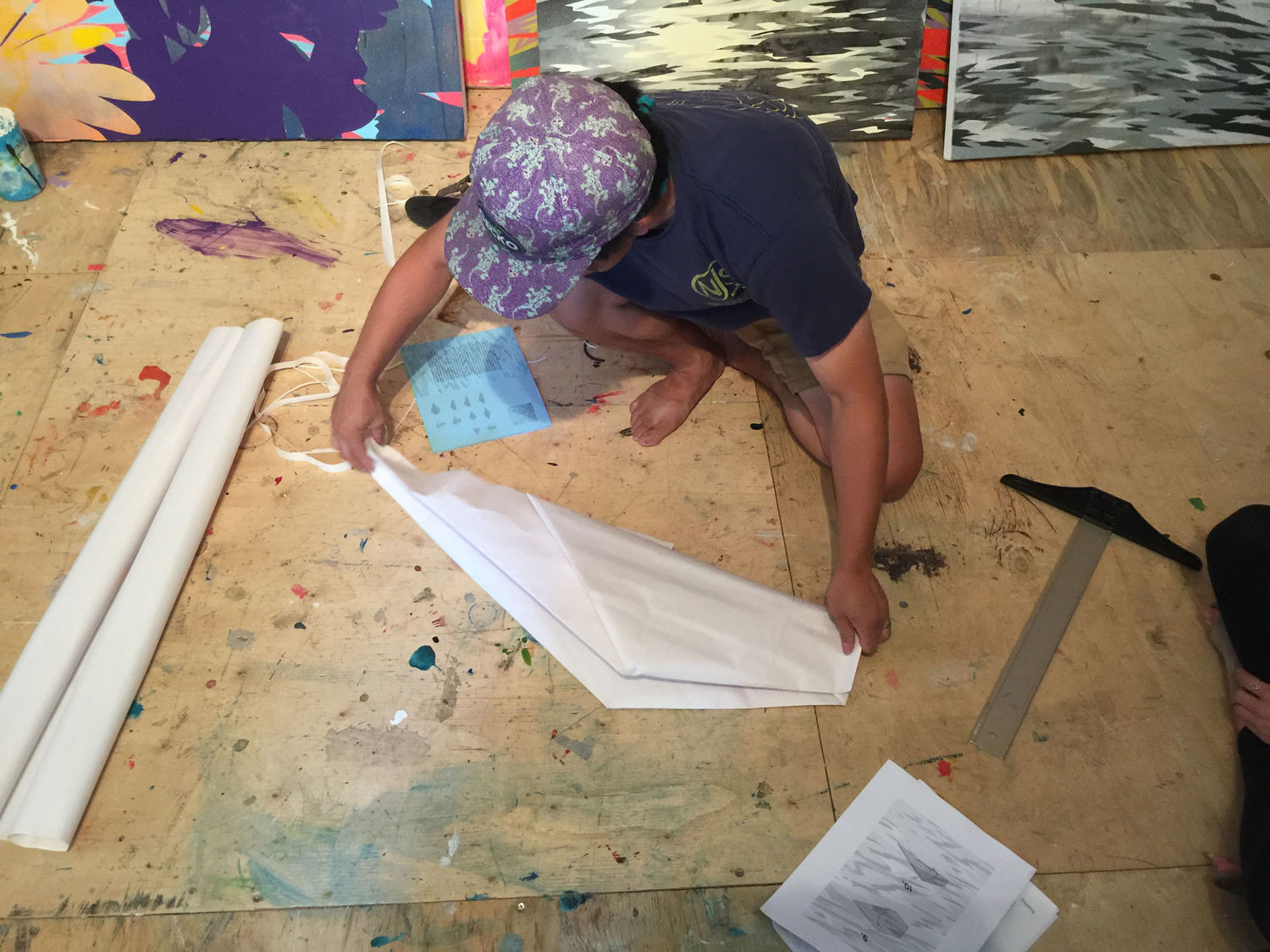 Testing his project for Family Day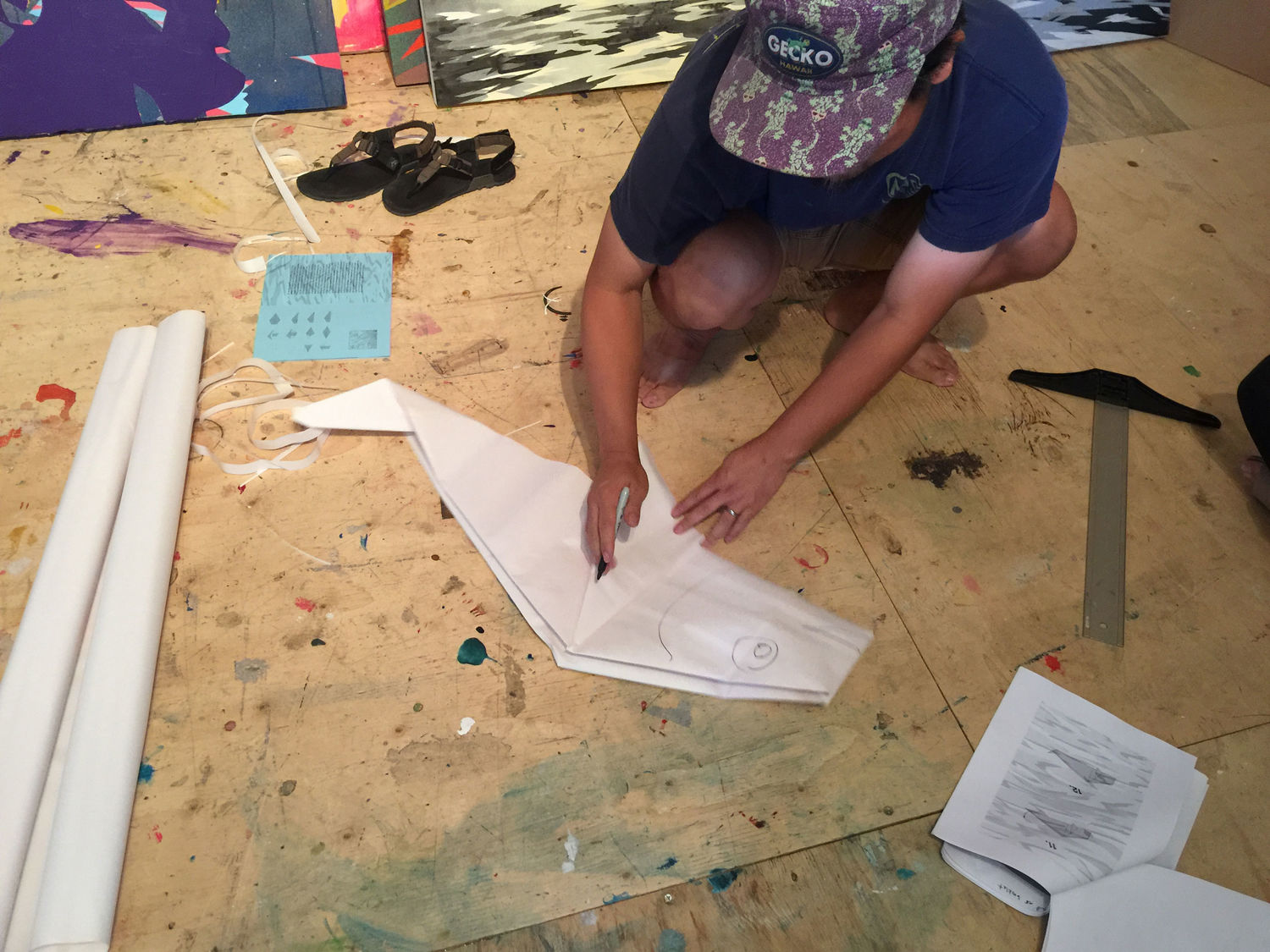 Testing his project for Family Day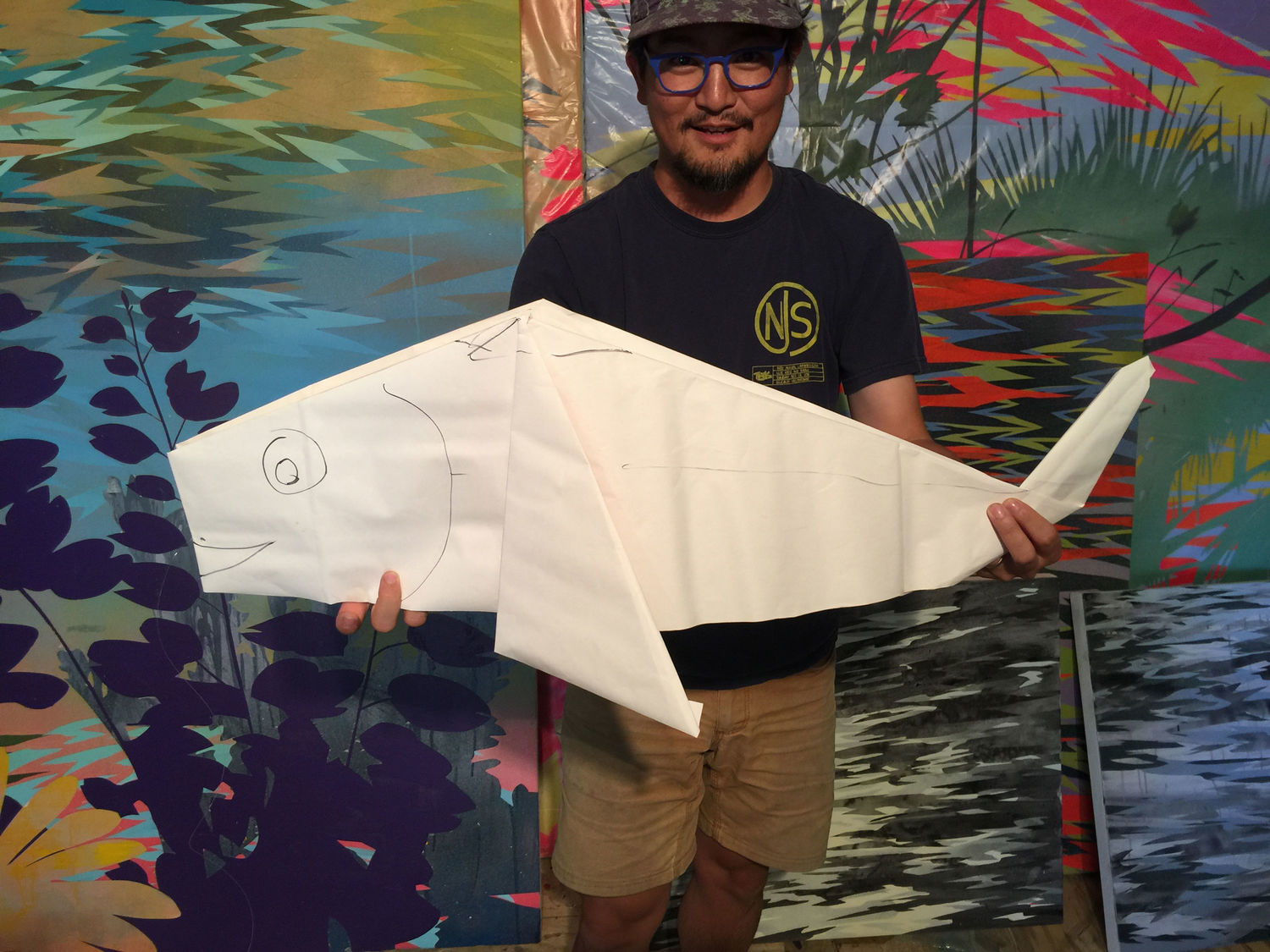 Testing his project for Family Day