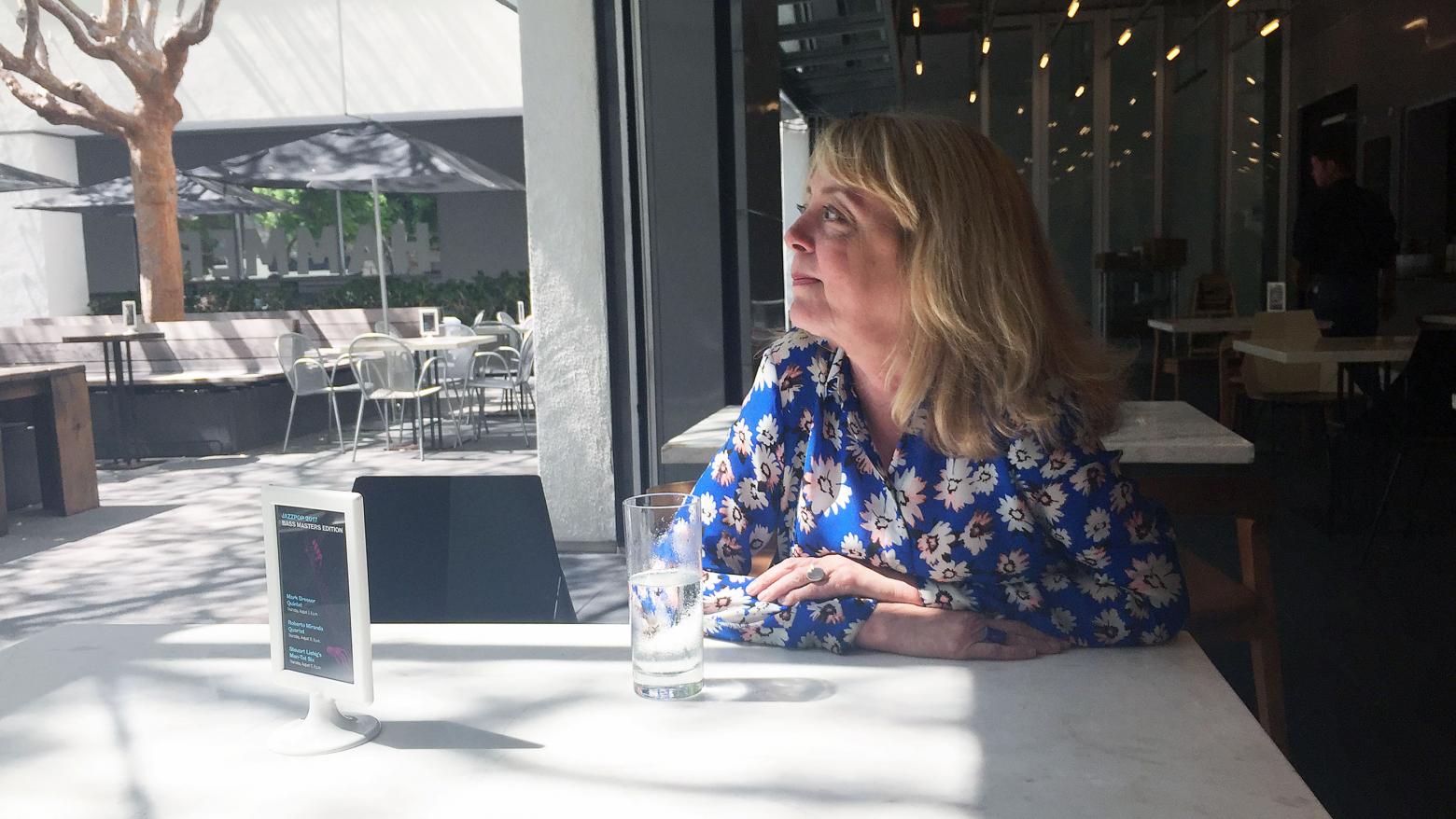 Behind the Scenes with AMMO's General Manager
You know what they say: behind every great establishment is a passionate, committed team and strong leadership. Our bustling courtyard café, AMMO, is led by industry veteran Laura O'Hare, who combines a great sense of humor with an emphasis on guest experience to cultivate the ideal community space for museum-goers and locals. I sat down with Laura to chat about her role here at the Hammer and her favorite aspects of the job. Whether you're delving into the taco spread at Family Day, grabbing lunch from the locally-sourced menu, hosting an event, or stopping by for happy hour after work, Laura will make you feel right at home.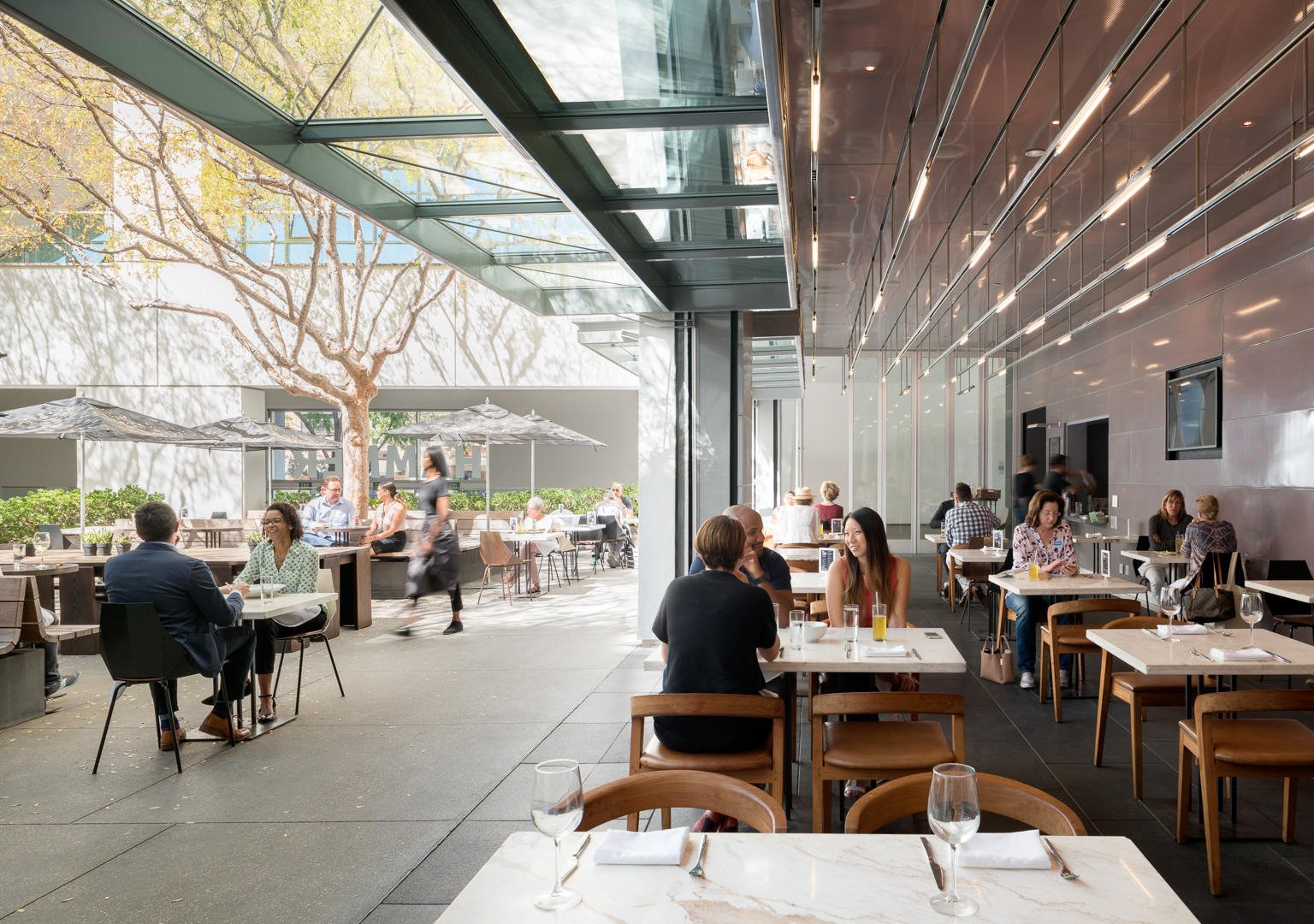 Isoke Cullins: What is your role at the Hammer?
Laura O'Hare: I am the general manager of AMMO. I do all the staffing, run the floor—basically take care of all the daily business—and try to encourage as much business as possible.
How long have you been working here?
I started as a consultant for about two months before starting full time. It was a year on July 22, so I'm just celebrating my first anniversary.
How has AMMO changed since you started?
We've been focusing on service and forming a good, cohesive team—people who really know all of our regulars. I think the food is great as it ever was. We've expanded the wine program. I'm happy to say we have a lot of people drinking a lot of wine. And I'm really happy with our wine list.
But I think the most important thing that we've done is really focus on the fact that we're here for the guest experience. That's been the most important thing to me in my whole career in this business—that we're here to look after the lovely people who come into our restaurant. We also have the added privilege of representing the Hammer. So it's really important that we just don't do ourselves proud but that we do the museum proud as well.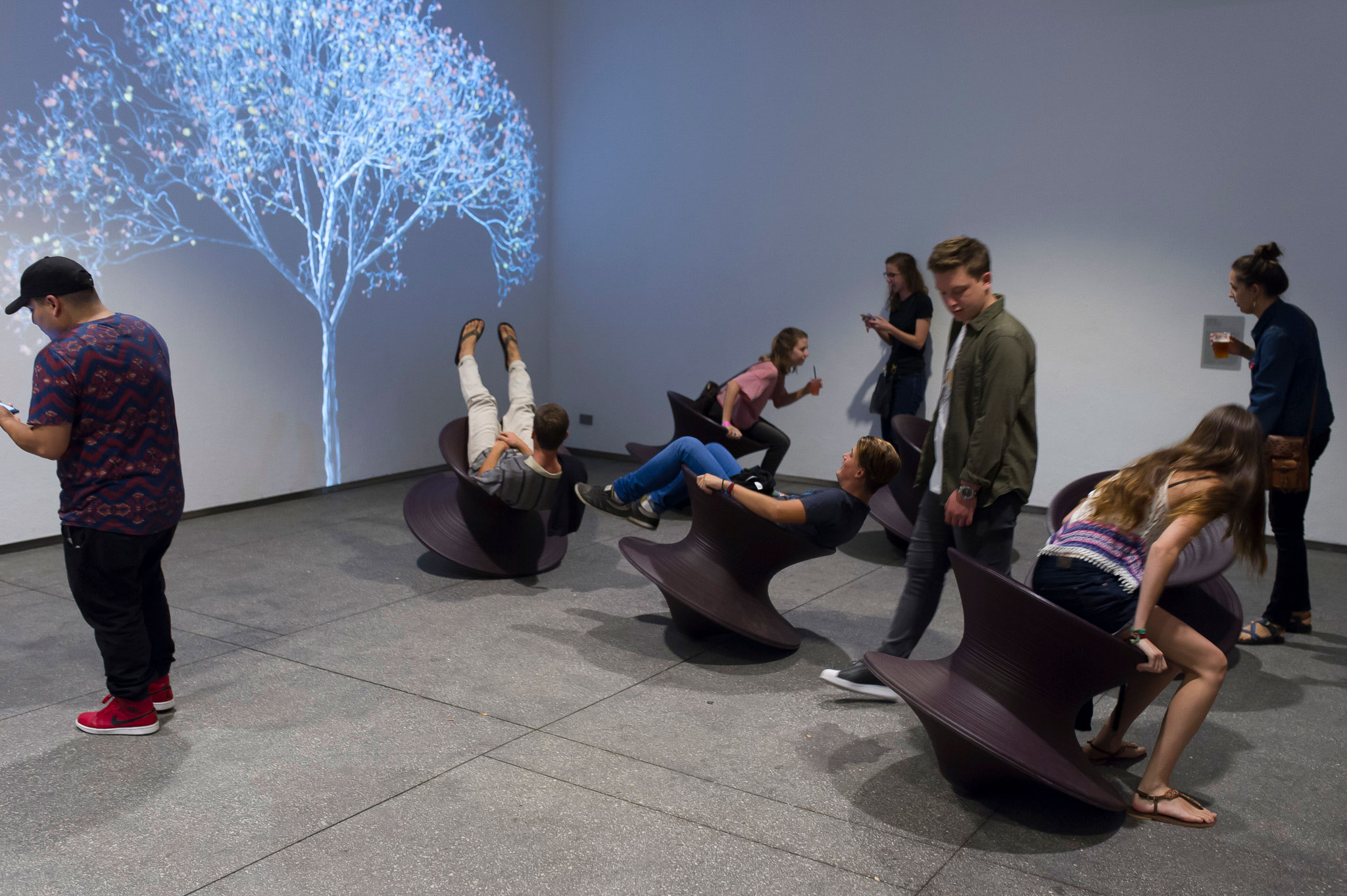 Visitors in front of Jennifer Steinkamp's installation
Do you have a favorite artwork or exhibition from your time here?
I never stopped loving the Jennifer Steinkamp video, which is displayed here in AMMO. I loved the [Jimmie] Durham exhibition. And I just went up and saw Marisa Merz. That's the other nice thing here—when I need a little art break, I can just walk upstairs and take one. It's awesome.
What's the best part about working at a museum?
In my career I've been fortunate enough to work at a number of cultural institutions. I worked at the Hollywood Bowl for a couple of seasons when I was with Patina. We worked with the Walt Disney Concert Hall, with Deborah Borda at the Music Center. It's always a privilege to be part of the cultural community. The Hammer is an astonishingly beautiful place to come to work. Especially during these turbulent times, it's a real blessing to be here surrounded by like-minded people. It makes for a wonderful community gathering space.
What is your favorite part of your job?
I love getting to know my guests and giving people a good time. We book private events here, and people always think it's going to be so complicated. Once we've decided on your menu and your set list, beyond that all you have to do is come in and enjoy yourself. And we're a part of people's celebrations. We had a young man host a party to propose to his fiancée here. He came in to see me about three times to plan it before the actual day and came by afterward to bring me tulips as a thank you, and to show me the pictures and videos that they made of the whole event. That's a beautiful thing, and in some small way I'll always be a part of their celebration. So that's the privilege of this job.
What's the best holiday to spend at AMMO?
Although we're often closed on holidays, we had a very nice Mother's Day and Father's Day this year. People love to come here because there's family fun for everyone. And although it's not a holiday, I always look forward to Family Day. This year we did a big taco spread with agua fresca and fruit with chile. It's a super fun day.
Could you tell us a fun fact about yourself?
When I was in my early 20s I was an improviser in a stand-up comedy group. I played in San Francisco with some of the best, including Robin Williams. The sense of humor does come in handy in my job now!