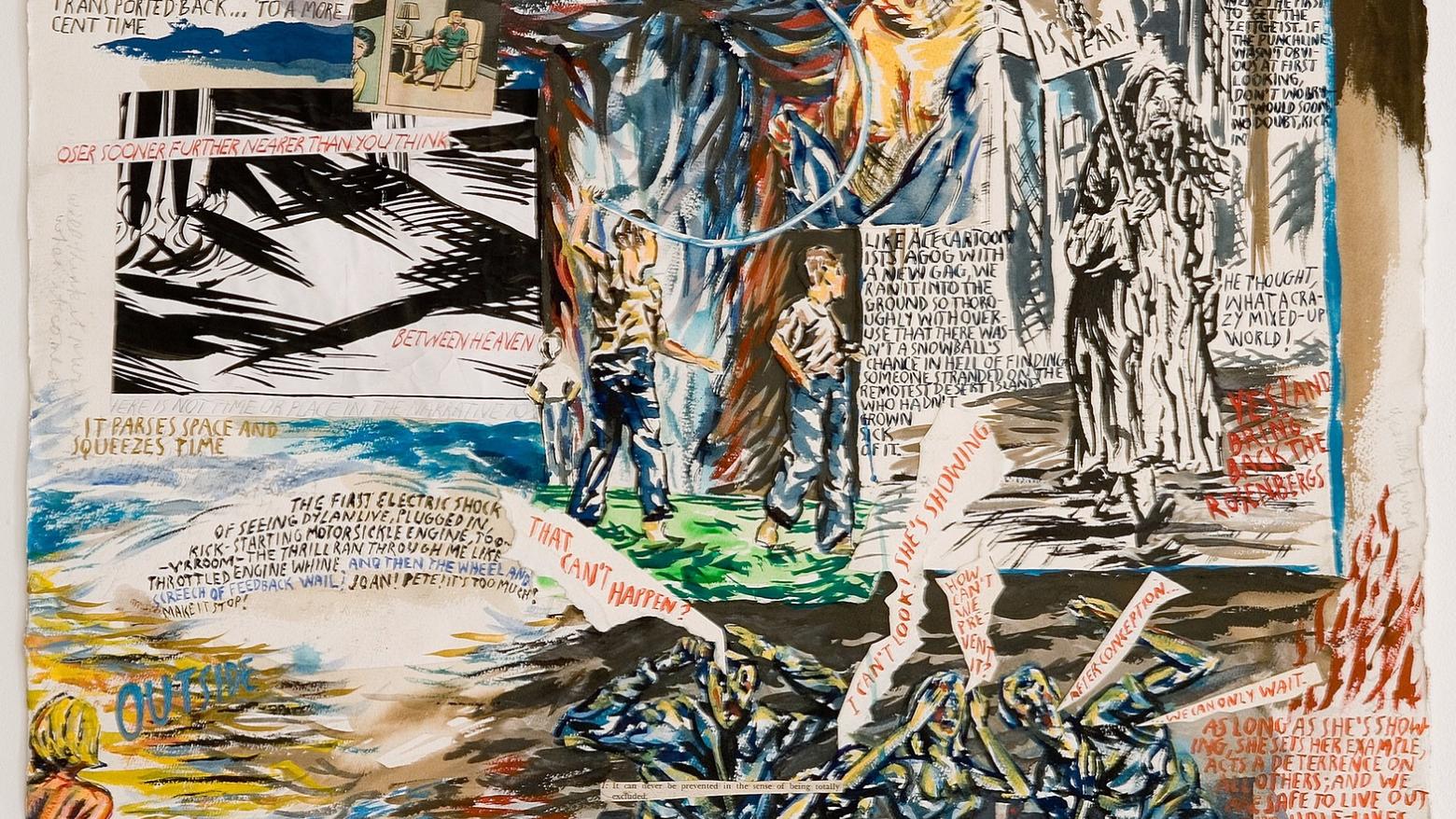 Where are They Now? The Drawings of Raymond Pettibon
The expressive drawings of the American artist Raymond Pettibon combine text and image to represent various themes of American sociopolitical culture with an emphasis on war and nationalism. Pettibon, a self-taught artist, got his start in the Los Angeles and New York punk scene in the 1970s, creating advertisements and album covers for bands such as Black Flag and Sonic Youth. By incorporating witty sayings and bold sweeping lines, Pettibon's works offer a pointed critique of American society and politics. 
The four drawings in the Hammer's permanent collection were lent to the Pettibon retrospective, A Pen of All Work, which traveled from the New Museum to the Bonnefanten Museum in Maastricht, where it will be on view until October 29, 2017. The exhibition consists of over seven hundred works that span three decades of Pettibon's career. The works on loan convey the artist's notoriously unapologetic opinions about contemporary politics, particularly in regards to the war in Iraq. He considers his art to be a kind of reportage, revealing a side of American politics that he feels journalists often neglect.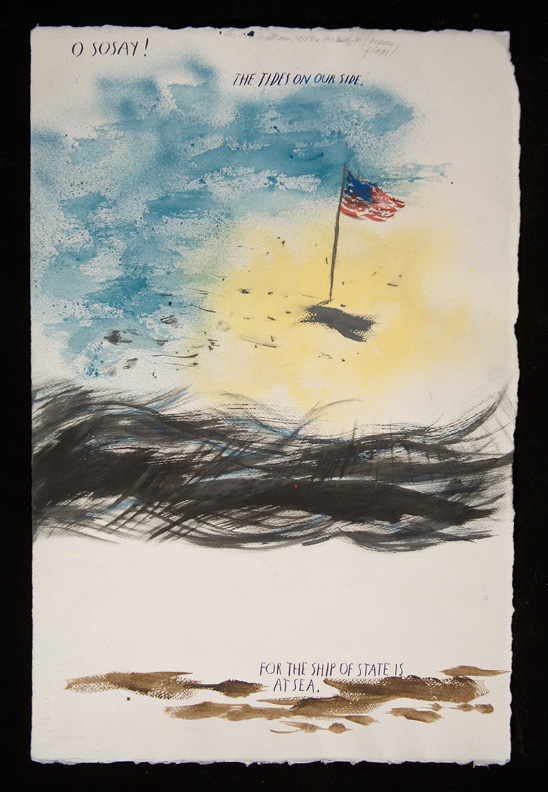 No Title (O sosay! The)
Pettibon's drawings frequently incorporate handwritten text directly pulled from literature, song lyrics, and pop culture. For example, No Title (O Sosay! The) from 2005 includes lyrics from Roger Waters's song The Ship of State is All At Sea. Because Pettibon does not cite any of his sources in the drawing, the interpretation is left to the viewer. Whether she/he recognizes any of these quotations is not important, as Pettibon's commentary on nationalism is still clearly articulated. Though he often criticizes Americans who support war, in this drawing he seems to suggest the illusion of hope. The hazy-like setting composed of rough brushstrokes distances the viewer, giving a sense that if we are able to traverse the treacherous waters Pettibon refers to in the text, we may attain the glorified American dream of freedom embodied by the flag.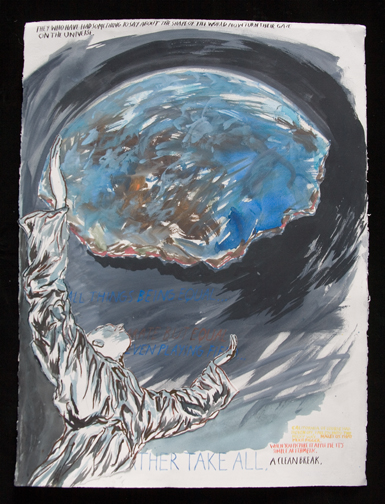 No Title (They who have)
Pettibon's rough brushstrokes are also present in No Title (They Who Have) from 2005. Combining text with roughly hewn images, the drawing conveys a sense of urgency. There is a mysterious and dark quality to the figure in a monk-like robe who reaches up towards what appears to be a globe on the brink of shattering. The colors pop against a pale background and are reminiscent of the aesthetic of comic strips.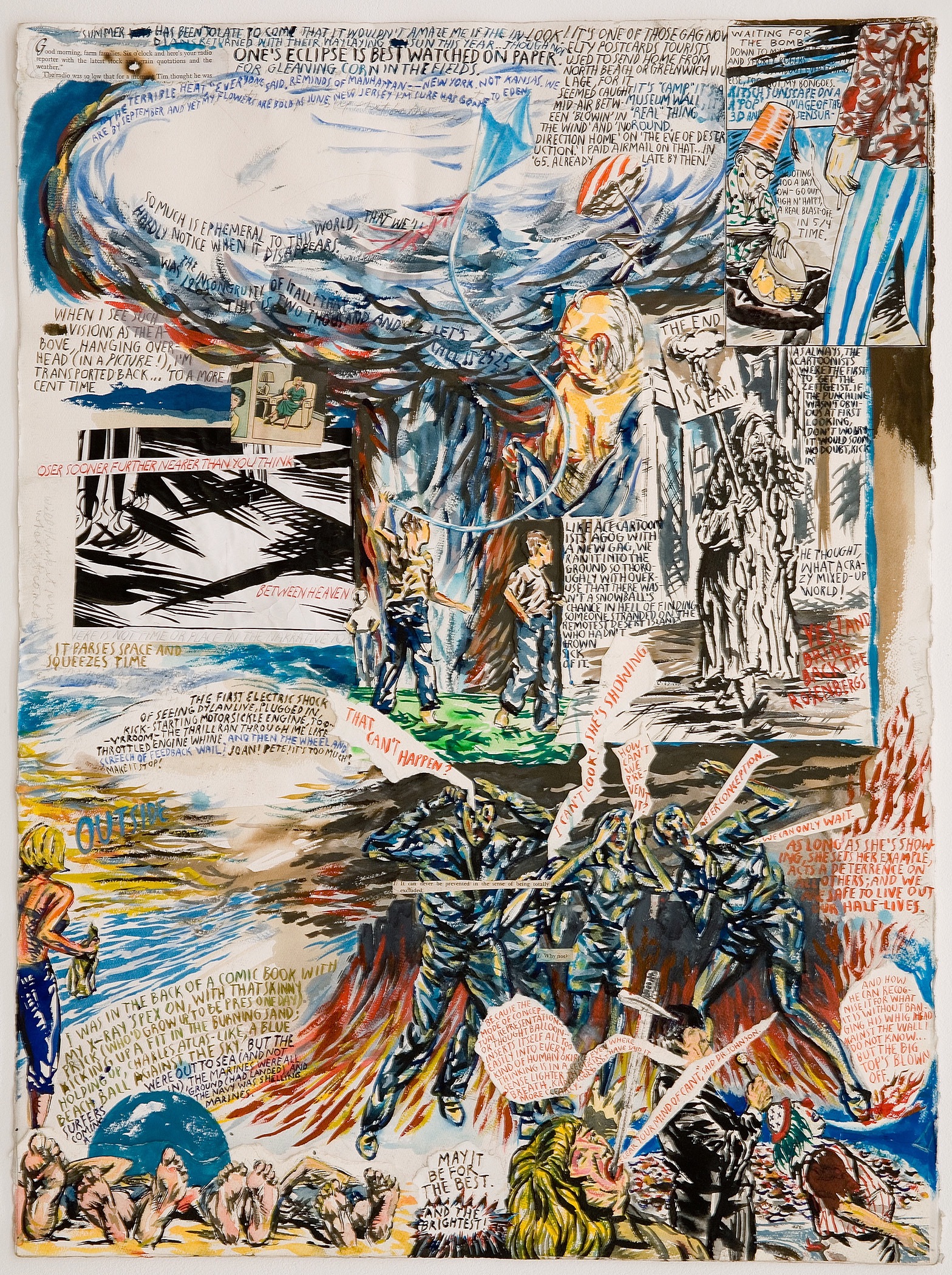 No Title (When I see)
A comic book aesthetic is also apparent in the formal qualities of the work No Title (When I See) from 2006. This drawing includes text and images encapsulated in various shapes which overlap, telling the story from multiple angles simultaneously. The drawing includes a mushroom cloud-the aftermath of an atomic bomb-with distressed figures around it. The imagery makes us feel unsteady and chaotic, and it is apparent that Pettibon worries that this may soon be our fate. Bringing many people's nightmares to life, the imagery serves as a warning against the destruction of humanity through acts of war and violence.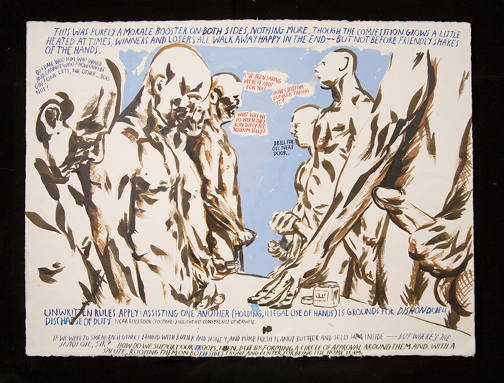 No Title (This was purely)
In No Title (This Was Purely) from 2006, Pettibon uses satire to address the issue of war in an explicit scene. This drawing was made when America had been involved in the Iraq War for three years, and conveys Pettibon's opinion that it is a pointless battle led by competitive egos. The artwork expresses his opinions of the absurdity of war through a critique of those who participate in this fighting. Through frankly rendered images and text, Pettibon criticizes America's global political involvements all while captivating viewers by juxtaposing chaos and creativity.