Episode 1: Who was Fred Grunwald?
In July 2017, the Hammer will launch its digital archive Loss and Restitution: The Story of the Grunwald Family Collection, exploring the life of Fred Grunwald, a businessman and collector whose donation of prints to UCLA created the foundation of what is now the UCLA Grunwald Center for the Graphic Arts. In this 7-part blog series, project researchers Kirk Nickel and Maia Woolner will share how they recreated Grunwald's story through archival research, from his early collecting days in Germany to the seizure of his collection by the Gestapo to his emigration to the United States and rebuilding his collection.
As Kirk and I began the daunting process of tracking Fred Grunwald's (1898–1964) paper trail through history, we asked ourselves a simple question (which, of course, led to no simple answers): Who was Fred Grunwald?
Fred was a manufacturer and avid art collector of works on paper. His life in America seems clear enough. He built a men's clothing business from the ground up. He collected amazing art. His kids went to UCLA. In 1956 he helped found the Grunwald Graphic Arts Foundation within UCLA's Art Department by gifting a substantial portion of his art collection to the university.
But what about Fred's life in Germany?  
We know he was born in 1898 and that he was badly wounded during active duty on the Western Front during World War I. But most of the information we have at this point about his life before 1939 comes from a biography about Fred written by his son, Ernest, more than sixty years after the fact. And Ernest was only sixteen when his family left Germany, so the specifics of his childhood would be difficult to recall, no matter how vivid the events were.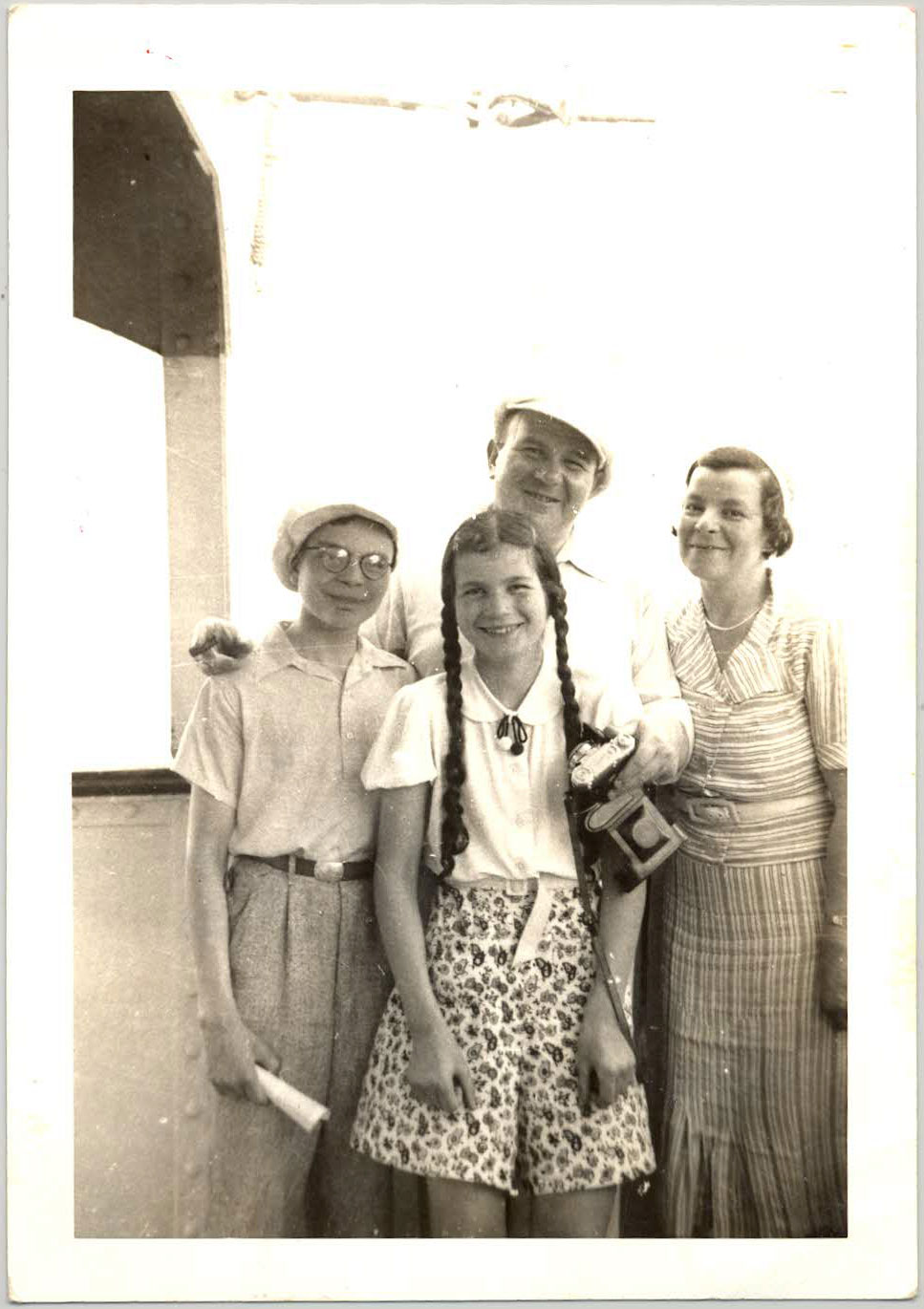 The Grunwald family (from left): Ernest, Lotte, Fred, and Trude. Courtesy of Peggy Cooper.
According to Ernest, Fred and his family only narrowly escaped Nazi Germany in 1939, not long after the Gestapo raided their home and confiscated much of Fred's nascent print collection. The goal of our research is to corroborate details given in Ernest's biography with documentary evidence. Was Fred arrested by the Gestapo? What art did he collect and why? When was his collection confiscated?
Where do you start when you don't know what you don't know?  
To begin, Kirk was tasked with finding biographical documents pertaining to Fred in order to fill in details about the Grunwald family tree and chronology. My research, on the other hand, will take me to the National Archives. Until next time...