On Digitally Archiving an Exhibition
Earlier this month, the Hammer launched a digital archive of the 2014 exhibition Take It or Leave It: Institution, Image, Ideology, part of a series of digital initiatives funded by the Andrew W. Mellon Foundation. Take It or Leave It considered the intersection of two important genres of contemporary art: appropriation and institutional critique. Engaging with these overlapping ideas, the works featured in the show recontextualize familiar objects and images in order to comment on the structures—social, cultural, political—that frame our existence. Take It or Leave It was the exhibition on view at the Hammer when I interviewed for the position of Project Manager for Digital Initiatives, and after the interview ended, I spent a couple of hours walking through the galleries. The show was dense and challenging; my mind, replaying every answer I'd just given, wasn't up to the challenge. I regretted later that I hadn't been able to fully immerse myself into the exhibition, wished I could have spent more time reading labels and watching videos and tugging at threads connecting one artwork to another. Well, I got the job, and…be careful what you wish for, right?
With the digital archive, we attempted to document Take It or Leave It from as many vantage points as we could. We provide images of all 110 works in the exhibition, along with the original label text that appeared on the walls, as well as installation images that walk you through the show from gallery to gallery. From the exhibition catalogue, we borrowed biographies of the 35 artists who appear in the show, excerpts from scholarly essays, an extensive bibliography and chronology, and a gallery of archival images. Looking back at Take It or Leave It in retrospect allowed us to include things like critical reviews of the show, and photographic and video documentation of programs related to it. The goal of the digital archive was not to recreate Take It or Leave It, but to augment it by creating a research hub where anyone interested in the subject matter could find a jumping-off point.
Living with this exhibition and these materials for two years as our team researched, designed, and built the digital archive, I found myself using Take It or Leave It as a means of gaining perspective on what was happening in the world around me. Here are two works from the show that had a particular effect on me: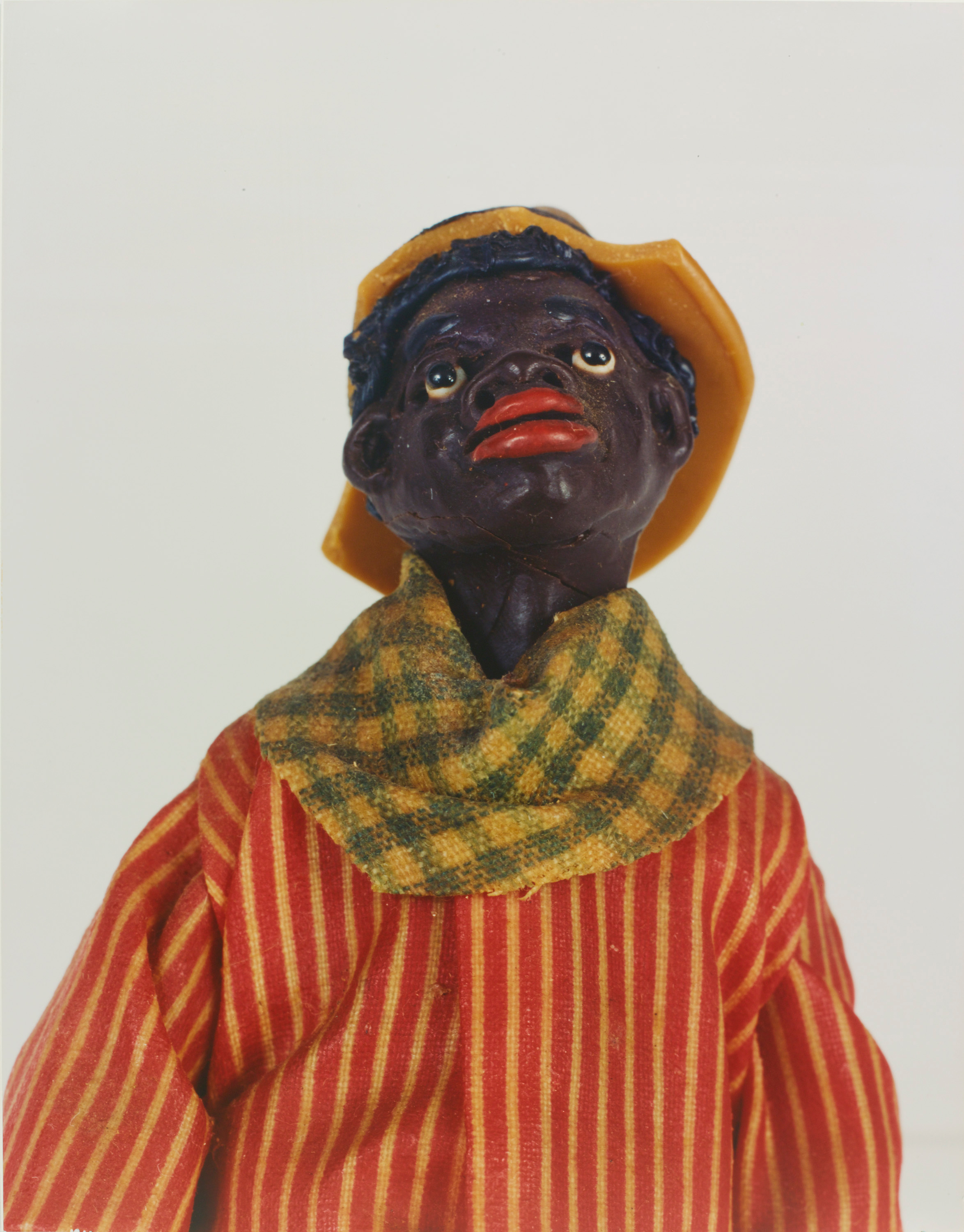 Slit
Slit is one of those images I can't seem to stop looking at. The figurine at the center of the frame is a grotesque, racist relic, but the manner in which Wilson photographs it—his head upturned at an angle that makes a halo of his chipped hat brim—is humane, almost reverential. As Darby English writes in an essay in the digital archive, by treating the figurine as he would a human portrait subject, "Wilson recovers a modicum of integrity for the racist commodity's human referent." That Wilson found the figurine in the archives of the Museum of Early Southern Decorative Arts raises questions about the role museums and other cultural institutions play in memorializing, propagating, and historicizing stereotypical iconography—and our responsibility to document the most shameful aspects of our history.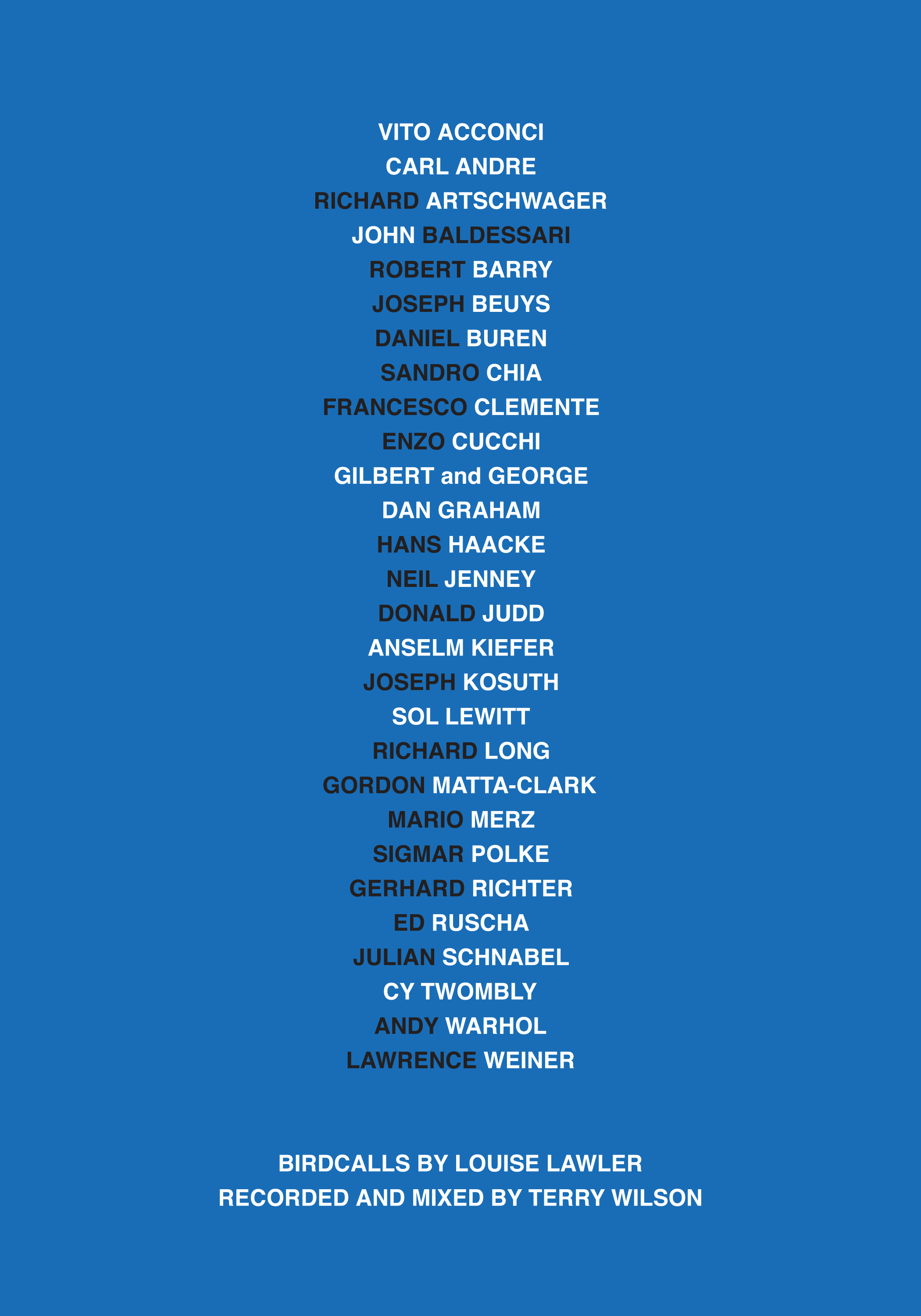 Birdcalls
Birdcalls, an audio work that played in the Hammer courtyard during Take It or Leave It, sneaks up on you. At first blush, it sounds like a recording of actual birdcalls, something out of the Audubon Society, but as you take the time to listen, you begin to pick out words—names, actually. You realize what sounded like "cuckoo" is actually "Kosuth," as in, conceptual artist Joseph. All of the names, in fact, are well-known white, male artists, a criticism of how the art world sustains patriarchal white supremacy in its veneration of these figures, disguised as a sound gag. This piece also presented a fun challenge to me: how do I represent a piece of sound art on a graphic website? Fortunately, I was able to find the striking label that our designers created for the original installation, listing the names of the artists called out by Lawler. And I was able to pair that with a full recording of the piece on Ubuweb; take it from me, it makes for great workplace listening.