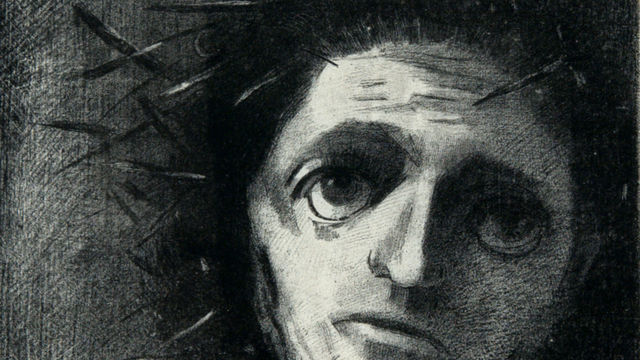 Redon's Dark Symbolism in Lithography
Each fall, the Grunwald Center for the Graphic Arts selects a small group of UCLA undergraduate art history majors to participate in a special independent study exploring the history of printmaking in the western world. Drawing primarily on the center's remarkable collection of over 40,000 objects, this unique opportunity offers students hands-on experience handling, examining, and cataloging works on paper while also learning more about the cultural context in which these objects were produced. Taught jointly by Cynthia Burlingham and Leslie Cozzi, the Grunwald Center's director and curatorial associate, the 2016 course focuses on innovations in 19th century printmaking and related arts. Complementing their other course work, this student-authored blog series presents reflections on some of the most significant artists and artworks of the period while providing our visitors unique insight into treasures of the Grunwald Center collection.
For more information on the Grunwald Center Research Internship and how to apply, please visit the "In Partnership" section of the UCLA Art History department website.
Odilon Redon (1840-1916) was a multi-talented French draftsman, painter, and printmaker with close ties to Symbolist artists and writers of the late 19th century. He eventually translated the aesthetic effects of his drawings into the practice of lithography. Redon's drawings utilized the medium of black charcoal, making it possible to layer pigment to create rich, dark, and soft shadows that other media such as pencil could not achieve. In the words of scholar Lee Hendrix, "Redon created his charcoals, which he called his noirs, of such material power and richness, and with such compelling subject matter, that they came to define the essence of black to an extent that remains unequaled" (Hendrix 68).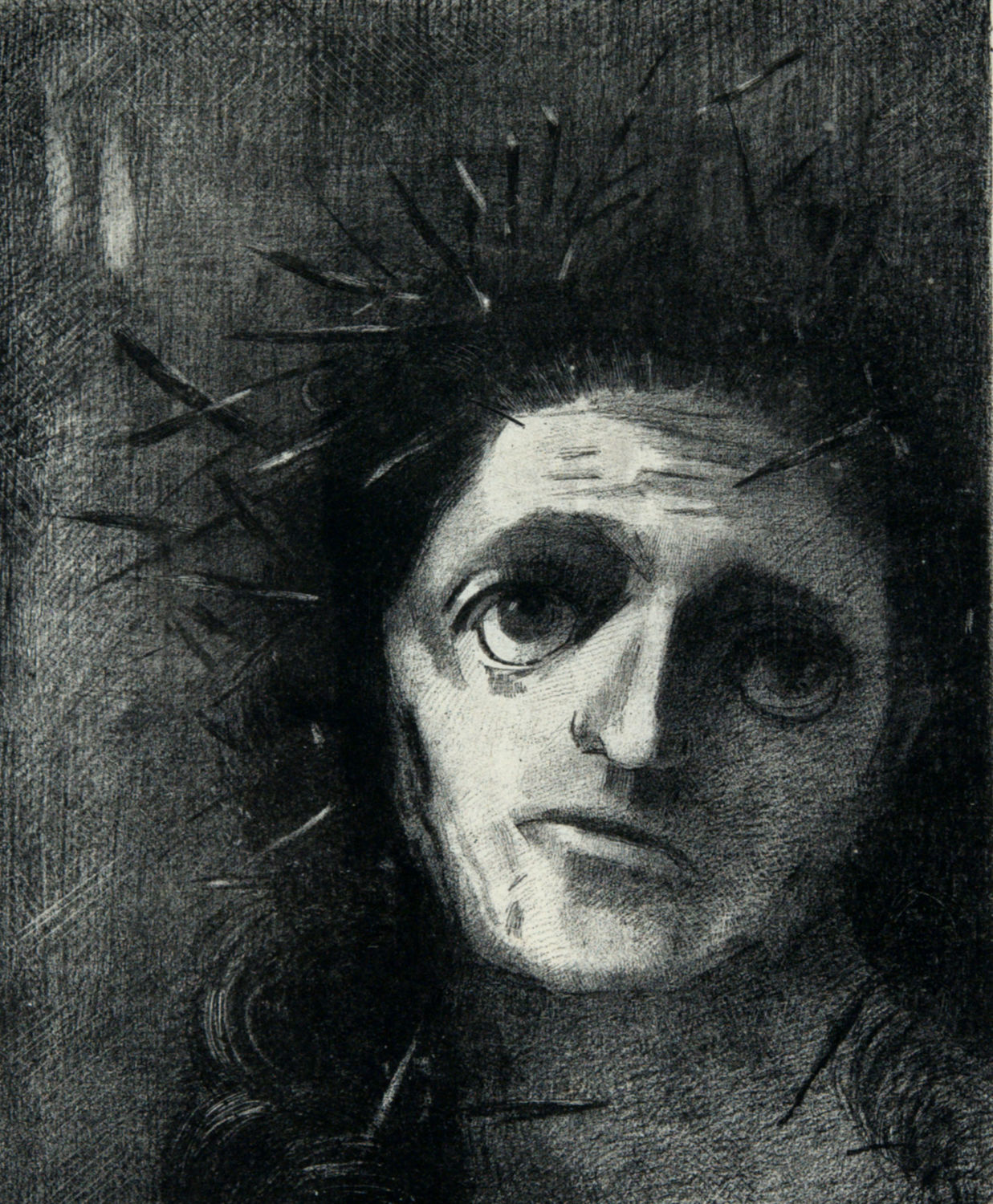 Christ
The transition into lithographic reproduction was a natural one for an artist trained in drawing because the process does not involve specialized training in techniques such as etching or carving. In creating Christ (1887), Redon's method involved a combination of transfer paper and drawing directly onto the lithographic stone using waxy crayons. After the drawing was on the stone, he removed the crayon by scraping it away from certain places to create textured highlights such as in Christ's crown of thorns. Lithography allowed Redon to preserve the dark expression characteristic of his charcoal works and reproduce them with relative ease. The artist's hand is visible in the artwork thanks to this process, seeking to leave their personal touch instead of blending it away.
Redon is primarily known for his involvement in the Symbolist movement in France, which reacted against the dominance of Impressionism. According to art historian Linda Hults, the Symbolists "rejected the Impressionists' basic naturalism and reticent attitude toward subject matter in favor of subjective approached in which visual appearances were transformed to express a strong emotional or symbolic content" (Hults 499). They were interested in imagination, dreams, religious and mythological iconography, and the arts of their contemporaries. Redon's Symbolist approach is apparent in the unusual depiction of Christ, forgoing a natural representation in favor of creating more exaggerated features to highlight the emotion of the scene. The composition crops Christ's body out of frame and assumes the viewer is aware of what is happening below, calling on their imagination and knowledge of Christian narratives to focus more on his facial features. His eyes are cartoonishly enlarged, possibly to feature his upward and sorrowful gaze as the focal point and emotional center of the print. The crown of thorns, the only explicit iconographical reference to Christ, is expressed through jagged dashes of darkness and highlight. It is not the usual circular crown seen in Renaissance paintings or Christian relics, and it is difficult to discern its exact shape due to the darkness. As with the body of Christ, the viewer is left with the idea of the object instead of a detailed likeness, forgoing shape for the qualities of tangled sharpness and disorder. Viewers are allowed to understand Christ's suffering and sacrifice through the dark imagery, emotion in his face, and otherworldly ambiguity of form.
Redon's technique continued to develop after his creation of Christ as the artist was inspired by literary figures such as Charles Baudelaire and Edgar Allan Poe to create more visionary lithographic images. His illustrations for The Temptation of Saint Anthony (1888) include floating eyeballs and microscopic entities that foreshadow subsequent art movements interested in dreams and the unconscious, such as Surrealism. Christ manifests the Symbolists' desire to introduce personal qualities into works of art through biblical and literary allusions, lithographs that resembled other media such as charcoal, and dark, fantastical style.
Works Cited
Hendrix, Lee. "Fantasy and Dreams." In Noir: The Romance of Black in 19th-Century French Drawings and Prints, 31-49. Los Angeles: Getty Publications, 2016, pp. 66-91.
Hults, Linda C. The Print in the Western World: An Introductory History. University of Wisconson Press, 1996.