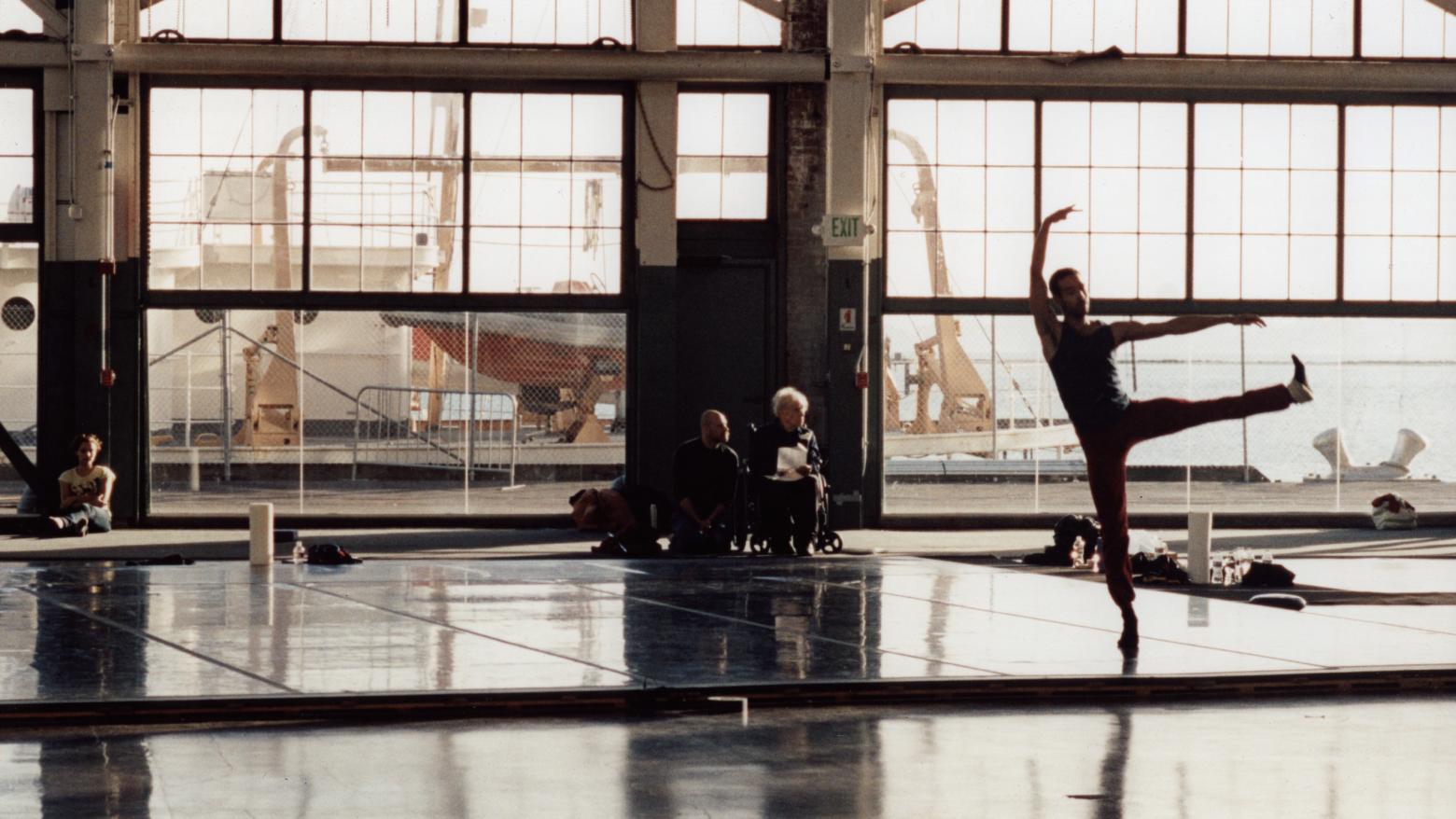 "…this is not a democracy, it's a cheerocracy": Dance on Film
We began our programming season with the dance documentary First Position (Bess Kargman, 2011) and our current Black Mountain College exhibition and programming highlights the ways that dance was integral to the school's interdisciplinary, experiential approach to arts education. Last Tuesday we screened Tacita Dean's 2009 Craneway Event, a 16mm film that is, on the surface, about a rehearsal for one of choreographer Merce Cunningham's "Events," a collage of bits and pieces of dance from his company's repertoire. Dean's film is about more than that, though, with its poetic meditation on the dancers' movements, the dazzling light in the rehearsal space, and Cunningham's gentle yet authoritative presence. There is no music in the film—the dancers count their movements—and this brings out the physicality of their bodies, the space and even the camera itself. Cunningham once said, "Dancing is the art of the present tense. I don't think this is an intellectual matter. Like many things, it falls to pieces, ceases to exist, when subjected to intellectual scrutiny." Craneway Event is the ideal way to capture the present-tense nature of bodies in motion. 
With dance and film on our minds, we decided to think deeply about our favorite dance movies of all time—a daunting feat, no doubt, since a bad dance film is like a bad pizza (i.e., delicious nonetheless). There is something about the intersection of these two art forms that is electrifying: close-ups of bodies, rhythmic editing, moving cameras, seemingly impossible choreography and jumps in time, space, and costume (Bollywood, anyone?). As you'll see, these films come from a range of genres and use a variety of narrative tropes—really, all they have in common is people who dance and our ability to re-watch them many times over.
In chronological order, by dance-movie aficionados and Hammer Public Programs staff members Janani Subramanian (JS) and Jen Jurgens (JJ):
Dance, Girl, Dance (Dorothy Arzner, 1940)
Arzner was one of the few female directors who made a name for herself in the studio system, and Dance, Girl, Dance wears its feminist mantle proudly (despite being highly underappreciated when released).  Featuring Maureen O'Hara as staid ballerina Judy and Lucille Ball as wild burlesque dancer Bubbles, the film uses dance and a love triangle as a means for female empowerment—a not-insignificant feat for a 1940s film. In this scene, Judy turns her male audience's leering gaze back on itself, forcing us as viewers consider our own act of looking. (JS)
The Red Shoes (Michael Powell and Emeric Pressburger, 1948)
Based on the Hans Christian Andersen fairy tale, this lush, romantic film is still the standard that ballet movies are judged against. The best film from British legends Powell and Pressburger, The Red Shoes is both an ode to and warning against the seductive powers of art. There is a dark tension at the heart of the film offsetting its gorgeous construction that keeps people returning to it again and again. I've seen it more times than I can count and am still enthralled by its mix of beauty and pain. Jack Cardiff's gorgeous cinematography and stellar use of Technicolor mean that if you ever have a chance to see the restored 35mm print you should run, not walk to get tickets. You won't regret it. (JJ)
Honorable Mention: Black Swan (2010): The Red Shoes is a dark fairy-tale, and Black Swan is even darker, teasing out the homoeroticism and horror of dance in Darren Aronofsky's trademark mix of cerebral and grotesque. (JS)
Singin' in the Rain (Stanley Donen, 1952)
There isn't much to say about this backstage musical that hasn't been said before. As someone who dislikes musicals, this film wooed me with its choreography alone—the astonishing footwork of Gene Kelly, Debbie Reynolds, Donald O'Connor, and Cyd Charisse. The legendary "Make 'Em Laugh" sequence is 4-minutes of jaw-dropping athleticism, improvisation and grace. (JS)
Flashdance (Adrian Lyne, 1983)
Flashdance is a quintessentially '80s movie in all the best, and possibly worst, ways. Light on narrative cohesion and character development, despite an endearing debut performance by Jennifer Beals, the movie managed to excite audiences and rack up an impressive box office tally. Dispensing with the traditional musical technique of advancing story through song and dance, Flashdance adopted the quick-cut editing style of MTV music videos. The resulting series of music videoesque set pieces connected by the narrative of a young woman finding empowerment on the dance floor set the template for dance movies all the way to today. In addition to Beals's sartorial trendmaking, the film was the launching pad for '80s heavyweight producers Don Simpson and Jerry Bruckheimer, director Adrian Lyne, and screenwriter Joe Eszterhas. A movie with music by disco/electronic/synthpop master Giorgio Moroder about an 18 year old welder who longs to be a serious dancer that inspired a Snoopy parody (1984's glorious It's Flashbeagle, Charlie Brown)? Yes, please.   (JJ)
Breakin' (Joel Silberg, 1984)
Nathan Rabin summed up the glorious clichés of Breakin' in his Esquire piece about the franchise: a "classically trained dancer boldly challenging the divides of high and low culture" and "passionate street dancers risking it all for a dream." It's a total cheese-fest but brought the skill and grace of breakdancing into the mainstream, made the dance-battle a mainstay of the genre, and featured the on-screen debuts of Ice-T (!) and Jean Claude Van Damme (!!).  
Honorable mention: Save the Last Dance (2001) - The problematic racial dynamics of a white dancer learning "street" style for her own personal gains are repeated in this standard teen romance, but I derive real pleasure from watching heartthrob Sean Patrick Thomas crush it on the dance floor while aspiring to be a doctor while dealing with Julia Stiles's unrealistic aspirations. (JS)
Paris is Burning (Jennie Livingston, 1990)
Jennie Livingston's documentary about 1980s ball culture and transgender Black and Latino communities delves deep into a vibrant subculture defined by fashion, complex social webs and hierarchies, and an overall embrace of freedom of expression and identity.  It also calls attention to the Harlem roots of "voguing," a style of dance that features model-like poses, later infamously assimilated into the mainstream by Madonna. (JS)
Center Stage (Nicholas Hytner, 2000)
Center Stage is a bad movie—BUT, as Hillary Bussis writes in Entertainment Weekly, it is actually a great movie in the "A thing you loved when you were 12 that's still entertaining once you reach adulthood, despite how much of it is about feet" way. Bussis has 49 excellent reasons behind her claim, including a young Zoe Saldana's "legendary bitchface," the "sheer number of Steve Madden and Adidas slip-on platform sandals on display", dance cinematography that shows an actual appreciation for the art, and THIS ASTONISHING FINALE (that occupies reasons 37-49 of Bussis's list). (JS)
Bring It On (Peyton Reed, 2000)
Is Bring It On a dance movie or a sports movie? Probably both, but we're counting it as firmly in the dance-musical camp because like the movie says, "this is not a democracy, it's a cheerocracy." 2000's sleeper dance classic features the powerhouse teen movie combo of Kirsten Dunst, Eliza Dushku, Gabrielle Union, and the dude from Swimfan. Packed with explosive gymnastic choreography and endlessly quotable quips, Bring It On is the perfect comfort viewing film. Fun fact: prior to his world domination with the musical Hamilton, Lin-Manuel Miranda wrote the music and lyrics for Bring It On: The Musical. (JJ)
Step Up (Franchise)
Aside from giving Channing Tatum (bless him) his big-screen chance to show off his exotic dance education (bless it!) and providing work for legions of back-up dancers, this franchise also bestowed upon us an excellent iterative naming system worthy of The Naked Gun and The Fast and Furious (Step Up 2 the Streets, Step Up 3D, Step Up Revolution, Step Up: All In). While often written off as no-substance teen flicks, the level of talent in all the films is staggering - check out Moose (Adam G. Sevani) and Camille (Alyson Rae Stoner) in Step Up 3D's "I won't dance" sequence, an adorable homage to Singin' in the Rain. (JS)
Magic Mike (Franchise)
See the first sentence of the entry above, watch this: