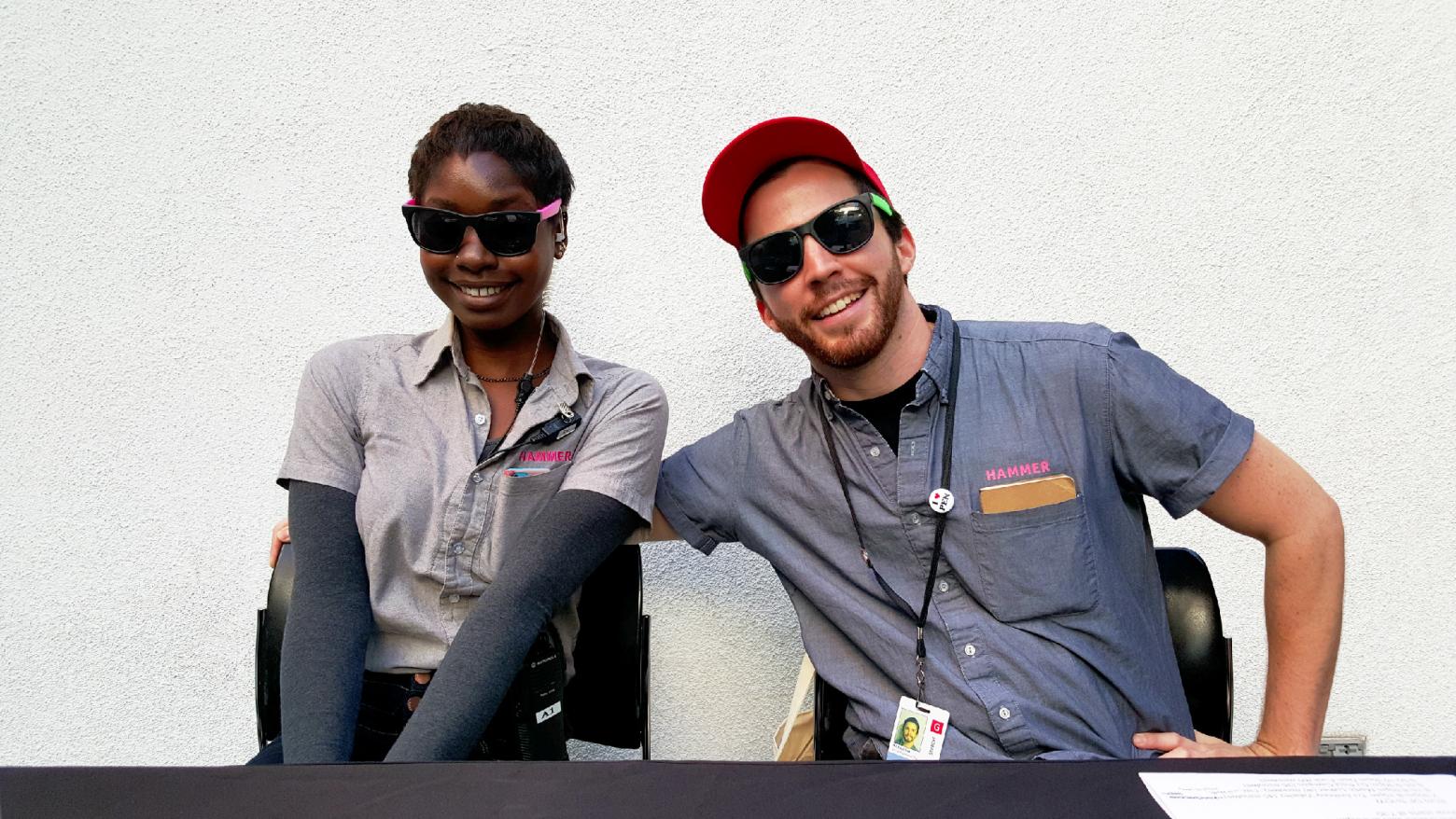 Hammer Highlights 2015: Visitor Experience
Hammer Highlights is a blog series that features the past year's most memorable moments and stories from each of our departments.
2015 was a banner year for the Visitor Experience (VE) department. From putting a sticker on Beyonce's hand to wielding an atomic bomb piñata, there was a profusion of memorable moments. Below are our highlights for the year—including milestones reached, records broken, and experiments with new approaches.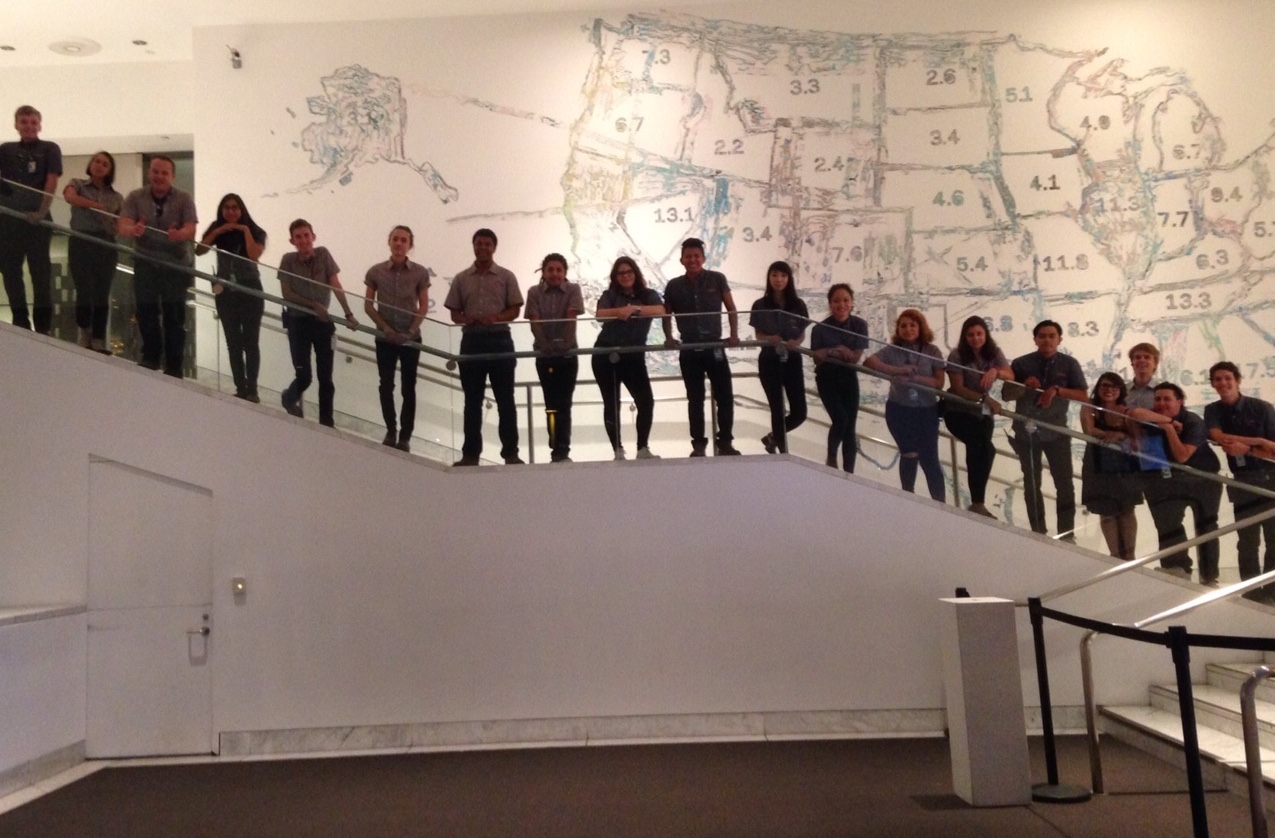 Ringing in the First Year
VE celebrated our one-year anniversary in 2015. At its core, the department connects people to the museum. With a team of 90 students from UCLA and Santa Monica College, we protect the art inside the galleries, check-in visitors at our entrances, sell memberships, answer questions, and facilitate programs and events.
Since reaching the one-year mark, we have witnessed an energetic transformation at the Hammer and a more seamless experience for visitors. Recently, this model for engagement has been replicated at other institutions around the city. It's exciting to watch a growing number of museums this year generously opening up to their visitors.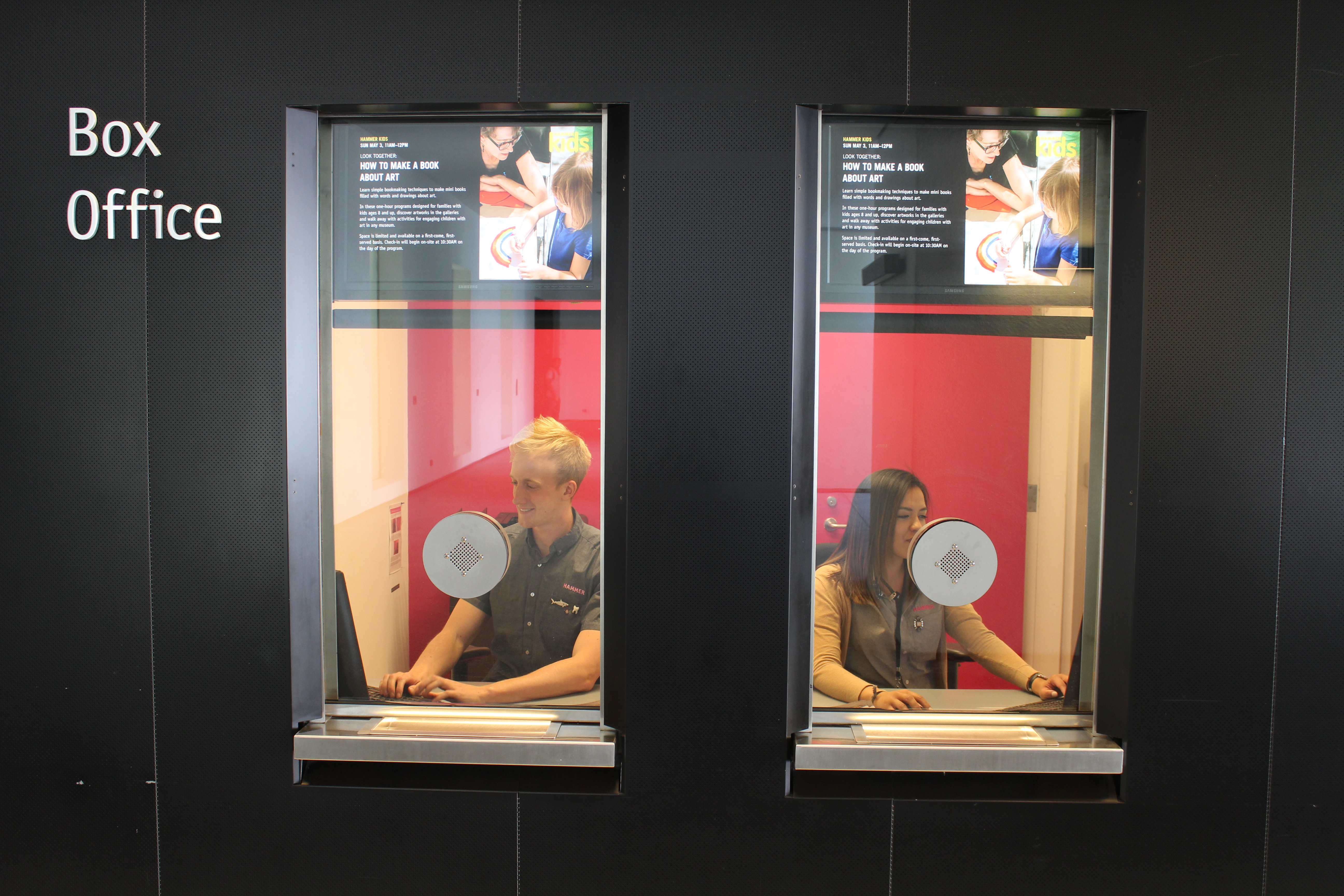 Valuing Participation
VE began overseeing the Hammer's free membership program in 2015, and, as a result, signups more than doubled. The program provides anyone the opportunity to receive a complimentary year-long membership simply by visiting—and we have loved seeing the response. Valuing participation equally to financial contributions, our free membership program has broadened the museum's community and made belonging more accessible. 
Breaking Membership Records
On top of growing our free membership program, VE also expanded paid membership. In August, we had the biggest single day of onsite membership sales in the history of the Hammer Museum. Overall, onsite membership revenue has increased by more than 50% compared to 2013 and 2014. It is a rarity for a recently free museum to increase membership revenue, but our staff has done a remarkable job to enliven the Hammer's mission. 
Speaking Truth to Power
Continuing a longstanding commitment to female artists and thinkers, this year the Hammer provided a public platform for women to share their remarkable voices. There was a plentitude of thought-provoking programs staffed by VE, but select highlights include activist Anita Hill, cultural icon Diane Keaton, artist Nancy Rubins, director Ana Lily Amirpour, and poet Sharon Olds. Click the links to (re)watch for yourself.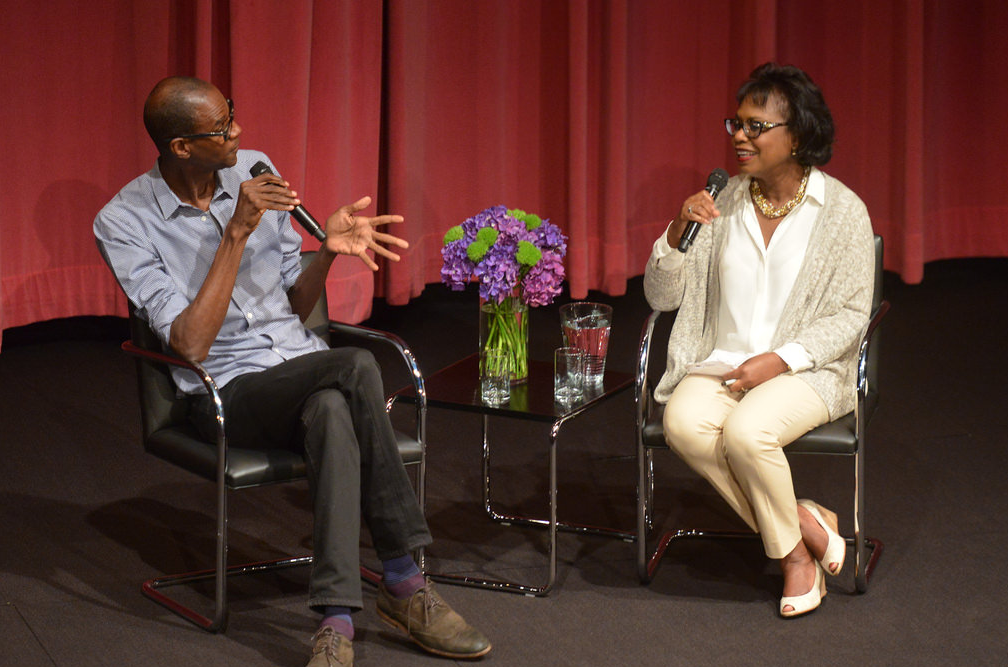 Stepping Back
In January, VE launched Art Incident—a series of unique monthly enrichment activities for our staff. Art Incident was designed to both engage our team with the Hammer's diverse offerings and to facilitate connections with the broader arts community. Over the course of 2015, we pulled works from the Grunwald Center Collection, explored the Franklin D. Murphy Sculpture Garden, and visited UCLA's Folwer Museum. In addition, we toured institutions with ties to the Hammer, including Art + Practice and the Santa Monica Museum of Art. 
These voluntary excursions were not only entertaining, but they also allowed staff to take a step back to think about the Hammer's unique role within Los Angeles and how they contribute to the museum's mission.