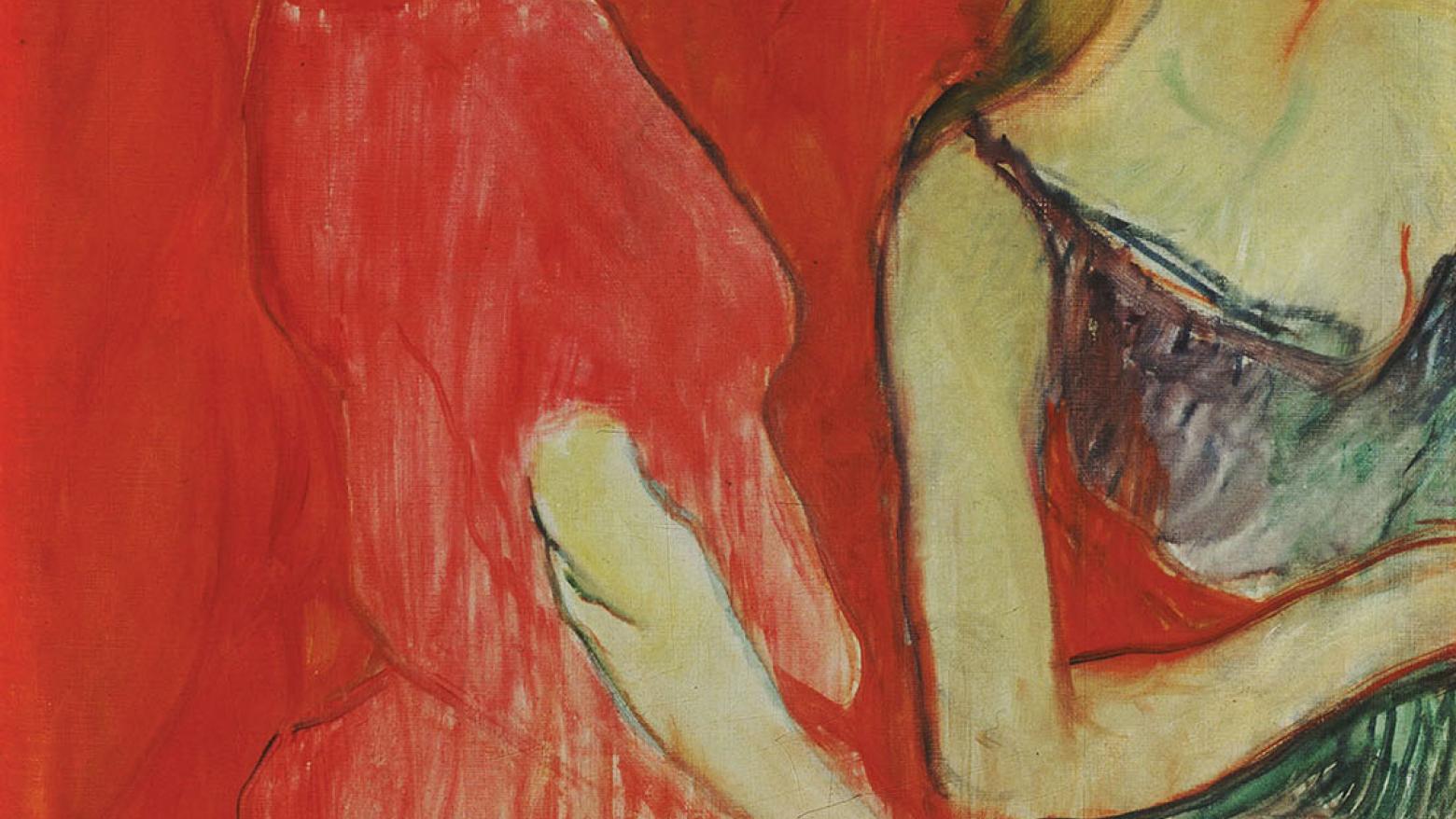 Toulouse-Lautrec: Ladies of Negotiated Affection
Or, as I prefer to call it, "Portrait of Two Ladies of Negotiated Affection." This oil sketch in the Hammer collection is complemented by an affectionate early oil portrait of Touc, the dyspeptic family pet, as well as nearly 60 works on paper in the collection of the Grunwald Center. Even though Lautrec's career lasted only 12 years—astonishingly productive years—this Hiroshige of the Parisian "floating world" captured the hedonism and hectic glamour of fin de siècle Paris, "la belle époque," "the beautiful era" that still inflects our ideas about the French capital. Lautrec himself lived that hectic glamour, participating in both its insouciance and its edge of desperation. It was an expensive, claustrophobic world of brothels, music halls, and racecourses, where "le Can-Can" whirled at ever more insistent levels, and morphine and absinthe ("the green fairy") were the drugs of choice or necessity. We still know the names and personalities of his coolly observed subjects and pals: La Goulue (the Glutton), Aristide Bruant of the red scarf and commanding sneer, May Milton bathed in green light, Jane Avril (who "danced with an air of depraved virginity") as they passed their nights away in Montmartre at Le Chat Noir or the Moulin Rouge.
Lautrec was born in the glowing auburn-red cathedral town of Albi in the southwest of France in 1864, making him 30 years younger than his principal artistic idol Degas. Lautrec was the son of aristocratic parents who were cousins, the Count Alphonse and Contesse Adele, who traced their lineage back to Charlemagne and had lorded it over the Languedoc since the 9th century. His grandfather, father, and uncle Charles were all keen amateur artists and mad for the hunt. His paternal grandmother said, "My husband and sons enjoy their woodcock three ways—they shoot it, they draw it, and they eat it."  And Henri caught that artistic interest, drawing incessantly as a child and teenager the animals, sports, and country world that his family and class adored. His father was, however, a disappointed, distant eccentric—favoring exotic dress, including Highland tartans and tutus (often worn together). His mother, more sympathetic and nurturing, was a passionate collector of and model for her son's work. 
When Henri was 13 and 14, he broke the femur bones of both his legs, probably weakened by family inbreeding. After that, he stopped growing—he was only 4' 11"—and could walk only slowly and painfully with canes. He was deeply aware of his deformity. After rigorous classical art training and a passionately engaged 12-year career in Paris as artist and observer, he died on September 9, 1901, in his mother's arms of a stoke from the effects of alcoholism just two months shy of his 37th birthday. (Only to be resurrected on film by Jose Ferrer and John Leguizamo.)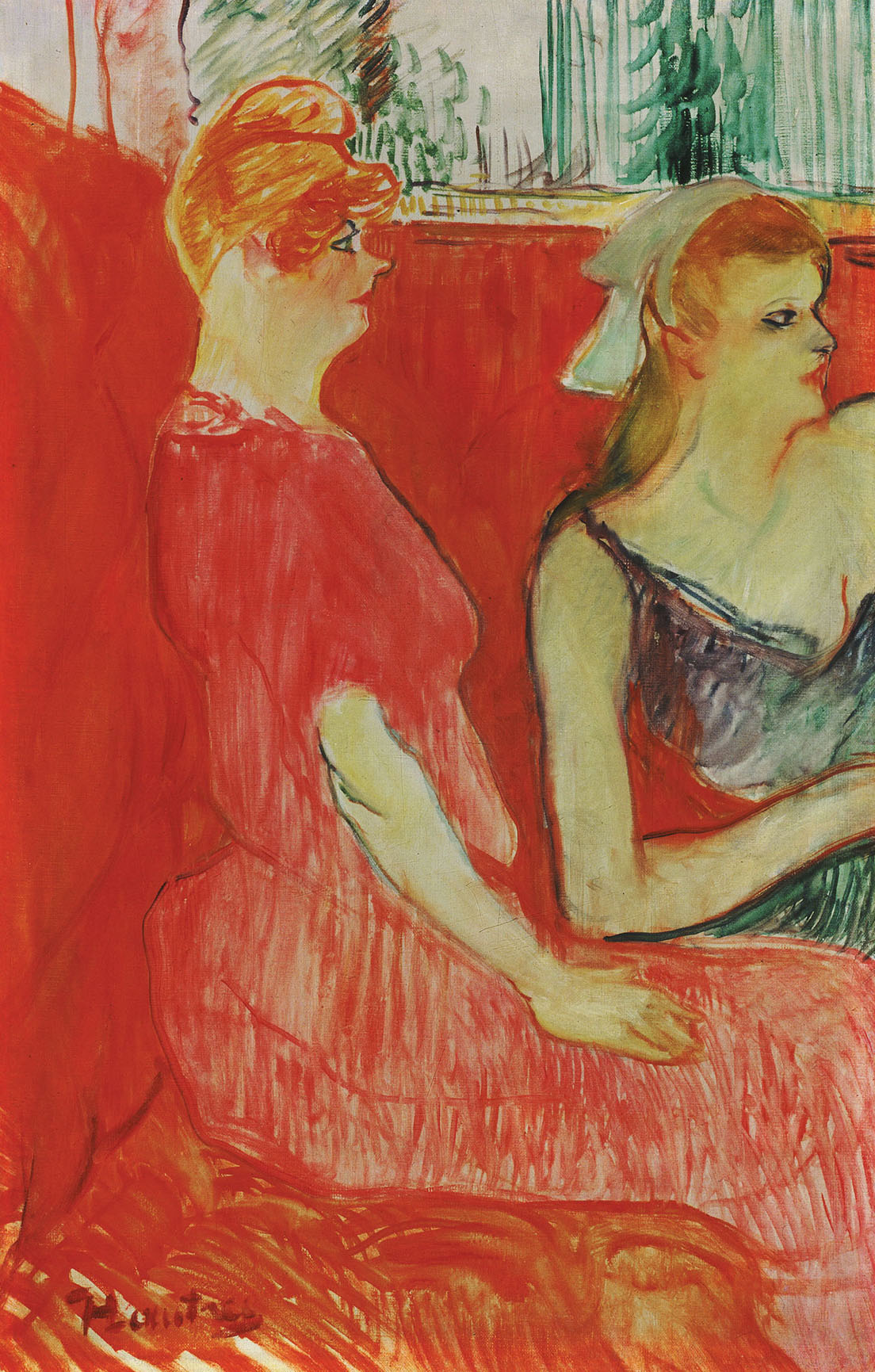 Study for In the Salon on the Rue des Moulins
This study was made for the large (52 ¼" by 44") 1894 painting In the Salon on the Rue des Moulins, which resides in the Lautrec museum in Albi. The study and resulting painting show a deluxe Parisian brothel in which the artist himself lived for two years. Lautrec was as interested in prostitutes as he was in cabaret performers, restaurateurs, and jockeys. He admired their hard-working, get-on-with-it, uninhibited personalities. "The professional model," he said, "is always like a stuffed owl [but] these girls are alive." (Though only just alive, as here, as they wait patiently, somnolently for clients.) 
The changes that the artist made between sketch and finished painting are instructive. The leftmost figure, the artist's favorite Rolande, seems almost caricatured in the sketch—and almost boneless (desosée). The relaxed rolls of flesh under her chemise are modeled in shades of vibrant pink. Lautrec's ability to "draw" with color was, of course, what Matisse considered his fundamental genius. In the finished painting Rolande is both younger and more idealized (and, therefore, presumably more expensive).
These oils (and many other studies) are, in turn, related to a set of 10 lithographs (plus frontispiece, cover, and promo poster) called "Elles" ("Women"). In spite of their artful intimacy, these prints didn't sell—because they were not erotic enough. But they (and this study) are as intimately revealing of the everyday world of the feminine as Degas's famous bathing women, or those of Lautrec's friend Bonnard. We are intimate onlookers—voyeurs relieved of shame or responsibility. Interestingly, Lautrec owned a reproduction of Carpaccio's Two Courtesans (c. 1495) in the Correr Museum, Venice, probably art's most famous depiction of ladies in waiting.
I make no apologies for calling these women "ladies in waiting." Not only because they are literally waiting to receive some aristocrat—count or countess or king or king of the underworld. But because prostitutes, then and now, like film stars, are actors in a drama that involves fantasy, fame, publicity, and money; but they are all performers who spend far more time waiting than doing and who are celebrated and commodified. Nevertheless, with a deftness of touch and an empathetic discernment than never moralizes, their director-producer-admirer-friend, Count Henri de Toulouse-Lautrec, captures deftly and for eternity their patience and their gritty everyday tenacity.