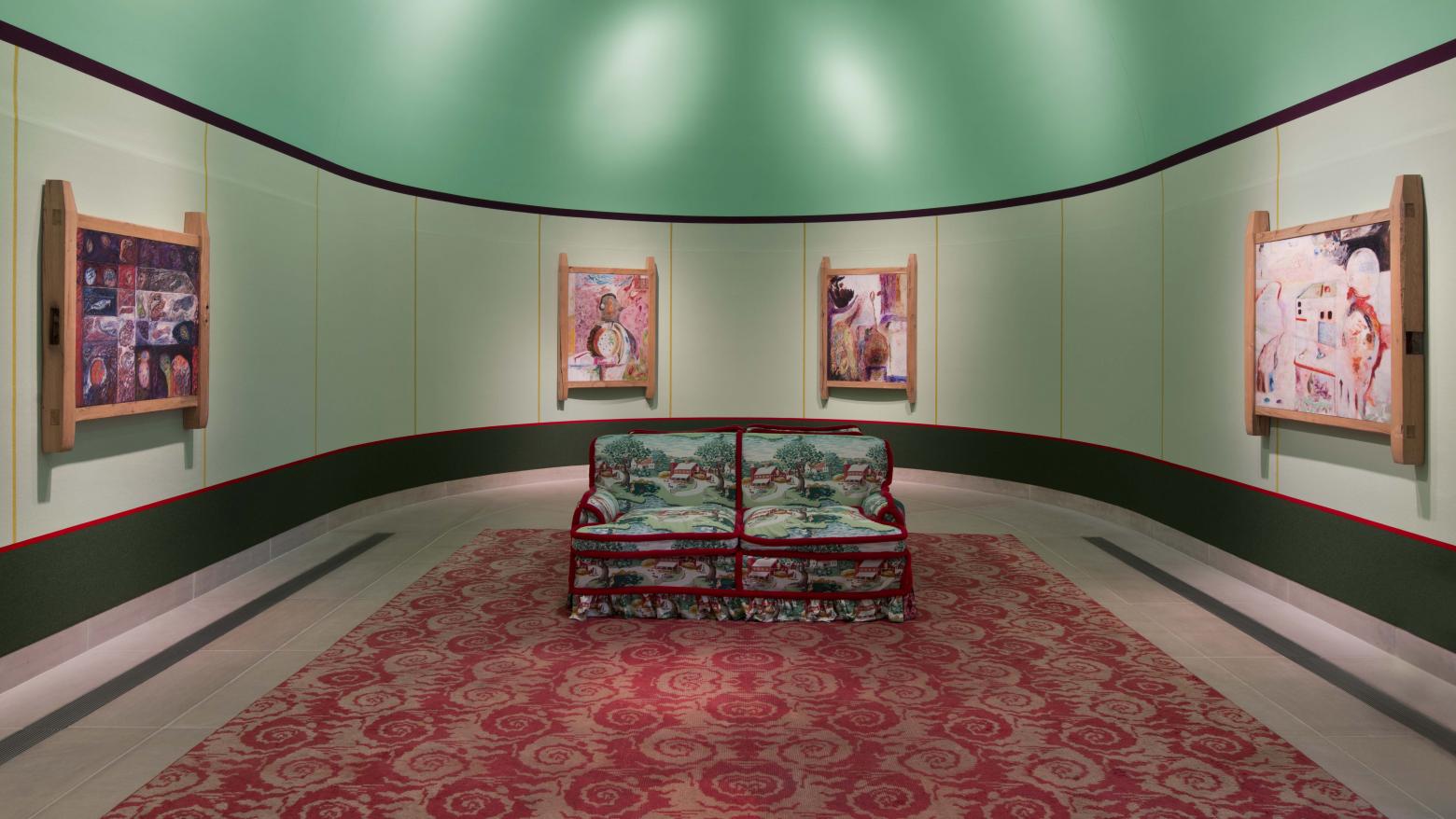 On Joseph Holtzman's Practice
Eleven years ago Joseph Holtzman returned to painting after a hiatus of close to twenty-five years. This exhibition, which debuted at the Berkeley Art Museum and Pacific Film Archive in October 2014, includes paintings dating from 2006 to 2011 and marks the first public display of the artist's work. A dedicated museumgoer and largely self-taught artist, Holtzman has immersed himself in the history of painting. The result is paintings that are as inventive as they are steeped in specific artistic movements—including northern Renaissance painting, impressionism, symbolism, and modernist abstraction—and as committed to an in-depth investigation of the interplay between ground and pigment as they are to moving beyond the picture plane to propose expansive spatial possibilities.
Holtzman's paintings usually revolve around specific figures. Alongside well-known personalities from history, literature, or popular culture—such as Mary Todd Lincoln, Stephen Sondheim, and Jane Austen—are more personal subjects, including the artist's mother, Frieda Holtzman; his husband, Carl Skoggard; and Robert Offit, a close friend who died of AIDS in the late 1980s. Each is an amalgamation of biographical facts, associated artifacts, and personal impressions that the artist attributes—consciously and unconsciously—to his subjects. Indeed he has described his process as one in which the subject slowly reveals itself as he works rather than being determined beforehand. Densely layered and pictorially complex, his paintings are largely abstract but include representational imagery that functions as provocative symbols situated within fields of color and pattern.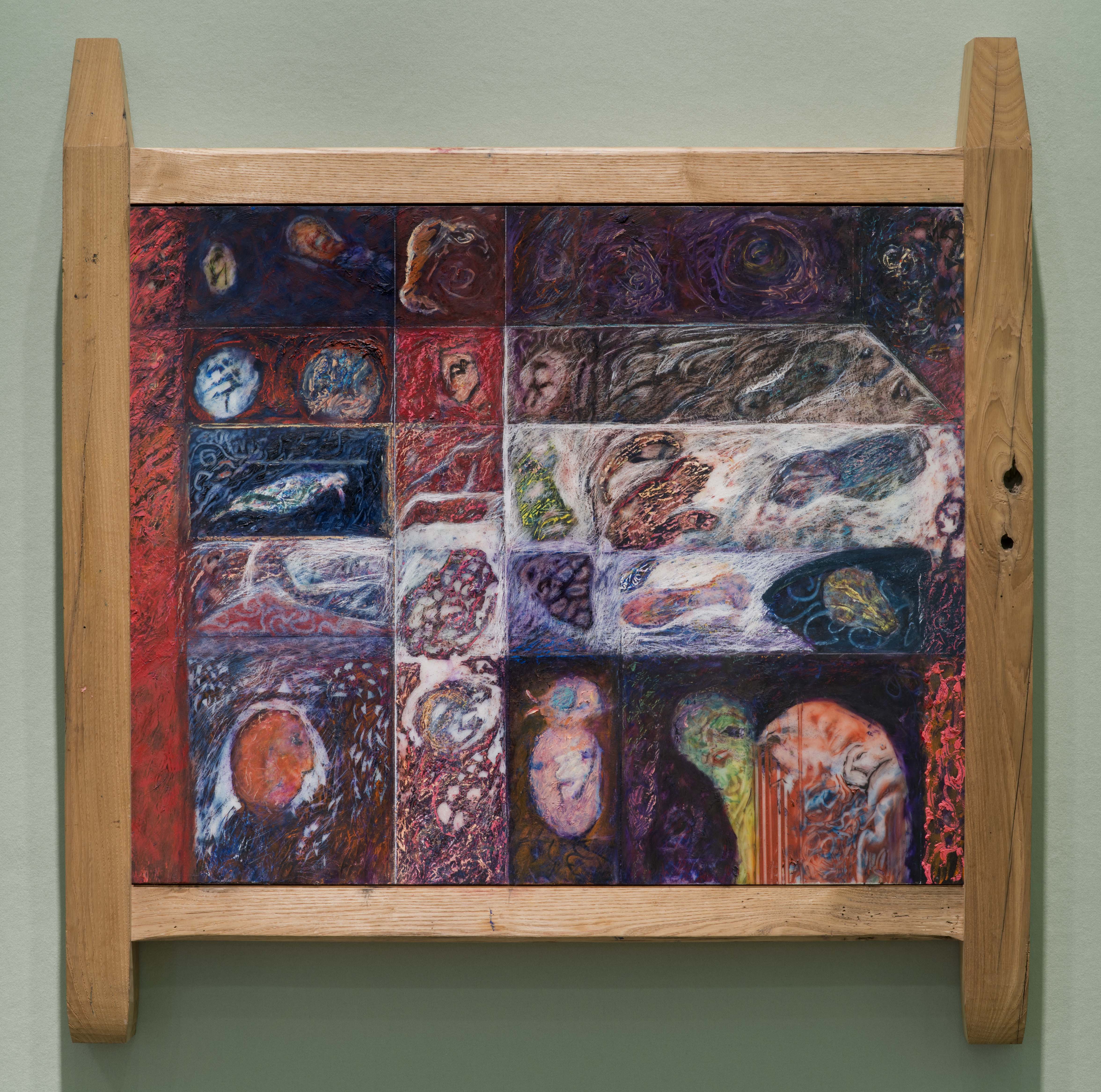 Carl Skoggard
Holtzman is widely known as a designer and decorator. He was founder, editor-in-chief, and designer of Nest: A Quarterly of Interiors, which he ran from his New York City apartment between 1997 and 2004. If the exhilaratingly eclectic magazine had a particular "look," it could be described as colorful, varied, and decorative. Nest's pages featured an array of remarkably imaginative dwellings, including igloos, the home of an English aristocrat, and the bedroom of a diaper fetishist. The distinctions between high and low were irrelevant; attention was paid to rooms that were exceptional. Holtzman made his formal debut as a painter by placing an image of one of his paintings on the cover of the final issue of Nest, signaling his intention to return to the medium full-time.
The combination of color and pattern in spatial terms is a defining feature of Holtzman's unique aesthetic, which he has honed over many years through experiments with painting, interior decorating, and sequencing images in the pages of Nest. Letting his works evolve over time in a relatively unplanned or spontaneous manner is an important part of his process. He begins with pieces of polished slate or marble and applies thin layers of oil paint to the surface. Using razor blades to carve into the paint, he marks the ground with scratches. For Holtzman, this technique is akin to making an etching. (1) He also uses cotton swabs to spread paint on the support, resulting in washy passages that blend seamlessly into one another. The luminous qualities of marble and oil paint result in a shimmery, glossy finish. The very indeterminacy of his method produces surprising visual outcomes that cohere because of the artist's proficiency with color. In Frieda Holtzman, with the Phases of the Moon (2009), for example, small compartments within the painting line the upper portion of the picture plane. Combinations of purple and white, yellow and orange, and green and blue paint are applied with an instinctual imprecision typical of Jackson Pollock's work. Holtzman's spatters and drips frame an ovum-shaped form divided into distinct quadrants. Containing suggestive abstract shapes, the form is the lightest part of the otherwise darkly rendered composition and, like the moon referenced in the title, suggests a stabilizing moment of calm or serenity amid the wild application of color surrounding it. 
In Robert Offit Dying with AIDS, 1989 (2006), Holtzman portrays the death of a friend and confidant through a variety of forms that fill the painting's compositional frame. At the center, Offit's face appears almost spectral, eyes closed and mouth grimacing. His visage is adjacent to a rendering of a large ceramic vessel inspired by the work of the Mississippi ceramist George Ohr (1857–1918), whose twisting forms were as unique as his larger-than-life personality. By including an Ohr-inspired vessel beside Offit's portrait, Holtzman invites a moving comparison between the two: individual and spirited. In an article published in the New York Times a decade after his friend's death, Holtzman commented on the significance of their friendship: "He had an unbridled belief in my talents and abilities. . . . I feel that I continue to get advice from him." (2) In Robert Offit Dying with AIDS, 1989, Ohr and Offit are brought together like strange bedfellows sharing the same space in the artist's mind. (3) Holtzman's addition of an eighteenth-century gilded frame reveals his knowledge of and interest in the decorative arts but also creates a sense of weight and physicality that underscores the pronounced materiality of the work and pushes it into the domain of sculpture.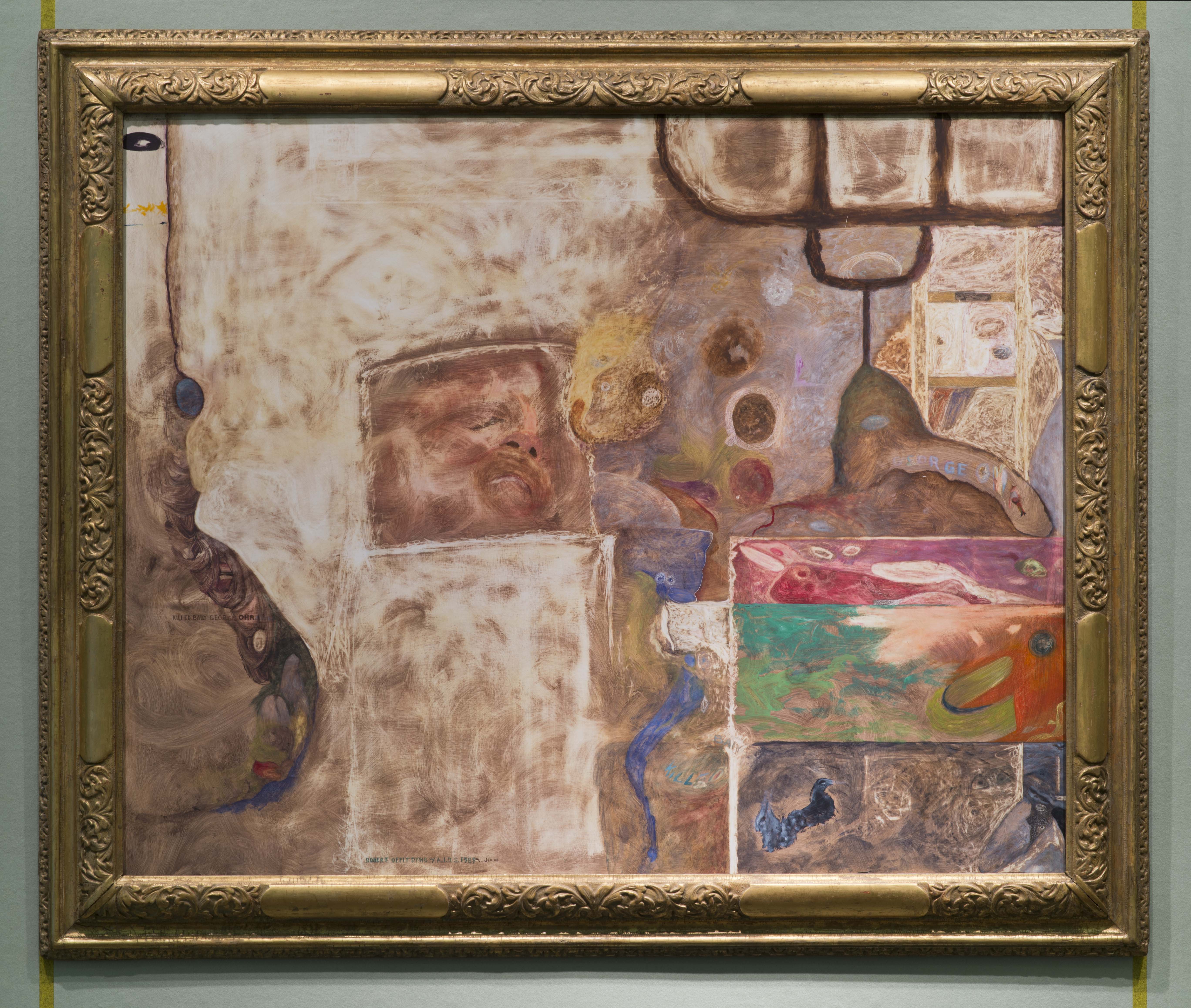 Robert Offit Dying with AIDS, 1989
Jane Austen is the subject of another painting from this body of work. Rather than producing a legible portrait of Austen or rendering memorable scenes or subjects from her writings, Holtzman combined figurative and abstract elements, resulting in a diaphanous panoply of pastels. The title provides important clues to the work's specific referents. Jane Austen, November 1815 (2007) refers to the date of a meeting between Austen and the prince regent, George, prince of Wales, who would become King George IV five years later.
According to Holtzman, the painting functions as a sort of visual comparison between the Georgian era and its domestic dwellings and the opulent Regency style ushered in by the prince regent. (4) In the painting, Austen, dressed in fine chinoiserie, confronts the residential architecture and rural landscapes that marked the Georgian era and were the settings for many of her novels.
Holtzman's interest in interior spaces permeates his practice. He is acutely aware of the interplay of color and pattern in two- and three-dimensional spheres. His paintings combine deep recessions with abbreviated spaces that hover on the surface of the picture plane. These painterly illusions are achieved through contrasting colors and incisions made into the paint, as evident in Stephen Sondheim, May 2, 1984 (2009). A proscenium stage recedes into the background, giving the illusion of inhabitable space, and yet the viewer is quickly catapulted back to the surface by a series of flattened rectangles that flank the left side. A largely abstract composition, the painting consists almost entirely of blocks or circles of color and scratches that reveal the marble's capacity to both absorb and reflect light. Once again, the title hints at Holtzman's particular inspirations.
Sondheim's musical Sunday in the Park with George opened at the Booth Theater in 1984 with Bernadette Peters and Mandy Patinkin in the leading roles. Although it received lukewarm reviews, it won a Tony award for scenic design and lighting. The musical celebrated the pointillist painter Georges Seurat, imagining the artist's experiences while realizing his renowned canvas A Sunday on La Grande Jatte—1884 (1884/86).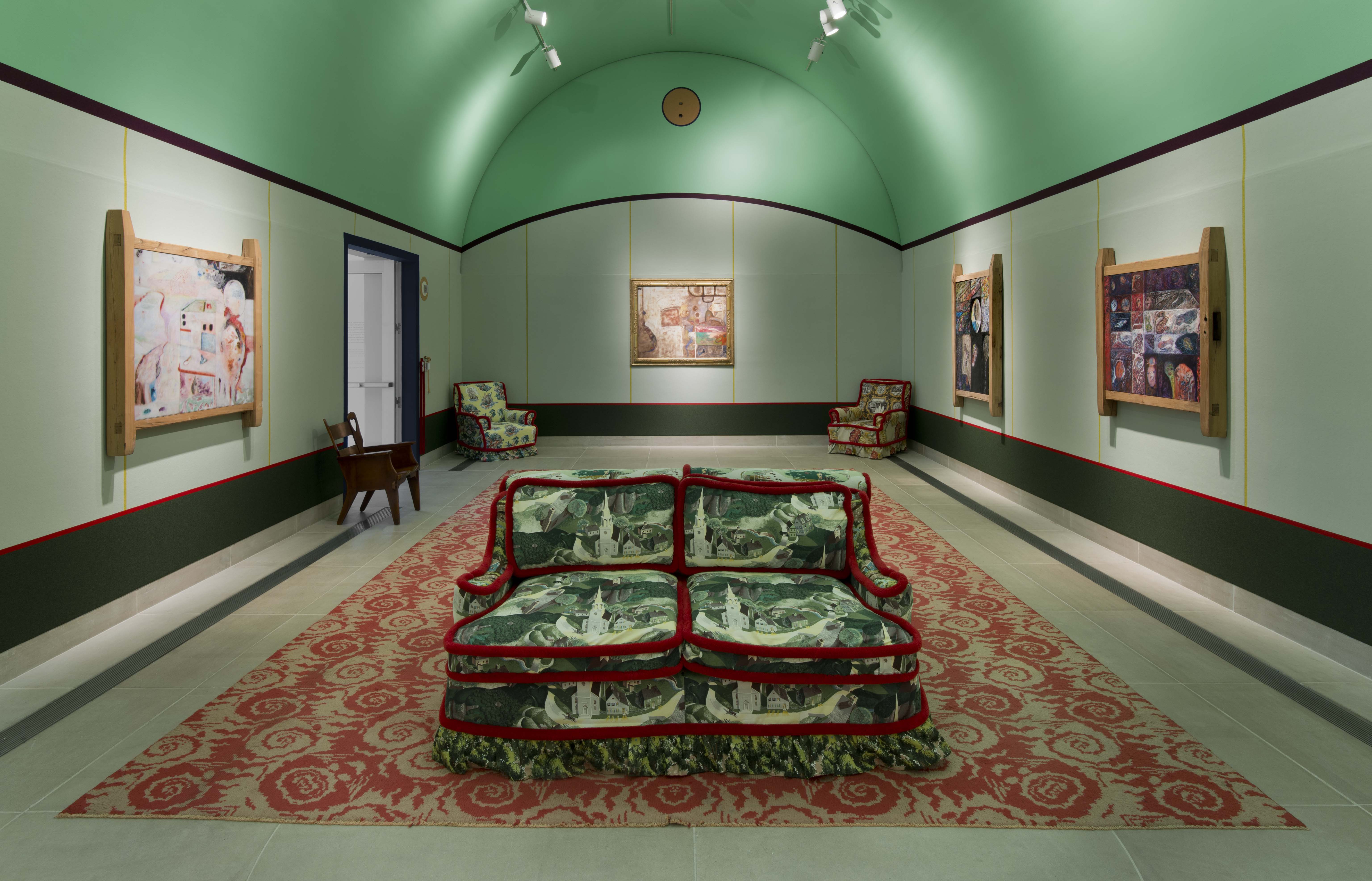 Hammer Projects: Joseph Holtzman
At the Hammer Museum, Holtzman has created a site-specific immersive installation that merges the historical with the contemporary and thoughtfully and inventively transposes his concerns with space, color, and form to the three-dimensional space of the gallery. Felt—cut into patterns suggesting architectural details like wainscoting—is applied to the walls and used to create an optical illusion. The ceiling is painted a light lime green and illuminated in order to cast a green glow onto the works. These interventions produce a stagelike setting for the paintings. Evoking an intimate nineteenth century domestic salon, Holtzman places love seats and chairs in the room, each slipcovered in an extraordinary historical textile. Grant Wood's The Midnight Ride of Paul Revere (1931) is the subject of a textile produced in the early 1950s by Riverdale Manufacturing in New York in collaboration with Associated American Artists. Wood's painting was featured in Riverdale's inaugural collection, "Pioneer Pathways," which exemplified the spirit of "art for the masses" that gained traction during the 1930s, blurring the distinctions between high and low and expanding beyond painting to more affordable and accessible mediums such as printmaking and textiles. In 1952 Reeves Lewenthal, founder and director of Associated American Artists, stated: "Art needn't be mysterious…today's artist is a designer…and every American room can be a showcase for his genius." (5) This awareness of context and how a room (or a gallery) can be approached holistically as a distinctive experience for the viewer has been a hallmark of much modern and contemporary art— from Marcel Duchamp's Sixteen Miles of String (1942) to Yayoi Kusama's dotted and mirrored rooms to Olafur Eliasson's immersive environments—and Holtzman brings his rare sensibility to this convention.
Holtzman's practice moves effortlessly from the wall into the gallery itself, producing an experiential atmosphere wherein the viewer's senses are stimulated by visual and tactile elements. In his "room" at the Hammer, the small and highly articulated details in the paintings are set off by colors, patterns, and lush textures on the walls and furnishings. A particular ambience is evoked, encouraging careful yet tranquil examination of the paintings by inviting viewers to sit, relax, and spend time with them. As one shifts from one painted marble to the next, Holtzman's long-term fascination with the history of the medium and his expertise in combining colors and motifs become apparent. Yet the paintings also convey the artist's steadfast engagement with popular culture, history, and literature. The site-specific installation suggests this on a wider scale, asking the viewer to consider how paintings have been seen in the past and how they might be considered today. Rejecting the modernist ideology of the white cube as the appropriate place for presenting art, Holtzman promotes an alternative that blends the contemporary with the historical.