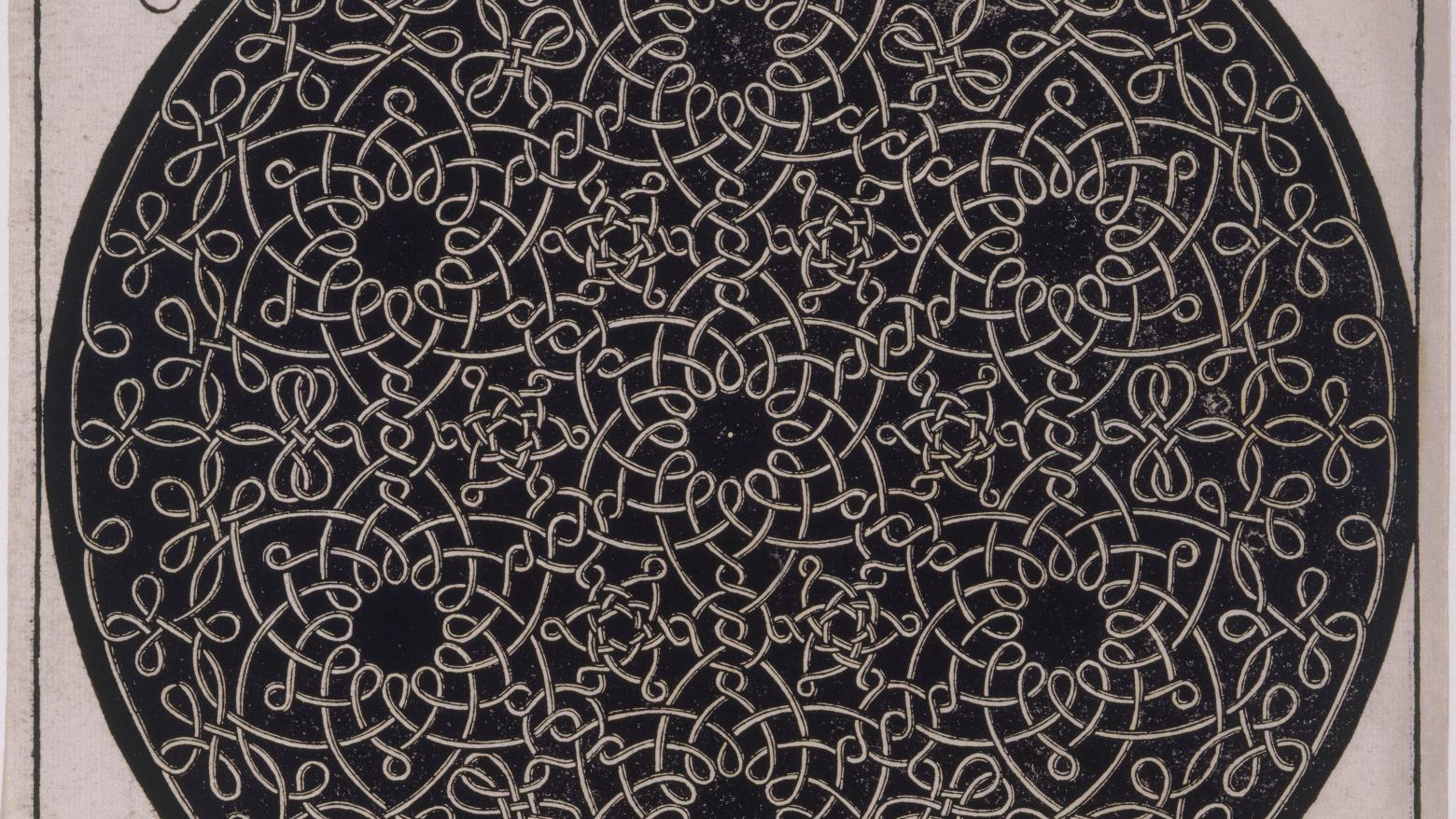 Where are They Now? Ornament Prints from the Grunwald Center
On June 16, the Getty Research Institute opened its new exhibition, A Kingdom of Images: French Prints in the Age of Louis XIV, 1660-1715.  An ornament print by Balthazar Moncornet, lent by the Grunwald Center for the Graphic Arts at the Hammer Museum, is among the treasures of 17th century print culture on display. The upper register of this print reproduces an elaborate piece of jewelry by the goldsmith Francois Lefebvre.  Such images, often collated together and published in bound books, offered an advertisement of the skilled workmanship and elaborate invention of the master craftsmen who catered to France's aristocratic and royal elite. The details of the object depicted in this example offer an illusionistic tour-de-force. The single bauble is composed of multiple elements: a roundel in which eagles nosh on garlands of Dutch tulips surrounds a central dragon-fly shaped design composed from faceted gemstones. From this, in turn, dangle scales weighted with elaborate decorative flourishes. A detail in the lower register of the print of the gothic cathedral of Saint Denis lends the print its name.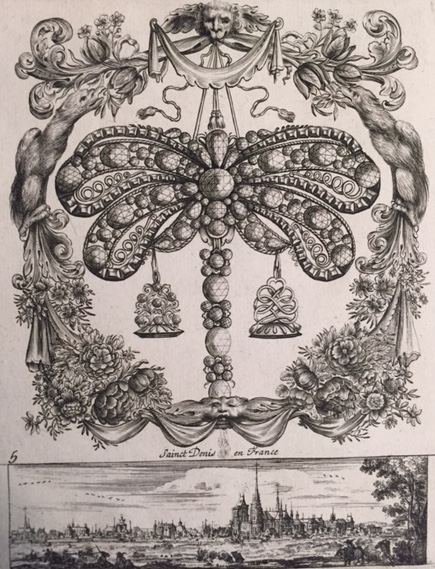 Sainct Denis en France, plate 5 from the Livre nouveau de toutes sortes d'ouvrages d'orfevries
The Grunwald Center collection houses roughly 1600 ornament prints by French, German, and Italian artists spanning the 16th through the 18th century. These remarkable and little-studied works were important sources for the transmission of decorative motifs for furniture, textiles, jewelry, architecture and landscape design, and armaments in the early modern period. They were often a source of creative expression for significant artists including Dürer and Michelangelo. Though small in scale, often measuring no more than 3 x 5 inches, these works are virtuosic examples of technical skill and formal innovation.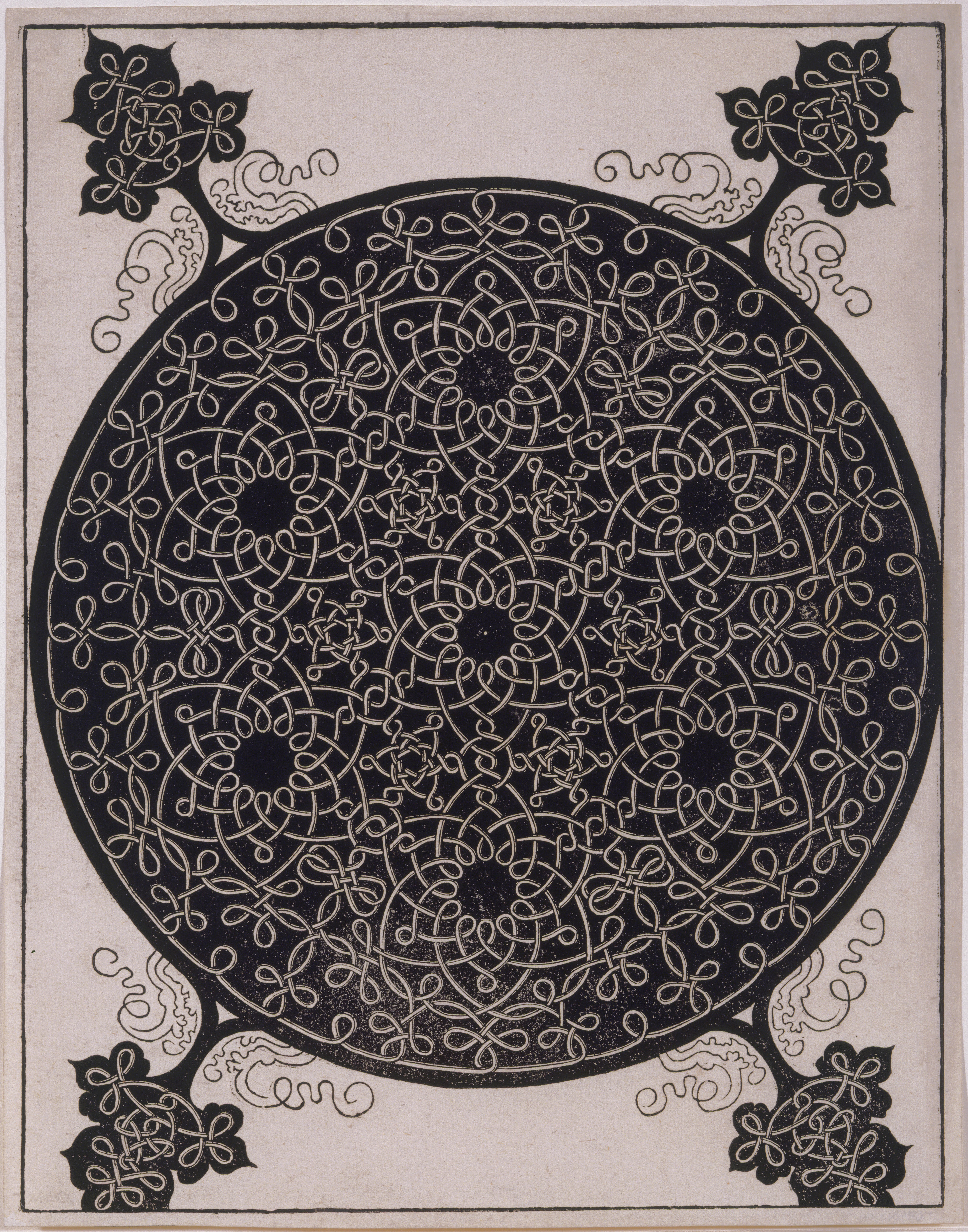 Embroidery Design, Sechs Knoten (Sixth Knot)