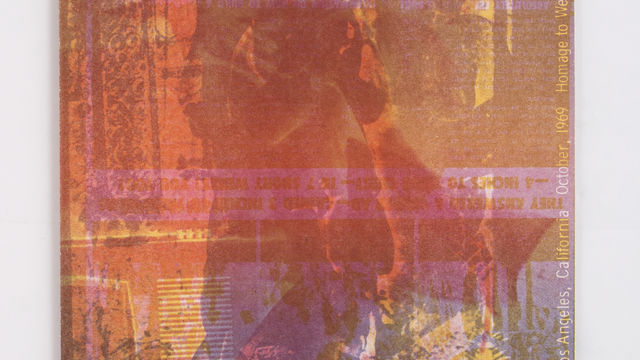 Remembering Robert Heinecken
Much has been written about his professional work.  I was lucky enough to be able to enjoy his artistic process through visitations and dialogue with Robert long after my graduate school experience.  He taught us all by example what the "heart of an artist" is.  Art making was a joy to this artist.  This I will never forget and I often think of what Robert would say as I make work today.
Many of his graduates have gone on in academia to be outstanding and recognized instructors in higher education.  What I would like to recognize here is his amazing ability to teach his undergraduates and graduates who were fortunate enough to be in the UCLA MFA program. 
I remember all of us carefully listening to his words in critiques and often immediately writing them down or audio taping the succinct thoughts and guidance he had.  He never told us what to do but what to continue exploring, what to read, who to see and often when to quit and go onto something else. Even after graduate school I sought out his interaction with my work and kept on carefully listening.
I remember having him over to my studio three months before the MFA final exhibitions in the Wight Gallery at UCLA.  I had a body of work completed.  Framed and ready to go for the show.  Good work that would represent me and the program well.  He agreed and before leaving asked me what I was working on.  I took him into my workspace and showed him what I had started.  I was painting on manipulated Polaroid SX-70s and blowing them up to montaged Cibachrome prints.  The prints were covered with masking tape and tissue paper for spray painting.  The first piece was half finished and on the wall.  He had me talk about their source and what it meant to work in mixed media for me.  After several cigarettes he started to say goodbye and turned around and said, "That is your MFA show," and left.  After the shock and the realization that I had three months to put together a show, I worked 24/7 and actually made 10 large pieces for the show.  It was a good show, and I kept up with this work that had started new thought processes and directions well after the show.
I understand today how Robert Heinecken would push his students to think about and do work.  He recognized the importance of continuing the thought processes and production of work after graduate school and into the artistic world. 
There are many other Heinecken graduates and friends that have stories about their interactions with this great mentor.  Here are a few that we all respect today as artists and instructors:  Robbert Flick, Darryl Curran, JoAnne Callis, Judy Coleman, John Divola, Ellen Brooks, William Doherty, Sydney Doniger, Victor Landweber, Kenneth McGowan, Philip Melnick, Graham Howe, Karen O'Hearn, Sheila Pinkel, Kenneth Shore, Scott Rankin, Gillian Brown, Elfie Wilkins-Nacht, Jack Butler, Jeff Gates, David Bunn, Ellen Birrell, Uta Barth, Ron Kelley, Paul Knotter, Heinecken's wife Joyce Neimanas, and others.