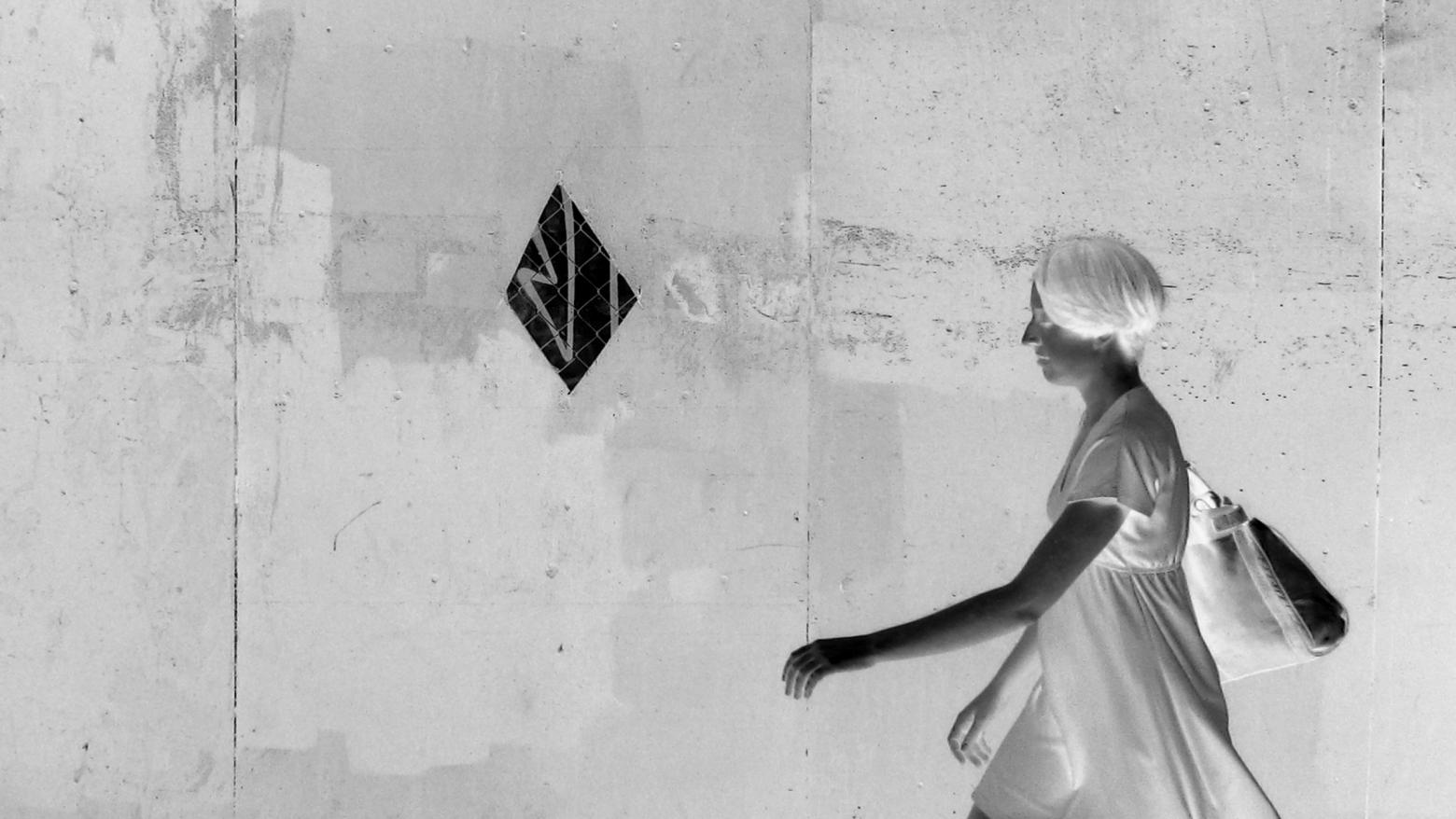 CLOSE TO HOME: Spotlight on Local Artists at Printed Matter's LA Art Book Fair 2015 | Louis M Schmidt
On many occasions I have packed up my self-published wares and made the trek to Printed Matter's NY Art Book Fair. Highlights of those trips have included exhibiting and selling my work alongside likeminded individuals, meeting artists and publishers, watching the non-stop parade of cute guys, making new friends, and actively participating in an international community of art book devotees. I was delighted when the fair branched out to LA, and have since shifted my focus and energy to participating here at home. Amidst the hundreds of international exhibitors who will be participating, I want to point out a few locals whose broadly varied projects have impacted me on many different levels. This handful of Angelenos embody the print version of "farm-to-table" culture, so if you like your publications fresh from the farmers, I mean artists, then make a point to stop by their tables, check out their work, and show your support! (PS – I'll also be exhibiting in the zine section of the fair with my latest project, Box of Books, Vol. VIII. Plus, I'll be in conversation with The Book Mobile Book co-editor Onya Hogan-Finlay in the Classroom on Saturday, January 31 at 3pm. Come say hi!).
LOUIS M SCHMIDT – Fuck Our Lives, Persons Unknown, and more
Darin Klein: How long have you been self-publishing? 
Louis M Schmidt: I've been self-publishing for seven years. 
DK: How many different titles have you published?
LMS: I have published nearly 40 titles of my own work, and I've co-published several titles by other artists under the imprint Gravity and Trajectory. 
DK: What are you bringing to the fair?
LMS: This year, I'm bringing two new titles to the fair, as well as a handful of older inventory, and a mountain of awesome new buttons and stickers! I'm very excited to release volume two of my digitally drawn series Fuck Our Lives (a crude yet pointed satire of "modern" life in America) as well as volume two of my ongoing photo project Persons Unknown, which is (this time around) a series of sublime surveillance-style photos shot on the corner of Flower and Fifth in downtown Los Angeles.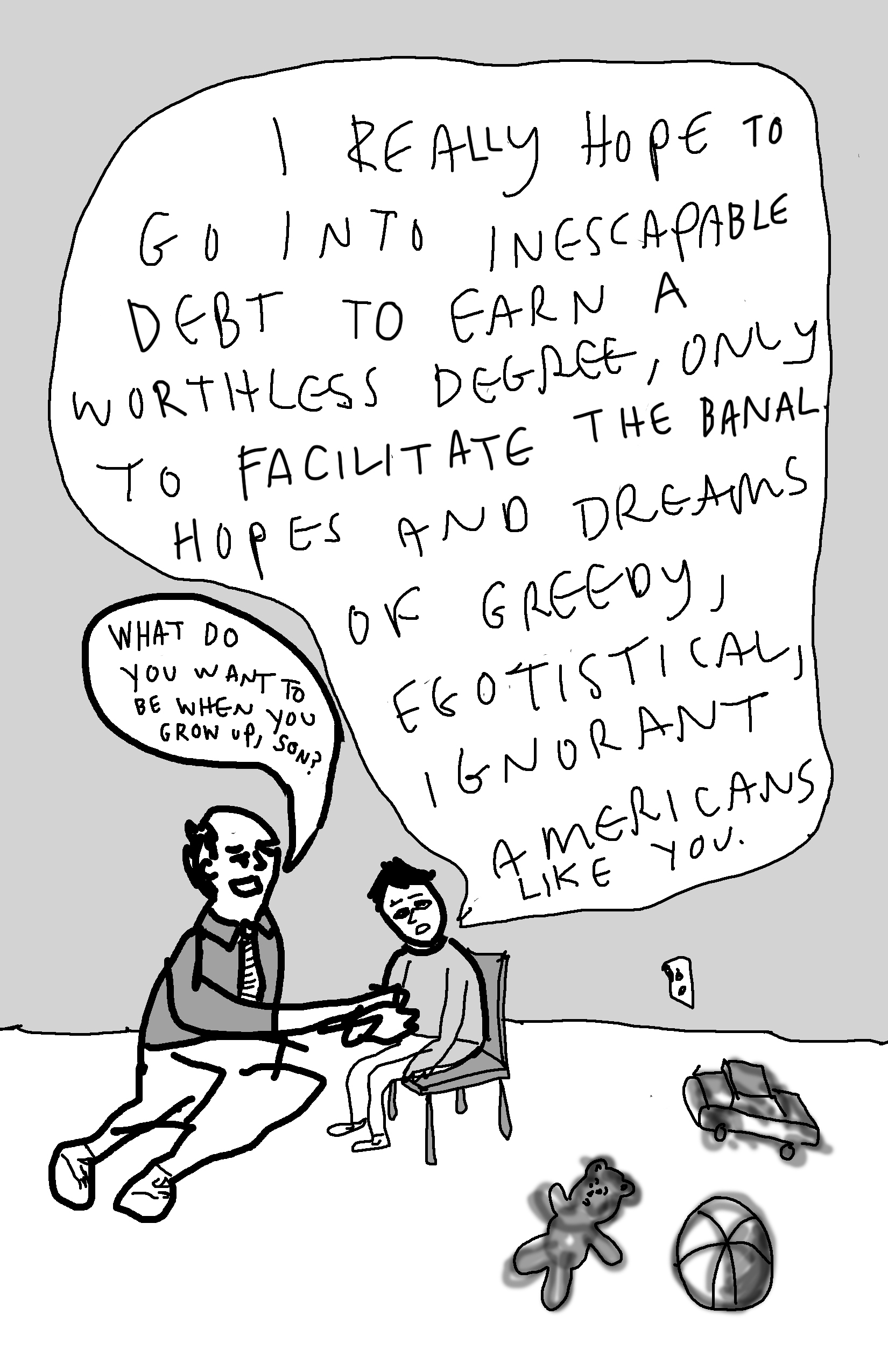 From Fuck Our Lives Vol 2
DK: Who and/or what are you looking forward to seeing at the fair this year? 
LMS: I look forward to seeing SO many things at the fair! Printed Matter's booth is always overflowing with amazing new publications. Other favorites include: Needles & Pens, Land & Sea, Deadbeat Club, Hamburger Eyes, Pau Wau Publications, 8 Ball Zines, Drippy Bone Books, Vacancy Projects, Ooga Booga, Awesome Vistas, The Thing Quarterly, TBW, onestar press, Sternberg, Mack, Morel, Karma, Hassla, Dashwood, Goteblüd, Wuvable Oaf, and of course, Darin Klein & Friends! I have to mention a few artists I always look out for: Andrew Scott, Chris Duncan, Clint Woodside, Tauba Auerbach, Noah Lyon, Rick Myers, Heather Benjamin, Brendan Monroe & Evah Fan, Edie Fake, Christopher Schulz, Christopher Kardambikis (not there this year), Chris Johanson, and a million others! I'm also really excited about what Boo-Hooray has been up to, and I'm looking forward to their exhibition surveying Ed and Deanna Templeton's books and zines.
DK: Can you compare and contrast your experiences at past NY and LA Art Book fairs with other fairs and festivals you've participated in?
LMS: The LA Art Book Fair has a real positive energy to it—I don't know if that's simply because it's a younger fair and people are just finding out about it, or if it's just something in the air in Los Angeles. The NY Art Book Fair is totally amazing, but MoMA P.S.1 is more densely composed than the Geffen Contemporary at MOCA, so when the NY fair is in full weekend swing, the crowds can be completely overwhelming for exhibitors and visitors. I think the open floor plan and high ceilings of the Geffen helps air circulate more freely and that spaciousness (perhaps subconsciously) also alleviates a lot of the anxiety we often feel being in a big crowd. I also recently had a booth at the 2014 Tokyo Art Book Fair and, although it's not produced by Printed Matter, I highly encourage people (Americans especially) to get over to Japan when it happens! Though much smaller in size, it's directed by lovely, dedicated people and likewise plays host to a large group of fantastic artists and publishers. Art book fairs, especially Printed Matter's fairs, are a deep source of inspiration for me and I believe that, no matter who a person is, there is something there for them that will totally BLOW THEIR MIND. The LA Art Book Fair will literally be overflowing with incredible artists and publishers, and the potential for profound reverie and deep insight lurks around every table. 
From Persons Unknown Vol 2
DK: Anything you'd like our readers to know?
LMS: I suppose my feelings about the fair are pretty obvious now… but I really, truly work very hard on the projects I release at the fair, and hope everyone will come to check them out. THAT is the reason I keep participating in the fairs year after year. Fuck Our Lives is deeply engaged with the trials of contemporary human existence, and I think it's simultaneously very funny yet a super bummer, i.e., enlightening entertainment that totally nails what it's like to be alive right now. I love talking to people about my work, I love directing people to my favorite artists and publishers at the fair, and I LOVE sharing a moment with people who are having their MINDS BLOWN by the fair. Now THAT is great fun! PS – check out more here.