CLOSE TO HOME: Spotlight on Local Artists at Printed Matter's LA Art Book Fair 2015 | Bullhorn Press
On many occasions I have packed up my self-published wares and made the trek to Printed Matter's NY Art Book Fair. Highlights of those trips have included exhibiting and selling my work alongside likeminded individuals, meeting artists and publishers, watching the non-stop parade of cute guys, making new friends, and actively participating in an international community of art book devotees. I was delighted when the fair branched out to LA, and have since shifted my focus and energy to participating here at home. Amidst the hundreds of international exhibitors who will be participating, I want to point out a few locals whose broadly varied projects have impacted me on many different levels. This handful of Angelenos embody the print version of "farm-to-table" culture, so if you like your publications fresh from the farmers, I mean artists, then make a point to stop by their tables, check out their work, and show your support! (PS – I'll also be exhibiting in the zine section of the fair with my latest project, Box of Books, Vol. VIII. Plus, I'll be in conversation with The Book Mobile Book co-editor Onya Hogan-Finlay in the Classroom on Saturday, January 31 at 3pm. Come say hi!).
BULLHORN PRESS – Initiation and more
Darin Klein: How long have you been self-publishing?
Jaye Fishel: I've been self-publishing under the name Bullhorn Press since 2006, starting in San Francisco, where I learned to use a letterpress and make books.   
DK: What kinds of things have you published and printed?
JF: Over the years I've made a variety of things: chapbooks, broadsides, special edition books, greeting cards, and little prints. In 2011 I completed my first letterpress artist's book, V Diagrammatica, which took a few years to make. 
DK: How did you arrive at the name Bullhorn?
JF: Bullhorn came out of a desire to get things out there! Like a call to action, the megaphone sort of bullhorn. Later when the name seemed a bit less resonant, I learned about the bullhorn as a Goddess symbol, and the name took on new meaning. I sort of like the multiple implications and associations of the name, like it will morph as the project grows. 
DK: Tell people about your letterpress! Where did it come from and how does it work?
JF: The Vandercook 219 was produced in the USA between 1951-1953. It is on the larger side of Vandercook presses, with a maximum print sheet size of 18x24". It is an elegant machine: it runs on a motor with just one cylinder rolling out ink, the rest of the mechanized action is done by hand. This means every sheet, and every individual color, is run through the press separately by hand, cranked from one end of the press to the other, over the print bed where the inked surfaced is pressed into the page, leaving an impression. With digital technology, letterpress printing entered a sort of renaissance since digital files can be made into printing plates. However, I also like to print from nontraditional printing materials; I'll pretty much try anything that is type-high.  
DK: What are you bringing to the fair? 
JF: At the fair my collaborator, Rachel Berks (Otherwild) and I will primarily be bringing Initiation, the letterpress print edition we recently completed with prints from 18 LA-based artists. And likely some other prints, books, and things.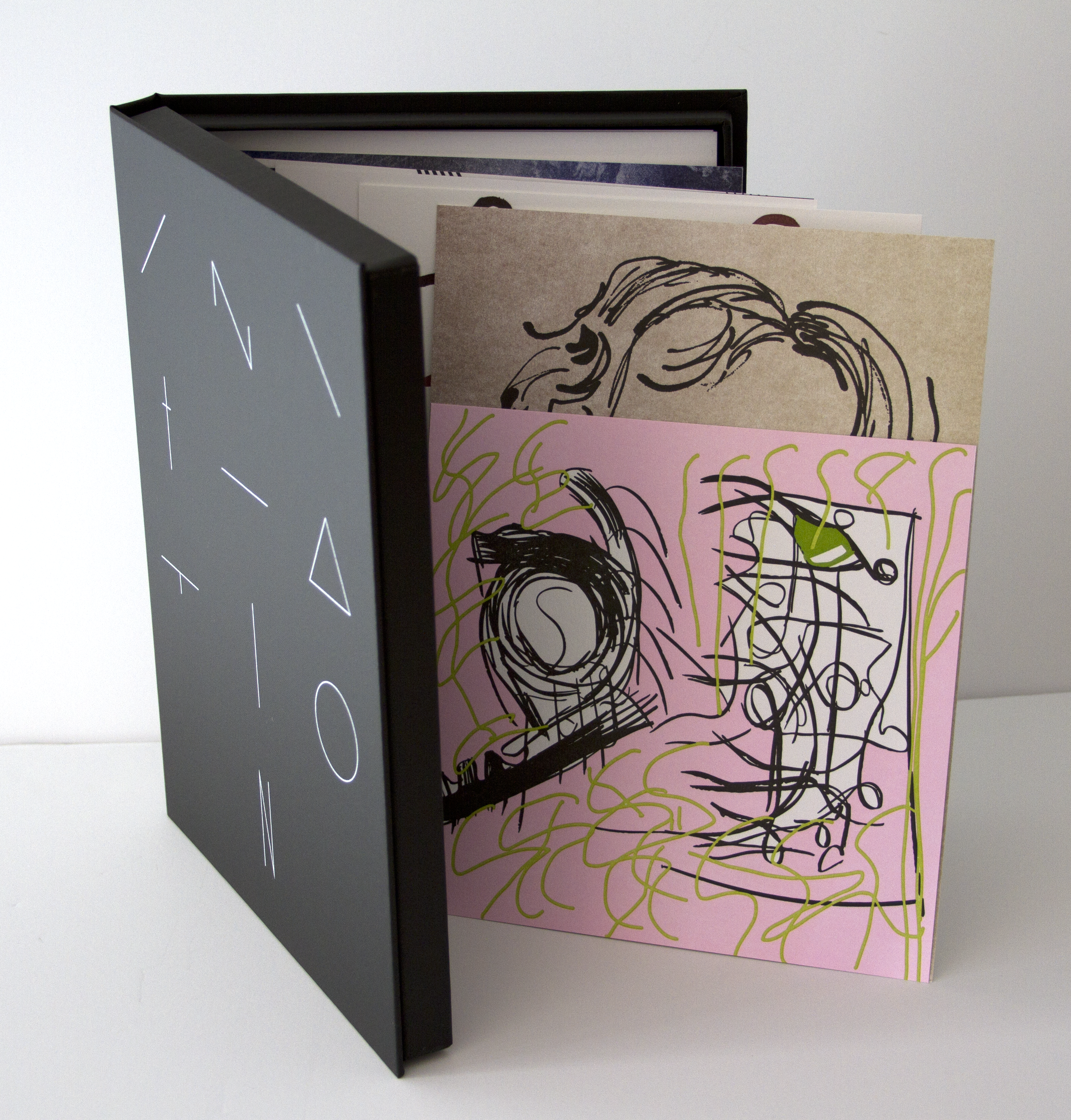 Initiation
DK: Have you participated in other book fairs or fair-like events?
JF: I've attended all of the LA Art Book Fairs and several of the NY fairs but this will be the first time I have a table. I'm also an art librarian, so I'm on the committee for the Contemporary Artist Book Conference, taking place concurrently with the fair. And, I'm also the Artists' Books Editor of The Art Book Review (artbookreview.org), so I ran a session in the classroom for them during the 2014 New York Art Book Fair. 
DK: You only just landed in LA recently. Where were you before? How did you hook up with Otherwild? 
JF: I moved to LA in February of 2014, before which I spent a year working in the amazing library at The Banff Centre. Previously, I lived in the bay since 2005, in San Francisco and then Oakland. I learned to print at the San Francisco Center for the Book, which was the primary reason why I moved to the area. I got hooked up with Otherwild through what feels like fate, at the risk of sounding too woo. I've known Rachel for a while, and she was looking to share the space in some capacity. I ran into a friend on the street while oogling a far too expensive storefront, dreaming of a studio space, who suggested I talk to Rachel about sharing Otherwild. And it has been wonderful--to share a space with a natural collaborator, since she is a graphic designer in addition to running the wonderful store. And I love having my studio in a community space, I think I'd be lonely toiling alone in a white cube. I hope for Bullhorn to be a community resource and that people feel they can approach me about making projects or working through ideas. Otherwild feels like an ideal home to grow this project.  
DK: Anything else you'd like to add?
JF: I intend to continue creating artist editions on the press--to provide a resource to anyone who wants to work in print, and to exploit the art-making possibilities of the letterpress.