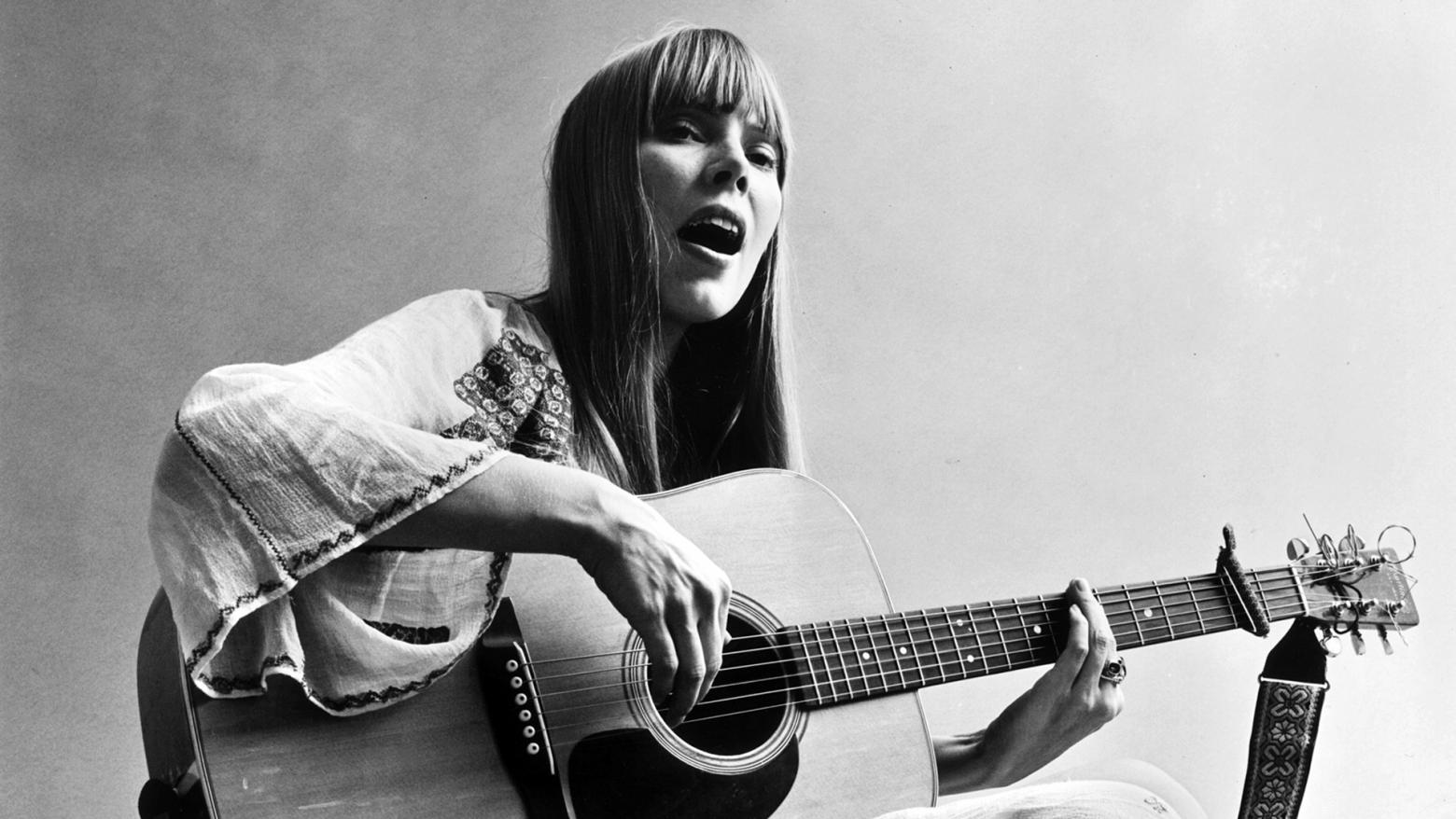 Cameron Crowe Honors Joni Mitchell
The following is an excerpt from Cameron Crowe's beautiful speech honoring Joni Mitchell at our Gala in the Garden last month.
On Thursday, we present an evening, both in person and live online, in celebration of Joni Mitchell's birthday. For more details, click here.
Cameron Crowe and Joni Mitchell at Gala in the Garden
As a journalist just starting out, the one interview that I wanted most of all, was Joni. And we all did. She was unarguably, the most insightful, elegant, striking, and already one of the most successful singer-songwriters of her time. But who was this person behind these amazing, poetic, emotionally generous, songs? She didn't do interviews. She chose to let her work speak for herself. And speak for itself. So I did what any enterprising young journalist would do, I began interviewing her friends and cohorts. Neil Young said, "She's an angel. A guiding force. Her songs endlessly inspire me and always have. I wrote Sugar Mountain, one of my most important songs as a growing artist, as a response to Joni's Circle Game." Bonnie Raitt said, "She's an angel. Our greatest gift." And David Crosby said "She's the best of all of us, and she knows it. She's about as modest as Mussolini."
Later when I finally had the opportunity to interview Joni and spend some time with her, of course I found that maybe with the exception of the Mussolini issue, it was all true. She answered every question, explored every corner with infectious laughter and stories, and utter honesty. And she treated the interview as an artistic exploration. 
Whenever I'm asked, it's an easy answer. My best interview was Joni Mitchell's first interview in a decade. But utter honesty is a given. It's the active ingredient in everything she does. By putting pen to paper, or brush to canvas, Joni speaks with a sly, up-to-the-minute, funny, and soulful personal truth that always feels like it's created just for us. Nobody captures the feeling of love, the minefields of romance, the joy, and the aching beauty of the human experience, like Joni. 
I was watching the Richard Curtis film Love Actually the other night, and Emma Thompson's character might have said it best. Her husband, played by Alan Rickman, says to her, "You're still listening to Joni Mitchell?" And she schools him. "True love lasts a lifetime," she says, "and Joni Mitchell is the reason this cold English wife of yours learned to feel."
That's a pretty good description of what it is to be a Joni Mitchell fan. Many of us know her story growing up on the plains of Canada, and finding her way to early success, writing hit songs at first sung by others. Then came her first album, and it was clear. She presented her own work like no one else. And no one has stopped listening with their whole hearts since. From songs like Case of You to the ground breaking guitar textures of Hejira to the emotional travelogue of Paprika Plains, to her historic collaboration with Charles Mingus in a score of unforgettable albums. It's a sonic canvas filled with striking beauty. We all have our favorite songs and phases and paintings and melodies. But here are a few things you may or may not know about our guest of honor.
First, she's a rockin' dinner companion, as some of you have found tonight. Joni Mitchell is a dancer, was briefly a teenage model, and always a rebel, these qualities fused early. At 12, she was already escaping to the wrong side of the railroad tracks to dance to that rock and roll all night long. The ramblers and the gamblers that she would later write so well about? She met them there first. In the 70s she was the first rock artist to break the anti-fashion mold of the day, and wear a shimmering gown on stage to herald her new album with jazz influences – Court and Spark. The denim clad crowd was in shock. The journalists balked. She was told she had grown too glamorous for rock and roll. And thankfully Joni never listened. She'd always been both, she said. And she wrote about it in The Boho Dance: "But even on the scuffle the cleaner's press was in my jeans and any eye for detail, caught a little lace along the seams." 
Joni was advised by a manger friend not to attend the Woodstock festival in 1969. She was told it was more important to stay in New York, and appear on The Dick Cavett Show. Her musician friends took off in a helicopter to play the festival. She stayed home and watched the news coverage from her hotel room, and that's where she wrote the song Woodstock. She didn't even have to go to Woodstock to define the generation. And then transcend it.
At 10 she contracted Polio and was told she would never walk. She fought back with her rebel spirit, and with delight, proved the authoritative doctors wrong. She was home by Christmas, walking. Her school friends thought the Polio might be contagious. They sung Christmas carols to her outside the window, and years later she would write one of the most memorable songs about this season ever, River. According to some who know her well, here's how you get Joni Mitchell to do something: you say "Joni, you cannot do this." And here's a confession, I wrote the line "you complete me" in the film Jerry Maguire, as a tribute to Joni. In the song Court and Spark, she'd written, "I cleared myself, I'd sacrificed my blues, and you could complete me, I'd complete you." And sometimes people get angry about the "you complete me" line that Tom Cruise speaks in the movie, and I've been approached about it a few times. "How could you write such a narcissistic comment on love? No one exists to complete another person, what are you saying when you say that?" And I tell them, "It's a tribute to Joni Mitchell and Court and Spark." Shuts them right up. 
One of Joni's first bootleggers was an interesting character too. He was a striking, young, wild-haired musician and he brought a large reel to reel tape recorder to one of her early club shows. And he asked her if he could sit in the front row and tape her, to study her songs, and her unique guitar playing. And she said yes. And that young man was Jimi Hendrix.
Joni now dedicates much of her artistic life to her painting. She's done some amazing work on a ballet that I'm sure you'll hear about soon. She paints often in jags of genius, and it's a sizeable, and breathtaking, body of work. 
Here's a great Joni quote for any young artist looking to spread their wings: "They'll crucify you for staying the same, and they'll crucify you for change. I'd rather be crucified for changing." 
The album most credited for changing modern songwriting–the one that gave personal songwriting permission to artists like John Lennon, to Prince, to Marvin Gay, to Lorde, to Taylor Swift, to just about anybody I didn't mention–is Joni Mitchell's Blue. And to Joni it's just part of her growth process, she's quicker to site the sound of her voice, than even the songs. "The vocals were unguarded," she allows, and I believe that belongs in the understatement hall of fame.
A renegade seventh grade teacher first noticed her artwork and challenged her to dig deeper. "If you can paint with a brush," he told her, "you can paint with words." She never forgot him. Her first album includes a dedication to Mr. Kratzman "who taught me to love words." She does not forget her friends. Joni won her fourteenth Grammy–album of the year in 2007, a musical love letter to her work– a collaboration with Herbie Hancock called The Joni Letters. Her surprise and delight was the show's highlight. Many agree. 
And lastly, Joni Mitchell composes by ear. Considered one of our most advanced musical adventurers, she does not adhere to classic structure. Joni invented many of her own chords herself. And as more than one frustrated guitarist, trying to imitate her style, has learned, it's a fact, Joni Mitchell's exact mix of musical colors is known only to her. "Everything I've learned," she said recently, "I learned from admiration and osmosis." By that theory we're pretty lucky to be in the room with her tonight. It's not easy to give a tribute to Joni Mitchell. She's usually too busy moving forward. Her work is timeless, forever growing, it'll outlast us all. And as a fan, wherever you meet her, her banquet of albums, paintings, words and music will meet you there, and join you for the rest of the journey. She is a treasure, and an inspiration to every generation.