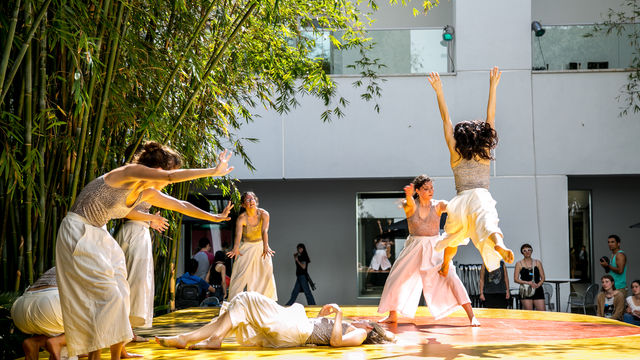 Coming up on the Gold Stage
A dancer rehearses on stage as the sound of applause erupts in the normally peaceful museum courtyard. The enthusiasm that day was coming from the soccer fans watching the World Cup, but those near the stage watch the Open Rehearsal in relative silence, absorbing the bodies in motion and art taking place outside of the galleries. The Gold Stage in the Hammer Courtyard, a part of Made in L.A. and an extension of James Kidd Studio, has served as a platform for dancers and performers to share their practice with the community in a public, yet protected space affected by and affecting the surrounding environment for the duration of the exhibition. 
The concept of community, a place where people come together to share experiences (including art experiences) is critical to the core of the museum and the performers, who see dance as a way to share their life practice and re-imagine what has come before. James Kidd Studio's presence on stage has transformed the courtyard, inspiring new social reaction. Strangers on their lunch break end up sharing a table and conversation in order to watch the stage. One visitor, a retired photographer, documents the experience and sends the performers his best images just because he was inspired. In this way, the events onstage passively launch more avenues of dialogue, exchange, and engagement in our community.
Unlike a painting or a sculpture, dance is fleeting–you can't take it with you. No two performances could ever be the same. If you haven't yet stumbled upon the action, here are some upcoming rehearsals and performances by James Kidd Studio's Pieter Council members. I think you will enjoy seeing how personal aspects of the performers' lives shape the movements and energy of their practice.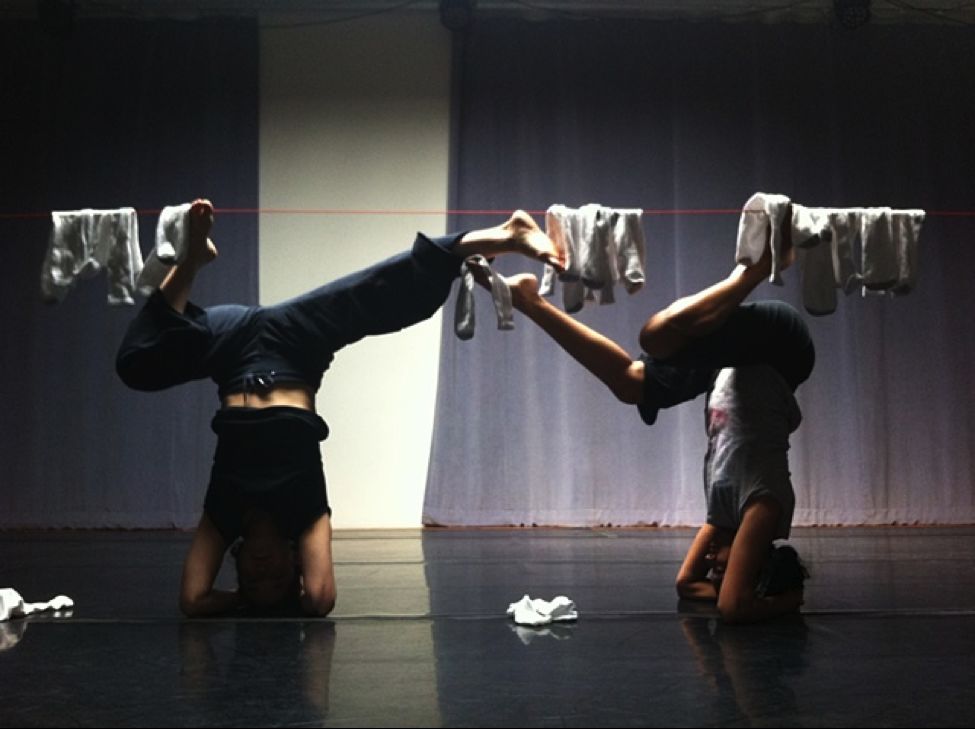 2125 Stanley Street
Tue Aug 12, 2:00-6:00PM 
In 2125 Stanley Street, choreographer Dahlia Nayar joins Queens-based artists Margaret Paek (dancer), and Loren Kiyoshi Dempster (cellist and composer) in exploring notions of home. The project is a deeply personal investigation of cross cultural belonging and not belonging, and the beauty and challenge of creating a habitat or multiple habitats scattered around the globe in contemporary society. Using minimal domestic objects and tasks (socks, clotheslines, pots and pans) and an evocative soundscape, performers attempt to reconstruct or re-imagine a poetic consciousness with a focus on intimate exchange within the realm of the domestic. With an ultimate aim to invite the audience into a home that is constructed primarily through movement and sound, a home that is both familiar and yet cannot exactly be located.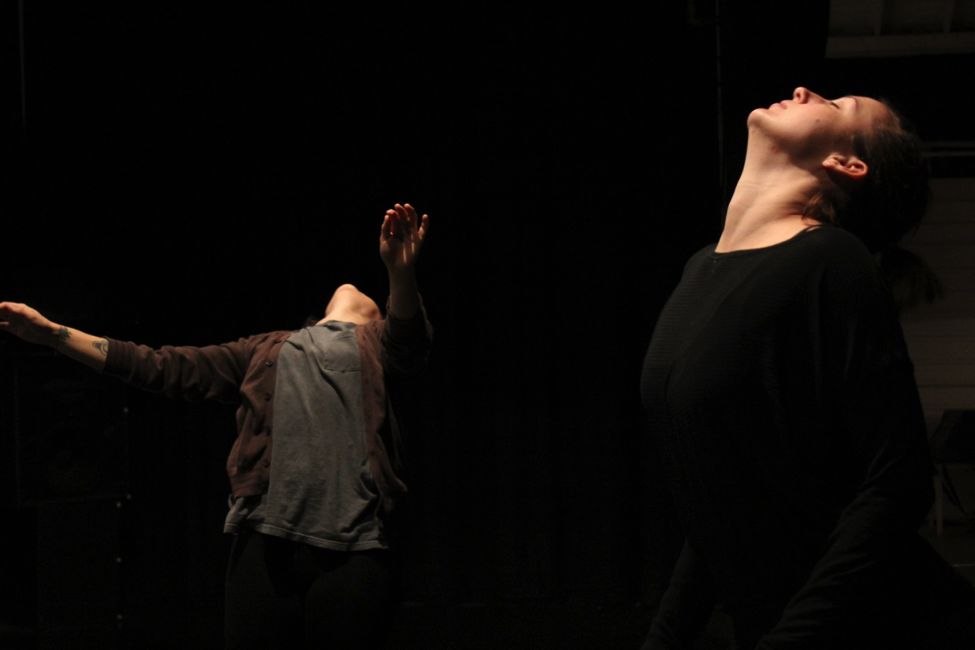 tuesday
Tue Jul 29 (Open Rehearsal), 11:00AM-2:00PM 
Tue Aug 12 (Open Rehearsal), 1:00-2:00PM
Tue Aug 19 (Open Rehearsal), 2:00-6:00PM 
Tue Aug 26 (Performance), 1:00-5:00PM
Stephanie Zaletel's tuesday fluctuates between worlds of the usual and the unusual, the mundane, and the daydreams. With this installation-style movement meditation on daily routine, consciousness, and endless interruptions, we recognize universal commonalities and emphasize the notion that everything is meant to be. Personal anecdotes and journal entries from an array of friends, family, and acquaintances helped to shape the rigorously physical movement score and major themes found in this site specific installation for James Kidd's Gold Stage.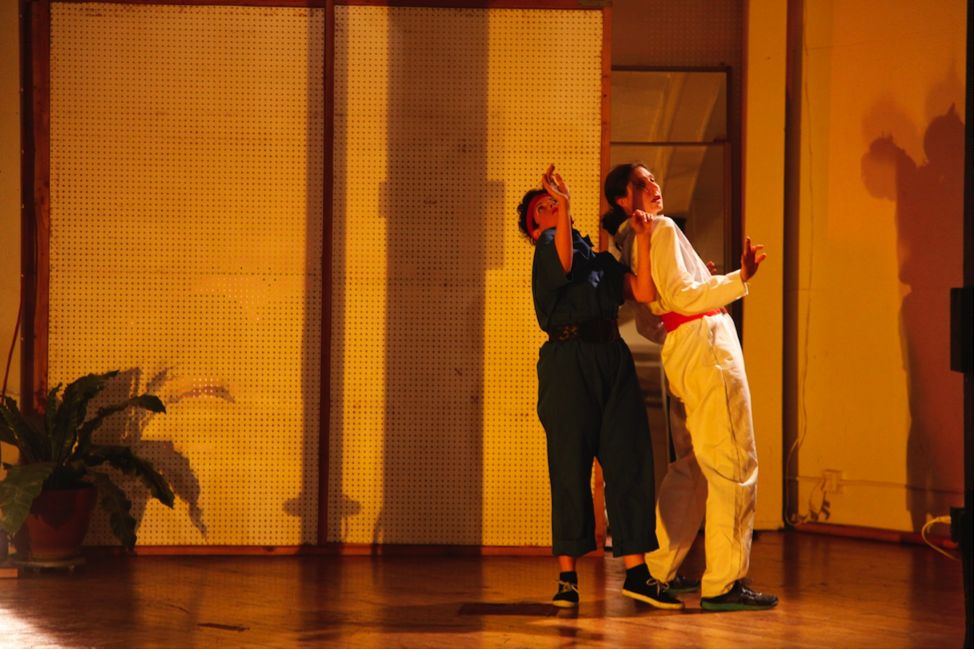 Alexx Makes Dances and The Modern Dancers of America in The Other Side of Stillness
Fri Aug 1, 3:00-6:00PM
Sat Aug 2, 11:00AM-1:00PM
Alexandra Shilling is fully committed to the infinite investigation of movement and its potential to tell stories and allow us to remember. Her original choreography and experimental films have been presented in New York, Los Angeles, Munich, Chicago, at the American Dance Festival, on MTV's 9/11 Video Postcards among others, both as Artistic Director of alexx makes dances and ann and alexx make dances (with Ann Robideaux), bringing live, multi-media performance to unusual spaces. Alexandra's interdisciplinary research follows three unique strands: site-located performances that question the potential for transformation, the intersection between the fleeting immediacy of live dance and the preservation of still and moving images on film, and works that steal from artistic heroes as a way to pay tribute to and transcend that which has come before.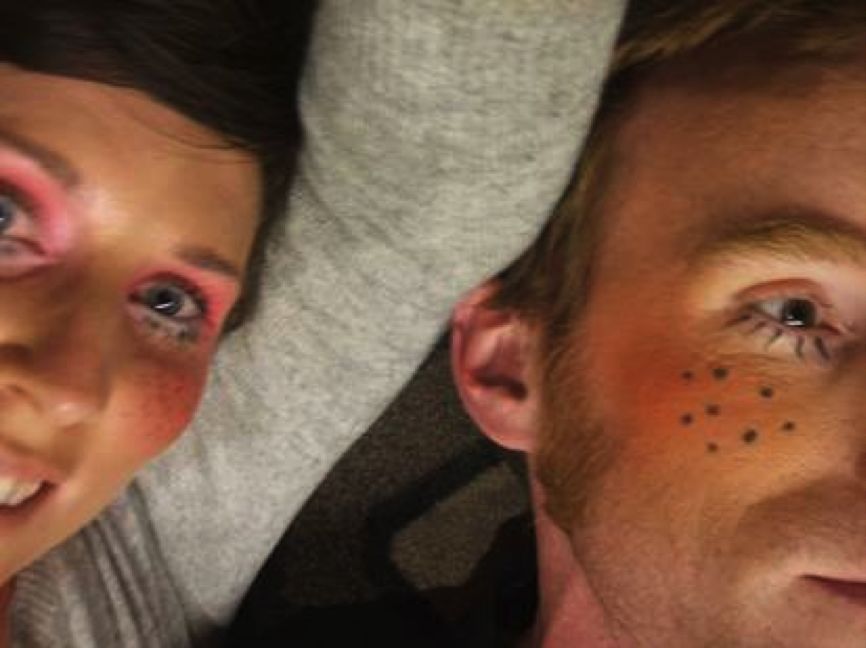 RiOT (RedEye Overnight Theater)
Sat Aug 9, 4:00-5:00PM
Actors, Writers and Directors present short works conceived and rehearsed in less than 24 hours with the intention to get to the heart of storytelling in less than a day. Inspired by Philadelphia's Guaranteed Overnight Theatre. Produced by Alice & Sean Toohey.
Sean F. Toohey is an actor and writer living in the L.A. area. He recently had the honor of walking his first red carpet for the world premiere of Angry Video Game Nerd: The Movie, in which he played a surgeon in Area 51. He's a company member of VanguardRep, having spent several joyous seasons playing Snug the Joiner in Midsummer.
Alice Toohey is the creator of Four Rooms, a long-duration performance art project. Her most recent performance was Room One – Marilyn Monroe, a twelve hour performance art piece at Pieter, where she is a council member. She is also a member of Shambhala Los Angeles, a center for meditation and contemplative studies.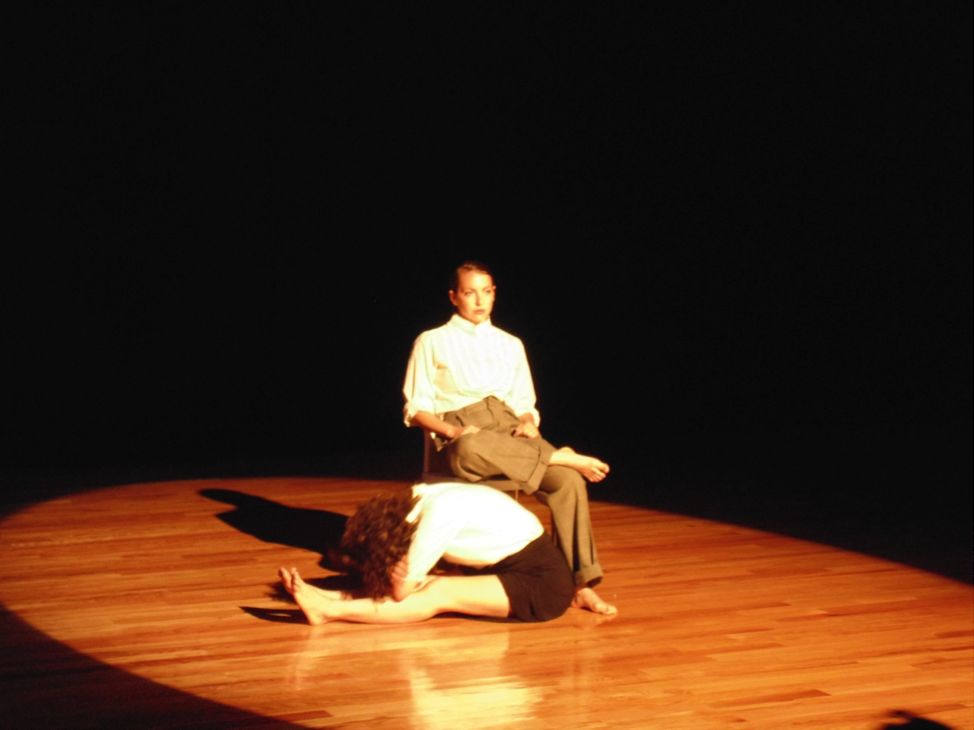 Memorias de un No Abrazo
Fri Aug 8, 5:00PM
Sat Aug 9, 12:00PM 
Choreographed by Rebeca Hernandez, Memorias de un No Abrazo premiered in Mexico for the dance festival Performatica in April 2014. Special thanks to Victoria Rose Wolfe for assistance in development of this choreographic piece. 
Rebeca Hernandez will have a dance residency at Universidad de Guadalajara on fall of 2014. Rebeca screened a short dance film, performed and taught in the international dace forum Performatica in Mexico. Rebeca performed Beyond Control as part of Carolina Caycedo's 18th Street Arts Center's Artist Lab Series in Los Angeles and as part of Rebeca's summer 2013 UCLA Hothouse Dance Residency Program. As a recipient of a 2012 National Performance Network/PAP – L.A-DCA/CEI program, Rebeca had a residency in Mexicali, Mexico. Rebeca has choreographed and performed in the following venues and events in Los Angeles: Pacific Standard Time's Tresspass Parade; PERFORM! NOW!; L.A. Road Concerts; 24th Street Theater; Pieter Performance Art Space; MexiCali Art Biennial at Otis College of Art and Design and the Vincent Price Art Museum. Internationally, Rebeca performed for the Festival de Danza Contemporánea de Cabaret in Mexico City.