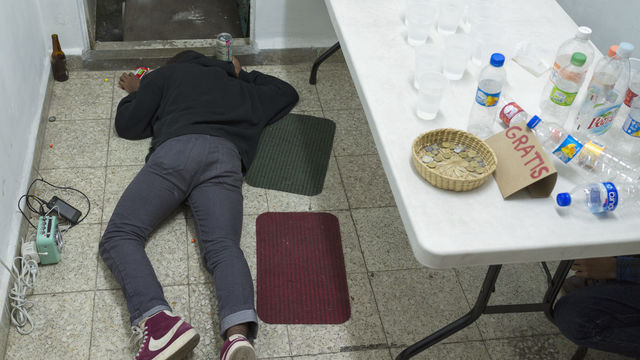 3 Questions with Devin Kenny
Why L.A.? Why did you choose to work in this city in particular?
Well, firstly, Cypress Hill was my favorite hip-hop group as a kid.
I lived in West Hollywood with my mom for a short time in 1990-1991. I loosely remember going to the mall and having a good time . . . I also had a Skittles 'collection' which I kept in a wine glass decorated with white felt bunny ears, googly eyes, a pink felt triangle for a nose, and whiskers fashioned of monofilament. Because of the heat, the color evacuated the candies and they fused together into a white blob with a small pool of colorful gunk sitting at the bottom of the glass.
Exactly twenty years later, I found myself living in L.A. again, this time studying art. Los Angeles seemed like a place that was so outside of my comfort zone—so 'unreal', so different—that I was excited to live and work there, to challenge myself. I was excited to be in a very different physical, cultural, and intellectual environment than those to which I had become accustomed. In high school, I vowed to never live in L.A., thinking it was all superficial and soft. But, when I found myself there, I loved it! Before my move, the tacit plan was to learn how to be a person; I had been able to get away with not having those skills and qualities up until that point. I felt like a place with lots of sun and fresh produce would help the process. I'm not sure if I've accomplished that goal yet, but I feel closer now than ever before ;)
Lastly, I wanted to become aware of people and movements in the field of art that were less emphasized in my earlier studies.
How has your time in L.A. shaped your work?
The Weather (Busdriver, Radioinactive, and Daedelus) - Pen's Oil
Moving to L.A. was really good for my practice. The time-base was different and provided a great opportunity for me to focus and build. Also, I became more aware of a wide variety of DIY, conceptual, feminist, queer, and community-based practices. I met people using dance, music, composition, writing, computer programming languages, physical computing, and other practices within their cultural production in ways that I had never before encountered.
Although the almost-infinite gorgeous weather was disturbing to me at first, I later came to realize that it gave me a more nuanced understanding of the world around me. I didn't just see the outside world as a space where crucial buildings I needed were to be found, and that's bound to reverberate in myriad ways. I have met some amazing people with whom I continue to work, dialog, exchange, and dance. I look forward to my next (hopefully extended) stay in Los Angeles. It seems like a place where artists not only have a stake, but also a say.
Favorite place in L.A. Go.
There are so many places where I formed lasting memories, and so many more I look forward to so I can't pick just one!
Noteworthy spots:
Cultural Institutions with sunlight and open air...
Demolished/knobbed skate spots for catharsis
Baldwin Hills Scenic Overlook
Control Room Downtown LA (R.I.P.)
The Serving Spoon
Ooga Booga
Sax Etc.
The Smell
Pehr Space
The Museum of Jurassic Technology
Pizzanista! (run by Salman Agah)
Suehiro
Weltenbuerger
Family [Bookstore]
Otherwild
Kaos Network [Bananas, Project Blowed, Etc.]
Public Fiction
Favorite Goods
For Your Art
KCHUNG (especially during the Holidays)
L.A.C.E.
LA>Pho 87
Human Resources
Los Angeles Gun Club
McWorld
La Cita
Cosmos Saloon 
But really, I'd have to put a star next to Cosmos Saloon. It's the most unsettling, attractive dive bar/karaoke training ground. It's lovely after a little meal in Little Tokyo. The emotional environment is definitely not for the faint-of-heart which is very appealing to me. Imagine a playground where you're not allowed to smile or giggle and you'll come close to the vibe of the Saloon. In short, it's great with friends.
For a public program on Tuesday, August 5, Devin Kenny looks at structures of power as they relate to social media, through music, video, spoken word, and audience participation.