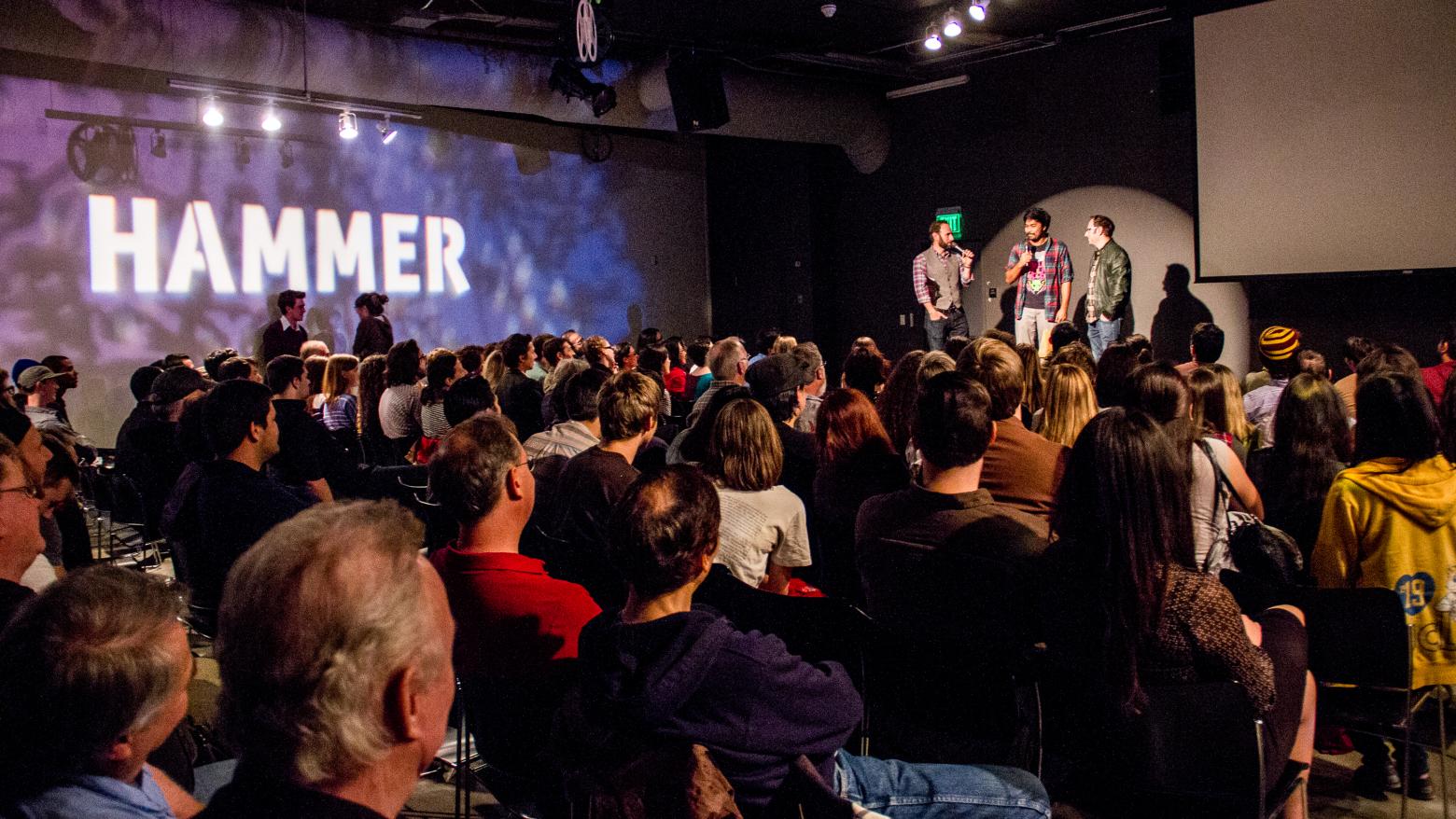 Open Projector Night Summer 2014: The Winners
Equal parts showcase and showdown, the Hammer's Open Projector Night is the most raucous independent short film festival around. Films and videos of all genres have garnered praise and wrath alike—filmmakers are encouraged to bring a thick skin! Nationally known and loved comedy team the Sklar Brothers emcee.
Our last Open Projector Night was on June 4. There were many incredible submissions, but we could only pick 3 winners. In no particular order:
Jaime Scholnick, Hello Kitty Gets a Mouth. Read a Los Angeles Times article about this video here.
Danielle Stolz, Wings of Peace. Can folding an origami crane bring peace? In Wings of Peace, a video by Danielle Stolz, two teens of Japanese-American descent (Stolz and friend Aimee Misaki) journey to Laos with origami papers in hand. Boundaries of language and culture are transcended when Laotians affected by unexploded bombs fold cranes and share their dreams for a better life. The film asks U.S. viewers to reflect upon the tragic legacy of war from the World War II atomic bombing of Hiroshima to the Vietnam War-era Secret War on Laos.
This teen-produced documentary resulted from An Investigative Journalism Adventure to Laos, a program of Friendship Tours World Travel and Harvard-Westlake School in Studio City, California, led by Emmy Award-winning journalist Jeff MacIntyre (Content Media Group), artist/educator Cheri Gaulke, and history teacher Alethea Paradis. For more info about this and other trips, go to friendshiptoursworld.com. To see more films by teens about the Secret War on Laos, go to SayNoToUXO.com.
John Haggard, Attack of the Yeti. When a mysterious snow storm cripples Los Angeles, one teenage girl is all on her own. Soon, sinister forces come knocking...