Telescope Press in Beijing Today
Non-profit Gallery Shares Unique Art
By Annie Wei, Beijing Today Staff
"Unlike its neighbors in the red-brick, high-ceiling buildings of Caochangdi, Telescope curates a different kind of collection.
Rather than collecting the art most likely to sell, curator James Elaine uses his non-profit venue to promote the artists least likely to be known. For China's young creative talents, it's the opportunity to break out. Elaine began curating in the late 1980s at a small museum in New York, the Drawing Center, focusing on such emerging artists. "Usually they were young – just out of university," he said.
A decade of hard work helped his New York museum win attention for that program. After that, Elaine moved to Los Angeles to work for The Hammer Museum. The move to China may have been predestined: Elaine's mother was born in China. Her parents were medical missionaries working in and helping build hospitals in the Yantai area of Shandong Province, northeast China, many years ago.
"When I first visited China it felt like home immediately," he said.
His first trip to China was in 2002 and decided to relocate in 2008. Since then, Elaine has traveled all over the country to discover artists in need of a chance. His Telescope gallery has curated four exhibitions by the artists Deng Tai, Li Zhenwei, Bai Ye, Cheng Qianning and Zhang Xinjun.
While Elaine was searching for artists and funding, Deng Tai tragically died at the age of 24 without ever having had an exhibition of his own. The tragedy inspired him to plunge ahead with Telescope, even though he lacked support for the space's operation.
"Our mission here is to give emerging artists an opportunity and to mentor them instead of just using them to make money," he said.
But the lack of focus on profits means Elaine must find money from other sources: foundations, companies, individuals, or grants. Telescope's funding comes from a small hodgepodge of US support, Chinese philanthropy, local Chinese art community, and himself. A growing number of Chinese are beginning to support spaces like Telescope, so Elaine is seeking out their and other individual donors looking to bolster that pool.
Although Telescope does not keep any money from its exhibition sales, Elaine does ask the artists to voluntarily donate a small portion to support their future peers.
"All the artists we've exhibited said they want to give back to us a portion of their sales. The spirit is very hopeful and encouraging," Elaine said.
"This is what I know and what I love to do. It gives my life worth and meaning: I think it's my calling," he said."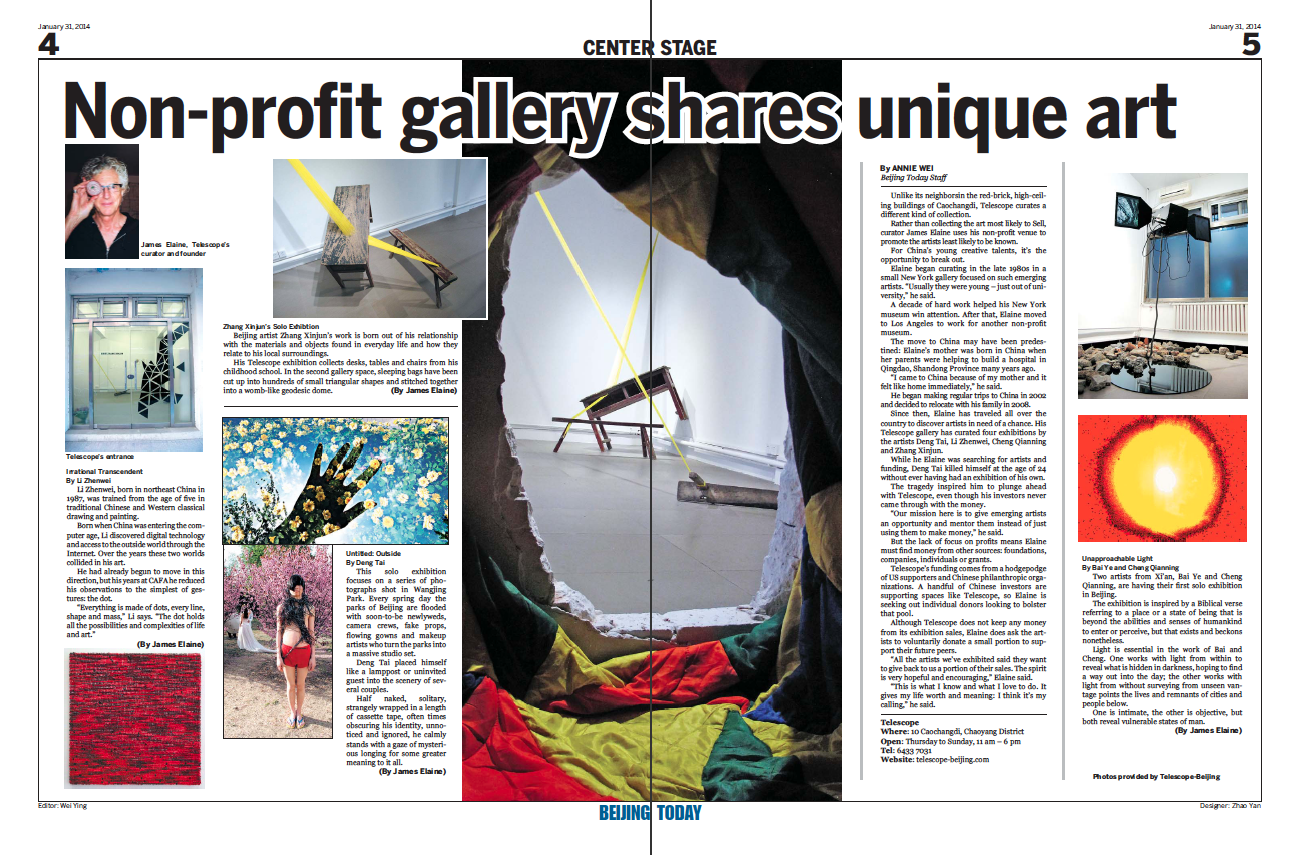 Read the original article here.