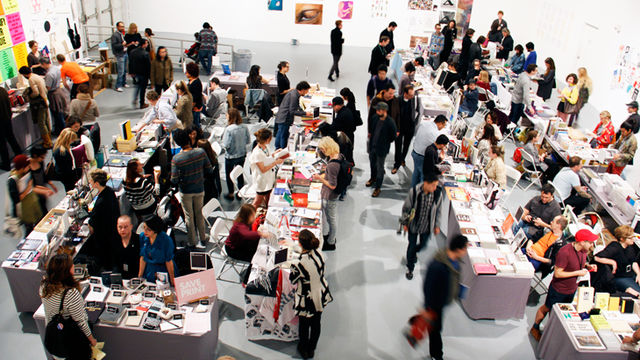 Darin Klein's Guide to Enjoying Printed Matter's LA Art Book Fair
The Hammer is pleased to be participating once again in Printed Matter's LA Art Book Fair on Thursday, January 30 through Sunday, February 2, 2014 at The Geffen Contemporary at MOCA. Sara Beattie, Brooke Berlin and Lauren Molina from the Museum Store will be on hand at the Hammer's booth with zines, artist books and editions, rare and out-of-print books, and other signature Hammer items. Here's a practical guide to the fair from Darin Klein, the Hammer's public programs associate.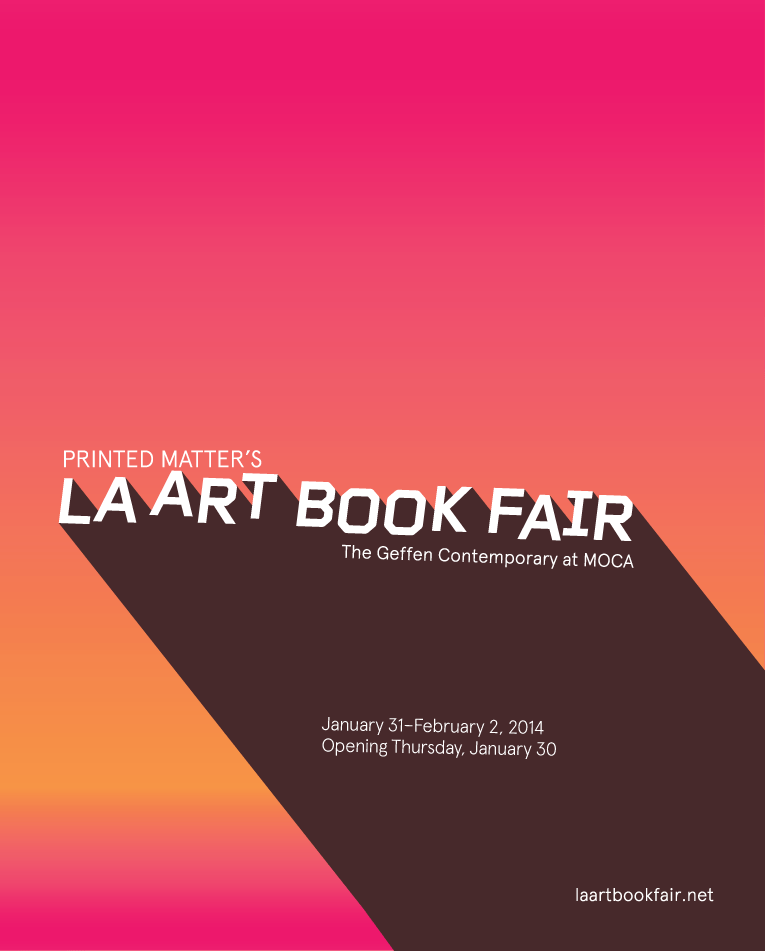 Darin Klein's Guide to Enjoying Printed Matter's LA Art Book Fair
If there was a Black Belt for making the most of an Art Book Fair, I'd probably have it! I climbed the ranks without a sensei, but I'm happy to share what I have learned from my many years of experience in New York and Los Angeles. Before I jump into the details of my finely honed skills, I'll give you a primer. Printed Matter's NY and LA Art Book Fairs are exhibitions where you can (usually) touch and (probably) buy things. Begun in 2006, the NY fair is now hosted by MoMA PS1. Begun in 2013, the LA fair takes place at The Geffen Contemporary at MOCA. Museums are the ideal settings for these fairs: they raise public opinion of art books as actual art, provide institutional credibility, and beat hands-down the convention-center quality of many art fairs. Art Book Fairs are great places for learning, flirting, celebrity-watching, being inspired and meeting bookmakers, printmakers and publishers face to face. So, without further ado, some highly recommended tips for you.
1. Explore Thoroughly. Pick up the fair map and guide at the entrance. Use the map to make sure you've hit all areas of the fair - there are nooks and crannies and side rooms and a theater that you may inadvertently pass by otherwise. Use the guide to learn about book signings and other programs which happen at different times throughout the fair. There are many aspects to the fair and much more than books to experience. Hammer's recent Public Engagement artist-in-residence KCHUNG will be broadcasting radio dispatches live from the fair. An area called The Classroom will be hosting a series of talks and lectures.
2. Make Time. Block off your calendar for as much time as you can, and/or visit more than once. Last year I heard many attendees lamenting that they did not have enough time to fully take it all in. A lunch break is not sufficient time for exploring over 200 exhibitors from 20 countries filling an entire museum. Nearly every exhibitor has multiple titles on view; many of them also have artworks installed on nearby walls. Plus, there are curated book and book-related exhibitions. This year I'm excited about Queer Zines, curated by Philip Aarons and AA Bronson.
3. Bring Money. Something that seemed to surprise attendees last year: everything at the fair is for sale (barring works in some of the exhibitions). There are books, zines, multiples, editions, tote bags, prints and original artworks. The most bang for your buck is likely to be gotten in (XE)ROX & PAPER + SCISSORS, "a super-sized subsection" of the fair where you will find the small and indie presses (including yours truly, so come check out my latest collaborative project, Box of Books, Vol. VII). Whether handmade or commercially printed, items here can be priced in the double and even single digits. Don't be surprised if exhibitors in this section accept cash only. Last year, an on-site ATM either broke or ran out of money every day of the fair, so come prepared. For more, um, refined tastes, the rest of the fair is populated by artists, galleries, shops and publishers exhibiting merchandise in a wide range of prices as well as some dealers with rare and out of print titles going for quite a lot.
4. Take Breaks. Art Book Fairs can be exhausting. Last year 15,000 people attended. Just making your way through the crowd can be a feat. Be sure to take breaks and you're bound to come out a winner. The fair is located in Little Tokyo where there are many cafes and restaurants to enjoy during brief outings. The Geffen Contemporary at MOCA has a pleasant outdoor entrance way with picnic tables, benches and some foliage. Find a snack, a cup of coffee or some sparkling water and rest your feet and eyes. Then throw yourself back into the throngs feeling refreshed.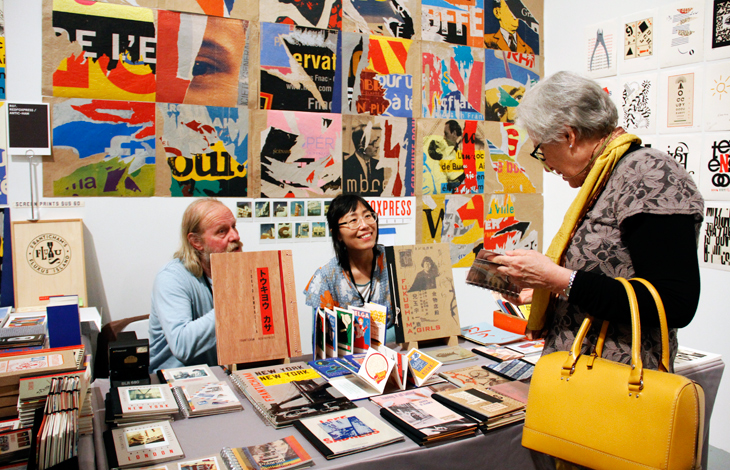 photo courtesy of Desilu Munoz
5. Maintain Focus. Opening night is very exciting, and it's free, so I recommend attending. However, if you're anything like me, you may do more socializing and people-watching than studying or spending time with what is on view at openings. To really see the works, consider coming during the day on Friday, Saturday or Sunday. Move methodically through each area of the fair and allow your instincts to determine how long you spend with each exhibitor. If you encounter something that really catches your eye, stop and engage that item and the exhibitor. If you encounter an exhibitor whose merchandise doesn't appeal to you at first glance, move on – something just around the corner is sure to spark interest. Keep your eye on the clock, and don't let closing time sneak up on you.
The LA Art Book Fair is free and open to the public.
More Information
Hours and Location
Opening: Thursday, January 30, 6–9PM
Friday, January 31, 11AM–5PM
Saturday, February 1, 11AM–6PM
Sunday, February 2, 12PM–6PM
The Geffen Contemporary at MOCA
152 North Central Avenue in Little Tokyo
Los Angeles, CA 90012
(213) 626-6222