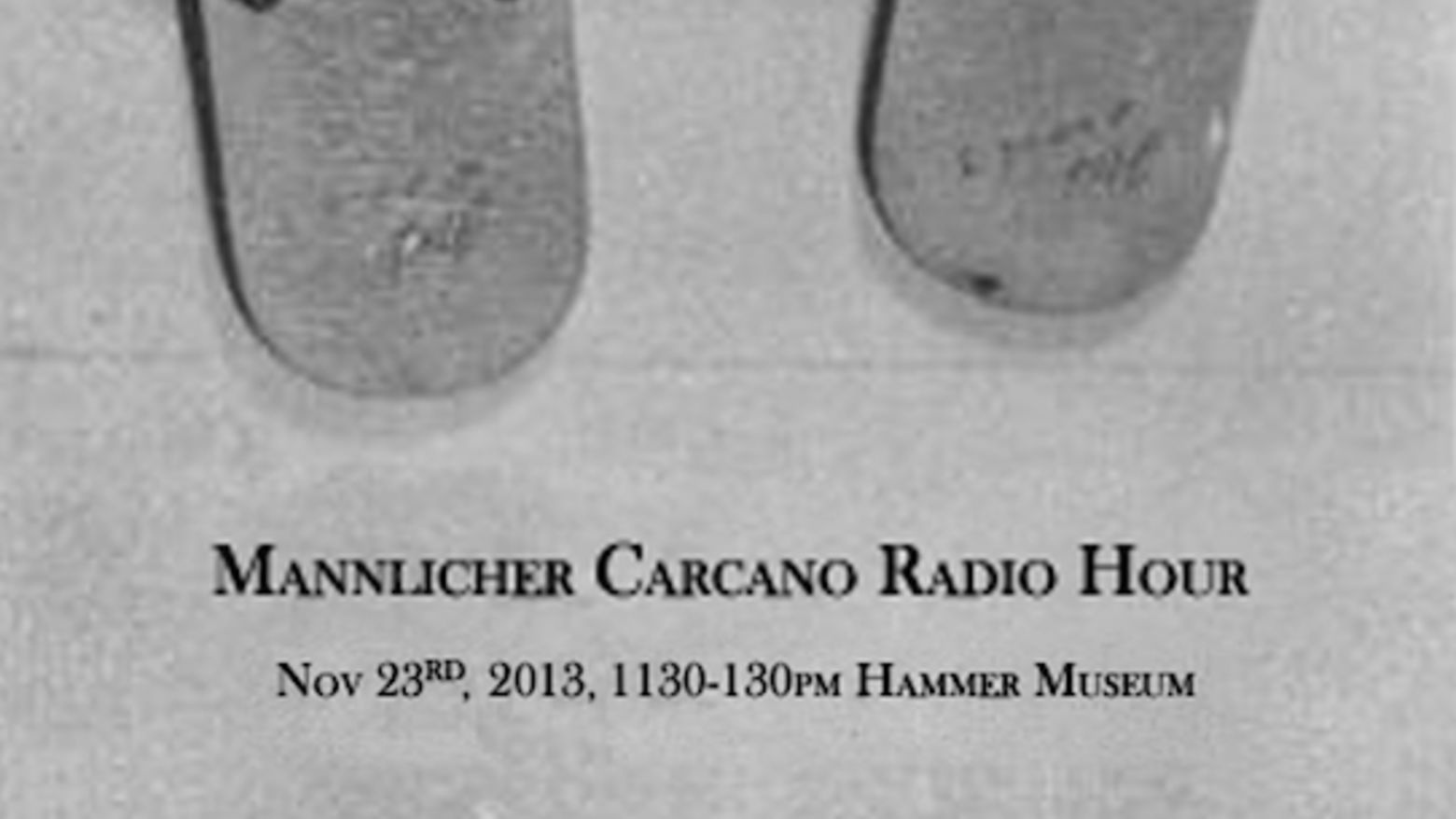 Mannlicher Carcano Radio Hour on KCHUNG at the Hammer Museum
Saturday November 23, 11:30AM–1:30PM
Hammer Museum Courtyard, 10899 Wilshire Boulevard, Los Angeles, CA 90024
Free program | $3 validated parking under the museum
Dateline Los Angeles: Mere coincidence? The Mannlicher Carcano Radio Hour, now in its 15th year of improvised live multi-city audio collage based experimental radio broadcasts, have been "randomly" scheduled to participate in the KCHUNG Radio residency at the Hammer Museum in Los Angeles on the very day in between the 50th anniversary of the assassination of JFK and the 50th anniversary of the assassination of Lee Harvey Oswald.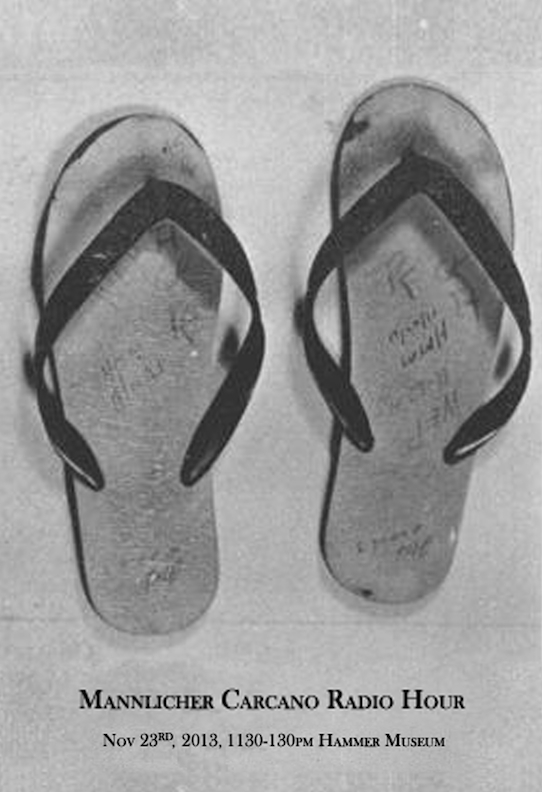 Mannlicher Carcano – whose name derives from the rifle allegedly used by LHO to shoot JFK - is an improvisational audio collage group that coalesced in the late-1980's out of a number of new music, sound art, and post-punk experiments, and has been performing and recording regularly for 25 years -- in spite of not living in the same city for the last 20. Their output has regularly addressed the JFK assassination and its cultural fallout.
For the November 23 performance in the Hammer courtyard, Los Angeles MCRH anchors Really Happening and Kenneth Friendliness (and whatever other local adjunct members show up) will perform live turntable-plus radio art, drawing heavily on thematic material related to the JFK assassination, including rare radio interviews of Oswald on William Stuckey's Latin Listening Post program on WDSU New Orleans 3 months before the assassinations.
This performance will be broadcast live on KCHUNG's Hammer radio frequency, and transmitted via the internet to MCRH HQ in St. John's Newfoundland, where it will be mixed with signals from Montreal, Guelph, Ontario, and possibly other cities, and rebroadcast over the airwaves and internet. That internet feed will then be picked up and reintegrated into the mix of the Hammer broadcast. We're through the looking glass here, people!
The Mannlicher Carcano Radio Hour can be heard regularly on CHMR-FM 93.5 Campus and Community Radio in St. John's, Newfoundland, and can also be accessed on the net at www.mun.ca/chmr every Saturday from 11:30am – 1:30pm PST. --Doug Harvey, KCHUNG DJ
—
Established in 2011, KCHUNG is a creative hub of artists, musicians, philosophers, and tinkerers broadcasting live on1630AM from a studio above a pho restaurant in Los Angeles's Chinatown. The radio station currently airs 74 live, original shows each month, including reports on wildlife conservation, on-air meditation, gestures of an economic and performative nature, as well as music. While in residence at the Hammer through the end of the year, KCHUNG presents the station's regular programing on-site as well as new programs developed for the museum. Visitors can look forward to projects such as audio tours composed by KCHUNG and remixes of past Hammer programs.