The Hammer is excited to be among 350+ museums from 34 countries participating in Ask a Curator Day on Wednesday, September 18 via the microblogging site Twitter.
Hammer curatorial staff will be live tweeting from 11AM to 3PM PDT.  Tweet your questions to @hammer_museum and make sure to use the #AskaCurator hashtag.  We can't wait to hear from you!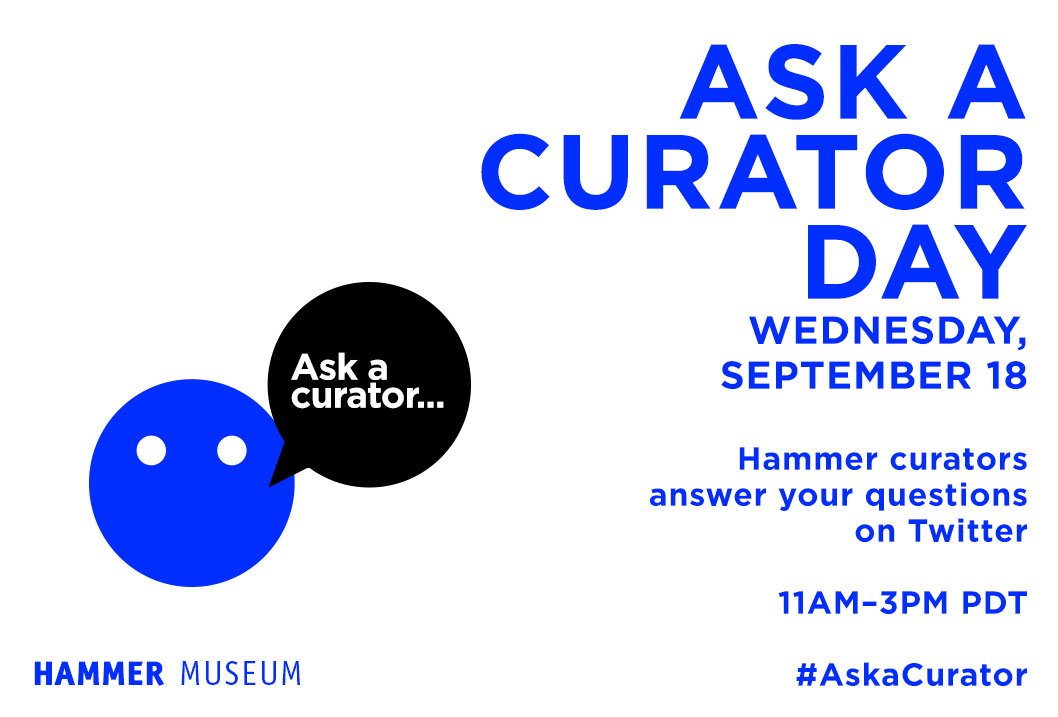 11AM-12PM
Aram Moshayedi | Curator
Aram recently came to the Hammer from the gallery at REDCAT (Roy and Edna Disney/CalArts Theater). His first exhibition for the Hammer is Pentti Monkkonen: Selected Works from the Baldwin Hills Space Association and he is currently organizing a selection of works from the Hammer Contemporary Collection. His area of expertise is projects and exhibitions.
12-1PM
Emily Gonzalez | Curatorial Assistant
Emily has worked on many Hammer exhibitions including Mark Leckey: On Pleasure Bent, LLYN FOULKES, Made in L.A. 2012, and All of this and nothing. She is also our resident expert on the institutional history of American museums.
1-2PM
Leslie Cozzi | Curatorial Associate, Grunwald Center for the Graphic Arts
Leslie's areas of expertise include Feminist art, contemporary Italian art, and prints/drawings/works on paper.
2-3PM
Allison Agsten | Curator, Public Engagement
Allison can answer questions about collectives, collaboration, intimacy at museums, museum as a civic space, Los Angeles as the ultimate place to develop PE-type programming, and kids + art. She's also a car enthusiast.