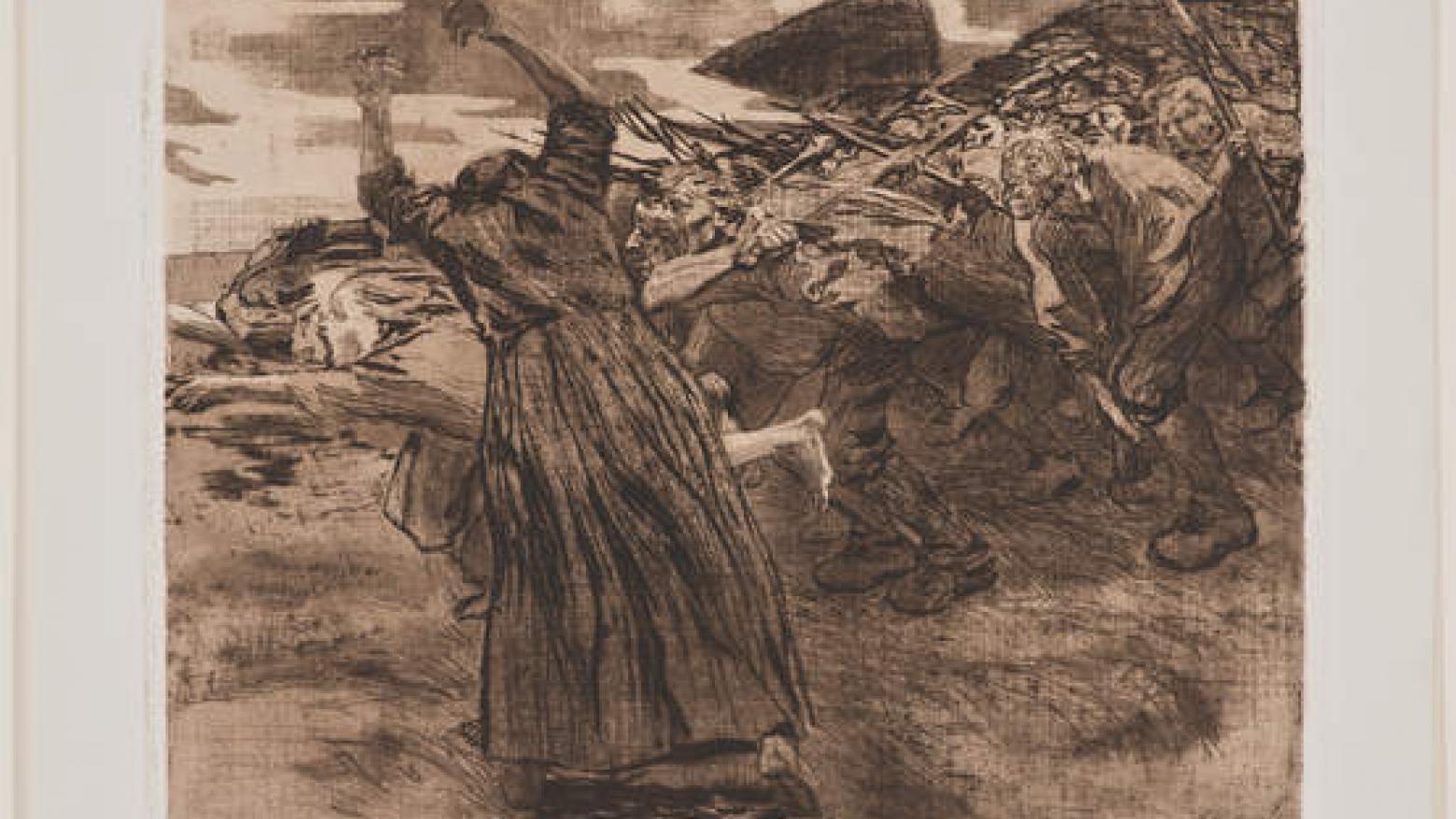 RECAP: Lunchtime Art Talk on Käthe Kollwitz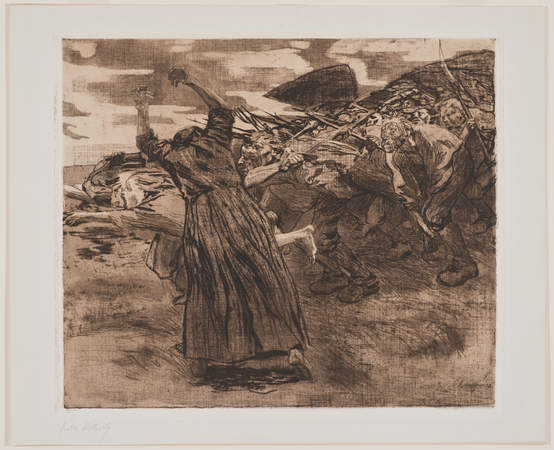 Lunchtime Art Talk: Käthe Kollwitz's Los bruch (Outbreak), 1902
with Leslie Cozzi
Hammer curatorial associate, Leslie Cozzi, discussed artist Käthe Kollwitz's, Outbreak (1902) in the Vault Gallery on July 31. Kollwitz grew up in Germany in a well-to-do family who truly valued the arts. Her parents, who were intellectual leftists, enriched their children's lives with everything from literature to music. They feared philistinism and made it their mission to steer clear of a bourgeois existence. "In fact," Leslie told us, "she got married at seventeen and her parents were scandalized because she'd done something so conventional."
While Kollwitz may have married early in a very bourgeois fashion, she was anything but. She wrote extensively in her diary about realism and wanting to make work that was relatable. Kollwitz was very much concerned with the plight of the proletariat and focused on suffering and the resistance to suffering in her art. During the Art Talk, a man in the audience seemed frustrated by all of the doom and gloom of Kollwitz's work and asked, "Did she ever do anything to add happiness to her work?" Leslie explained that Kollwitz found the ideas of sacrifice and tragedy to be more compelling and that, "unlike other artists, she wasn't interested in the leisure of the bourgeois class." Her work tended to be rather gritty and yes, unhappy.
Until the 1890s Kollwitz was a painter, but she then decided to try her hand at printmaking as she found it to be more accessible to the general public. And even in her prints, according to Leslie, she didn't dwell on specifics in terms of context, date, and time because she wanted her work to be as universal as possible. Outbreak was made with a combination of aquatint and etching to create a texture that was earthy, but she also used layers of paper and canvases in her other works. Leslie explained that Kollwitz liked juxtaposing the differences between printmaking and painting in order to help us better realize the differences between them.
Leslie added that Kollwitz was, "an artist who was both an outsider and an insider." She was the first and only female faculty member at both the Prussian Art Academy and the Berlin Secession. She was also incredibly popular as an artist. Kollwitz often played with serialism and created cycles of images that revolved around the human condition. Outbreak is part of the Peasants' War series. Spanning from 1902 to 1908, The Peasants' War was a cycle that profiled the working class. Outbreak depicts peasants who were fed up with their oppressors and ready to rebel.
The more prominent peasant with her arms up and signaling the start of the revolt is Black Anna. Leader of a peasant's uprising in 1524, Black Anna is a historical figure that Kollwitz identified with and saw as a symbol of feminism and social change. The print shows Black Anna raising her hands and appearing to be spearheading the revolt. Kollwitz wanted to create something allegorical that was, as Leslie explained, "a gritty rendering of revolution that takes away the revolutionary aspect of rebellion."
German playwright Gerhart Hauptmann's play The Weavers was a great source of inspiration for Kollwitz's work and nearly thirty years after she was first exposed to the drama, Kollwitz attended a performance of it again. Upon this viewing, she recognized that art has the power to "transform ugly reality into something deceptively grand," she wrote in her diary. Kollwitz described how revolution as seen in art makes us feel like revolutionaries ourselves and yet, she noted, "I thought I was a revolutionary and was only evolutionary." Perhaps, Kollwitz is a Hauptmann-type herself—creating works that brings out a revolutionary fervor in all who encounter her works.
--Neyat Yohannes, Communications + Public Engagement Intern
Neyat is a third year student at Emerson College working towards a BFA in Writing, Literature, and Publishing and a minor in Visual Studies.