RECAP: Lunchtime Art Talk on Edmund Teske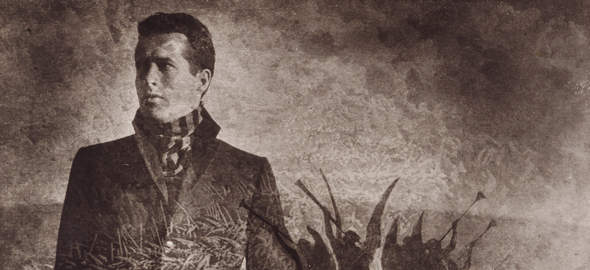 Lunchtime Art Talk: Edmund Teske's Kenneth Anger, Topanga Canyon, 1954
with Leslie Cozzi
Hammer Curatorial Associate Leslie Cozzi discussed photographer Edmund Teske's Kenneth Anger, Topanga Canyon (1954) in the Vault Gallery on August 14. In the work avant-garde experimental filmmaker Kenneth Anger is photographed standing contrapposto, as Leslie noted, in a dark and dapper suit. He stands atop Topanga Canyon in the foreground of the photograph, whilst wrathful horsemen and trumpet-blowing angels bring forth disaster—illustrating a scene from Milton's Paradise Lost—all around him. To create composite prints such as this one, Teske "takes two different negatives, overlays them, and then develops them as one," Leslie explained. The superimposed images were Teske's portrait of his friend, Anger, and an 1866 Gustave Doré engraving of a passage from Milton that illustrates the revolt of the rebel angels, an association that Anger himself suggested.
Leslie described how the commonalities between Teske and Anger are evident in the style of their works. "They're both artists who rely on montage and superimposition," she said. They also similarly played with the themes of the mundane, political, spiritual, homoerotic, and divine. Anger is particularly interested in occult magic and refers to screenings of his films as the summoning of spiritual forces. "Some would categorize him as a devil-worshipper," Leslie added. In 2009, he gave a Hammer Lecture on Aleister Crowley and the occult.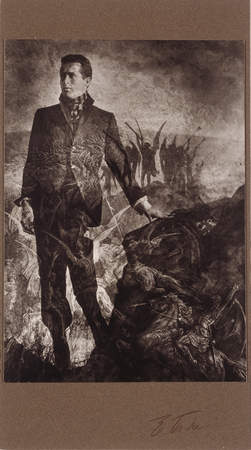 Teske, on the other hand, was enamored with Romanticism. "He was not interested in straight photography or documentary photography; he wasn't interested in leaving a historical record," Leslie said. Other photographers in this exhibition like Edward Weston who specialized in straight photography and Garry Winogrand who was known for his documentary photography present work that is vastly different from Teske's. His Romantic tendencies made him a bit unfashionable compared to the affinities of other photographers during his time. Even so, he was still recognized by fellow photographers and was intimately involved in the development of 20th century photography. Born 1911 in Chicago, Teske was already experimenting with photography by the age of ten. By twenty, he was working as a commercial photographer. Throughout his career he mingled with the likes of Berenice Abbott, Ansel Adams, and Minor White.
In 1943, Teske moved to Los Angeles because he was enthralled by the allure of Hollywood and wanted to surround himself with people in the underground art world. He quickly found a place for himself in the photographic still department at Paramount Pictures and slipped into the city's bohemian community. Teske even considered pursuing an acting career after a stint as an extra in Lust for Life, a biopic on Vincent van Gogh. Teske continued to be involved with his first love, photography, until his death in 1996. He is widely considered as one of the forgotten greats of American photography. In his obituary published by the Los Angeles Times, photographic historian Weston Naef noted that Teske would "enter the history books as the grand master of a style of picture that is taken for granted now that computers have created ways to cut and paste images seamlessly." And nearly two decades later, as the growth of computer technology continues to consume us, that sentiment couldn't ring truer.
--Neyat Yohannes, Communications + Public Engagement Intern
Neyat is a third year student at Emerson College working towards a BFA in Writing, Literature, and Publishing and a minor in Visual Studies.