Films and Conversation explore the Armenian Genocide of 1915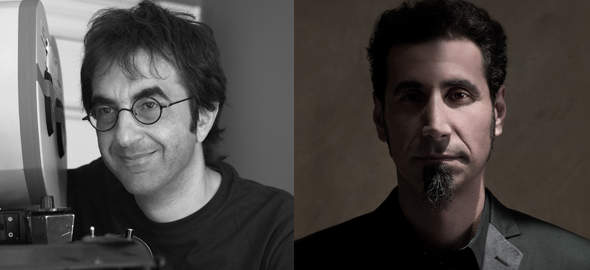 MON | APR 16 | 7PM | HAMMER SCREENINGS
ARARAT
Atom Egoyan's award-winning Ararat is based loosely on the Siege of Van during the Armenian Genocide. While exploring the human impact of that specific historical event, the film also examines the nature of truth and its representation through art. Starring Charles Aznavour, Christopher Plummer, and David Alpay, Ararat was awarded Best Film on Human Rights by the Political Film Society of Hollywood and the Freedom of Expression Award from the National Board of Review in New York. (2002, Dir. Atom Egoyan, 115 min.)
A Q&A with actor David Alpay ("Raffi") will follow the screening.
TUE | APR 17 | 7PM | HAMMER SCREENINGS
SCREAMERS
The documentary Screamers chronicles Grammy Award-winning rock band System of a Down's efforts to persuade both the British and U.S. governments to recognize the Armenian Genocide. The film explores why genocides repeat and features interviews with Pulitzer Prize–winning activist Samantha Power; survivors from Turkey, Rwanda, and Darfur; FBI whistleblowers, and Hrant Dink, who was assassinated in Turkey after appearing in the film. (2006, Dir. Carla Garapedian, 91 min.)
A Q&A with filmmaker Carla Garapedian will follow the screening
SUN | APR 22 | 3PM | HAMMER CONVERSATIONS
ATOM EGOYAN & SERJ TANKIAN
Introduction by Eric Esrailian, Vice-Chief, Division of Digestive Diseases at the David Geffen School of Medicine at UCLA, and member of the Hammer Board of Directors.
Atom Egoyan's critically acclaimed films include Chloe, Speaking Parts, The Adjuster, Exotica, The Sweet Hereafter and the award-winning Ararat, a meditation on the Armenian Genocide. His work has been featured in international retrospectives including at the Centre Pompidou in Paris and at the Venice Biennale. Serj Tankian is a Lebanese-born Armenian American activist and musician best known for his work with the rock band System of a Down. Tankian and Rage Against the Machine/Audioslave guitarist Tom Morello co-founded the nonprofit activist organization Axis of Justice. In 2011 Tankian was awarded the Armenian Prime Minister's Medal for his contributions to the recognition of the Armenian Genocide and the advancement of music.