T. Kelly Mason at the Hammer
T. Kelly Mason
Nocturne (Pierce Brothers Westwood Village), 2011
December 20, 2011 - May 27, 2012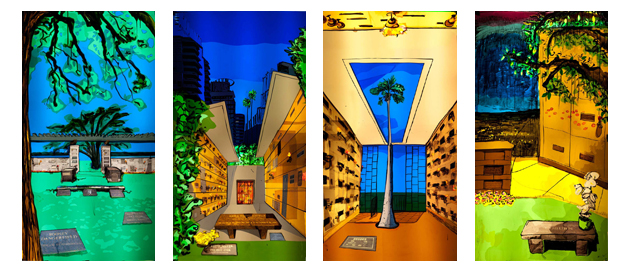 T. Kelly Mason. Nocturne (Pierce Brothers Westwood Village), 2011. 4 Duratrans films. Courtesy of the artist.
Los Angeles–based artist T. Kelly Mason's diverse practice includes sculpture, performance, sound, video, and works on paper. Since 2007 he has also been working with photographic transparencies mounted in light boxes, drawing on the medium's elusive material presence as a means to explore representation. For this new work, Mason visited Pierce Brothers Westwood Village Memorial Park, an intimate, carefully landscaped cemetery nestled amid several high-rise buildings just around the corner from the Hammer Museum. Resting place of the museum's founder, Armand Hammer, and the film director Billy Wilder, namesake of our theater, the cemetery is also the final home to Hollywood luminaries such as John Cassavetes, Farrah Fawcett, Peggy Lee, and Jack Lemmon. It is a sanctuary filled with both melancholy and humor. A small plaque reading "Marilyn Monroe" is surrounded by lipstick kisses left on the marble by loving fans, while across the park, Rodney Dangerfield's headstone reads, "There goes the neighborhood . . . "
Mason's work touches on the cultural and political significance of aesthetics through a confluence of art historical references and popular culture. After extensively photographing the cemetery, he collaged portions of his images to create composite views in which the grave sites are rearranged to poetic effect, activating a conversation about memory and the meaning of existence. Aligning his interest in the transgressive potential of an aesthetic sublime with his investigations into rituals memorializing the dead, Mason looked to the German romantic paintings of Caspar David Friedrich as inspiration for the composition of his revised views of the cemetery. A master of the allegorical landscape, Friedrich painted dramatic scenes accentuating both the beauty and the intimidating magnitude of nature. Derived from traditional celluloid animation, Mason's technique of layering theatrical lighting gels and articulating imagistic details with ink drawing is particularly well suited to rendering deep space and intense color in a manner that is perhaps ironically akin to Friedrich's method. Marrying a contemporary mode of representation typically used for advertising and animation with the history of painting and photography, Mason offers us a multivalent meditation on themes of celebrity, death, and the search for meaning.
Organized by Corrina Peipon, curatorial associate.
Pierce Brothers Westwood Village Memorial Park Cemetery is located one block east and half a block south of the Hammer Museum at 1218 Glendon Avenue.