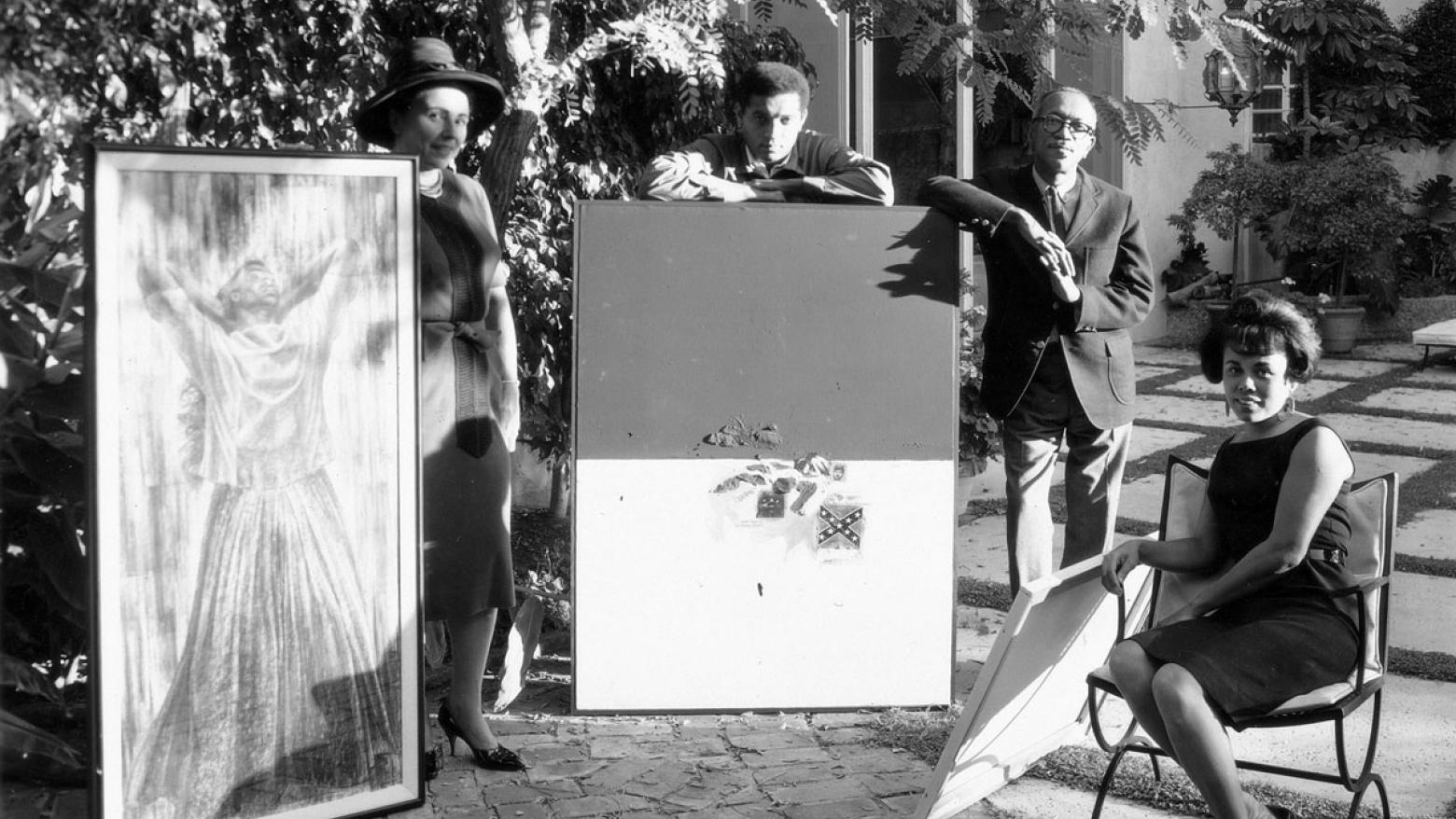 Now Dig This! Opening October 2 with Free Admission
Above, left-right: Beate Inaya, Daniel LaRue Johnson, Charles White, and Betye Saar at the Negro and Creative Arts Exhibit at the Los Angeles home of actress Diana Lynn, organized by Beate Inaya, August 12, 1962.
NOW DIG THIS! ART & BLACK LOS ANGELES 1960–1980
OPENS SUNDAY, OCTOBER 2 WITH FREE ADMISSION
This comprehensive exhibition examines the vital legacy of the city's African American visual artists, who—through their work and their connections with other artists from a variety of ethnic backgrounds—made up an important part of the creative community. Including 140 works by 35 artists, many of whom are not well known to the public, Now Dig This! expands the art historical record, placing the work of these practitioners within the context of the movements, trends, and ideas that fueled the arts in Los Angeles during this period. 
Now Dig This! is presented as part of Pacific Standard Time, a collaboration of more than sixty cultural institutions across Southern California, coming together for six months beginning in October 2011 to tell the story of the birth of the Los Angeles art scene and how it became a new force in the art world.
OPENING DAY FESTIVITIES
SUNDAY, OCTOBER 2
11AM – 5PM
MUSEUM FREE DAY
Through the generosity of Bank of America, the Hammer is pleased to offer complimentary museum admission on Sunday, October 2, to celebrate the opening day of Now Dig This! Art and Black Los Angeles 1960–1980.
1PM
EXHIBITION WALKTHROUGH
With exhibition curator Kellie Jones. 
2PM
HAMMER PRESENTS
OPENING DAY PERFORMANCE: KISS
Artists Senga Nengudi and Maren Hassinger perform a collaborative project with Ulysses Jenkins in which they reimagine their works in the exhibition galleries. 
11AM - 6PM
PACIFIC STANDARD TIME FREE SHUTTLE SERVICE
Free shuttle buses provided by South Coast Plaza will run between the Hammer and Pacific Standard Time partner institution, LACMA, between 11AM and 6PM on Sunday, October 2. View the shuttle schedule here