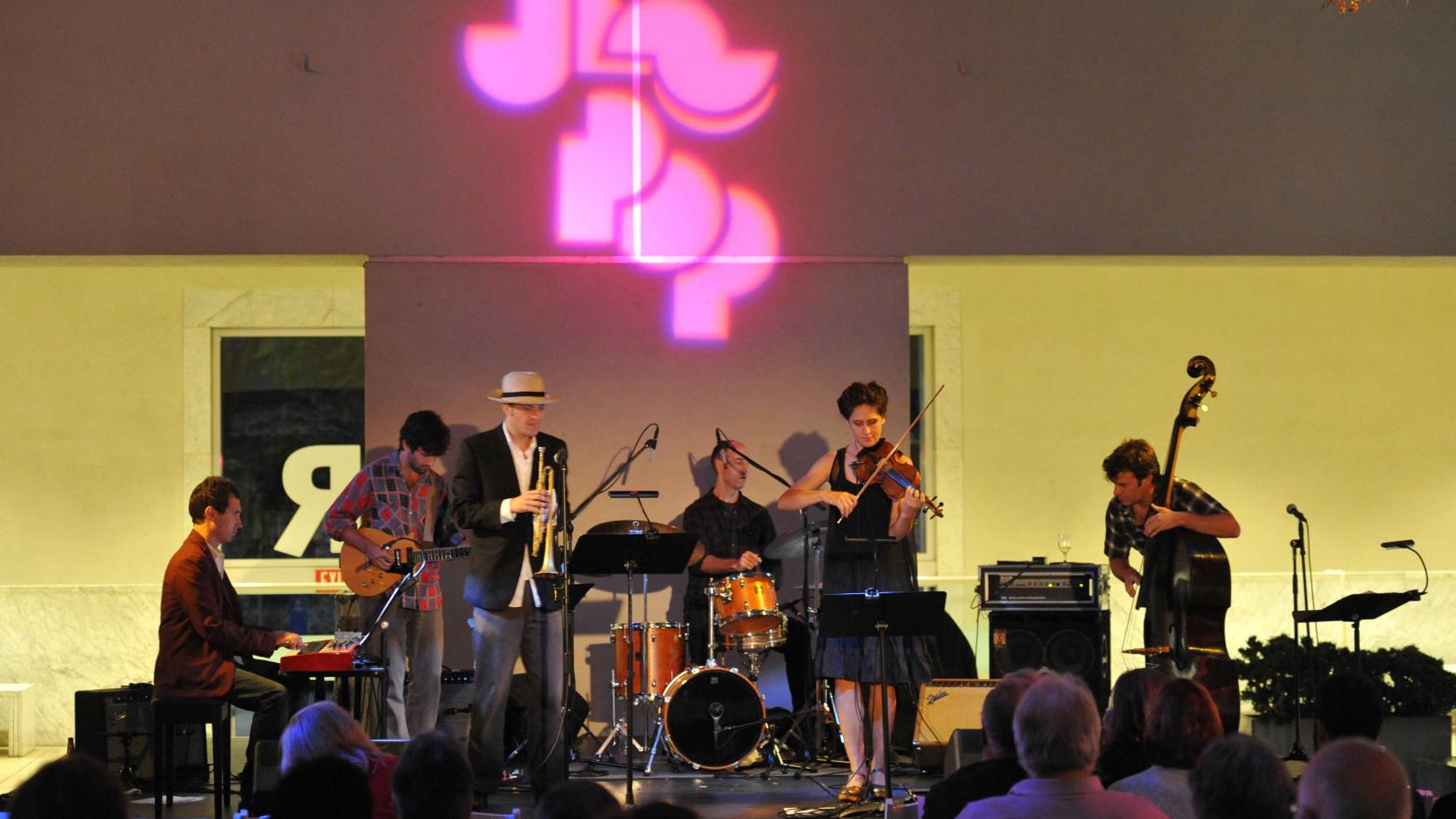 JazzPOP Outdoor Concerts Return to the Hammer in August
Featuring Todd Sickafoose's Tiny Resistors, Aaron Novik's Thorny Brocky & Empty Cage Quartet
Los Angeles – The Hammer Museum's free JazzPOP music series celebrates its sixth year of outdoor concerts in the Hammer courtyard. Veteran artists and bold new voices perform original, adventurous music that combines inventive composition with improvisational prowess and propulsive groove. Musician Lisa Mezzacappa, JazzPOP's curator, programs diverse artists with a special focus on musicians with West Coast roots. During the concerts, guests may also enjoy signature JazzPOP cocktails from a cash bar, as well as dinner from the Hammer Cafe.
KJAZZ 88.1 is the official media sponsor for this series.
Thursday, August 4, 8PM
Todd Sickafoose's Tiny Resistors
Todd Sickafoose's folk-inflected jazz pairs indie rock muscle and whimsy with the compositional sophistication of a chamber orchestra. The bassist, a longtime sideperson and duo-mate of Ani DiFranco, has assembled a cross-coastal band that includes some of jazz's most versatile and genre-bending musicians, including violinist Jenny Scheinman and trumpeter Ara Anderson.

Thursday, August 11, 8PM
Aaron Novik's Thorny Brocky
San Francisco-based bass clarinetist and composer Aaron Novik writes lushly evocative music that is meticulously composed yet never fails to surprise. His chamber pop ensemble Thorny Brocky draws its influences from dreamy indie bands like Deerhoof and Blonde Redhead; the jumpy rhythms of Jewish and Eastern European music; and the visceral joyful edge of prog rock and heavy metal. Expect music from the band's new release, featuring songs penned to the lyrics of Bay Area "outsider" poets.

Thursday, August 18, 8PM
Empty Cage Quartet
The omnivorous and wily music of the Empty Cage Quartet combines an experimentalist's curiosity with the rowdy mischievousness of the best improvised music—navigating shuffle swing and free jazz blowouts, minimalist percussion loops and complex modernist gestures, funky stomps, and angular grooves. The band revels in chemistry and sound—saxophonist Jason Mears, trumpeter Kris Tiner, bassist Ivan Johnson, and drummer Paul Kikuchi have been at it together for nearly 10 years, scattered around the country in New York, Seattle, and Los Angeles.

About Curator Lisa Mezzacappa:
Lisa Mezzacappa is a San Francisco-based bassist, composer, and musical instigator. An active collaborator and curator in the Bay Area music community, she leads her own groups Bait & Switch and Nightshade, and co-leads the collectives duo B., Cylinder and the Oakland Active Orchestra. She collaborates frequently on cross-disciplinary projects in sound installation, digital poetry, film, sculpture and public music/art. Mezzacappa has performed at countless Bay Area venues including Intersection for the Arts, Yerba Buena Center for the Arts, SFMOMA, Yoshi's, and the de Young Museum, San Francisco; as well as the Earshot Jazz Festival, Seattle; and the Montreal Jazz Festival; Canada. She also programs music series in Oakland, San Francisco and at Stanford University.