On View at Cafe Hammer: Apart/Together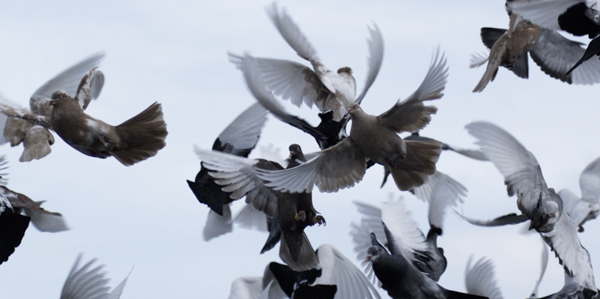 Still from Apart/Together, 2009. Three-channel video, sound, continuous loop. Courtesy of the artist and The Company, Los Angeles.
ON DISPLAY AT CAFE HAMMER, May 16 – July 10, 2011
Apart/Together, a three-channel video by Jesse Fleming
----
ARTIST Q&A
I sat down with Jesse Fleming to chat about his work Apart/Together on view at Cafe Hammer. We discussed the year he spent filming a domesticated pigeon coop on the roof his Brooklyn studio in 2009. He talked about immersing himself into the study of the pigeons, observing communities of birds together and separately in their immediate environment in order to "to describe the nature of the isolated self amongst the unified collective". The following is an excerpt from that conversation. ---Elizabeth Cline, Curatorial Associate, Public Engagement
EC: When I first saw Apart/Together I was thinking of the piece as three strategies of observation on one subject. There was the long gaze, distance as a removed observer, like the scientist capturing data; the intimate portrait frame, like traditionally the way an artist would approach a subject; and then the subjective experience. It feels like you were able to dig into complex relationships by employing three different gazes, but also into the formal relationships in your compositions. For me, every time I look up to the monitors I catch these beautiful moments of shape, color, and their relationship to each other in each frame and to the other monitors.
JF: There is something temporal or momentary that has a lot of that resonance for me too. I guess there is a spectacle to all of them, but the spectacle seems to jump out the most in the first channel. It is hypnotic, but from a distance. There is something evocative there in regards to physics, mathematics and this kind of group emergent geometry. It seems to hit off of other patterns that exist in nature, or the physical rules that govern our world. The middle channel is more painterly, it is crafted and more of a structural piece. As a kid, I remember seeing Leonardo DaVinci drawings of pigeons in flight and being in awe of some of the wing structures and frozen details you wouldn't otherwise detect. Then the third channel perspective of the bird, that's the experiential, to be directly a part of the act of flying. There is always that curiosity of what that must be like, because it looks so free and inviting.
EC: There is something so beautiful about that gesture in this work. The pigeons are something we are very familiar with, the vermin ubiquitous to urban life. But you are giving the viewer permission to stop and look and consider them differently. For me, this creates abstraction. I am not thinking of them as birds or objects in nature, the "birdness" is not that important any more. The longer you are able to spend with the work you realize there is something bigger at play. You start to connect and project humanness to it – it becomes self-referential. This opens up a more reflective space, a calming contemplative space to be entered at any time.
JF: Maybe when the relationships become primary over the content is when it becomes abstraction: Because the subject or object itself ceases to be the primary mode of importance - instead the activity of and the relationships that they define is what we identify with.
The urban pigeon is something that often we either bring attention to with disdain or something we try to actually bring attention away from. They are an icon of urbanity, but they are thought of as pests. So I thought it was great opportunity to take advantage of that familiarity - it was an easy set up for a double take and to challenge our relationship to our ordinary perception.
EC: Something else familiar occurring that one might not notice at first is the ambient sound. It plays independent from the picture and is really successful at putting you into the space of the video, that contemplative space. You have a relationship to the sound because it is the familiar sounds of the city - you are aware of human time passing because of the uncanniness of the sound, but it is also calming.
JF: The most interesting part is where we go with this project and how we relate ourselves to it. The video and sound seem to work together to create a human relationship the observer might have to the material. I feel like it's a window to see ourselves or find ourselves in contemplation of how we are linked together and at the same time apart. When I was doing research to figure out what was happening physically with the birds, emergence theory came up a lot - if you start to dig into flocking or complex systems and patterns rising from simple interactions - that's where you will end up. But then there is also a psychological relationship.
Like you were saying, it is a calming space, it's beautiful and hypnotic, but eventually you begin to notice that there is the individual and the group. And then the audio is really important because you hear the human activity in the city, its echoing the same thing that happens in nature: There is a rhythm to the city; the cars track each other as the birds track each other. There is something represented in these birds that seems to echo other systems around us - in and out of our perception. It arrives at the question of who are we/ am I amongst it all?
EC: I was really interested in thinking about this video for the cafe instead of say a gallery for these experiential qualities you are talking about earlier. I found myself thinking about the existing relationships we have to birds, city, and the subjective experiences we associate with those. The experience of watching the video in the café is similar to walking through a city, the framing is similar - your mind is occupied with one task at hand then you look up to catch a really beautiful or poetic moment happening in the city around you.
JF: With art in public we are engaging in an activity which isn't solely with intention to experience artwork. There is something kinetic about public space; there is group and individual behavior. Even here at cafe we can find structure, flow patterns, people moving in a certain way. Something very interesting to me is patterns occurring without us being aware of them. The relationship to the public space and the relationship to the artwork on the monitors create that loop, where we start to reveal our own patterns.
----
ARTIST BIO
Jesse Fleming (b. in 1977, Northern CA.) Lives and works in Los Angeles. Fleming received his BFA in New Genres at The San Francisco Art Institute in 2001. He has worked as a camera operator to Matthew Barney, director of photography for Francessco Vezzoli, director of photography for The Guggenheim Museum, NY, PERFORMA, NY, The Getty Museum, Los Angeles, and directed videos for The Museum of Modern Art, NY.
Fleming has had solo exhibitions at The Company, Los Angeles, Night Gallery, Los Angeles, The Fireplace Project, East Hampton, NY, and has been represented at The NADA Art Fair, Miami Beach, and Art Contemporary Los Angeles. Residencies include The Riverside Art Museum and Joshua Tree National Park Residency Program, Cuts and Burns Artist Fellowship, The Outpost, Brooklyn, NY, and The Old School for Social Sculpture, Catskills, NY.
Filed under:
Tags: artist video, cafe hammer, elizabeth cline, jesse fleming, monitors