With a prestigious grant from the Asian Cultural Council, Hammer adjunct curator James Elaine moved to China in April 2008 to seek out emerging artists within China and throughout Asia. This blog provides a fascinating insight into Jamie's travels and the art world in China.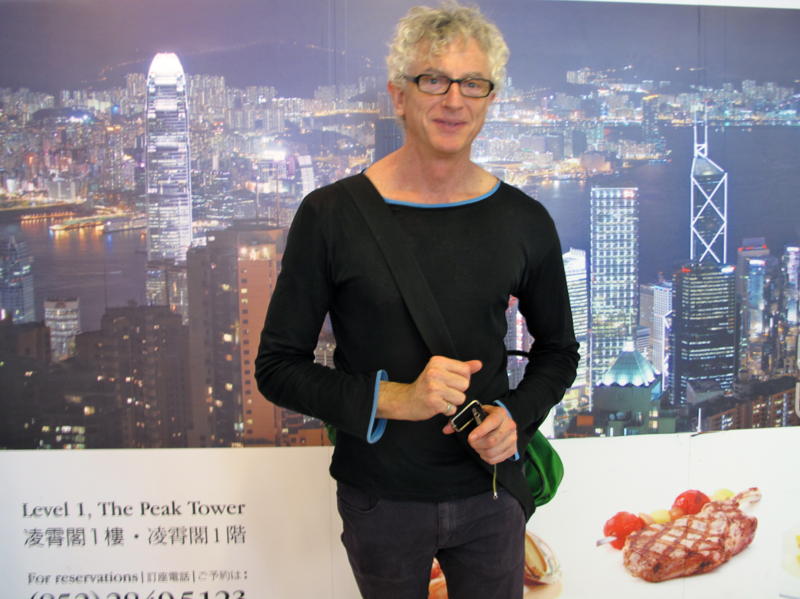 My Chinese visa is for one year but I must leave the country every 60 days to keep it valid. I can go anywhere as long as I exit Mainland China then return. This includes Hong Kong, Macau, and Taiwan. March 19th I boarded the Beijing/Jiulong (Kowloon) T97 Express train and headed for Hong Kong.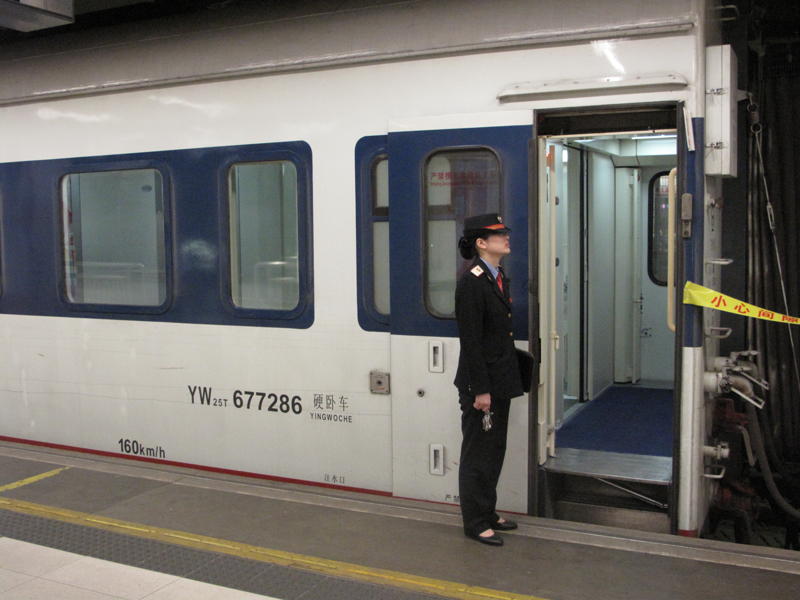 The train only makes a few short stops but no one gets on or off during the journey. It is a 'sealed' train. Hong Kong is around 2000km from Beijing and this train takes about 26 hours or so. Trains offer several options of ticket pricing. I did not go first class but did not go base economy either. I picked the Hard Sleeper, which has 6 bunk beds, 3 stacked from floor to ceiling on each side of a small compartment and not much room after that.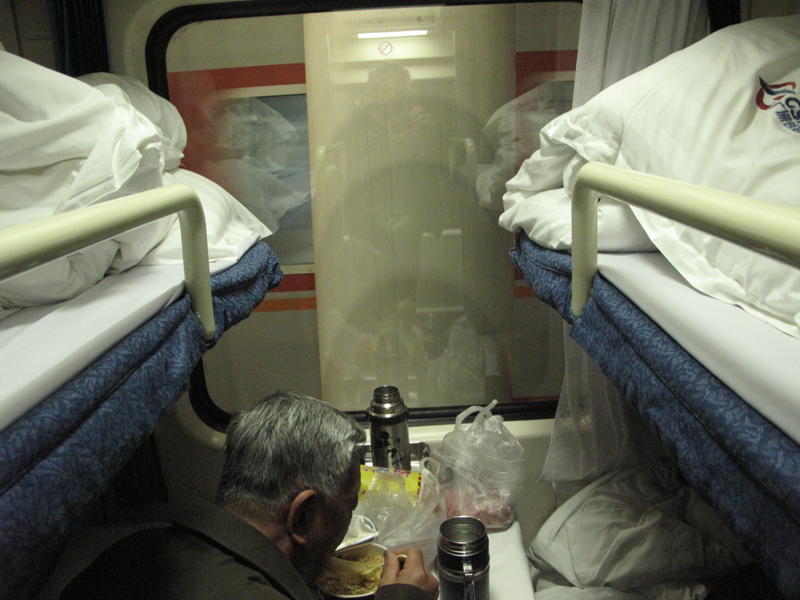 When you are in your bed you can't do much else but lie there. When you get up it is like a piece of toast being ejected from a toaster, but there is no ejection button -- you have to slide out sideways somehow. I got the middle bunk, which is the mid-priced bed. The bottom bed is the most expensive. The top bunk is the cheapest but is a long climb up! The bottom bed seems to be the one to get but everyone likes to sit on that bed while traveling so you have to share it with everyone else…so I think I got the best deal. The train also offers Soft Sleeper compartments, which are more expensive and have only 4 bunks, 2 stacked on each side. These have more headroom and I think you can actually sit upright in bed. There are also regular seats like on any train but it is a long time to just sit and these cars are usually packed with people and tons of baggage.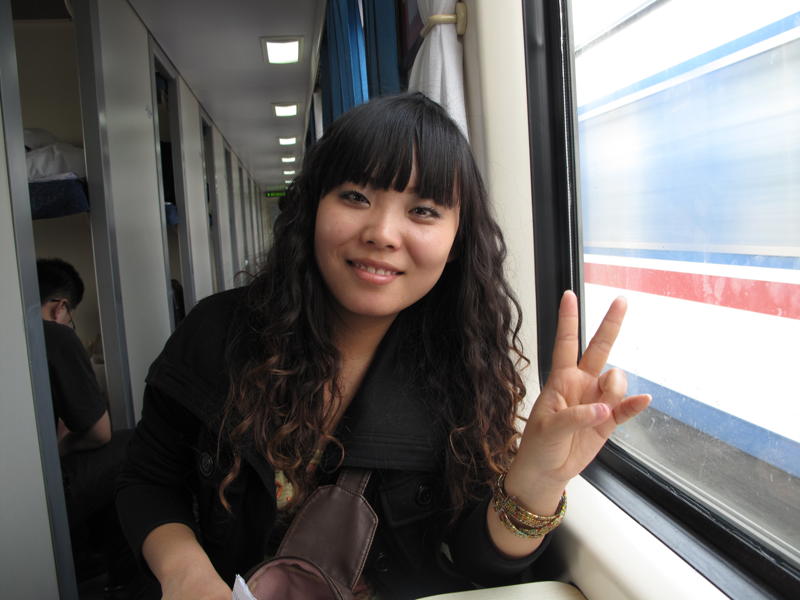 Two compartments from mine was the 'Dragon Ladies Club' car, or that's what I called it. Six or more were having a ball in their room and out in the passageway and wanted everyone to join in on the fun, especially me. They didn't speak a word of English but that didn't stop them. We began the trip at 13:08 and they began drinking Bai Jiu at probably 13:09, right on time. Bai jiu means 'white liquor' and is 56% + pure alcohol. It is clear as a bell in the bottle but changes things quickly as it goes down. Everything gets muddled. I had an elderly couple in my room. They were so lovely and generous in sharing their food with me and seemed to keep an eye out for me too, not wanting me to get too deep into the Dragon Ladies spells. It was all great fun actually.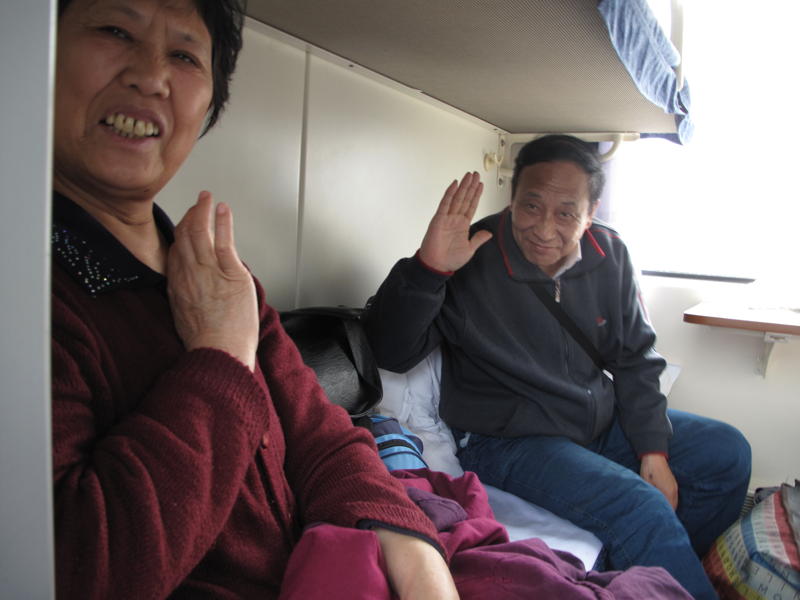 As we sped through the remainder of the day everyone settled in and began eating. The main travel food is the dried noodle soups in big round containers. All you have to do is add hot water. Maybe in the States we call it Ramen? I brought 2 Sichuan spicy beef noodles with me, and lots of other stuff, so I was set. I could sit for hours staring out the window watching the passing landscapes go by; hills, pagodas, villages, small plots of agricultural land, farmers, water buffaloes, workers riding bicycles, smokestacks, factories, cities, an endless panorama of an old and emerging China racing by.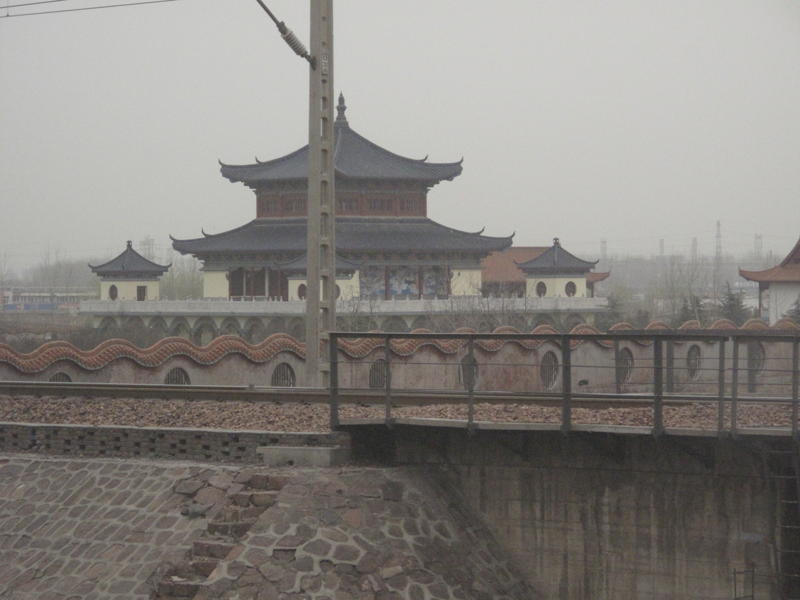 Lights go out at 10pm. Everyone is tired so that would seem to be good news, but in this case, it wasn't. I had one more roommate I did not know about. It was one of the Dragon Ladies from next door. She came in to go to bed and was in the middle bunk directly across from me. No problem, except when she fell into a deep Bai jiu induced sleep and began snoring. After this night, I love and embrace regular snoring. It is music to my ears. But what I heard all through the night was unlike anything I have ever heard. As I tried to sleep and hovered in a vulnerable twilight consciousness I began feeling trapped in one of the worst nightmares or horror movies I have ever witnessed. I really can't call what she was doing "snoring." She made every kind of ghoulish siren sounds and raspy ghost like breathing imaginable. Breathing patterns that would confuse even Steve Reich or Philip Glass. I got out my iPod and headphones and plugged them in. Didn't help. I could not find William Basinski's transcendental music on my new iPod and only had rock, which did not help me sleep. I do not know how much time passed by, hours I am sure, but even the sleeping pills were wide awake and as scared as I was! I did not want to be the next Rosemary's Baby.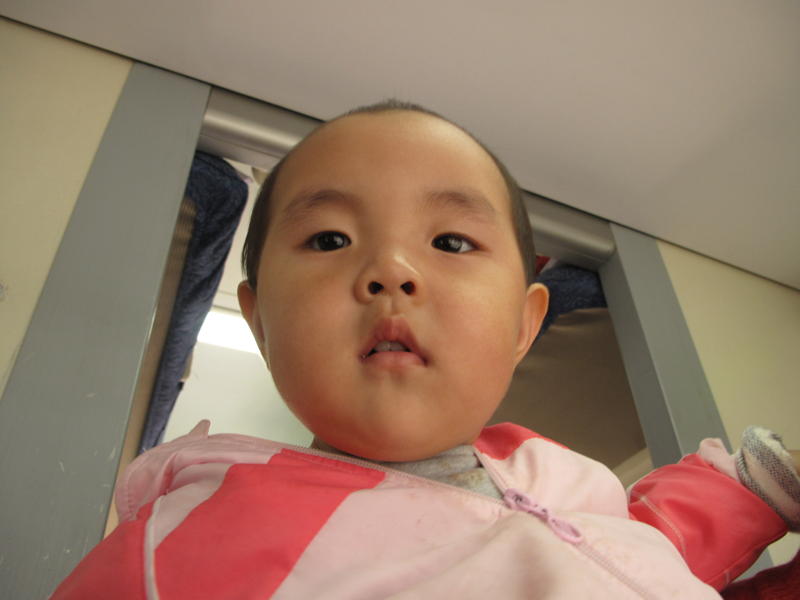 Out of desperation I noticed one escape route I had not seen before in the dark. The top two bunks were both unoccupied! I took my pillow and covers and sleeping gear and headed north. Wow! It was like another world up there. I was on top of the mountain and all was clear and fresh and as silent as a new fallen snow. I fell asleep in minutes and awoke as we were getting close to our destination: Hong Kong.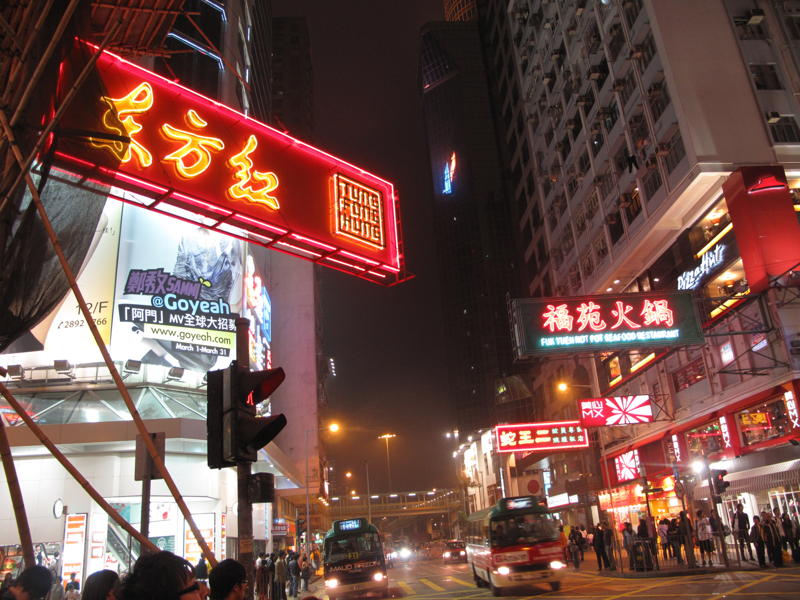 After checking into my hotel on Hong Kong Island I headed to the no- profit space Para/ Site to see their show and meet with director Alvaro Rodriguez. It was late in the day on Saturday but we still had time to visit the other area galleries. On Sunday afternoon I had an appointment to see for the first time the Asian Art Archive, an important not for profit foundation that collects and preserves information on contemporary Asian art. Their huge research library of publications and documentation of Asian art and artists is accessible to the public. The AAA also organizes and supports many educational and public programs to introduce as wide an audience as possible to their resource and the Asian artist community. Phoebe Wong, Director of Research and Project Manager, gave me a tour of the library as she told me about their history and mission.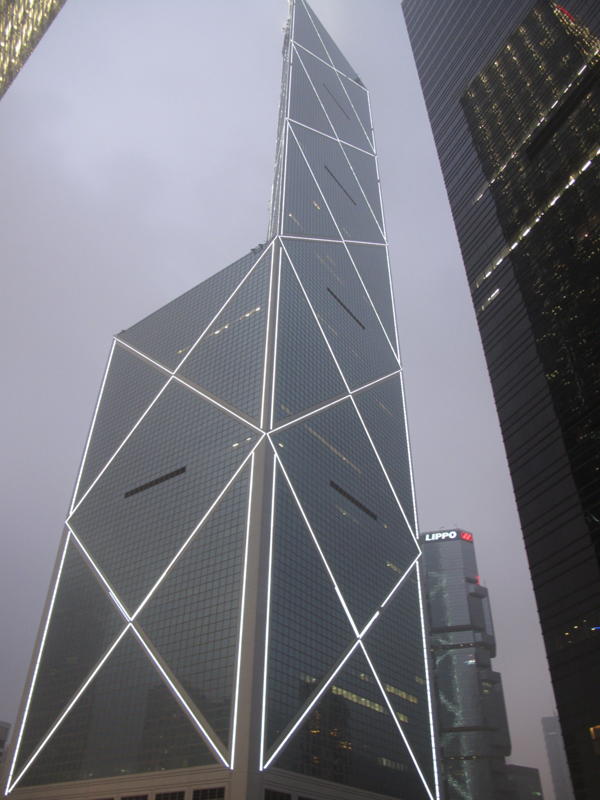 Hong Kong is a beautiful and fascinating city with many hills, old neon signs, buildings in repair surrounded by bamboo scaffolding, Chinese architecture and old buildings still inhabited and in use, restaurants and spas are everywhere, and all of this is mixed in with sleek high rises and high end shopping and the hustle bustle of an international Far East city. New York's Chinatown is like a small model of the city of Hong Kong. And, of course, the Cantonese food here is really special.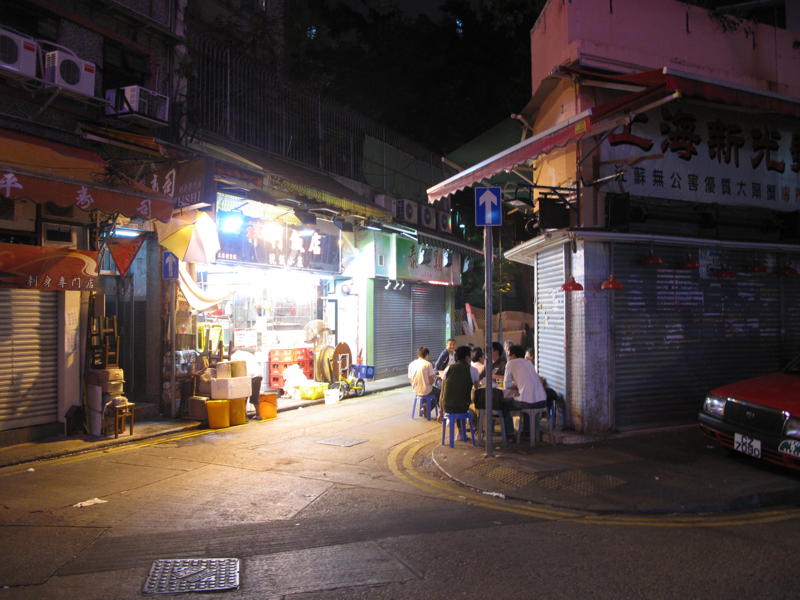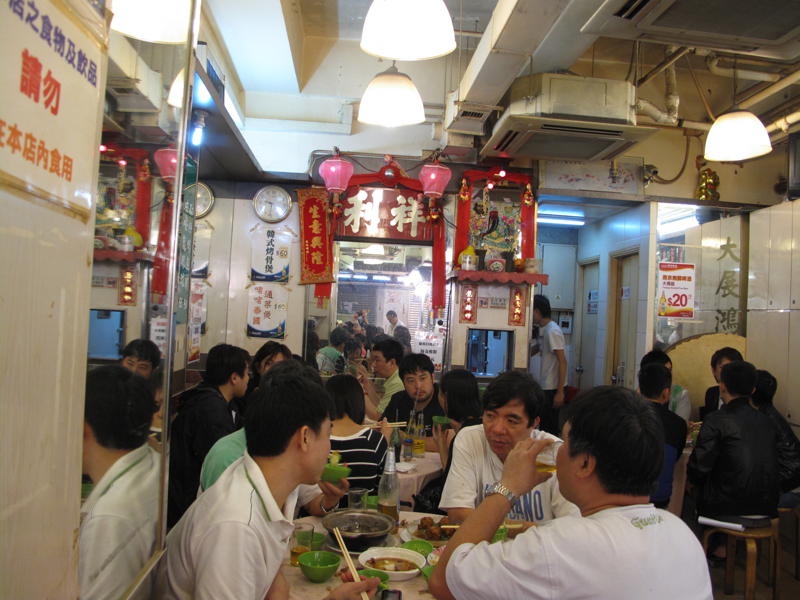 Monday afternoon I boarded once again the Jiulong/Beijing express train to return home. It was less eventful than the first trip and maybe I missed the Dragon Ladies a bit, but I love sitting by the window, peering out at the passing landscapes, watching the sun slowly go down, eating my noodles, talking with friends on my phone until my phone card was depleted of money, and chatting with the train attendants and curious passengers (a great way to improve my Chinese).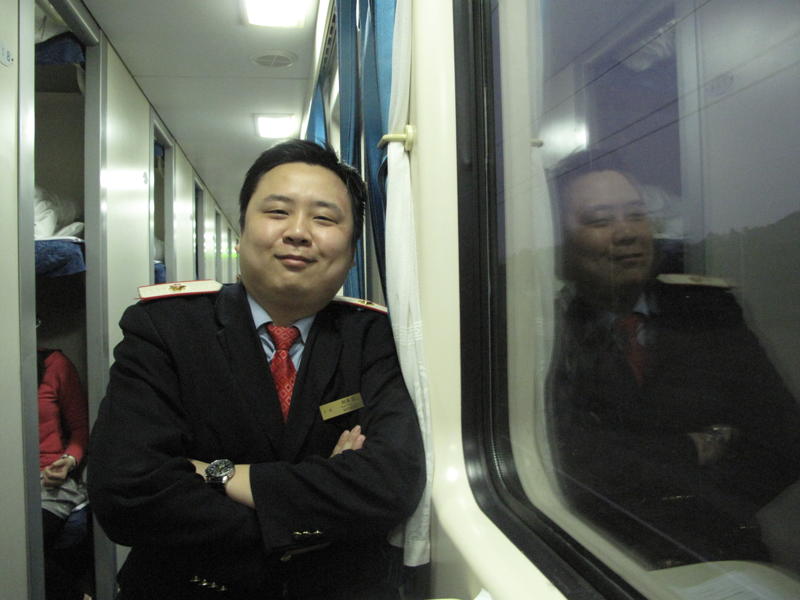 In late May I will return to Hong Kong to attend the Hong Kong International Art Fair. Maybe I will fly?