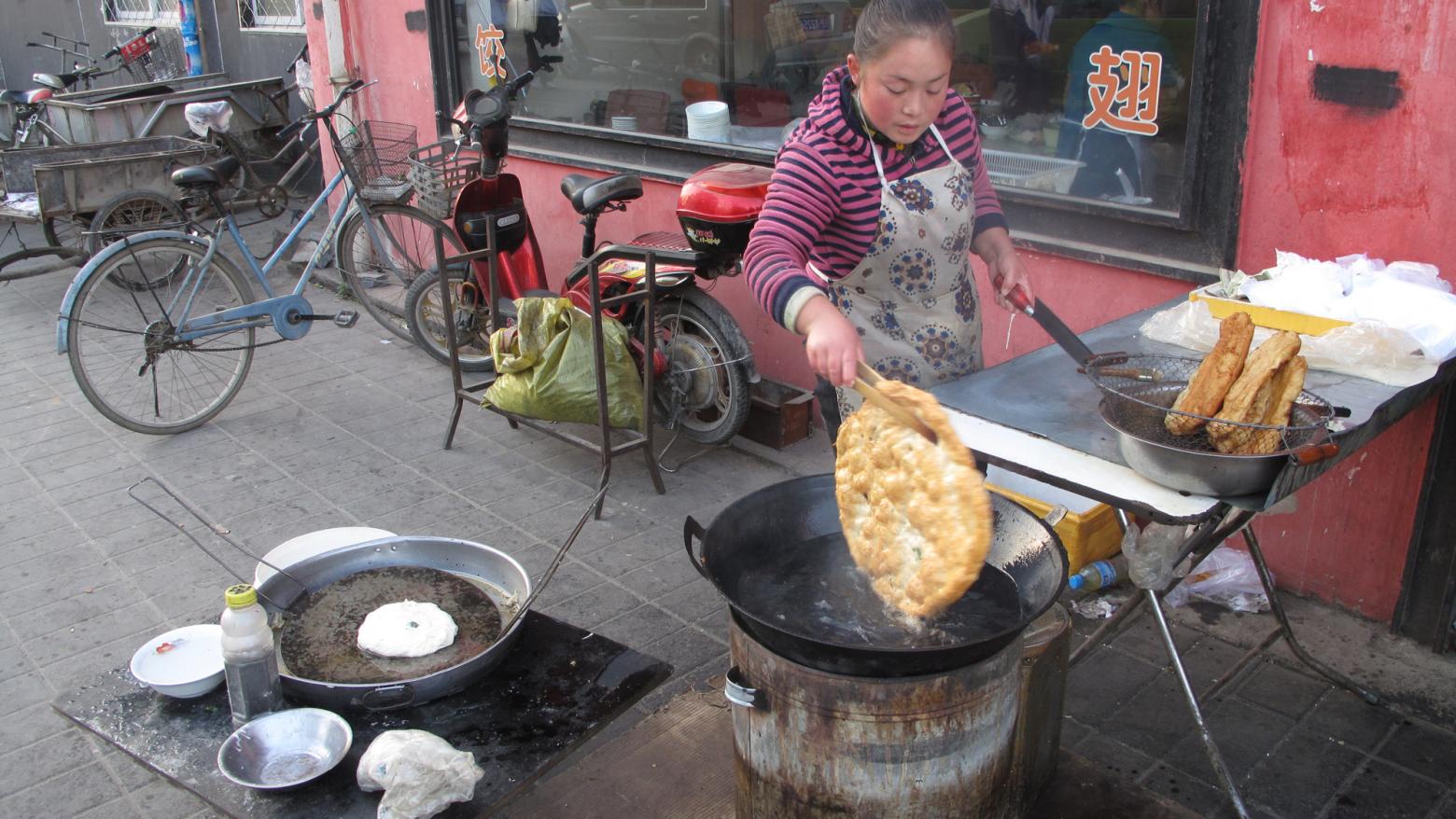 (My) Chinese Cure for Jet Leg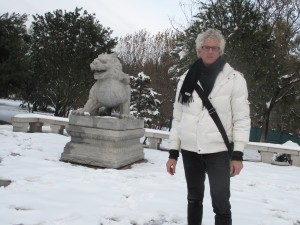 With a prestigious grant from the Asian Cultural Council, Hammer adjunct curator James Elaine moved to China in April 2008 to seek out emerging artists within China and throughout Asia. This blog provides a fascinating insight into Jamie's travels and the art world in China.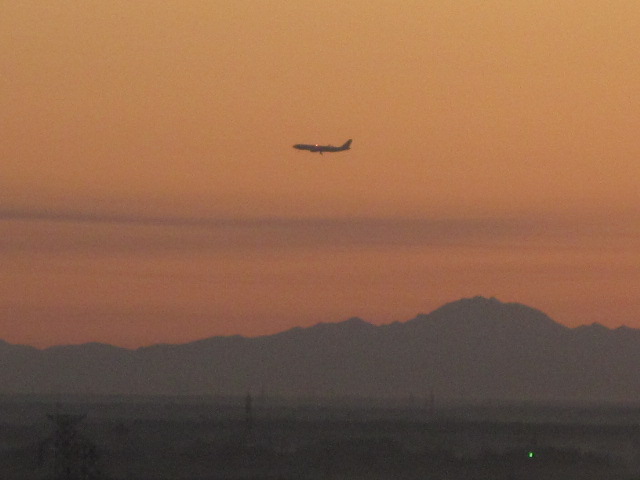 (My) Chinese Cure for Jet Lag
Since moving to Beijing in 2008 one of my primary focuses has been to travel to regions outside of the major art centers of China to find new artists, visit universities, galleries, museums, meet the directors and professors of areas not regularly traveled by western art professionals. On top of this, every 3 months or so, I make trips to Los Angeles and the Hammer…I love to travel but it does take its toll after awhile. My internal clock is always being set and reset and my roots don't seem to grow down as much as they do outward. I am like a culture tumbleweed picking up bits and pieces of multifarious regions, dialects, flavors, names, and time zones…(although China, as vast as it is, has only one Time Zone).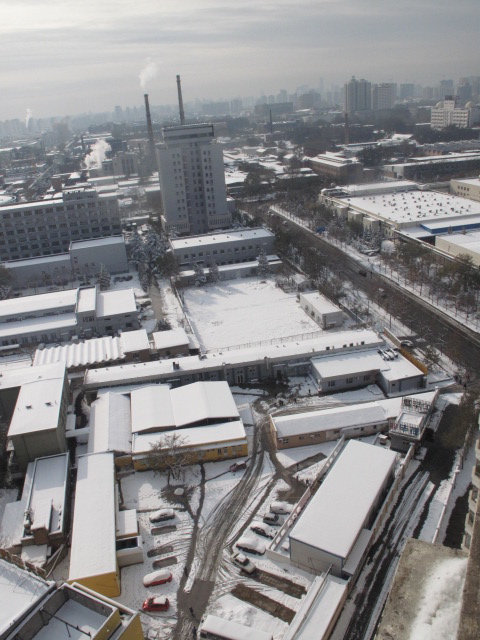 One aspect of coming home that I have grown to love is falling asleep and waking up at totally random times. Sometimes I am in bed by 8pm and wake up at 2am, sometimes asleep at midnight and wake up at 4 or 5am, which is a great time to read, meditate, and work with no pressure. I have also grown fond of eating an early morning breakfast at one of my nearby local restaurants. In fact I rather look forward to waking up before dawn, throwing on my clothes and before or after a cup of coffee going out to Yi Shan Xuan for an early morning fare. It is about a 10-minute walk from door to door. Depending upon what time I arrive it is more or less teeming with life; young, beautiful and handsome high school students dressed in their uniforms crowding in, yelling, pushing, laughing, eating and bolting for the door, laborers, workers, and business people all mixing together, all Chinese of course. I am always the only foreigner there.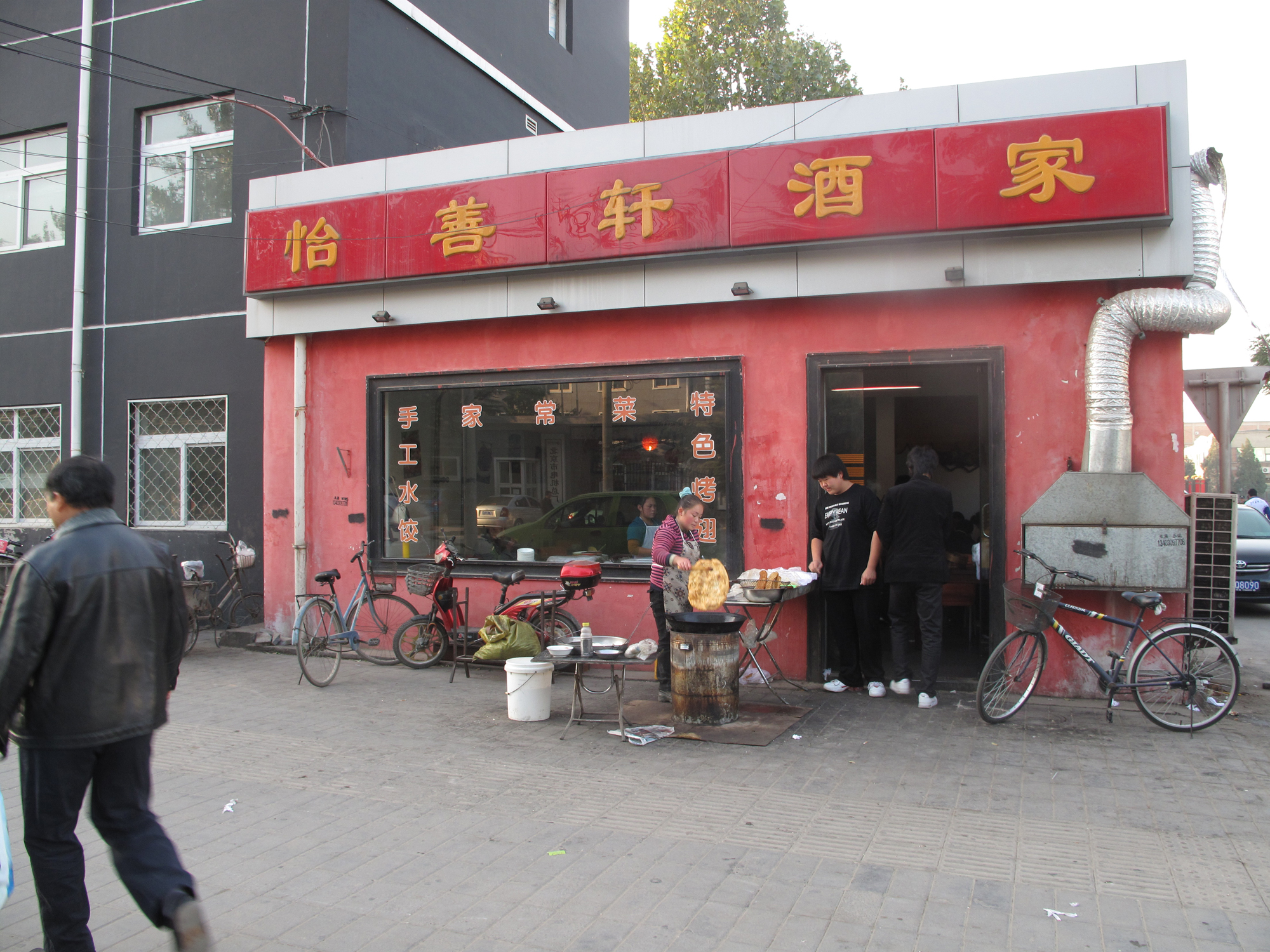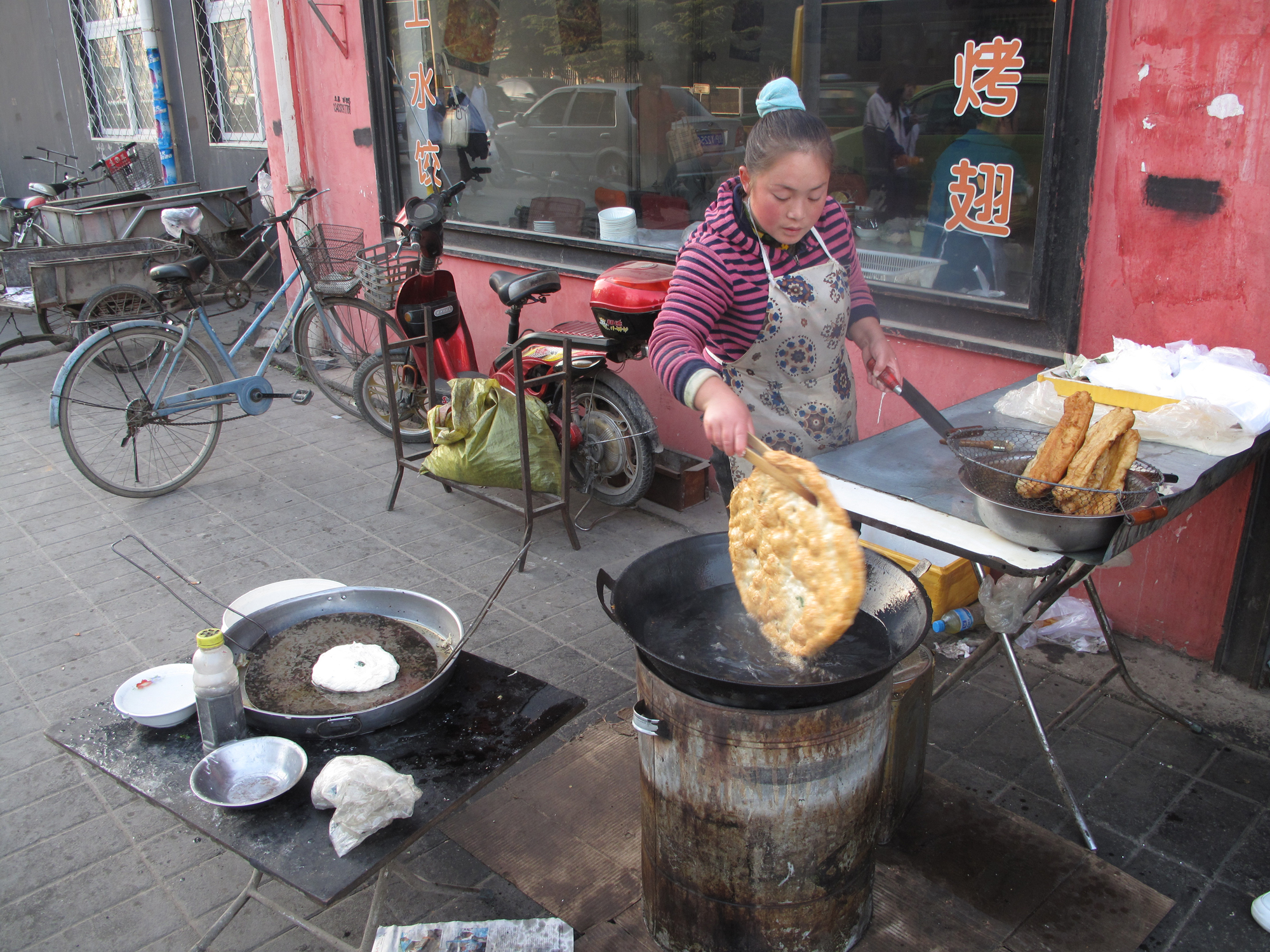 Outside the front door is a cart with a huge wok filled with boiling oil and a young woman pulling dough into long tubes, cutting them into shorter pieces, then putting them into the oil. Oil Bread is like our doughnuts but without sugar and eaten with chopsticks. Another version is round and flat, like a pizza, sprinkled with black sesame seeds, placed on a scale and lowered into the boiling oil. The result is the same; crispy on the outside, soft on the inside, and so delicious.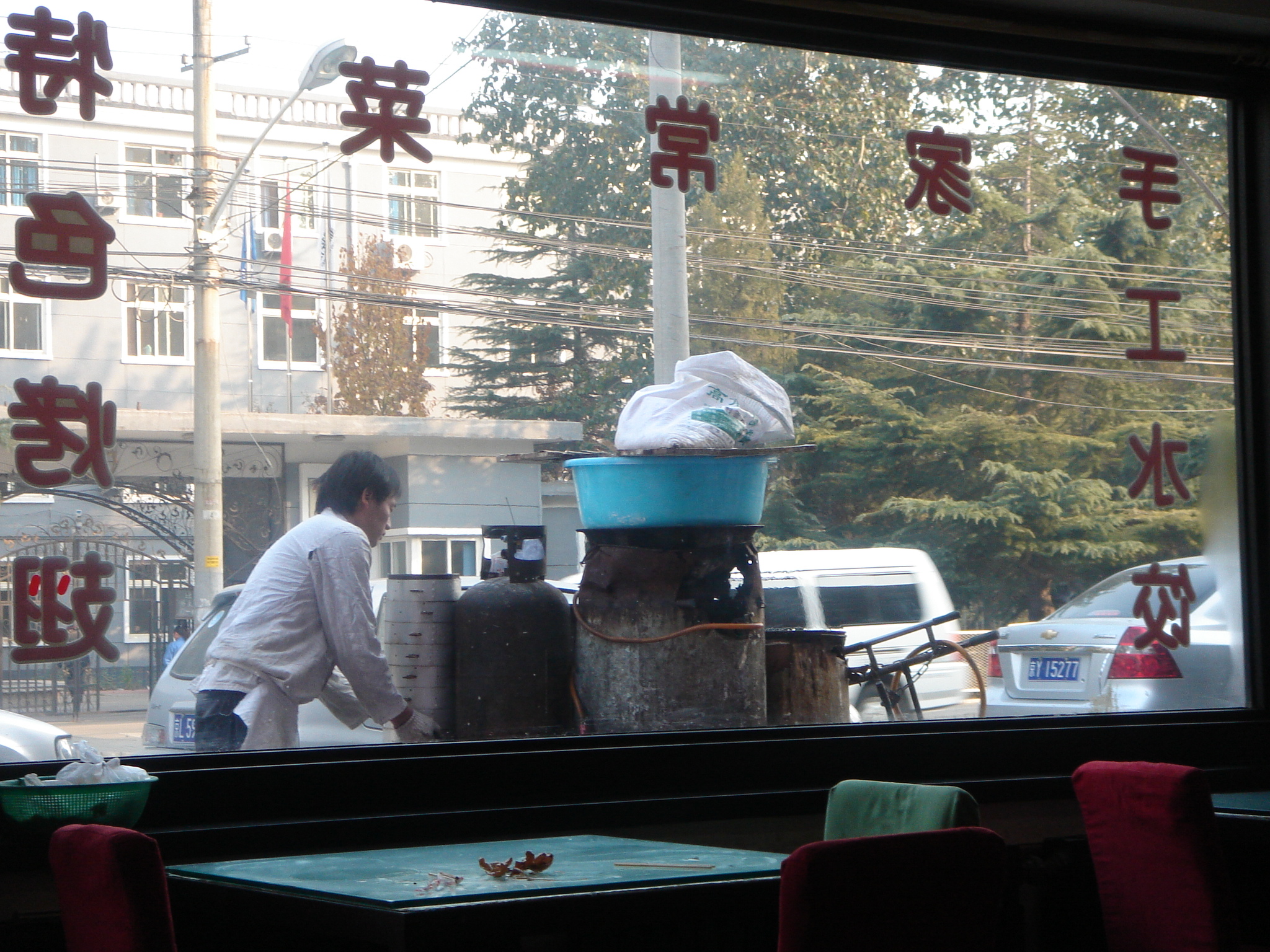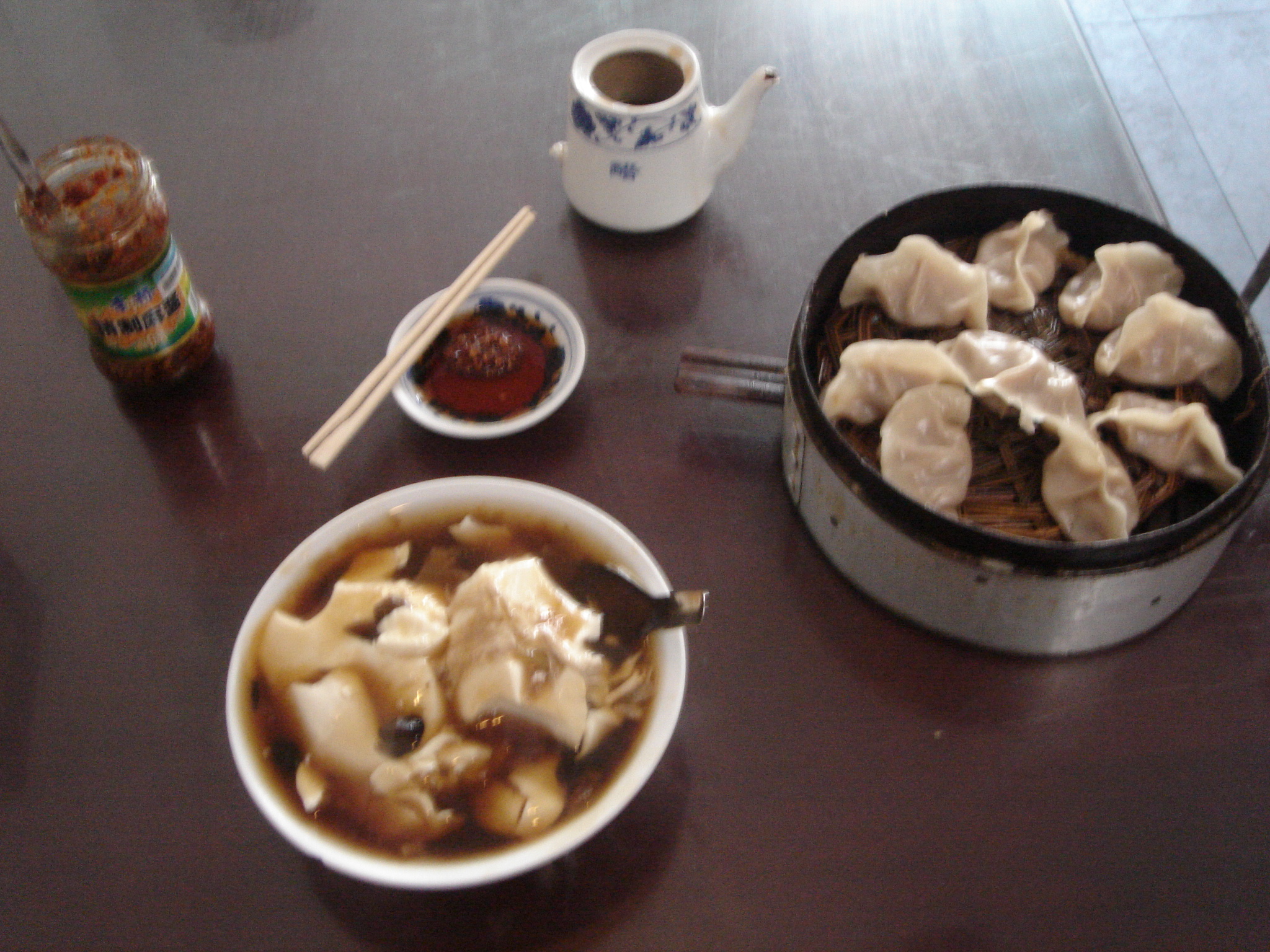 Inside the restaurant steam billows out of big vats of tofu, through stacked bamboo baskets full of dumplings, and from the boiling urns of broth. Everything is prepared and cooked out in the open and from behind folding tables. The cooks are nomadic and are only here for the morning crowd. After they are finished by 9:00 am everything is folded up and carted away until the next day. The space is then returned to the restaurant owners to begin their lunch preparations. The inside windows are fogged up, silvery, and sweating over red Chinese characters painted on the glass. The air is heavy with steam, smoke, the smell of dough, pork, vinegar, and oil. I always order a bowl of tofu or congee, and sometimes steamed dumplings or pork buns, or very small and delicate dumplings in a broth.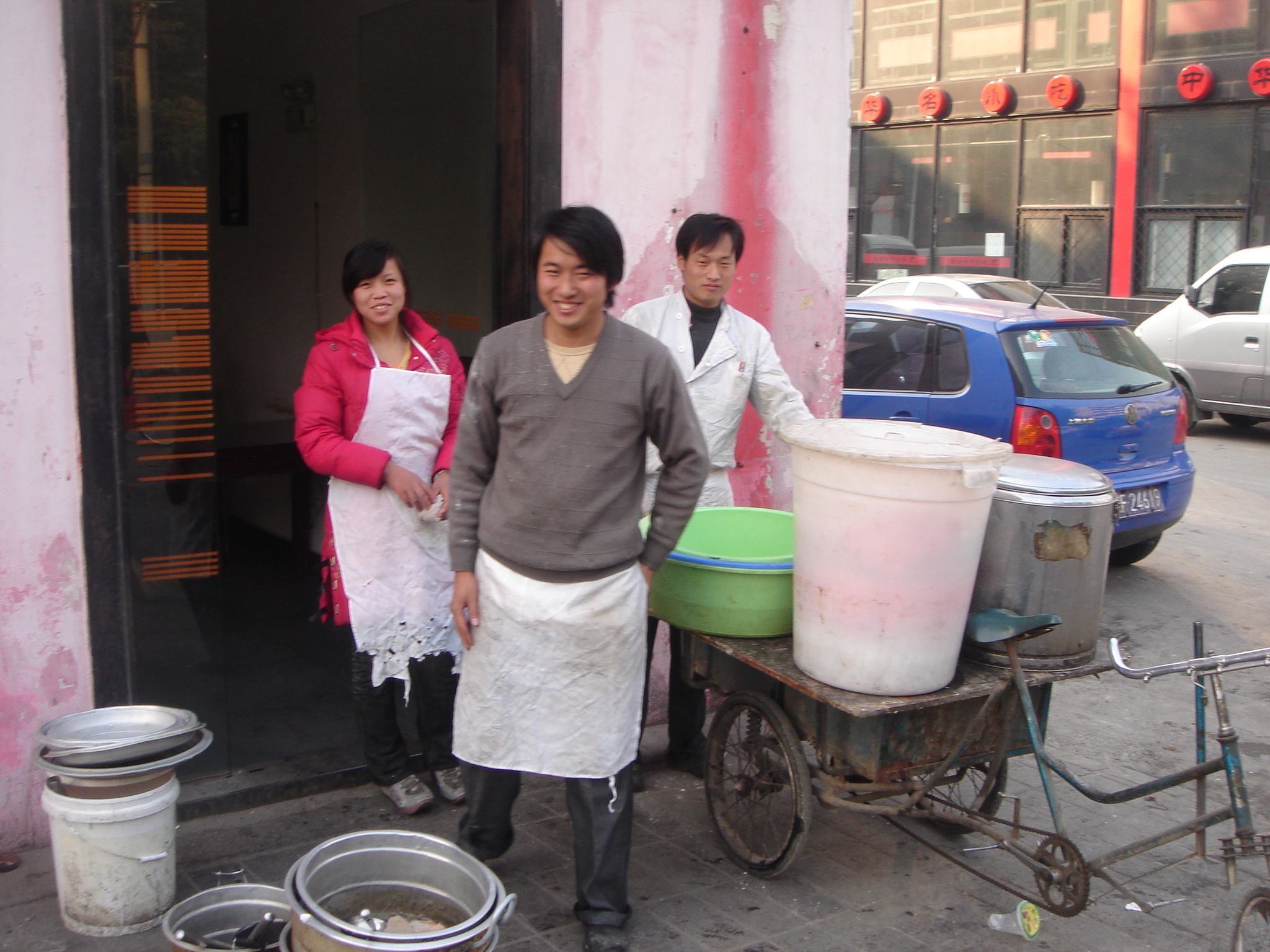 It is so amazing to watch the flurry of activity: people coming and going at an incredible pace, chopsticks, paper, debris, all swept to the floor after they finish and leave. No one stays longer than just a few minutes, just enough time to shout their order, get their food and eat, but sometimes I linger a while just to watch it all happen. When I am done my bill is usually around $1 or less. By the time I get back home the sun is up and the wakening street life is far below the solace of my 24th floor apartment and bed.