Sweet & Sour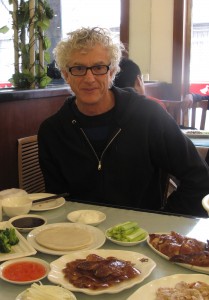 With a prestigious grant from the Asian Cultural Council, Hammer adjunct curator James Elaine moved to China in April 2008 to seek out emerging artists within China and throughout Asia. This blog provides a fascinating insight into Jamie's travels and the art world in China.
Sweet & Sour
12/3/09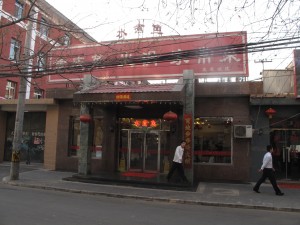 Thanksgiving restaurant
Thanksgiving
It seems like every American holiday is now also being celebrated or at least talked about in China. I received many text messages wishing me a happy Thanksgiving. It seems that everyone knows about Thanksgiving and I think has a basic understanding of its meaning but I didn't actually see anyone celebrating it. I haven't seen any turkeys in China either. They are called Huo Ji or Fire Chickens here. I called a friend of mine, Yan Xing, a young artist who has just recently moved from Chongqing (Sichuan Academy of Fine Art) to Beijing to have dinner with me. I thought that the closest thing I could get to turkey in China would be Peking Duck, a bit smaller but worlds tastier. So we went out to eat a Chinese rendition of a Thanksgiving Fire Chicken.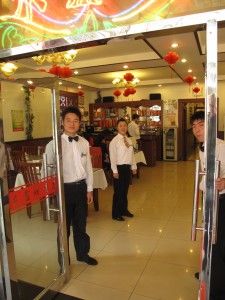 Thanksgiving welcome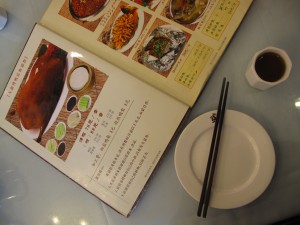 Thanksgiving menu
He was really excited, I don't think you can get Peking Duck in other parts of China. It is a Beijing specialty and quite a production. Once you order it takes about 45 minutes for it to be prepared, so you must order other dishes and drinks first to hold you over until the Duck arrives. Finally the chef brings it out into the middle of the restaurant on a rolling cart so you can see your bird. Then he begins deftly carving it up.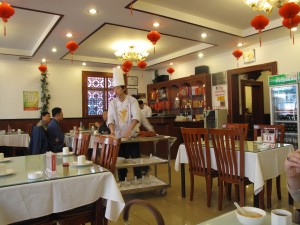 The duck arrives
Carving the duck
First the golden outer skin that is so crispy and delicious is laid out in pieces on a plate, then he carves another area of skin with added fat and meat, and finally the juicy meat, which is lovingly laid out on a white porcelain plate the shape of a duck. Yan Xing told me that unlike Americans Chinese do not like the white meat of chickens because it is too dry and tasteless. I don't think there is any white meat on a duck, so nothing to worry about here. It is all brought to the table with dishes of plum sauce, cucumber and onion slices, a sour tangy sauce, and warm crepe like pancakes. Each ingredient is first dipped into the sauces then placed onto the pancake, then folded over and eaten.
The Thanksgiving table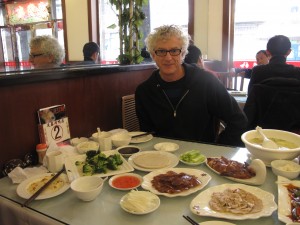 James Elaine
It brings a smile to my face and almost tears of joy to my eyes just thinking about it. And if that wasn't not enough you are given the choice of what to do with the remains of the duck carcass, either making it into a soup or frying it up. There was a third suggestion but I did not understand what it was. We picked the frying option. In a few minutes a big plate of crispy chunks of bones with meat were served. Wow! Peking Duck with side dishes of vegetables, other meat dishes, fried rice, and wine or beer to drink, Oh my goodness! Except for missing my friends and family back home, (and perhaps a couple of other dishes), all I can say is that I had a very Happy Thanksgiving. I am very thankful to be in this new (Far East) world.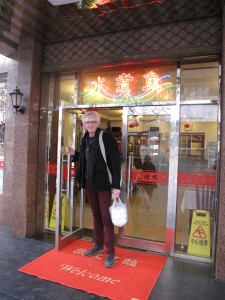 Thanksgiving leftovers
Day Without Art
On December 1st just 5 days after feasting with loved ones on Thanksgiving Day there is another but unfortunate tradition now in America of commemorating the absence of friends and loved ones from the AIDS crisis. AIDS is a relatively unknown and unspoken problem in China. The Chinese Health Ministry estimates that there are 740.000 people living with HIV/AIDS. It carries a heavy stigma here and generally is not understood.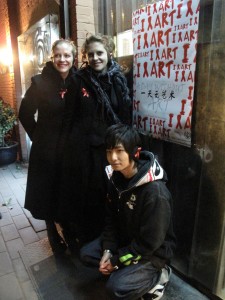 Megan and KC Connolly and student Zhang Chong
Megan and KC Connolly founders in 2007 of ChART Contemporary, "a Beijing-based curatorial lab dedicated to bringing together art and people through innovative programming and curatorial initiatives that educate, stimulate, and cultivate a deeper understanding of contemporary art, and supports the production of new works by emerging and established artists" are on their second year in Beijing of bringing awareness to this health crisis. They enlisted and formed into a conceptual art student's league entitled "Young Guerilla Informers" or "YGI" 80 students from the Beijing World Youth Academy to get the word out about HIV/AIDS. The Academy is an international school opposite CAFA, the Central Academy of Fine Art.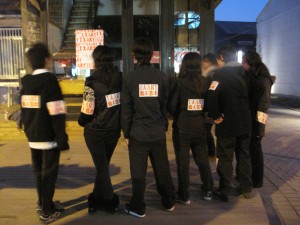 YGIs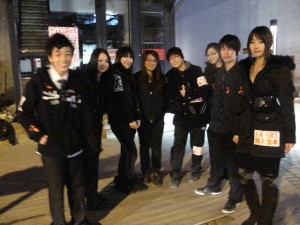 YGIs
The students made 4000 HIV/AIDS red ribbons, 1000 stickers, 100 red-ribbon earmuffs, and designed a poster for all of the shops and galleries in 798. This is their first 798 Day Without Art intervention. 9 galleries or spaces, including Timezone 8 bookstore, the first and most important art bookseller and publisher in China, participated on December 1st by closing to the public.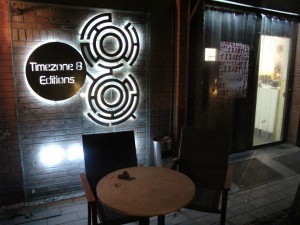 Timezone 8 bookstore
The 80 students with 20 teachers divided themselves up and positioned themselves outside of the participating spaces to meet and talk with the passersby. Almost all of their articles were handed out as many people stopped to chat and find out what they were doing. Although there was initially some resistance or non-responsiveness to this initiative their event was a big success. Megan and KC's attitude is basically to start small and do it well, "we can't change the world in a day but we can make a dent." Last year they had only 8 students participate in an AIDS Day subway event.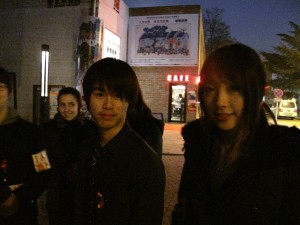 YGIs
Filed under:
Tags: chart contemporary art, China, James Elaine